July 30, 2021
Happy Friday! Let's talk video games with Megan Farokhmanesh and Stephen Totilo.
Today's edition is 1,167 words, a 4 1/2-minute read.
1 big thing: A showcase of unusual games
An hour-long online showcase from indie-friendly publisher Annapurna Interactive yesterday was packed with games about stray cats, rockstars and demons.
Why it matters:  The event's quirky lineup demonstrated the medium's range. It also showed how online showcases, once largely the domain of giants like Nintendo and Xbox, are giving offbeat games more of a chance to shine.
Annapurna's event, its first of this type, follows four years of showcases from Devolver Digital, another publisher of off-kilter games. Devolver presents its events as profane parodies of those from big companies.
The showcase included new gameplay or reveals for:
Third-person adventure "Stray," a game about a cat with a cyberpunk feel.
"Neon White," the latest game from "Donut County" creator Ben Esposito.
"Skin Deep," a first-person shooter from Blendo Games.
The company also announced two new games, "A Memoir Blue" and "Storyteller."
Annapurna is a rare, successful marriage of Hollywood and video games. The company was a movie studio first, game publisher second.
Annapurna has focused on indie creators and produced many critical darlings.
It's also landed a lot of Hollywood talent. Its forthcoming game "The Artful Escape" features voice acting from Lena Headey, Jason Schwartzman, and Carl Weathers.
Another upcoming game, "Open Roads," from the creator of "Gone Home," features actress Keri Russell.
The full showcase is available to watch on YouTube.
2. End of the road for a big racing game
Microsoft announced it will retire "Forza Motorsport 7," a showpiece racing game for Xbox consoles introduced four years ago, on Sept. 15. They call it the game's "end of life."
Why it matters: Many games just do not stick around digitally, thanks to issues with technology or, in this case, Microsoft says, licensing complications.
After Sept. 15, "Forza 7" will still run off disc, will still play for those who have it and can be re-downloaded by those who bought it digitally.
But it will be removed from sale and no longer offered as part of Microsoft's Xbox Game Pass subscription service.
What they're saying: When a fan on Twitter asked why, they got a substantive reply from the series' official account:
Forza games have to go unlisted after several years because the third party licenses that we use to feature real-world cars, tracks and other elements will begin to expire.
Flashback: In 2018, Rockstar Games digitally removed songs by David Bowie, The Smashing Pumpkins and others from 2008 hit "Grand Theft Auto IV," due to licensing issues.
3. You ask, we answer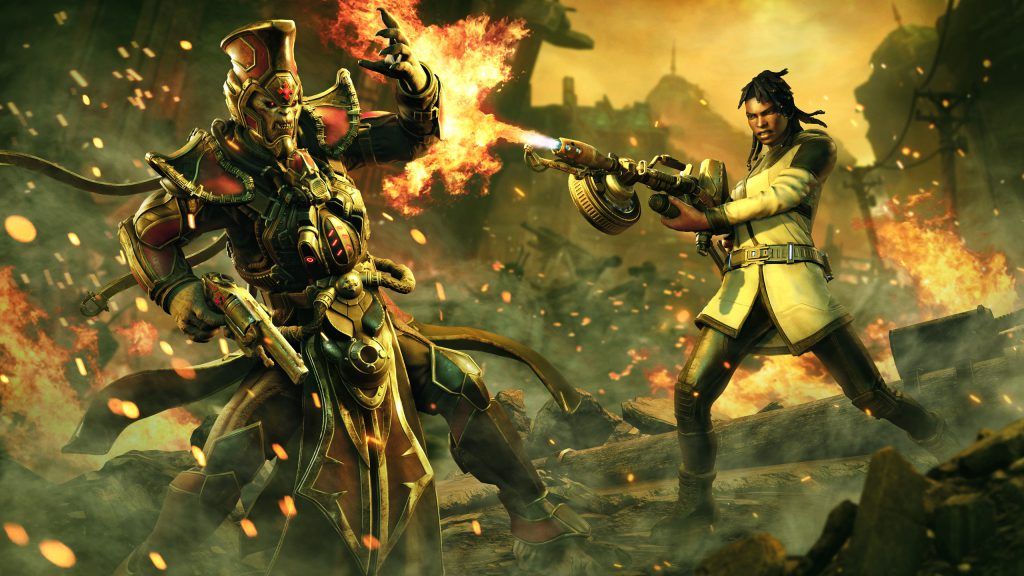 It's Friday, so time for more reader Q&A.
Q: So what'd you two think of the Dead Space [remake] announcement? I'm thrilled — I loved the game when it was originally released. Can't wait to see what 4K, Dolby Sound (or whatever), and greatly updated haptic feedback do to up the scare factors.
A: Stephen — I have mixed feelings.
Pro: Remakes and remasters help preserve gaming's history, since so many older games become technologically obsolescent or otherwise don't hold up for modern audiences.
Con: I get that EA is bringing back some beloved franchises by first giving longtime fans the warm glow of nostalgia (see also: "Mass Effect Trilogy Edition"), but I'm eager for them to get to the phase where they take these series and make something new.
Bonus thought: Dear EA, remake or remaster of "SSX 3," please.
Q: I'm a big fan of the "Gears of War" series. … [In "Gears 5"] they introduced cross play between Xbox (what I use) and PC. Crossplay has made the game less enjoyable, given the large advantage those who play via PC obtain. The makers of the game put in a feature where you could opt out of cross play, which I did. ... The makers of "Gears" then removed [the option to opt-out] because PC players were having such a hard time finding matches, which has upset many of the console players who choose to opt out initially. Do you have any data on how other gamers feel about playing multiplayer games against people on different platforms, and what competitive advantages/disadvantages this may present?
A: Stephen — We got this question in June, and I've been trying to chase down data about crossplay preferences to no avail. Anyone out there who has them, please get in touch.
What I can say is that, yes, the "Gears" team said 40% of players were opting out and that was impacting matchmaking.
I asked Xbox PR for more about crossplay and, while they didn't give me stats, they say that better field of view options, latency improvements and skill detection systems should now level the playing field:
"If for some reason a PC player still had an advantage that should be reflected in the game detecting higher skill and match making them against equivalent skilled players on console. For Gears 5, we believe that there will be almost no cases where in a competitive match a PC player has a clear advantage over another player simply due to the platform on which they play. "
Send your questions by replying to this newsletter. We'll do our best to answer in future installments.
4. Updates on misconduct scandals
More information continues to pour in about Activision Blizzard and its gross mistreatment of employees.
A report today from Waypoint details how Blizzard recruiters harassed a security researcher inquiring about a job, including asking her "when was the last time I was personally penetrated, if I liked being penetrated, and how often I got penetrated," she told the publication.
Waypoint also reported on an Activision IT worker who plead guilty to mounting a camera under a bathroom sink, a story surfaced by Polygon reporter Nicole Carpenter earlier this week.
A report from The New York Times includes accounts of harassment and misconduct from several current and former employees, including at least one woman in a prominent leadership position.
5. Need to know
"Horizon Forbidden West" is being delayed to early 2022, Bloomberg reports (following a Giant Bomb rumor). Sony had hoped to release the marquee PlayStation action-adventure for the holiday season but its head of worldwide studios said in June that production delays due to the pandemic might force a delay.
PC gaming giant Valve has moved to dismiss a lawsuit brought by Wolfire Games, which called the 30% cut Valve takes from PC games sold on its marketplace to be an antitrust violation, Gamasutra reports.
6. Worthy of your attention
💰Bungie & Ubisoft sue Destiny 2 cheatmakers Ring-1 for copyright infringement (Andy Maxwell, TorrentFreak)
...it's alleged that the defendants unlawfully reproduced and displayed the plaintiffs' artwork on the Ring-1 website, adapted the performance of the games, and reproduced game client files without a license during reverse engineering and similar processes.
In the alternative, Ubisoft and Bungie suggest that the defendants can be held liable for inducing and contributing to the copyright-infringing acts of their customers when they deploy cheats that effectively create unauthorized derivative works.
7. See no evil
Twitch streamer Mitchriz completed a speedrun of "Sekiro: Shadows Die Twice" in four hours, 35 minutes, and 13 seconds. Also, he was blindfolded.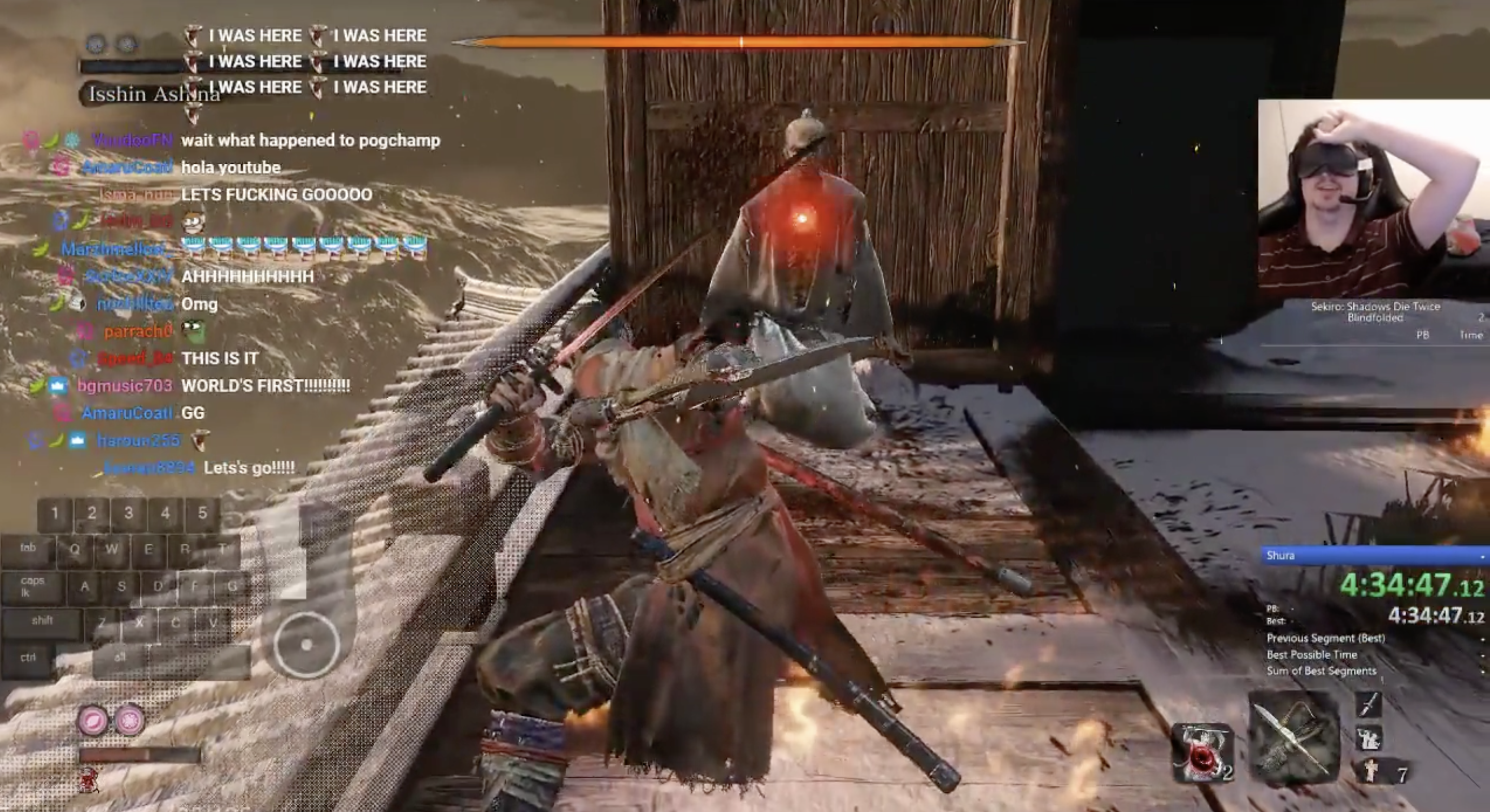 If you're wondering how that's possible, same — even after watching the video. What can Megan speedrun blindfolded? An entire pizza.
🎁 Like the newsletter? Refer Axios Gaming to your friends to spread the word and get free stuff in the process. Follow the link here to begin.
🐦 Find us on Twitter: @megan_nicolett / @stephentotilo.
It has recently come to Megan's attention that Stephen's mom reads this newsletter. Hello to Stephen's mom.