January 11, 2022
Megan here with today's edition of Axios Gaming.
Today's edition is 974 words ... 3.5 minutes.
1 big thing: Horizon leaks
An early build of Guerrilla Games' highly anticipated Horizon Forbidden West has reportedly leaked online ahead of the game's release next month.
Why it matters: Horizon Forbidden West is one of the year's most anticipated games and a huge exclusive for Sony's PlayStation.
VGC reports that the leak is "legitimate" and includes "the entire core content planned for the final game."
Footage and images posted to Twitter have since been removed due to copyright holder complaints.
Sony did not respond to a request for comment; Guerrilla has also not addressed the leak.
It's common for companies to take action against leakers.
Activision Blizzard subpoenaed Reddit to try to find the identity of a user who posted images of Call of Duty: Warzone in 2020.
That same year, Nintendo severed all ties with a website that published information about Pokémon Sword and Shield early.
The big picture: Leaks happen all the time in the game industry, though it's less common for a AAA title to experience one.
In 2020, however, Sony suffered another high-profile leak when videos of The Last of Us Part II began circulating online after hackers exploited a security flaw.
Leaks don't always mean damage to sales, however. The Last of Us Part II went on to sell over 4 million copies just after launch, making it the PlayStation 4's fastest-selling first-party exclusive.
What's next: Horizon Forbidden West launches Feb. 18 for PS4 and PS5.
2. A lukewarm stance
Microsoft isn't interested in "virtue-shaming" other companies, including Activision Blizzard, according to Xbox head Phil Spencer, who says "Xbox's history is not spotless."
Driving the news: The New York Times published an interview with Spencer that includes talk about Activision Blizzard's ongoing harassment and abuse scandal.
Spencer previously told employees in November that he was "deeply troubled by these allegations" and that the company was "evaluating all aspects of Xbox's relation with Activision."
Asked directly about that evaluation, Spencer gave a broad answer that the company has "changed how we do certain things with them."
Spencer said that he'd prefer to learn from or help educate partners by sharing what Xbox has done. "... I'd much rather do that than get into any kind of finger-wagging at other companies that are out there."
"In terms of work that we do with other companies, again, I would rather help other companies than try to get into punishing. I don't think my job is out there to punish other companies."
Spencer declined to give specifics on how or what has changed in its relations with Activision Blizzard.
Meanwhile, Lego is taking a hard stance of its own and delaying its Overwatch 2 set while it reviews its partnership with Activision Blizzard, "given concerns about the progress being made to address continuing allegations regarding workplace culture."
3. No TV streams for Twitch
Twitch streamer Disguised Toast is the latest creator to get a temporary ban as the platform cracks down on people streaming TV shows.
Why it matters: On Twitch, creators have begun streaming themselves alongside TV shows, also known as "TV meta," in an effort to make new content.
It's a copyright problem, however, and streamers are getting hit with DMCA strikes in the process. Disguised Toast was streaming "Death Note" at this time of his ban.
Pokimane, one of the platform's most popular streamers, received a temporary ban Jan. 7 for streaming "Avatar: The Last Airbender."
HasanAbi received a small ban for his stream of "MasterChef" before Twitch reversed it.
Although bigger names are likely to get their channels reinstated quickly, smaller creators who attempt TV meta streams are more likely to be hurt by those bans.
The bottom line: No streamer is safe from a ban, even the most popular and successful creators on the platform.
4. Need to know
⏳ Dying Light 2: Stay Human developer Techland has once again walked back its estimated completion time, this time from "less than 100 hours" to 20 to complete its main story.
🌪 Polish studio Far From Home's debut title, Forever Skies, is a climate disaster, sci-fi survival horror game, IGN reports.
🤑 The Xbox Series X and S is Microsoft's fastest-selling console, Spencer told the New York Times.
According to analyst Daniel Ahmad, that puts the consoles at over 12 million shipped, despite supply chain issues. "Increased production of S allowed for more Xboxes on shelves than if they only had X."
🔪 Assassin's Creed: The Ezio Collection is headed to Nintendo Switch on Feb. 17.
5. Worthy of your attention
The trouble with Roblox, the video game empire built on child labour (Simon Parkin, The Guardian)
For many of its young users, Roblox is their first experience of the many challenges of managing a team on any creative project, where egos jostle and commitment is tested. With so many projects made by young teams with no previous experience of how to collaborate, little supervision, and often unrealistic expectations, stories of projects gone bad are as prevalent as stories of miraculous success. Roblox offers an accelerator programme – a 12-week course run three times a year – to educate its users. But these tools are focused on how to make better games, not on the interpersonal challenges required to manage a successful creative team. So, while the early success experienced by Anna in Roblox is unusual, stories of exploitation on the platform are rife.
6. Controllers made accessible
PrusaPrinters' contest for snap-on controller mods ended this month, clocking a total of 123 entries designed to help players with physical disabilities.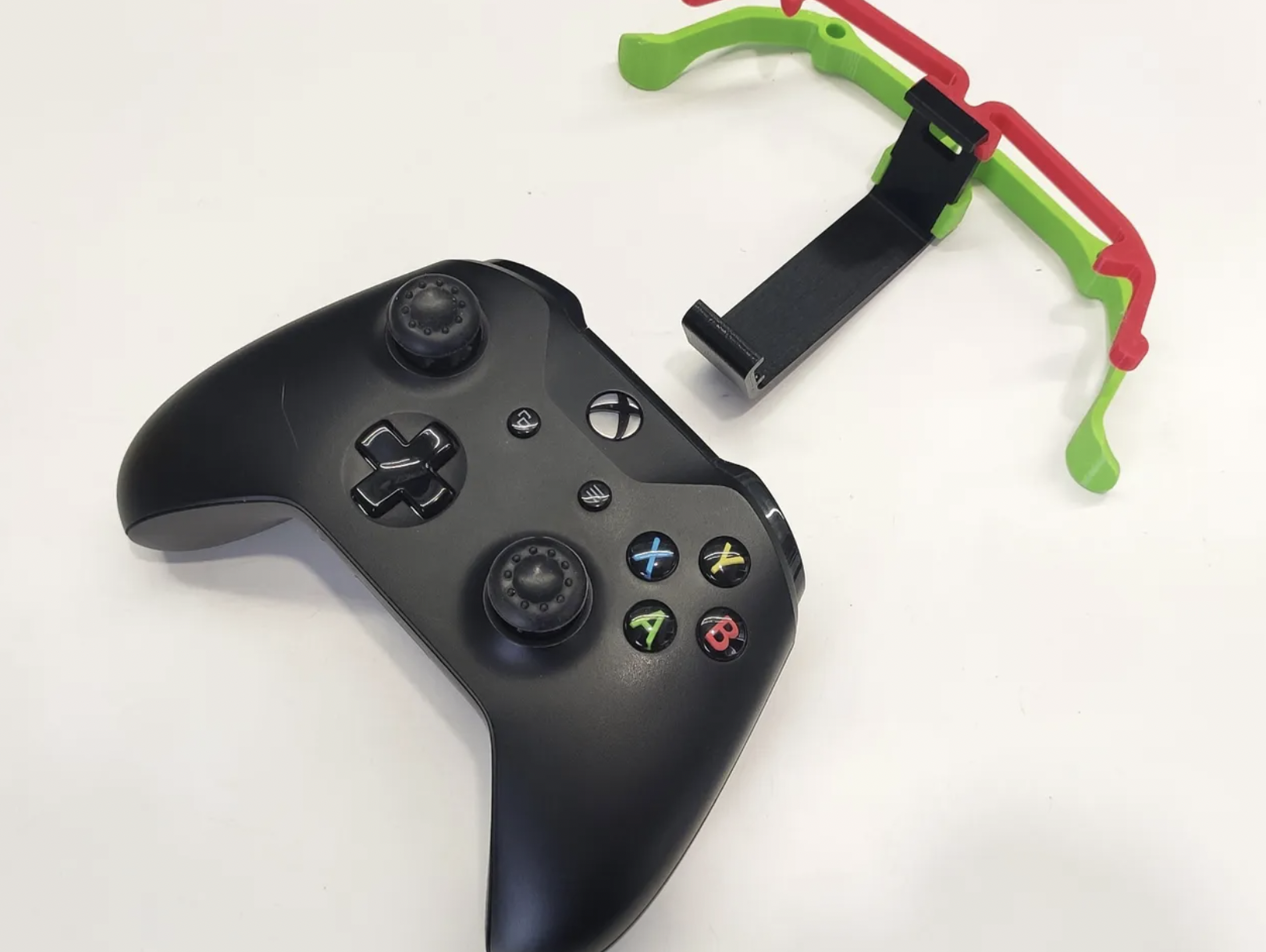 "... We want to create a library of 3D printed parts that can attach non-destructively to a game controller to allow for non-standard hand positions," the site reads. 'That means, parts that can just clip on or assemble around the controller without harming it, or requiring disassembly."
The final results are impressive, with designs that extend Xbox One trigger buttons, add joystick adapters for the PS4 controller, expand buttons, allow for one-handed gaming and much more.
🎁 Like the newsletter? Refer Axios Gaming to your friends to spread the word and get free stuff in the process. Follow the link here to begin.
🐦 Find us on Twitter: @megan_nicolett / @stephentotilo.
There go my plans for a Twitch "Vanderpump Rules" marathon.