October 01, 2021
Happy October, everyone. Stephen Totilo here to end your week with some words about video games.
⚡️Situational awareness: The latest Steam Next Fest just went live this afternoon, offering hundreds of free game demos to try on PC, Mac or Linux.
Today's newsletter is 1,190 words, a 4½ -minute read.
1 big thing: Monster "Pokémon" hit
The "Pokémon" series now has its biggest mobile hit since "Pokémon Go," thanks to the massive launch of "Pokémon Unite," a game whose announcement last year was met with derision from hardcore fans.
Why it matters: "Unite" is far from an underdog. It's a flex by some of the most powerful companies and brands in gaming.
By the numbers: "Unite" has been downloaded more than 30 million times since its launch on mobile on Sept. 22, according to industry tracker Sensor Tower.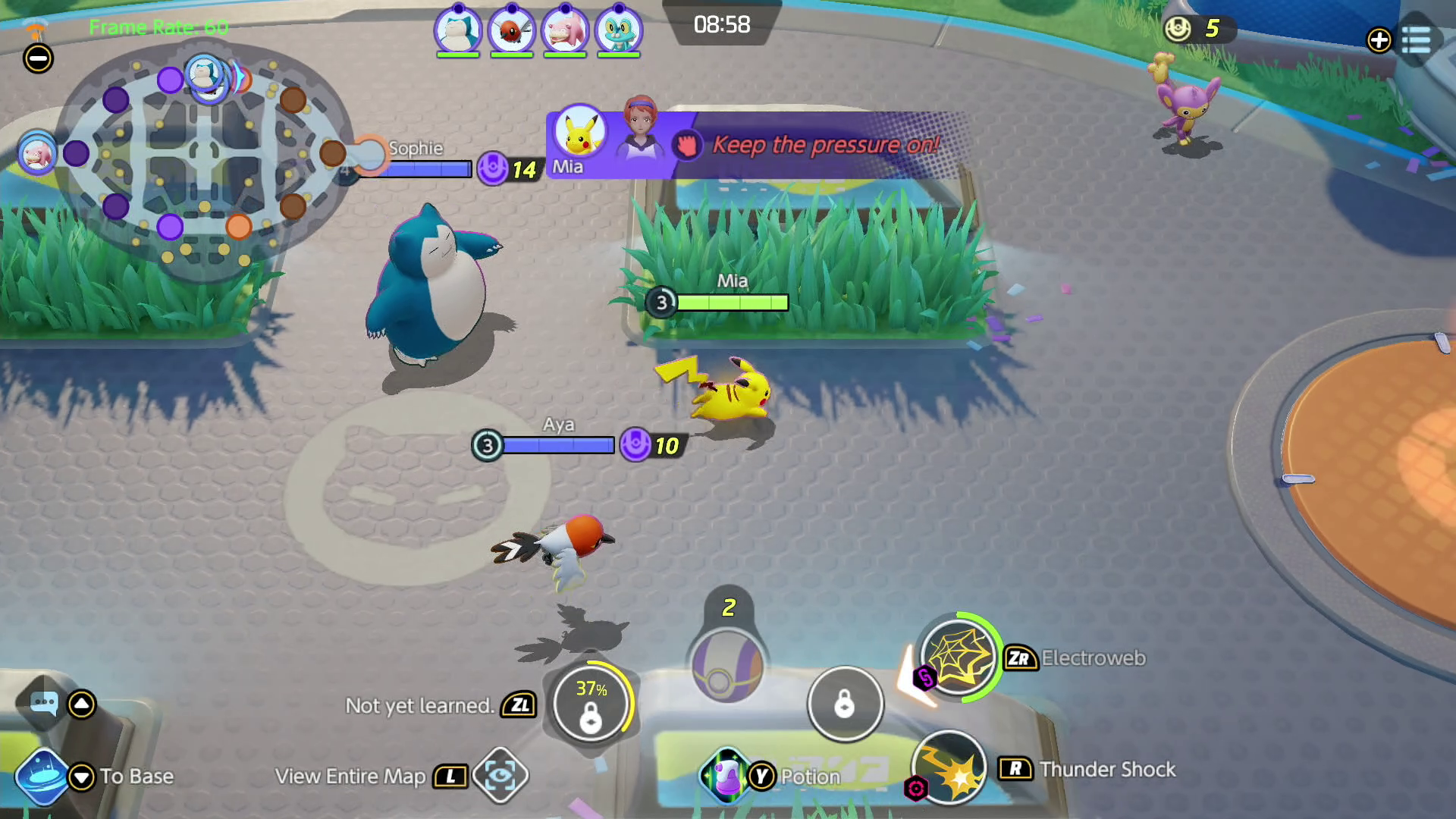 Fan skepticism had struck early: When "Unite" was announced last year, many "Pokémon" fans grumbled, downvoting the game's debut trailer 161,000 times, before the Pokémon Company deleted it and re-uploaded it.
What they're saying: "I do genuinely think it's great, but I'd say people have a love-hate relationship with it," says Kotaku editor-in-chief Patricia Hernandez, a former colleague of mine who is one of the smartest (and entertainingly strident) Pokémon experts out there.
2. Konami flops
Japanese games publisher Konami has issued a lengthy apology for the state of its new soccer/football game, which has been thrashed with negative reviews since its launch yesterday.
Why it matters: The company's free-to-play "eFootball 2022" was supposed to revive Konami's competition against rival EA, which launched its latest annual "FIFA" title today. Not this year, it seems.
"We would also like to acknowledge that there have been reports of problems users have experienced with cut-scenes, facial expressions, movements of players and the behaviour of the ball," reps for the game tweeted today.
The company vowed to make improvements through downloadable updates.
The big picture: The timing is awkward for Konami. Its mobile gaming sector has been lucrative, keeping the company profitable, but there have also been signs of Konami trying to revive the rest of its recently neglected gaming franchises.
It recently released a "Castlevania" game to Apple Arcade and issued a collection of older games in the series to consoles.
Today, well-sourced gaming site VGC reported that Konami is planning to revive its "Castlevania" and "Metal Gear" franchises, with Eurogamer echoing the detail of a possible remake to the celebrated "Metal Gear Solid 3."
3. You ask, we answer
It's Friday, so time for more reader Q&A.
Q: People online mock Todd Howard and Bethesda's constant reselling of Skyrim, but why aren't more companies doing this with their classics? Why isn't Konami doing something with Metal Gear Solid? Why isn't Ubisoft doing something with Splinter Cell?
A: See above for one of those, but the general answer is that making classic games available on modern platforms is one thing. Making them appealing is another.
Gaming graphics age quickly, limiting publisher expectations for what players will still want to buy.
And upkeep on even recent classics is hard. Remedy recently told us it took a team over a year to bring 2010's "Alan Wake" up to modern visual standards.
But we've also seen platform holders tacitly discourage marketing of older games with limited support for backwards compatibility. PS4 and Xbox One didn't initially play prior-gen games. PS5 and Xbox Series X and S do, right out of the box.
Q: Is it a pointless endeavor to buy a new-gen console without a TV that supports either 4k or HDR?
A: Not pointless. Go for it.
HDR never looks right on my TV. So I've turned it off for my machines.
Plus: many games don't run in 4K.
Even without those graphical effects, the new consoles can give you better framerates, games with better lighting and some great quality-of-life features, like the Xbox Series' ability to suspend multiple games.
4. Need to know (Tokyo Game Show edition)
⚔️ Square-Enix said they have no "Final Fantasy XVI" update, but announced a March 18, 2022, release date (and issued a new demo) for "Stranger of Paradise: Final Fantasy Origin." Plus they revealed an intriguingly minimalistic October dungeon-crawling game.
🎮 Capcom is unsurprisingly all in on its globally popular "Monster Hunter" series, promoting the Switch and PC expansion to "Monster Hunter Rise" and has announced yet more "Monster Hunter" crossovers, next with "Ghosts 'n Goblins" and "Sonic the Hedgehog."
🚀 Microsoft promoted the upcoming work of Tokyo-based studio Tango Gameworks, which it acquired when it bought Bethesda. And it promised a full Japanese translation of its marquee 2022 release, "Starfield," covering the game's some 300 actors and 150,000+ lines of dialogue.
⬆️ One non-TGS item: Electronic Arts' Laura Miele will become the company's new chief operating officer, as current COO and CFO Blake Jorgensen exits.
5. Worthy of your attention
The gamers who regularly stream to no one [Gabriel Geiger, Vice]:
"Even just having one or two viewers changes the experience completely," lightupwrists, a streamer based in Canada who averages five viewers per stream, said. "I really don't mind not having a ton of viewers so long as at least one person is keeping me company. I love chatting with my audience and getting to know them, and building those relationships as they keep showing up. That's what keeps me going." 
6. The N64's 25-year-old shock
The Nintendo 64 was released in North America 25 years ago this week, and I can still vividly remember its impact.
I was in college and had traded in my Super Nintendo and most of its games for an N64 and copies of "Super Mario 64" and "Pilotwings 64."
Nostalgia for that console is driven by how shocking its games were, transitioning from adventures that presented characters running across your TV in 2D from afar to those that seemed to put you right behind them, running through 3D worlds.
Nintendo will bring some N64 titles to the Switch this year, and younger gamers may be befuddled by the clunkiness of some of the games.
The bottom line: You had to be there, and needed to have experienced what came before.
There will probably never be another console transition like it.
🎁 Like the newsletter? Refer Axios Gaming to your friends to spread the word and get free stuff in the process. Follow the link here to begin.
🐦 Find us on Twitter: @megan_nicolett / @stephentotilo.
Remember that time I asked you all for questions for our weekly Q&A and you sent a ton in? Can you do that again with a reply to this newsletter? Just please don't ask me about "Dark Cloud 3."