October 25, 2021
Hi, everyone. Stephen here, with some gaming news.
Today isn't just another Monday. It's another day that brings us a new way to pay for the great (and perpetually re-released) "Super Mario 64."
Today's edition is 1,288 words, a 5-minute read.
1 big thing: Saving the planet
Gaming CEO Kristian Segerstrale is calling on leaders in his industry to take action on climate change, after completing a $1.4 million fundraising campaign this summer.
Why it matters: Gaming's pandemic-fueled boom creates an opportunity, and maybe even an obligation, to do some good.
"If you're doing well when the world isn't doing well, it's on you to help out," Segerstrale said in an interview with Axios.
Between the lines: In May, Segerstrale pledged to donate $250,000 of his own money and set up a matching plan as he reached out to other top gaming CEOs and founders to join his climate pledge.
The veteran mobile gaming CEO, who currently runs the cheekily titled Super Evil Megacorp, was alarmed by climate reports that detailed the hazards of an Earth that warms more than 2°C.
Worse, there are reports that calculate a 5% to 10% chance of a catastrophic 6°C increase.
"If you run a company and there's a 5% to 10% chance of something going wrong, like you buy insurance, right?" he said. "You do something about it."
He shaped his pledge on an 80/20 hedge:
The bulk went toward conventional climate solutions.
A fifth is going to a group researching emergency measures like brightening clouds so they reflect more light into space.
The big picture: A wide range of gaming companies have been putting effort into climate change.
Ubisoft announced emission reduction targets this spring.
Gaming tech giant Unity said this month that it was committing to net-zero carbon emissions immediately.
Segerstrale said he was inspired by the example of Space Ape, a mobile studio that announced in 2019 a plan to go carbon negative.
The bottom line:  "I'd really, really encourage everyone to do what they can," Segerstrale said, "because we want to look back and say we really did our best."
2. 2021's wave of excellent games
Gaming publication Eurogamer just awarded its top recommendation — "essential" — to an 11th game this year, equaling the tally for 2020.
That's despite reviewing fewer games and with two months remaining in the year.
Driving the news: That achievement was earned by the captivating virtual card game "Inscryption" and continues a season full of stand-out releases. Many are from smaller studios that are benefitting from an unusual year in games.
This month, Eurogamer editor-in-chief Oli Welsh observed that there'd been an "unusually great run" of games but noted that wasn't the full story.
A few things appear to be happening at once:
As Welsh notes, the relative lack of big-budget games this year (thanks to COVID-related issues), has given publications more license to cover the increasingly vibrant indie gaming scene.
The level of craft in gaming continues to rise each year, driving a sense that games are, generally, getting better. "The stuff that comes across my Twitter thread that has 50,000 likes, from, like, a one-person team is just amazing," Outerloop co-founder Chandana Ekanayake told Axios.
And then there's coincidence, as several games that were years in development started coming out on top of each other in July and September: "To me, it seemed more like a 'planets aligned' type scenario," said Lucas Gullbo, who co-developed one of the season's 11 standouts, "Toem."
If you're curious: Eurogamer's other nine "essential" games for 2021 have been: "Monster Hunter Rise," "Dorfromantik," "Wildermyth," "Mini Motorways," "Microsoft Flight Simulator" for Xbox, "Death's Door," "Deathloop," "Outer Wilds: Echoes of the Eye" and "Metroid Dread."
3. You ask, we answer
It's Monday, our new day for reader Q&A.
Q: I'm 28F. Growing up, I played video games with my brother when we were younger quite a bit. However, as gaming system controllers developed to using "double joysticks" … while my brother and everyone else transitioned effortlessly to these controls, I found/find that I am so insanely inept at using a PlayStation or Xbox controller. For a ton of years, I've tried sporadically but I get so frustrated with myself. It's going to sound silly but I feel like my hands don't "talk" to each other.
Do either of you have suggestions of methods or games that are good to learn "double joystick" movement?
A: You are far from alone, so don't fret. Playing games with what the industry describes as "dual analog" controls is not an intuitive act.
It's a big barrier to enjoying most console (and many PC) games and alienates a lot of potential players.
You need to get comfortable using your thumbs to do different actions at once (usually moving a character with your left, looking around with your right).
You might be trying to learn these controls while playing popular games like "Fortnite," "The Last of Us" or "Red Dead Redemption." But learning in games set in three dimensions often leaves untrained players looking down at the virtual ground as they try to walk.
My recommendation: Get comfy with dual-analog controls by playing a genre in which mastering them is relatively low stakes.
You could try driving games. In most modern ones, you accelerate with a button, steer with your left thumb and can just optionally use your right thumb to look around.
Kotaku critic Renata Price suggested to me that twin-stick shooters could be a good training ground. These games involve moving your character with one thumb and using your other to aim and shoot. You can give either thumb a rest for a second, if you're struggling. (A catch: the most popular games in the genre — "Nuclear Throne," "Enter the Gungeon" — get intense quickly).
But if you're focused on learning in 3D worlds, parachute to the fairly peaceful edge of the map in "Fortnite" (or launch creative mode) and slowly experiment. Try walking in a straight line while looking ahead, then the same while looking left, then right. Do it again, but running. Then find a tree and encircle it while looking at it the whole time.
4. Need to know
💰 Lifestyle gaming group "FaZe Clan" has agreed to go public via a special purpose acquisition company. FaZe says it reaches 350 million people, and the new combined company will have an implied valuation of $1 billion.
👩🏻‍⚖️ A California court denied Activision's request to put a state lawsuit over pay discrimination and harassment at the company on hold pending an ethics investigation of the investigators' lawyers, Bloomberg reports.
🎮 Microsoft finally showed "Halo Infinite"'s campaign via a six-minute video preview. The game launches on Dec. 8 and appears to be remolding its story mode into a more open-world format that resembles the likes of Ubisoft's "Far Cry" or Eidos' "Just Cause."
🤚 An occasionally painful mini-game from an older "Mario Party" will be included in this week's new Switch release, "Mario Party All-Stars," but with a warning about not overdoing it "to avoid irritation to your skin...," Kotaku reports.
🎤 A newly released game called "Fluency Friends" is designed to help children who stutter, The Brussels Times reports.
5. Worthy of your attention
"The developers that supported the PlayStation Vita until the very end" [David Carcasole, GamesIndustry]
For [developer] Joseph Brown, it's the role the handheld played during its time in the industry. "The Vita was important because it was a platform which was almost entirely and solely community-driven; something which hasn't really existed in the indie scene for a long time. The connection between publishers/developers and fans on the PS Vita was a unique thing, and I think something which is very worthy of appreciation."
6. A quarter-century ago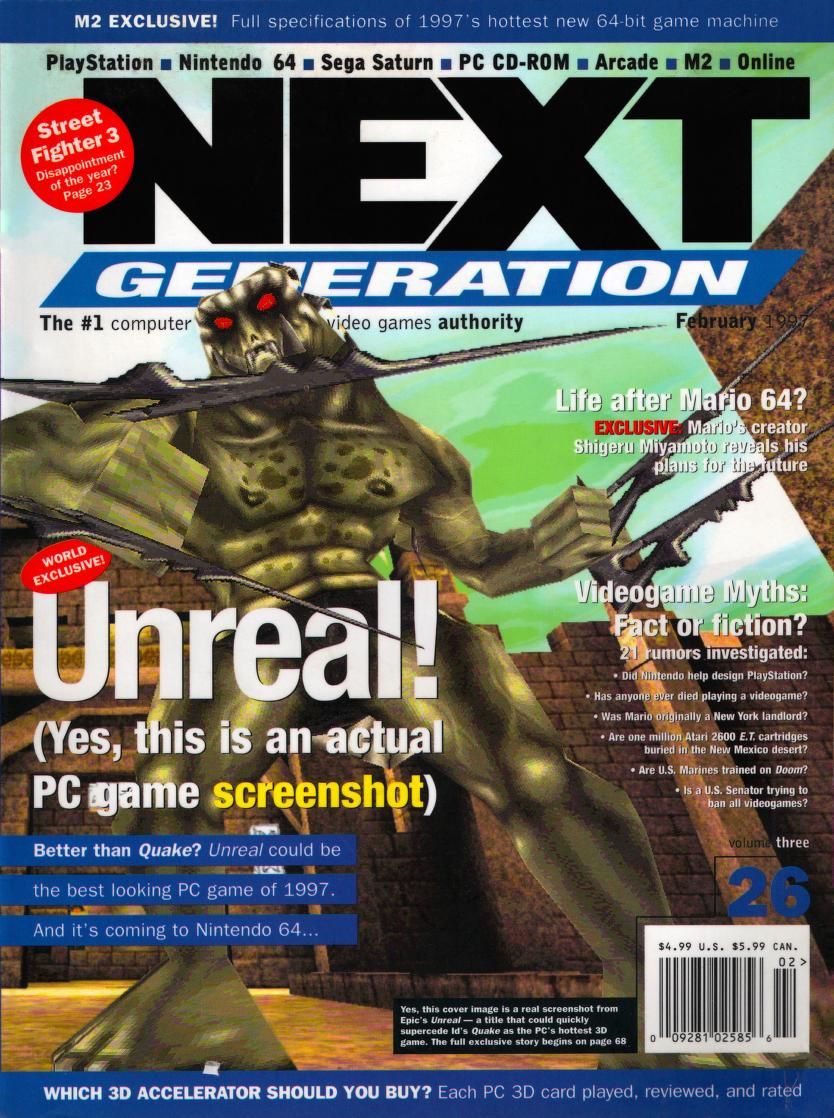 "Tomb Raider" turns 25 today, but to really see how gaming has progressed in a quarter century, check out the cover of this February 1997 issue of Next Generation magazine.
As the cover stated: "Yes, this is an actual PC game screenshot."
And as someone who remembers seeing this on the stands at the time, I can confirm: yes, this was impressive back then.
🎁 Like the newsletter? Refer Axios Gaming to your friends to spread the word and get free stuff in the process. Follow the link here to begin.
🐦 Find us on Twitter: @megan_nicolett / @stephentotilo.
Yes, this is an actual video game newsletter.