Axios Gaming
February 21, 2023
Happy Tuesday.
You're getting this newsletter a day "late" thanks to Monday being Presidents Day in the U.S. Three-day weekends remain one of history's greatest inventions.
Today's edition: 1,569 words, a 6-minute read.
1 big thing: MiHoYo's next impact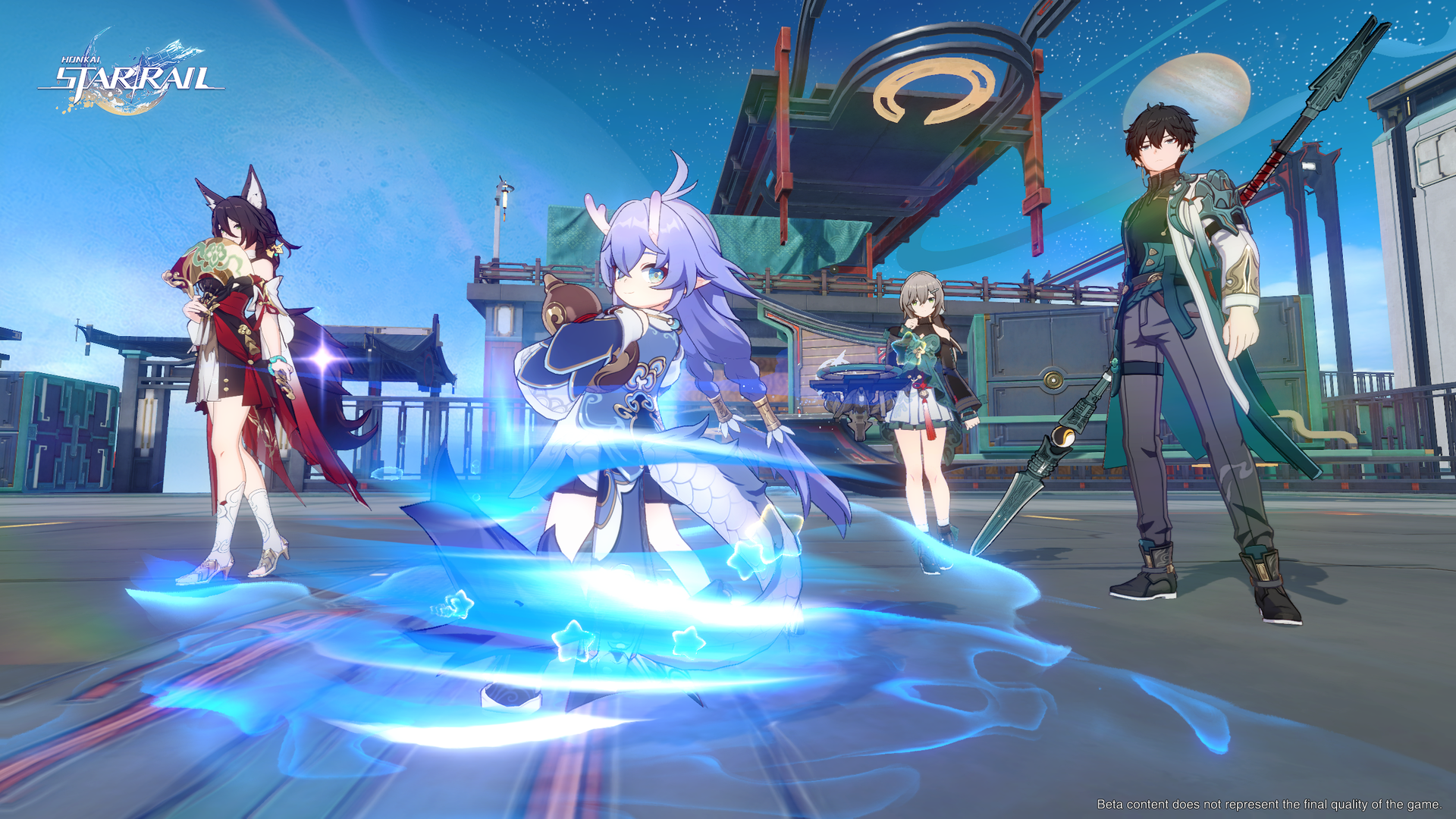 The creators of the phenomenally successful Genshin Impact are getting close to releasing their next game, Honkai: Star Rail, and already have 10 million people signed up to play.
Why it matters: Chinese gaming powerhouse MiHoYo is rewriting the rules about how to thrive in the industry, and competitors are struggling to keep up.
The company specializes in lushly rendered, free-to-play games that run on phones and higher-end home hardware and draw comparisons to $60 console staples like Zelda and Final Fantasy.
Genshin Impact was released in late 2020 for PS4, iOS, Android and PC, an unusual platform split at the time.
While MiHoYo doesn't release metrics for Genshin Impact, tracking firm Sensor Tower believes it generated $3.7 billion in player spending on mobile alone in its first two years of release.
Details: Honkai: Star Rail is a single-player, sci-fi adventure with turn-based combat and is announced just for phones and PC for now.
Some 500 developers are making the game, according to Fish Ling, senior director of global development for HoYoverse, the company's gaming brand.
It's currently in its third closed beta where players can use the space train "Star Rail" to go on combat missions and solve puzzles across three locations, including a space station and planets.
More than 10 million people have pre-registered to download and play the game once it is released, including more than 2.5 million outside of China, Ling told Axios during a brief demo of the game in New York.
Between the lines: As with Genshin Impact, MiHoYo plans to give Star Rail players access to a generously detailed and continuously expanded adventure at no cost, while encouraging them to pay money for extra and better characters.
MiHoYo has expanded Genshin Impact's world several times since launch, adding new characters each time.
Long-term support for the company's games is essential, Ling says. "We do intend to run the game, like all of our titles, as long as possible."
What's next: Ling wouldn't confirm if a recently spotted iOS App Store listing of April 26 indicated the game's real release date but said the team hoped to offer an update soon.
2. Crackdown on Genshin leakers
At the request of MiHoYo's Cognosphere division, a California court has subpoenaed Twitter to reveal the identities of people behind three accounts that post Genshin Impact leaks.
Driving the news: Cognosphere's three subpoenas, all issued this month, request names, phone numbers, IP addresses and "other information within your possession, custody or control, sufficient to identify" Twitter users Merlin Impact, Genshin World and XWides.
Each of the accounts has tweeted images and information about then-unreleased portions of Genshin Impact, possibly obtained through test builds of the game.
Earlier this month, Cognosphere had asked Twitter to delete multiple tweets from each account, alleging their leaked content amounted to copyright violations. But the tweets in question remain live.
MiHoYo recently targeted Genshin Impact leakers on Discord as well, Torrent Freak previously reported.
The big picture: Game companies regularly deploy copyright strikes against people who post early glimpses of their games to social media and YouTube.
Often, the bigger the game, the bigger the leaks and corporate response.
In 2021, The Pokémon Company won a $150,000 judgment against people who leaked Pokémon info via an advance copy of an unreleased strategy guide.
Epic Games has sued Fortnite leakers.
What they're saying: MiHoYo's Fish Ling tells Axios she wasn't privy to the exact thinking behind the subpoenas but described leaks as "an issue that all of our development teams are facing."
The other side: The user behind leak account Merlin Impact told Axios that MiHoYo's actions didn't faze them and argued that the company secrecy was excessive, given player enthusiasm around MiHoYo's games.
"I don't know why they can't change their strategy," they told Axios over a private message.
Asked what they thought of MiHoYo acting against them: "If they are really coming after me, that mean[s] I'm a next target now ¯\_(ツ)_/¯"
3. Return-to-office resistance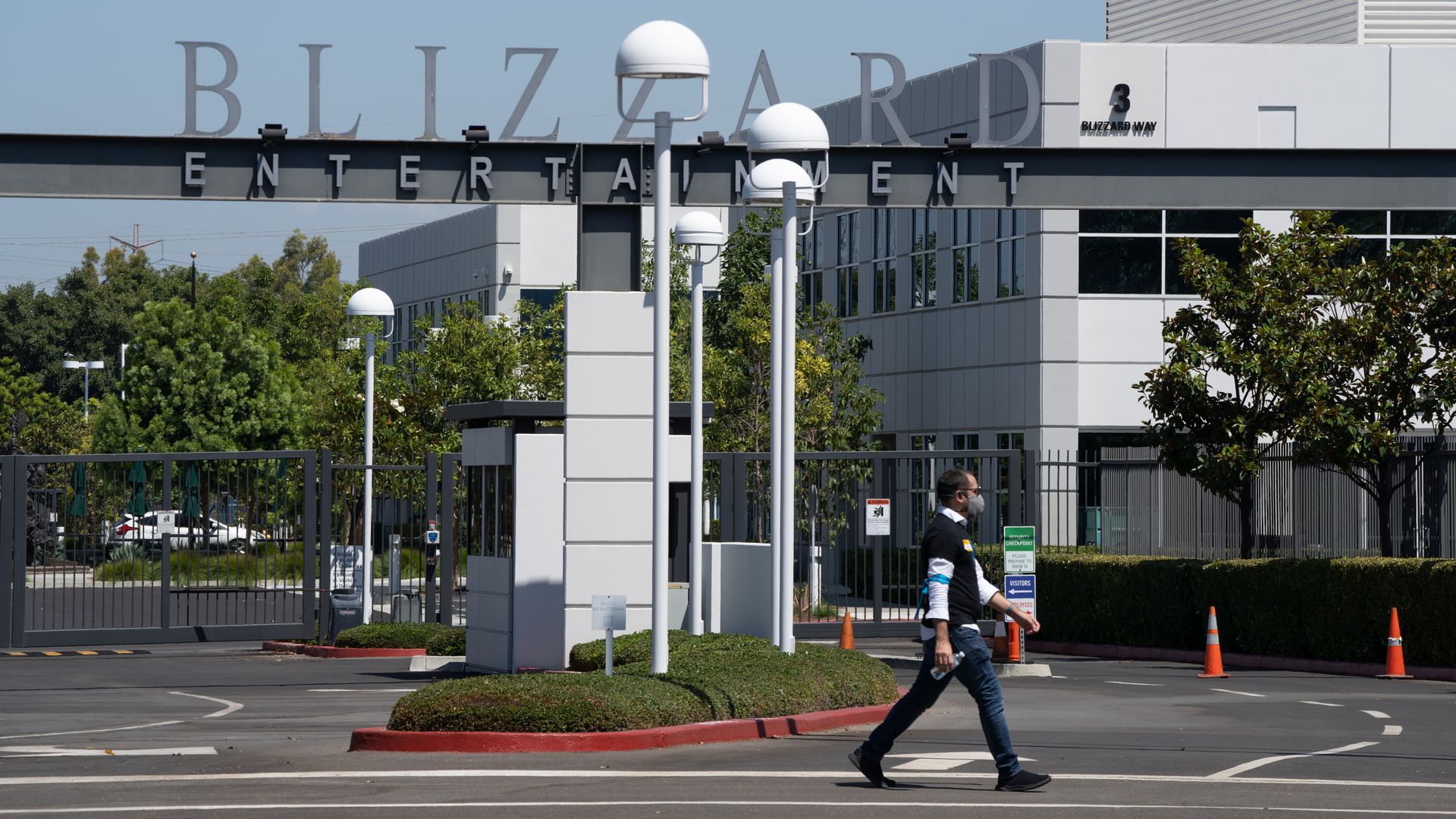 Return-to-office policies for Activision Blizzard's Activision (Call of Duty) and Blizzard (World of Warcraft, Diablo, etc.) divisions have riled some workers, who say upcoming requirements of three on-site days a week are unnecessary and could cost the company talent.
Why it matters: Many game developers have gotten used to remote work, and some studios have even committed to remote game-making long-term.
But some studios really want workers to return and believe remote work contributes to game delays or otherwise holds back production.
Between the lines: Activision Blizzard's news hasn't gone down well, leading to a contentious meeting at Blizzard last week and further clarifications, if not policy tweaks, from the company.
Blizzard chief Mike Ybarra told workers in a post-meeting memo that those who have medical reasons to avoid the office or are under long-term remote arrangements would not be impacted.
Managers at the company's studios are also "empowered" to make decisions best for their teams, Activision Blizzard spokesperson Joe Christinat tells Axios. He noted that "certain parts of our business lend themselves better to an in-person environment and that certain roles may require more time in the office."
While Activision Blizzard's big divisions have been allowed to make their own decisions about in-office policies, the company's corporate leadership has no in-office mandate, Christinat said. He noted that "many corporate leaders are in the office a minimum of three days per week."
4. Microsoft-Activision updates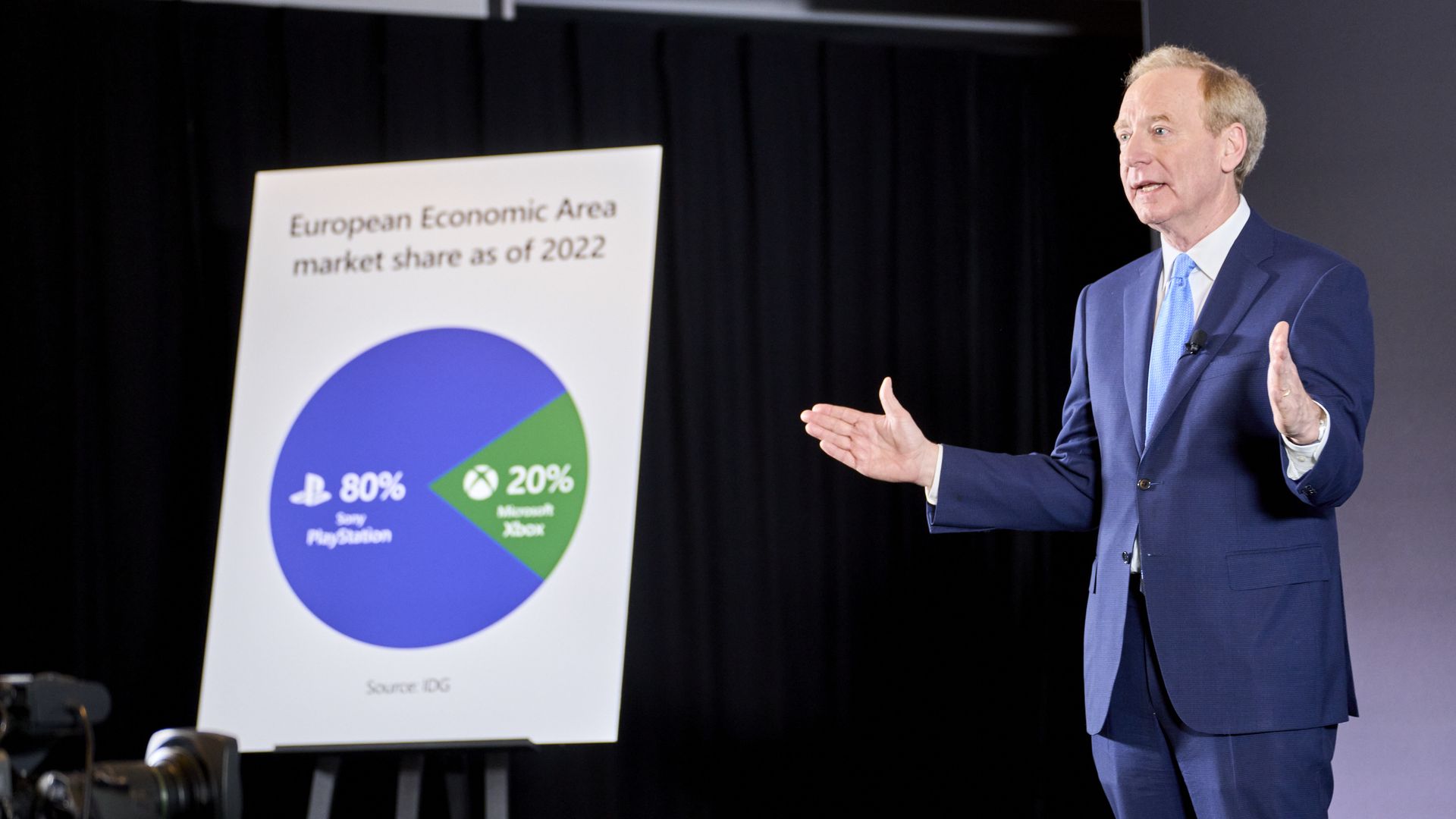 Microsoft publicized some deal-sweeteners today, as it faced skeptical European regulators at a closed-door hearing regarding its $69 billion bid for Activision:
A 10-year commitment to bring Xbox games and Call of Duty to Nvidia's GeForce Now, the main cloud-gaming rival for Microsoft. News of the deal was accompanied by comment from Nvidia, once a concerned party, saying it now "​​is offering its full support for regulatory approval of the acquisition."
News of the signing of a previously mentioned, legally binding, 10-year deal to bring Call of Duty to Nintendo platforms.
Be smart: The Nvidia move is meant to defang regulatory arguments that the deal would unfairly limit competition in the nascent cloud-gaming sector, in which players control games that are played off remote servers.
Regulators in the EU, U.K. and U.S. have all expressed major concerns over the deal, including how it would impact Microsoft rival Sony PlayStation, which continues to oppose it.
5. Need to know
💰 Sega is the latest Japanese gaming company to announce across-the-board raises for its workers in that country, following Nintendo and Capcom.
👨🏻‍⚖️ Cheat-maker AimJunkies has been ordered to pay Destiny maker Bungie $4.4 million in damages and legal fees, according to legal filings, though an AimJunkies rep tells Axios it plans to fight the decision, which has not received court approval. (Read more on Bungie's battles with cheaters.)
In a separate case brought by Activision, a judge found two Call of Duty cheat-makers for the group Engine Owning liable for $3 million in damages.
🌍 A shake-up at Take-Two Interactive's Firaxis Games following the critical success but commercial failure of Marvel's Midnight Suns will see studio chief Steve Martin and MMS lead designer Jake Solomon exit, while the team under new Firaxis head Heather Hazen develops the next installment of its storied Civilization series.
🧙‍♂️ A gaming bundle of magic-themed games by LGBTQ creators meant to counter-program the release of a recent Harry Potter game Hogwarts Legacy has raised nearly $200,000. (The Potter game, meanwhile, has proved popular, despite the controversy around its release.)
😲 Horror production company Blumhouse ("M3GAN," "Paranormal Activity," "Get Out") is getting into the video game business with a new interactive division that will work with independent game studios for indie-scale games on budgets of under $10 million, the company announced today.
6. Remembering Minesweeper "panic"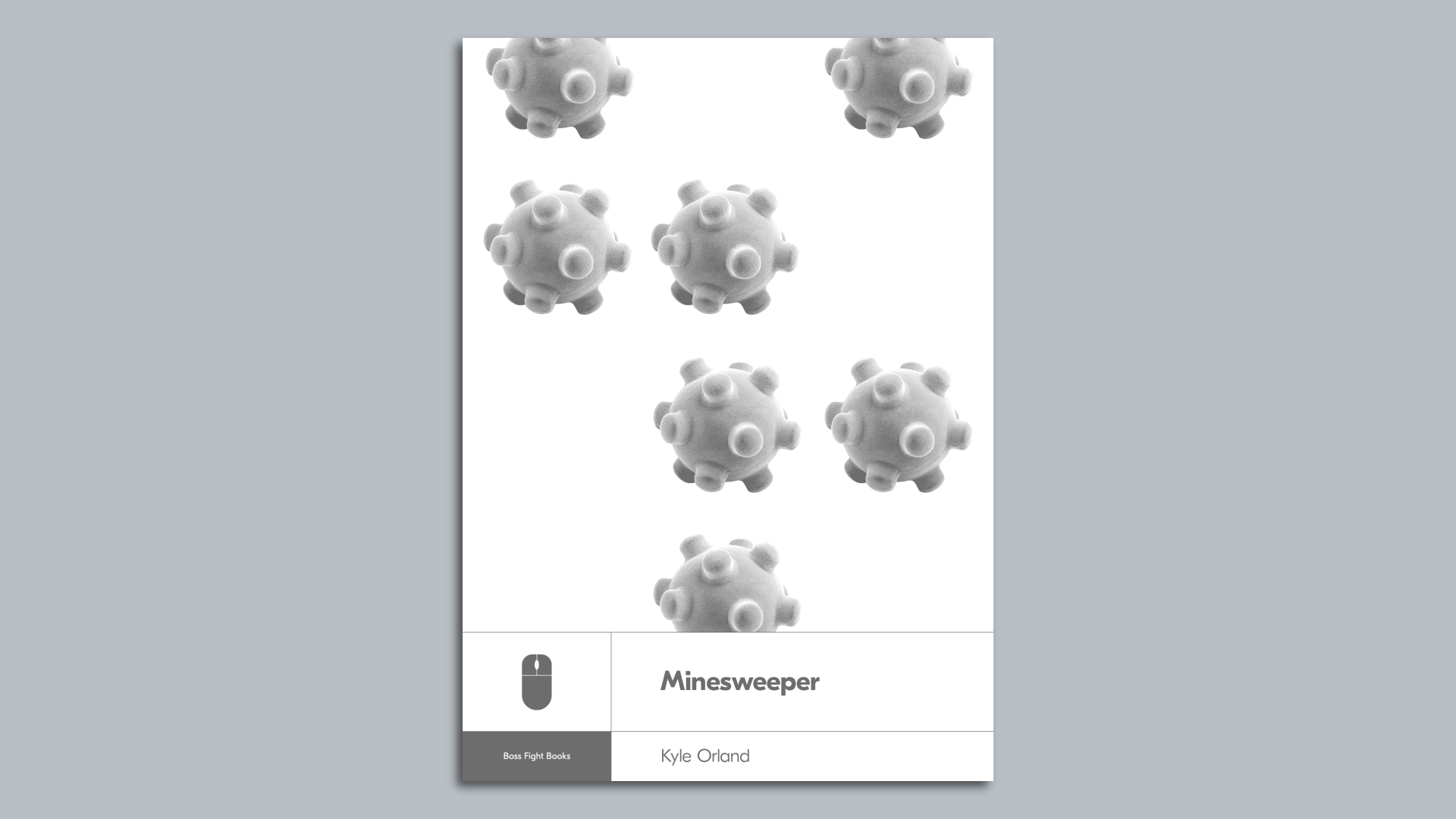 Few games, if any, have been used to procrastinate more than classic Windows clicker Minesweeper, which is the subject of a new book of the same name.
In "Minesweeper" (available for print or digital preorders through Boss Fight Books via Kickstarter), journalist Kyle Orland details the game's creation and the resistance its creators faced within Microsoft to include a video game as part of Windows.
Why it matters: Minesweeper, Orland notes, was one of the early games to get labeled as a time-waster, setting off a "moral panic" in the 1990s alongside that era's other dastardly digital distraction, Windows Solitaire.
Sci-fi writer Orson Scott Card, reviewing Minesweeper in 1991, called it "the most diabolically addictive game I've seen lately."
By 1997, conservative pundit Charles Krauthammer declared himself a recovered "Minesweeper addict" and Washington Post columnist Richard Cohen ruminated on the "hours wasted, the marriages and relationships ruined" by the "vast number of addicts, people playing Solitaire or Minesweeper or some other game until they are red in the eye."
Mass deletion: Mineswept with concern about productivity, companies such as Sears, Boeing, Ford and Aetna deleted pre-installed games from company computers, Orland reports.
Pennsylvania, Illinois and Virginia all issued bans on games on government computers, though a federal effort led by then-Sen. Lauch Faircloth (R-N.C.) failed.
Soon, Orland notes, the availability of the internet on work computers displaced concerns over these games.
Excerpt from the book:
Among a certain segment of America's business and leadership class, the conventional wisdom was that Minesweeper, Solitaire and other pre-installed computer games were responsible for billions of dollars in stolen wages and wasted taxpayer dollars that required legislation to safeguard. More than that, the games themselves were symbols of the anxiety some felt about how quickly the computer revolution was changing how Americans worked and lived.
🎁 Like the newsletter? Refer Axios Gaming to your friends to spread the word and get free stuff in the process. Follow the link here to begin.
🐦 Find me on Twitter: @stephentotilo.
Thank you to Peter Allen Clark for editing and Kathie Bozanich for copy editing this newsletter.
With a new Pokémon online showcase slated for Feb. 27, I'm already bracing myself for a lack of news on Pokémon Sleep. Announced in 2019, MIA ever since.