Axios Gaming
March 24, 2022
Thursday's Gaming is here, and it's Peter again fielding stories from Stephen and Megan as we hit the home stretch at the Game Developers Conference.
Fun fact: I'm from Kentucky and can't use the phrase "home stretch" without thinking of horse racing. 🏇
Giddy up, y'all.
Today's newsletter is 1,202 words, a 4.5-minute read.
1 big thing: The CEO of Saudi Arabia's new gaming company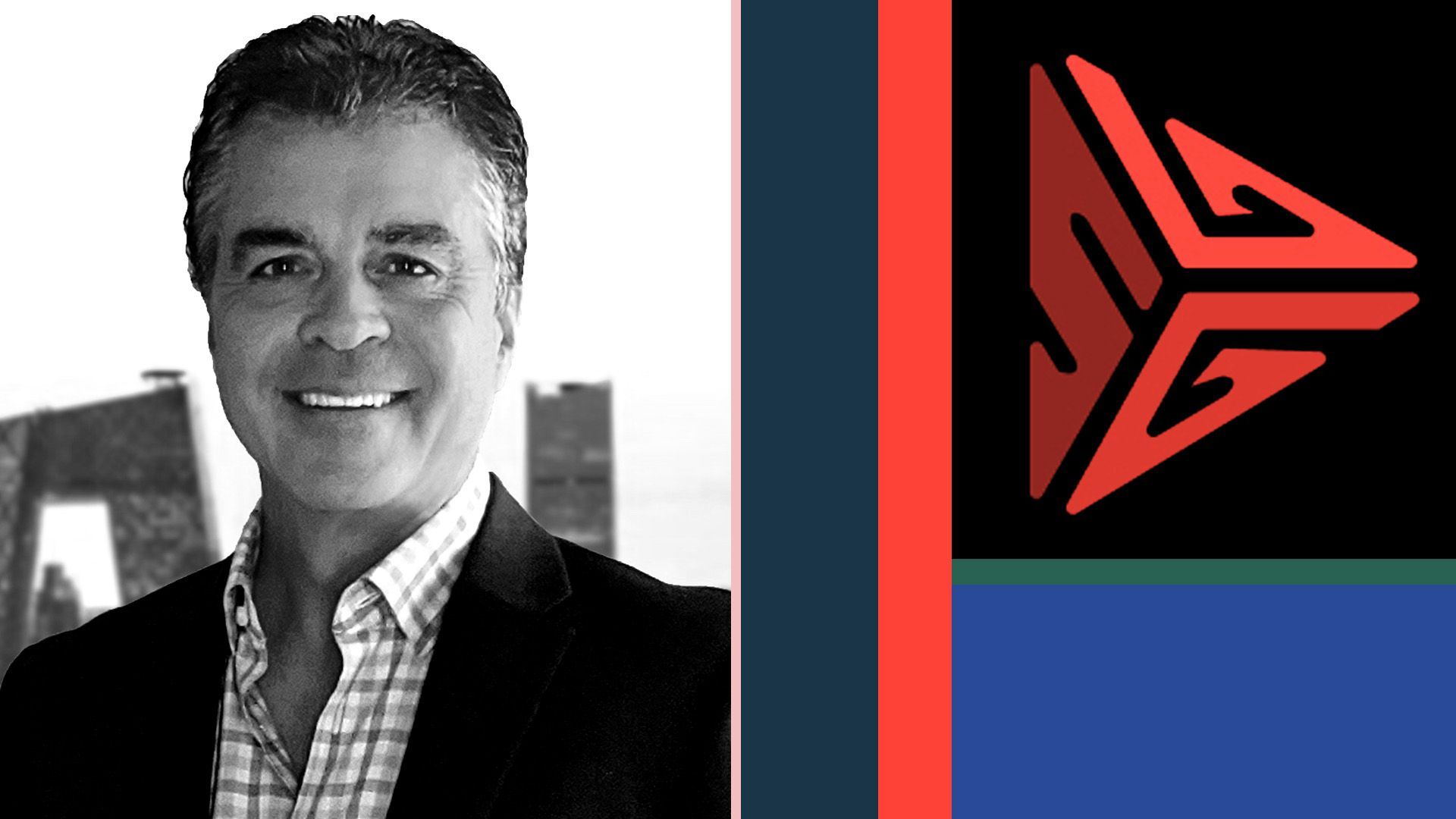 The head of a new multibillion-dollar gaming conglomerate backed by the Saudi government's sovereign wealth fund says it's a real business — and not a reputation booster for the controversial kingdom, Stephen writes.
Driving the news: The Savvy Gaming Group burst into public view in January with an announcement from the country's Public Investment Fund (PIF) that the new entity had purchased esports organizations ESL and Faceit for $1.5 billion.
Savvy arrives not just amid scrutiny of the country, but continued pushback over various organizations seeking to partner with Saudi Arabia.
"I'm not over there on an image makeover project," Savvy's CEO Brian Ward, a former top executive at EA and Activision, told Axios in an in-person interview Wednesday.
"We're there to build a real commercial entity that's a powerhouse, hopefully, in gaming and aimed at developing and growing the game sector."
The Savvy project was developed over the last two years and incorporated in November, Ward says, with "keen interest from the Crown Prince" Mohammed Bin Salman, who chairs the company's board.
He won't say exactly how much money they have, but described it as "many, many, many, many billions of dollars."
The group's sprawling ambitions, as described by Ward, span a range of gaming sectors, including building gaming venues, a studio to make games, an incubator for developing gaming in Saudi Arabia, an esports company and an investment fund.
The enterprise is inherently controversial, given its ties to Saudi Arabia and its close affiliation with the Crown Prince.
Asked about the kingdom's record on human rights, its crackdown on women activists and homosexuality as well as its ongoing war in Yemen, Ward cautioned not to rely on older impressions of Saudi Arabia. He argues that visiting the country would open people's eyes to progress.
When asked by Axios if he agreed with the U.S. intelligence assessment that the crown prince approved the 2018 killing of Washington Post columnist Jamal Khashoggi, he said, "I can't talk about that. I don't have any knowledge of it. We're not part … I'm not part of the government. I'm not associated with the government."
Savvy got a grilling from employees of the esports companies they recently acquired, Ward says.
During town halls with workers, he noted, "we got all kinds of tough questions like this about LGBTQ rights and the safety of women in the kingdom."
His answer to all of this is that Savvy will operate "with the values and culture of what we know our audience wants and our audience respects..."
Many American companies that had shunned the kingdom after Khashoggi's killing have warmed to it again, perhaps emboldened by the U.S. government's refusal to sanction the Saudis. The PIF invests in numerous U.S. firms.
The bottom line: Savvy has the money to make big moves, allowing Ward to describe ambitions that include building 300 gaming venues in Saudi Arabia in five years.
2. Raven's letter to Microsoft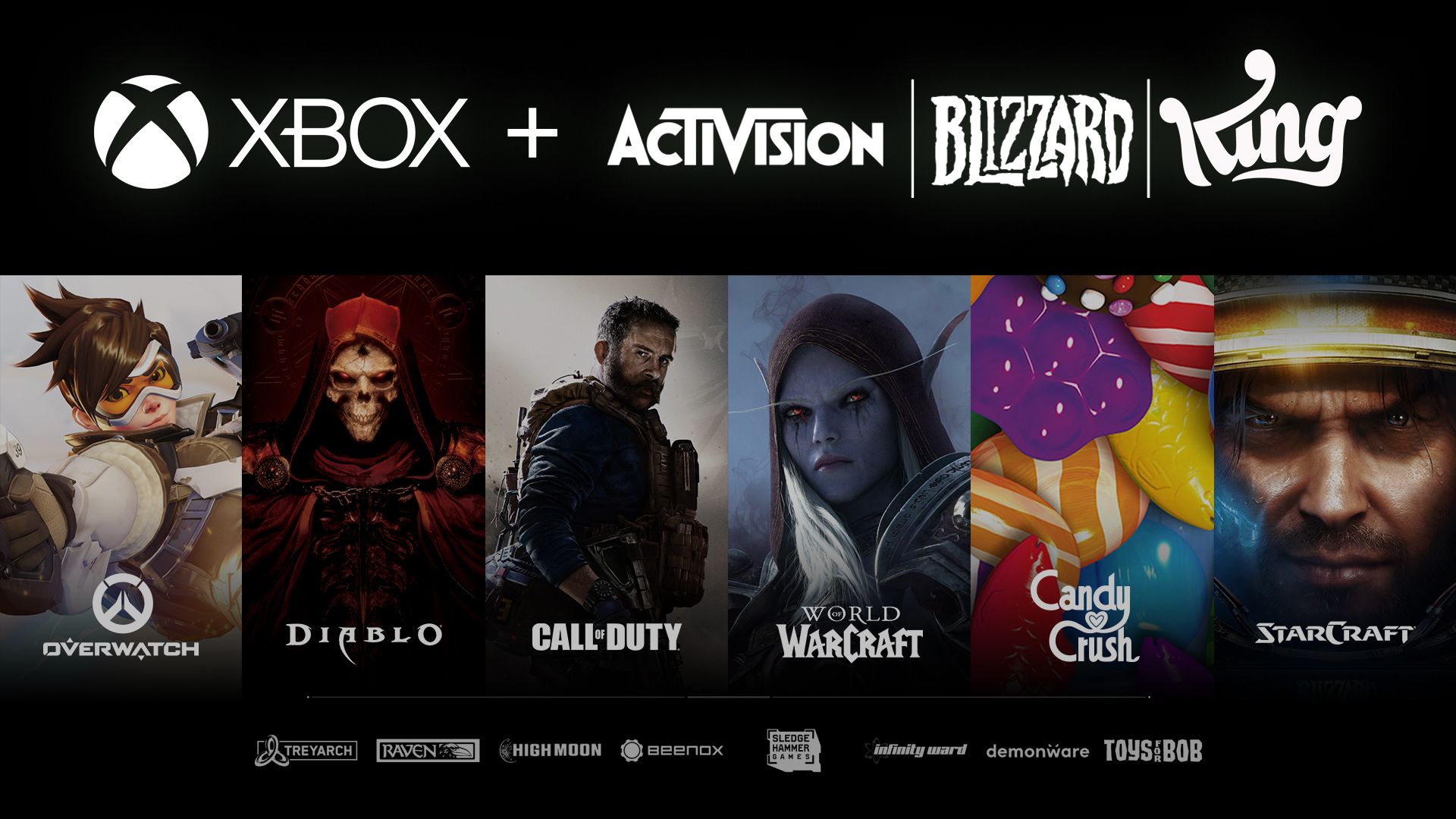 ​​Microsoft says it will not object to Activision Blizzard recognizing internal unionization efforts, in response to a letter from Activision workers pressing the company to state its position about a potential union at Call of Duty studio Raven Software, Stephen writes.
Why it matters: Microsoft's proposed $69 billion acquisition of Activision still faces regulatory hurdles, but the tech giant may have some say about union efforts at the games company.
Activision failed to recognize the union by a January deadline.
A February outline of the acquisition sent by Activision to its shareholders states that the company may not voluntarily recognize a union or enter a collective bargaining agreement without satisfying one of several conditions, one of which is to receive Microsoft's approval.
In the letter, sent to CEO Satya Nadella and shared exclusively with Axios, workers ask whether his company has authorized Activision to approve or oppose recognition of the union — or if it would potentially OK recognition.
The letter requests information about Microsoft's involvement, if any, in the workers' current dispute with Activision over the unionization process, which is now subject to a ruling by the National Labor Relations Board.
And it asks, "[W]hat conditions, if any, will Microsoft put on the collective bargaining process?"
A version of the letter will run as an ad in the Seattle Times on Sunday.
"Microsoft will not stand in the way if Activision Blizzard recognizes a union," a company spokesman told Axios when asked about the letter.
"Microsoft respects Activision Blizzard employees' right to choose whether to be represented by a labor organization and we will honor those decisions."
The company did not clarify what discussions have already taken place, nor its expectations for any collective bargaining process.
Flashback: Quality assurance workers at Raven announced their intent to form a union in January, after striking over their parent company's decision to drop a dozen QA contractors.
It has stated that it supports its workers' right to organize but has communicated internally and externally that it believes "a direct relationship" between workers and management is better for workers.
Between the lines: Unionization is rare in the global gaming industry and nearly nonexistent in the U.S., where Raven, Activision and many of Microsoft's own video game development teams are based.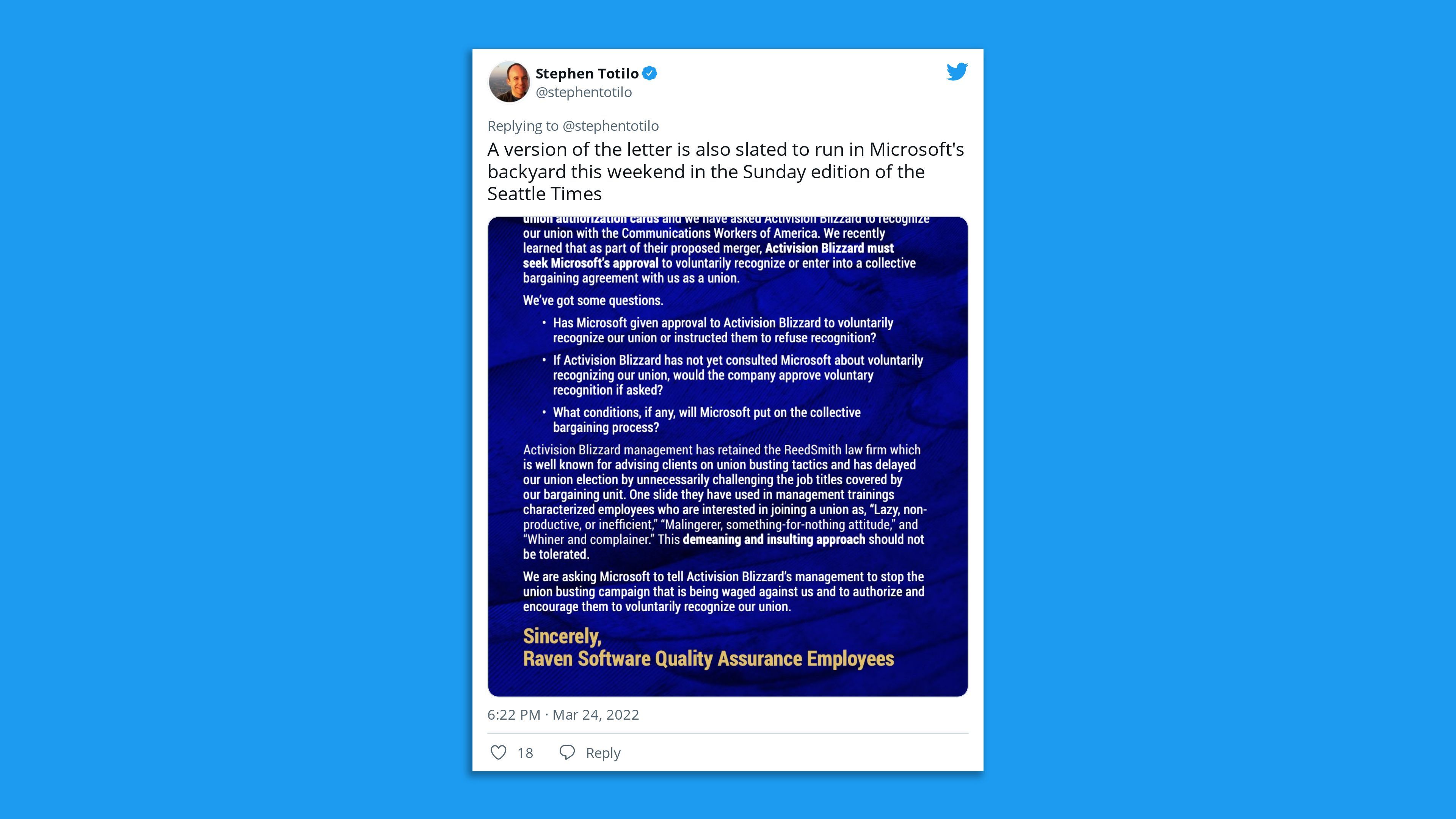 3. Need to know
🥇Cult favorite Inscryption took home the top prize last night at the Game Developers Choice Awards.
💼 A current Activision Blizzard employee filed a lawsuit against the company yesterday, claiming she experienced discrimination and sexual harassment.
📈 Tencent has released its annual financials for 2021, reporting $27 billion in games revenue.
📉 Tencent's annual report also cites an 88% year-over-year decrease in the time minors spent playing games in China, following strict national rules imposed last August.
4. From GIF to game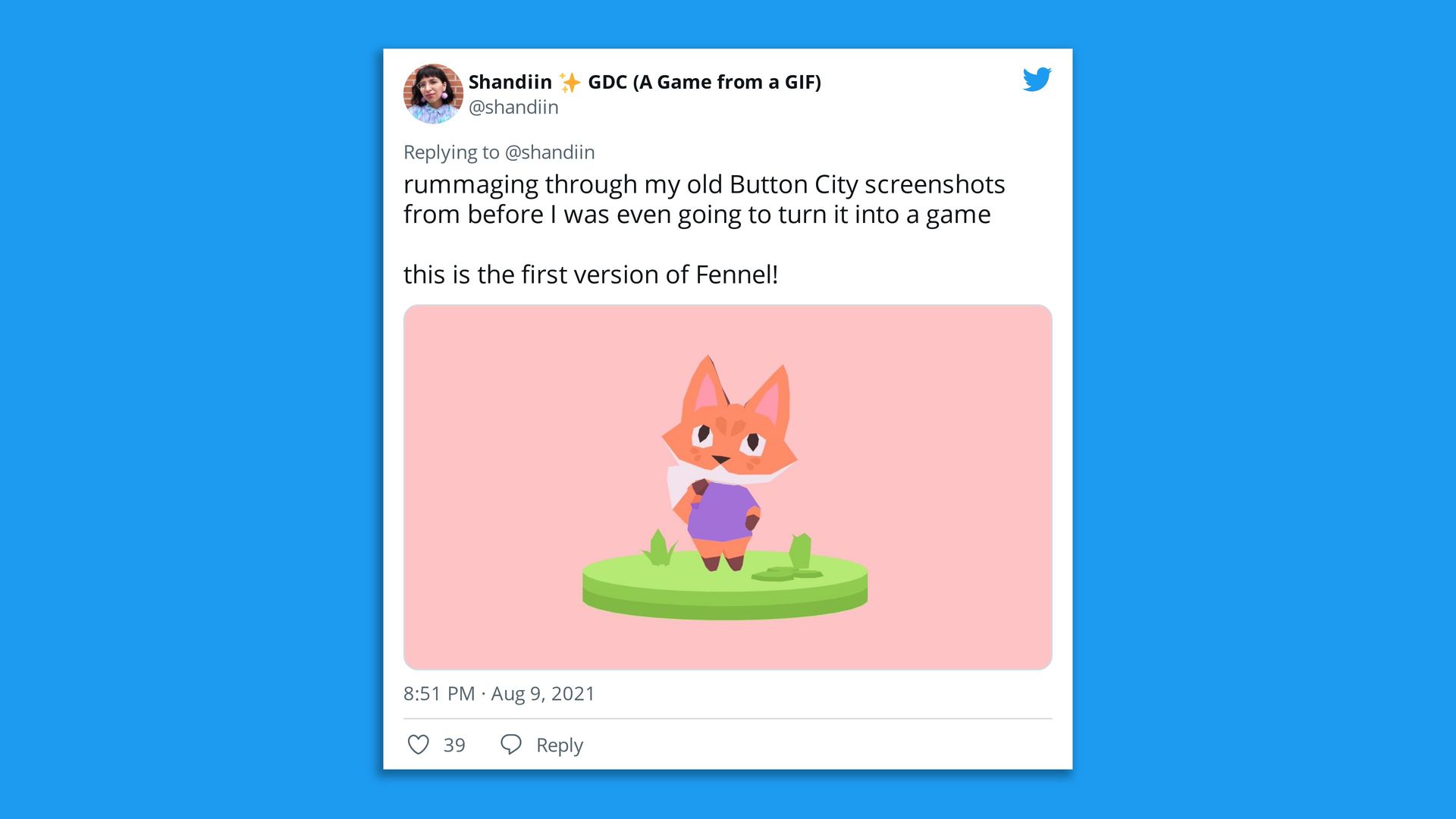 Games can come from many places: the development of rich narratives, iterating on gameplay mechanics, merging genres. Button City, an indie game released last year on current-gen consoles and PC, came from a GIF.
Driving the news: The two co-founders of indie studio Subliminal, Shandiin Yazzie Woodward and Ryan Woodward, gave a GDC talk that laid out the pros and cons of developing a whole game from one cute piece of art.
Shandiin said she was learning 3D modeling a few years ago, and created a little, low-poly fox character to develop her skills.
In October 2016, she shared a GIF of the fox, named Fennel, on Twitter. It sparked positive reactions, enough for the tiny team to consider putting Fennel into a small game.
"So we took this feedback … and decided that we wanted to turn this into a larger project," Shandiin said.
Button City evolved into a charming game in which a cast of animal characters work together to save the neighborhood arcade from folding.
Along with pushing the story forward through conversations with the adorable cast, there are smaller games in the arcade, including a racing game and a rhythm game.
"Finding the fun took a lot longer," Ryan said, as they figured out what kind of game they were making, exactly.
It started as a puzzle game. But as characters were added to the cast, they decided to tell a bigger story.
On the other hand, settling on the art style super early on helped Subliminal create, as Shandiin described it, "an iconic aesthetic."
🎁 Like the newsletter? Refer Axios Gaming to your friends to spread the word, and get free stuff in the process. Follow the link here to begin.
🐦 Find us on Twitter: @megan_nicolett / @stephentotilo.
GDC day 4: Megan says, "Today's newsletter is brought to you by coffee. Coffee! Dehydrate yourself today."