December 03, 2021
It's Friday. I'm Stephen.
Nice to have you all here as readers.
Today's edition is 1,190 words ... 4½ minutes.
1 big thing: The Bungie-Xbox split, revisited
Microsoft's head of gaming understands why Bungie, arguably the most acclaimed game studio in Xbox history, left the tech giant to go independent many years ago, but he thinks his company might have been able to retain them today.
Driving the news: Some fascinating what-if scenarios about Bungie and Xbox are top of mind going into next week, thanks to some major releases.
On Tuesday, Bungie will celebrate its 30th anniversary in its hit game Destiny 2, while on Wednesday Xbox will release the newest game from the franchise Bungie created but no longer develops: Halo.
Microsoft acquired Bungie in 2000 and launched its first console, the Xbox, alongside Bungie's hit Halo: Combat Evolved in 2001.
Bungie created several more Halo games before going independent in 2007 and creating the Destiny shooter series for Xbox, PlayStation, and eventually PC and Stadia.
What they're saying: "We've learned a lot," Xbox's Phil Spencer told Axios when we discussed Bungie's history with Xbox in late October.
Asked if the split was inevitable or if Microsoft could have held on to them, he added: "Could we do it today? I think we could."
But he said he understands why they left. "At the time they had big ambitions. They had sold their business for a certain amount of money. They saw what Halo turned into. And it's like, 'OK, Microsoft benefited more than Bungie did from the success of Halo.' There's no other story that can be written there."
He mused, "If you're saying, 'Hey, I think I've got another one of those in me. I want to really take another chance,' I can understand the allure of doing that as an independent company."
Between the lines: Next week's Destiny and Halo releases had raised hopes that at least some sort of crossover would happen.
Early screenshots of the 30th anniversary event showed a Destiny character in an outfit that included references to Halo's iconic Needler gun and protagonist Master Chief's helmet.
Newer shots released this week have fans again looking for hints of a more substantial connection.
But the pending removal of Destiny from the Xbox Game Pass service has lowered hopes.
Spencer, an avid Destiny player, told Axios in October that he didn't know if there was a crossover plan for the 30th anniversary. A rep for Bungie told Axios this week they preferred to keep the 30th anniversary content a surprise.
It's not just a Microsoft thing. Bungie's Halo game was introduced to the public by no less than Steve Jobs at a MacWorld expo in 1999.
2. The week ahead
Here's a look at next week's gaming happenings.
Heads up: It's one of the biggest gaming weeks of the year.
Saturday, Dec. 4
Icarus (PC), a new survival game from the genre pioneers behind DayZ, is released.
A big in-game event in Fortnite (4 p.m. ET) called The End will conclude Fortnite Chapter 2, the name for the battle royale's last two years' worth of game-changing seasons.
Sunday, Dec. 5
Farming Simulator League, the only major farming game esport, holds its world finals.
Monday, Dec. 6
Possible start for Fortnite Chapter 3, give or take a day.
Tuesday, Dec. 7
Wednesday, Dec. 8
Halo Infinite (Xbox, PC) is released; this is the new $60 single-player campaign portion of Microsoft's biggest gaming series. The free competitive multiplayer part of Infinite is already out in beta.
Call of Duty: Warzone (Console, PC), Activision's popular free-to-play battle royale game switches to a new map set in the Pacific, to help coordinate with the recently released $60 Call of Duty: Vanguard.
Thursday, Dec. 9
Loop Hero (Switch) and War in the East 2 (Steam) are released to new platforms/marketplaces.
The Game Awards stream live online; these are the flashiest of gaming's annual awards events, featuring heaps of new game trailers and reveals. Expect surprises.
Friday, Dec. 10
Paper Mario (N64) will be added to Nintendo Switch's online retro game service.
November NPD sales figures announced, offering a look at U.S. games industry sales through Black Friday.
Saturday & Sunday, Dec. 11-12
Valorant Champions 2021 tournament finals for Riot Games' popular competitive shooter.
3. The Oregon Trail, 50 years ago
The Oregon Trail has turned 50 years old, and if you're scratching your head — a computer game in 1971? — you're not alone, Axios Twin Cities' Nick Halter writes.
Driving the wagon: The game was created by a trio of students at Carleton College in Northfield, Minnesota, five years before the first personal computers.
It was a bunch of baby boomers at Jordan Junior High in Minneapolis who first played the game as middle-schoolers on a teletype in the early 1970s.
Why it matters: The Oregon Trail eventually became a computer game and was used widely in classrooms across the country in the 1990s.
One estimate says 65 million copies of the game — which taught youngsters about managing resources — were sold.
The intrigue: So it was children of the '90s who learned to ford rivers, replace broken wagon wheels and try to stave off dysentery.
4. Need to know
🤔 Dwayne "The Rock" Johnson still isn't officially credited as playing the role of The Foundation in Fortnite's ongoing story, but he just happens to have The Foundation's helmet in his fridge.
😲 Take Two Interactive's trademark lawyers went after EA-published multiplayer hit It Takes Two earlier this year, leading to the latter abandoning its trademark for the game, Eurogamer reports.
👠 Games sometimes lock clothing items to male- or female-passing player character models, but Square is gradually removing so-called gender locks from more outfits in Final Fantasy XIV.
🔵 Sony plans to repackage and bolster its online PlayStation services to create more of a direct competitor to Xbox Game Pass, Bloomberg reports, but doesn't plan to include new releases as part of the deal. No reply on this from Sony.
🚿 PowerWash Simulator now supports co-operative multiplayer powerwashing for up to six people, but no word yet on whether the developers will ever get the Millennium Falcon added to the game (they told us in June that it was a dream).
5. Worthy of your attention
Indigenous video game streamers advocate for representation and education [Jessica Mundie, Religion News Service]
Cedric Sweet, who lives in Ada, Oklahoma, said Indigenous people have flocked to video game streaming since he began in 2016. One reason for the increase, he theorizes, is that historically lamentable internet connections on reservations have slowly gotten better in the United States and Canada.
"I see so many Native streamers in the scene now, it is really blossoming."
6. Best game name of the year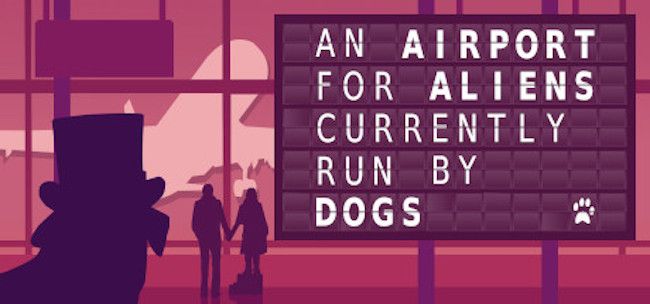 Today's release of Fights in Tight Spaces got me thinking about the best game names of the year. I asked Twitter for their picks. Here are some favorites:
More picks in the replies to this tweet.
🎁 Like the newsletter? Refer Axios Gaming to your friends to spread the word and get free stuff in the process. Follow the link here to begin.
🐦 Find us on Twitter: @megan_nicolett / @stephentotilo.
Waiting for an official Outer Wilds: Echoes of the Eye-Halo crossover.