October 12, 2021
Welcome back to Axios Gaming with your favorite Megan. I mean, only Megan.
Today's edition is 1,156 words, a 4.5-minute read.
1 big thing: Epic's impostor syndrome
Epic Games is working with "Among Us" creator Innersloth on something new, after finally acknowledging the indie developer's influence on its Impostors mode in "Fortnite."
Why it matters: It's the first time Epic has publicly conceded the game's clear similarities to Innersloth's breakout hit, in which players attempt to complete tasks while rooting out a traitor in their midst.
In a blog post today, Epic notes several improvements in its latest update to Impostors," the game mode inspired by 'Among Us' from Innersloth."
"Among Us" launched in 2018, eventually finding widespread success in 2020 as the year's most downloaded mobile game.
Much like "Among Us," "Fortnite"'s Impostor mode is about a team of players completing assigned tasks together while rooting out saboteurs.
On Twitter, "Fortnite"'s official account tweeted at Innersloth today that it "never got to talk about how you inspired us. What do you think about working on something fun together sometime?" before adding "to our DMs!"
Flashback: Epic introduced the Impostors mode in August, prompting swift disappointment from several Innersloth employees.
"We would have loved to collab and found out about it the same time as everyone else," community director Victoria Tran told Axios in August. She later tweeted that while gameplay mechanics "shouldn't be gatekept ... at the very least even different themes or terminology makes things more interesting."
Company co-founder Marcus Bromander tweeted that Innersloth "didn't patent the 'Among Us' mechanics. I don't think that leads to a healthy game industry. Is it really that hard to put 10% more effort into putting your own spin on it though?"
Between the lines: Although developers borrow and adapt mechanics and ideas from peers all the time, this particular instance — the creator of mega-popular "Fortnite" vs. a small, independent team with a breakout hit — was particularly egregious.
The very obvious Twitter exchange between the two developers today is a two-fold accomplishment: drumming up hype for a new collaboration, while also making public amends.
Reached for comment, a Fortnite spokesperson directed Axios to that Twitter thread.
2. China's youth gaming restrictions may not be so bad for companies
China's new regulation limiting children under 18 to just three hours of online games per week may be devastating for dedicated gamers, but gaming companies — and the advertisers that rely on them — will likely be fine if they can adapt, reports Axios' Bethany Allen-Ebrahimian.
Why it matters: China comprises about a quarter of the world's gaming market; the country's mobile gaming industry alone raked in more than $29 billion in 2020.
About 15% of China's estimated 720 million online gamers are under the age of 18.
What's happening: "Despite the recent crackdown, most data points still project an increase in revenue and users," Jeff Sue, a general manager at Mintegral, a global mobile advertising platform, told Axios.
Tencent Games has said that users under the age of 16 comprise just 2.6% of revenue, meaning a reduction in that group's screen time may not translate to significant revenue loss.
"Most Chinese publishers like NetEase and Tencent Gaming have foreseen restrictions and it plays a role in their global acquisitions," Sue said. "They are able to minimize some of the risk and fluctuations within the Chinese market by looking to markets like France, Turkey, U.S., etc."
The big picture: Online gaming addiction among young people has been a major social concern in China (and elsewhere) for years.
3. Riot's fight against toxicity
Riot Games will disable "League of Legends"' /all chat — which lets players talk to opposing teams — in an effort to curb verbal abuse.
Why it matters: Verbal abuse has been a "rising problem" this year, Riot acknowledged in a new post today.
"While /all chat can be the source of fun social interaction between teams, as well as some good-hearted banter, right now negative interactions outweigh the positives."
The change may prove to be temporary, however, as the company will continue to evaluate how this impacts abuse. Players will still be able to chat directly with their teams and send emotes to opposing teams.
What's next: "We're working on a number of changes to systemically address this at both the 'League' and Riot levels," Riot said.
The chat test will last for a few patches, game director Andrei van Roon said on Twitter, after which the developer will assess player reactions.
4. Need to know
🎬 Epic Games is considering a "Fortnite" film as part of an expansion into scripted video programming, according to a report from The Information.
🎮 Video game TV network G4 returns Nov. 16.
🍿 At least three games from publisher Raw Fury will be adapted for film and television: "Sable," "Night Call" and "Mosaic."
🚺 An impressive "Deus Ex" gender swap mod with new voice acting and more will let you play the original game as a woman.
5. Worthy of your attention
Ubisoft employees call for removal of 'role model' evaluation goal over concerns of misuse (James Batchelor, GamesIndustry)
A group of Ubisoft workers has demanded that the publisher remove a proposed new attribute from its performance evaluation process, claiming the change could end up favouring abusive individuals rather than the people it is meant to protect.
... "This addition is purely about communication," the group said in a statement shared with GamesIndustry.biz. "It will allow management to boast that it is fighting against harassment via a salary impact, while completely ignoring the fact that it is a tool that only intervenes after the fact (since it is used at the time of the evaluation), and that it is riddled with critical flaws: the predominant role of the manager in a situation where problems often come from these hierarchical superiors, possible discrimination against people who do not 'fit in,' etc."
6. Would you put these custom Xbox Series X on your shelf?
And now for a quick critique of two custom Xbox Series X that Microsoft is giving away as part of a promo for "Nickelodeon All-Star Brawl."
Spongebob:
Use of shape: 10/10. Spongebob is square, and this Xbox is a rectangle.
Logo placement: 6/10. It looks like Spongebob has a sick biker arm tattoo.
Color: 2/10. While it is the exact color of the character, it will simply not match anything on my entertainment center.
Controller: 8/10. The placement of the A button gives Spongebob a creepy, googly eye kind of situation, which I think is funny.
Overall thoughts: Do not stare into the abyss of Spongebob's unblinking eyes if you are not prepared. Perfectly designed to hide itself as a gaming console and instead trick a normie into thinking you have a strange Spongebob monument.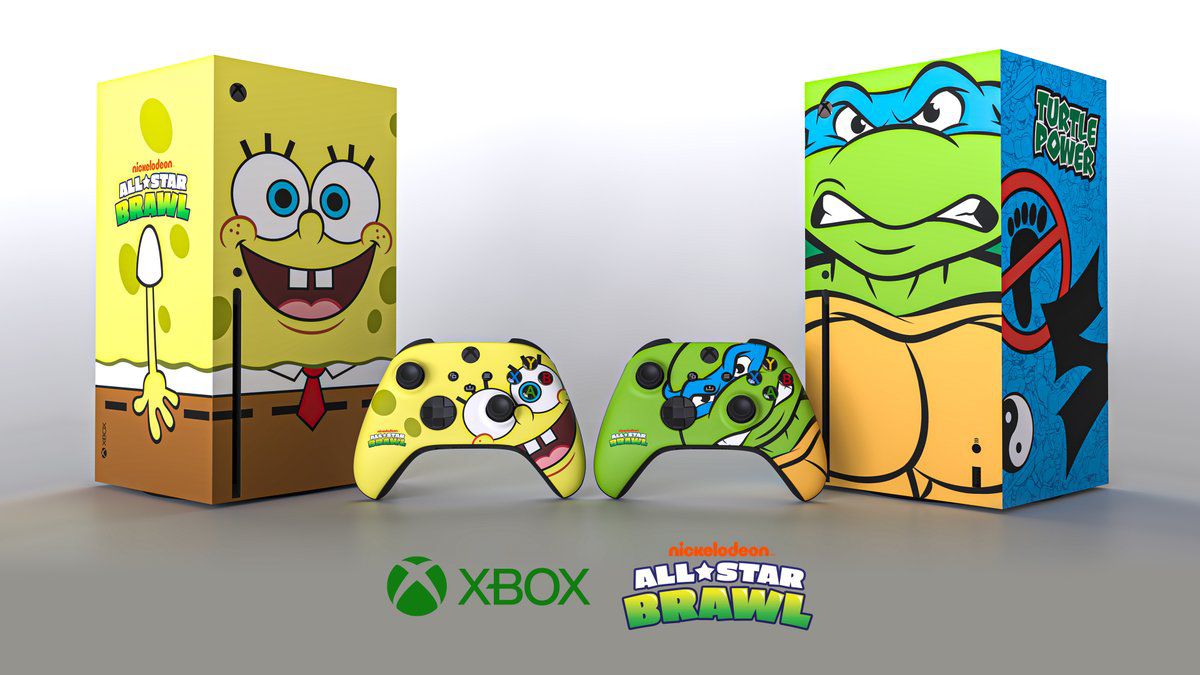 TMNT:
Use of shape: 5/10. Leonardo looks like he is trapped in a glass box. He is displeased by this.
Logo placement: 8/10. This score is mostly based on the fact that it doesn't say the game's name.
Color: 7/10. So bright it can be a beacon in the dark.
Controller: 2/10. Joystick placement gives Leonardo a nose. Leonardo does not have a nose.
Overall thoughts: Perfect if you would like to aim Leonardo's grumpy face at your door to make all guests know their place.
🎁 Like the newsletter? Refer Axios Gaming to your friends to spread the word and get free stuff in the process. Follow the link here to begin.
🐦 Find us on Twitter: @megan_nicolett / @stephentotilo.
I think I like my consoles better without eyes.