July 26, 2021
Monday! With Megan Farokhmanesh and Stephen Totilo.
Today's edition is 1,066 words, a 4-minute read.
1 big thing: EA Sports is in expansion mode
The biggest player in sports video games has plans to get even bigger — on mobile, in football, maybe even with basketball again — EA Sports general manager Daryl Holt said in an exclusive interview with Axios.
Why it matters: Sports gaming doesn't get much press, but it's a surging market with increased competition and lots of players up for grabs.
EA says it now reaches 230 million sports gamers, and it's trying to increase that to 500 million over the next five years.
The expansion will involve "new business models, new geographies," and a sustained offering of sports gaming content to players around the clock, Holt said.
Part of the plan is to link players to each other. "We're creating very much a social aspect and social networks within our games," he said.
Between the lines: EA is known for its success with American football ("Madden NFL"), soccer ("FIFA") and pro hockey ("NHL").
Earlier this year, EA announced plans to get back into golf, college football and baseball
It also recently extended its UFC deal and bought a studio that makes Formula One games.
The competition isn't resting: Rival Take-Two is ramping up its golf offering and plans to resume making NFL games after many years off.
In the U.S., EA Sports' flagship is its "Madden NFL" series, which remains popular but got hammered by reviewers last year.
Holt oversees the series and says this year's game, "Madden NFL 22," should run better, citing "a responsibility for us to deal with craftsmanship in terms of bugs or any issues of instability."
On mobile, EA's realistic sports games do fine, but more casual, quick-play options tend to top the charts.
What's next: EA Sports' long-running business model involves annual releases, but much of gaming is moving toward fewer releases that are expanded upon more often — hence the reason there's always new "Fortnite" content but never a "Fortnite 2."
Don't expect the cessation of annual "Madden" games soon, but Holt said EA is mindful of this shift toward perpetual service-related games, just as it is aware that there's an annual cyclicality to the sporting calendar.
"I think it is an evolution that is happening around the gaming industry in different ways," Holt said. "How we unlock the big beat of sports into that type of a service, I think we'll see over the course of the future."
2. The basketball question
The most conspicuous hole in the EA Sports portfolio is basketball, where its once-annual "NBA Live" console series has skipped five of the last 10 years.
Why it matters: Take-Two dominates with its "NBA 2K" series, which is one of the industry's most successful franchises.
What they're saying: "We've got some next-generation HD basketball projects that we have been talking about and designing and working on," Holt said, using "high definition" as shorthand for non-mobile games on console and/or PC.
But the company has yet to announce an official return to the format, only continuing to expand an existing "NBA Live" mobile game.
EA Sports last announced a deal with the NBA in 2011. Asked if there's an NBA deal now, Holt said, "Definitely around mobile. And then we're in discussions about what we want to do on the HD front."
Fun fact: EA also still owns the rights to "NBA Jam," the arcade classic it picked up over a decade ago, though it last released a game in that series in 2011.
3. Blizzard update
Over the weekend, current and former Blizzard officials spoke publicly about California's lawsuit over widespread allegations of sexist working conditions at the studio.
Why it matters: A trial, if it happens, is a long way off, but many people involved want to speak now.
What they're saying: Former CEO Mike Morhaime and former head of franchise development Chris Metzen both published statements to Twitter saying they had "failed" people at the company.
Neither has been accused of misconduct themselves, but their tenures of 20+ years each at the company had some people responding with incredulity that they didn't know or do more to stop it.
One such veteran developer who used to work at the studio responded to Morhaime's post, "I've spent the better part of 10 yrs recovering from my time working at Blizzard."
In a petition shared with Bloomberg, more than 1,000 current and former Blizzard employees have called on Activision Blizzard to make "official statements that recognize the seriousness of these allegations and demonstrate compassion for victims of harassment and assault."
Activision Blizzard made no official statements since an executive sent a memo to employees on Friday that called California's case "meritless" and said it didn't depict the current state of the company.
Social media accounts for "Call of Duty," "World of Warcraft" and other top franchises from the gaming giant have been silent since late last week.
4. Olympic speed
Today in speed runs: Players are zooming through Google's Tokyo Olympics Doodle at a record-setting 11-seconds.
Why it matters: Google's celebration of the Tokyo Olympics, delayed due to COVID-19, is a bite-sized RPG that far outshines the average doodle.
The game stars Lucky the Cat and features several mini-games, such as climbing and swimming.
As spotted by The Gamer, three speedrunners — ExaminationMassive95, stratpat1964, and dishadow99 — hold the current record.
5. Need to know
The latest update in "Red Dead Online" is littering the game with random dead horses and causes others to act out.
A live-action Pokémon series similar to "Detective Pikachu" is in early development at Netflix, Variety reports.
6. Worthy of your attention
🤠 "Red Dead Online" players are thrift shopping for the newest luxuries (Cass Marshall, Polygon)
"It raises an interesting problem that Red Dead Online has yet to solve. What do meaningful player cosmetics look like, especially as the years march on and the pressure continually mounts to top the last big-ticket item."
♀Female video game journalists on what to do when the mob comes for you (Luke Winkie, NeimanLab)
"Remember 98% of the time the people harassing you are not attempting to engage with your work in good faith."
7. Pokémon, exposed
"Pokémon Unite," a free-to-play multiplayer online battle arena take on the franchise, is having a fairly smooth launch. One small caveat, as spotted by Nintendo Life: this glitch where Machamp has forgotten his tiny underwear somewhere.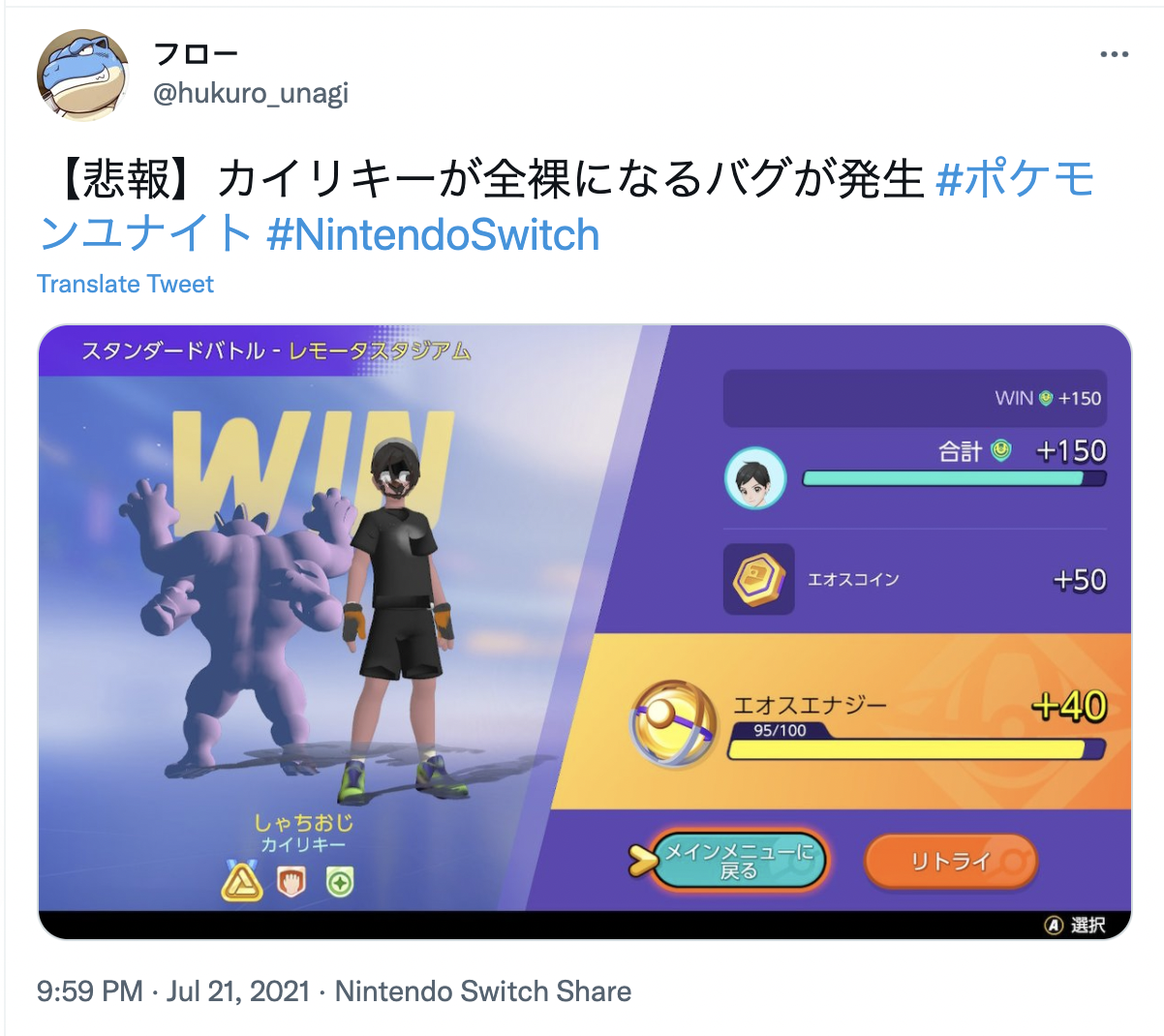 You should never skip leg day, but don't skimp on glute exercises either.
🎁 Like the newsletter? Refer Axios Gaming to your friends to spread the word and get free stuff in the process. Follow the link here to begin.
🐦 Find us on Twitter: @megan_nicolett / @stephentotilo.
It took Megan less than a day to get a bare 🍑 in here while our editor is on vacation.