Axios Future
November 16, 2019
Welcome to Future! Thanks for reading. Get in touch by replying to this message or at [email protected]. Erica, who writes Future on Wednesdays, is at [email protected].
This issue is 1,273 words, a 5-minute read.
1 big thing: AI washing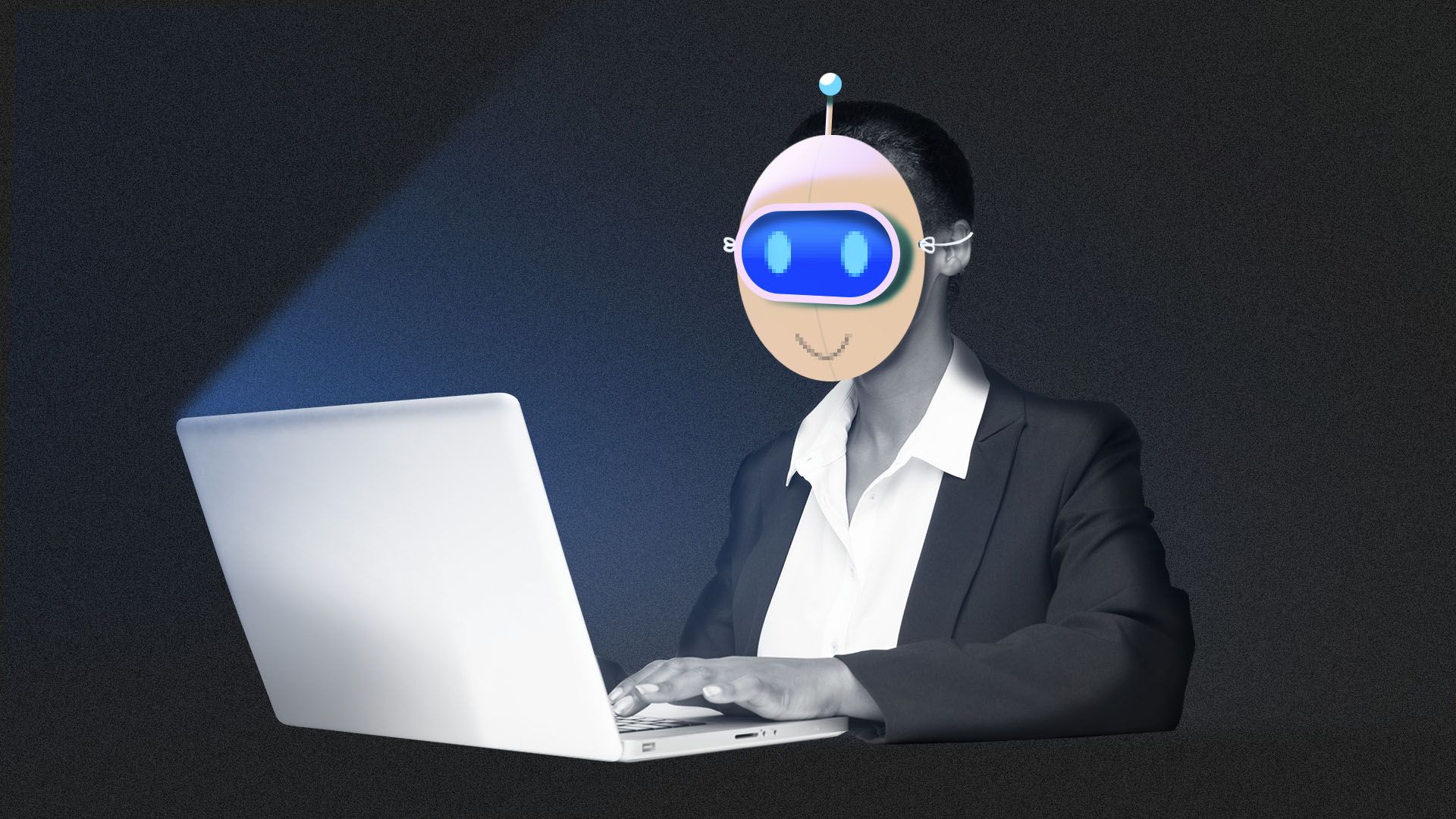 Zealous marketing departments, capital-hungry startup founders and overeager reporters are casting the futuristic sheen of artificial intelligence over many products that are actually driven by simple statistics — or hidden people.
Why it matters: This "AI washing" threatens to overinflate expectations for the technology, undermining public trust and potentially setting up the booming field for a backlash.
The big picture: The tech industry has always been infatuated with the buzzword du jour. Before AI landed in this role, it belonged to "big data." Before that, everyone was "in the cloud" or "mobile first." Even earlier, it was "Web 2.0" and "social software."
About three years ago, every company became an "AI company," says Frank Chen, a partner at Andreessen Horowitz, a leading Silicon Valley VC firm.
Now, investing in a purported AI startup requires detective skills, says Chen: "We have to figure out the difference between 'machine learning that can deliver real competitive differentiation' and 'fake ML that is a marketing gloss over linear regressions or a big team in the Philippines transcribing speech manually.'"
Plenty of companies rely on one or the other of those tactics, which straddle the line between attractive branding and misdirection.
For hard tasks, like transcribing audio or scanning documents, humans often step in when AI algorithms fail. Take Engineer.ai, for example, a company that raised nearly $30 million to automate app design — but was secretly making apps using human developers overseas.
For easier jobs, "AI" may in fact be a shiny term for basic statistics. If you can swap in "data analytics" for "AI" in a company's marketing materials, the company is probably not using AI.
"It's really tempting if you're a CEO of a tech startup to AI-wash because you know you're going to get funding," says Brandon Purcell, a principal analyst at Forrester.
The cycle continues because nobody wants to miss out on investing in — or being — the next Google or Facebook.
CEOs demand that their companies "use AI," without regard for how or whether it's necessary, says Svetlana Sicular, research VP at Gartner.
The tech sector's fake-it-till-you-make-it attitude plays into the problem.
Many AI systems are slow to improve and require a good deal of human hand-holding at first, says Andrew Ng, founder of Landing.ai, a startup that helps other companies implement AI.
"But problems arise when the difficulty of moving to higher levels of automation is underestimated, either by the company or by the broader community," Ng tells Axios. "Or when the degree of automation at a given moment is misrepresented."
The confusion and deception get an assist from the fuzzy definition of AI. It covers everything from state-of-the-art deep learning, which powers most autonomous cars, to 1970s-era "expert systems" that are essentially huge sets of human-coded rules.
Yes, but: The term isn't going anywhere. So a cautious consumer, investor or CEO has to pay extra-close attention to anything waving the AI banner to determine whether it's a groundbreaking innovation — or just three kids in a trenchcoat.
2. An uncertain future for Big Beer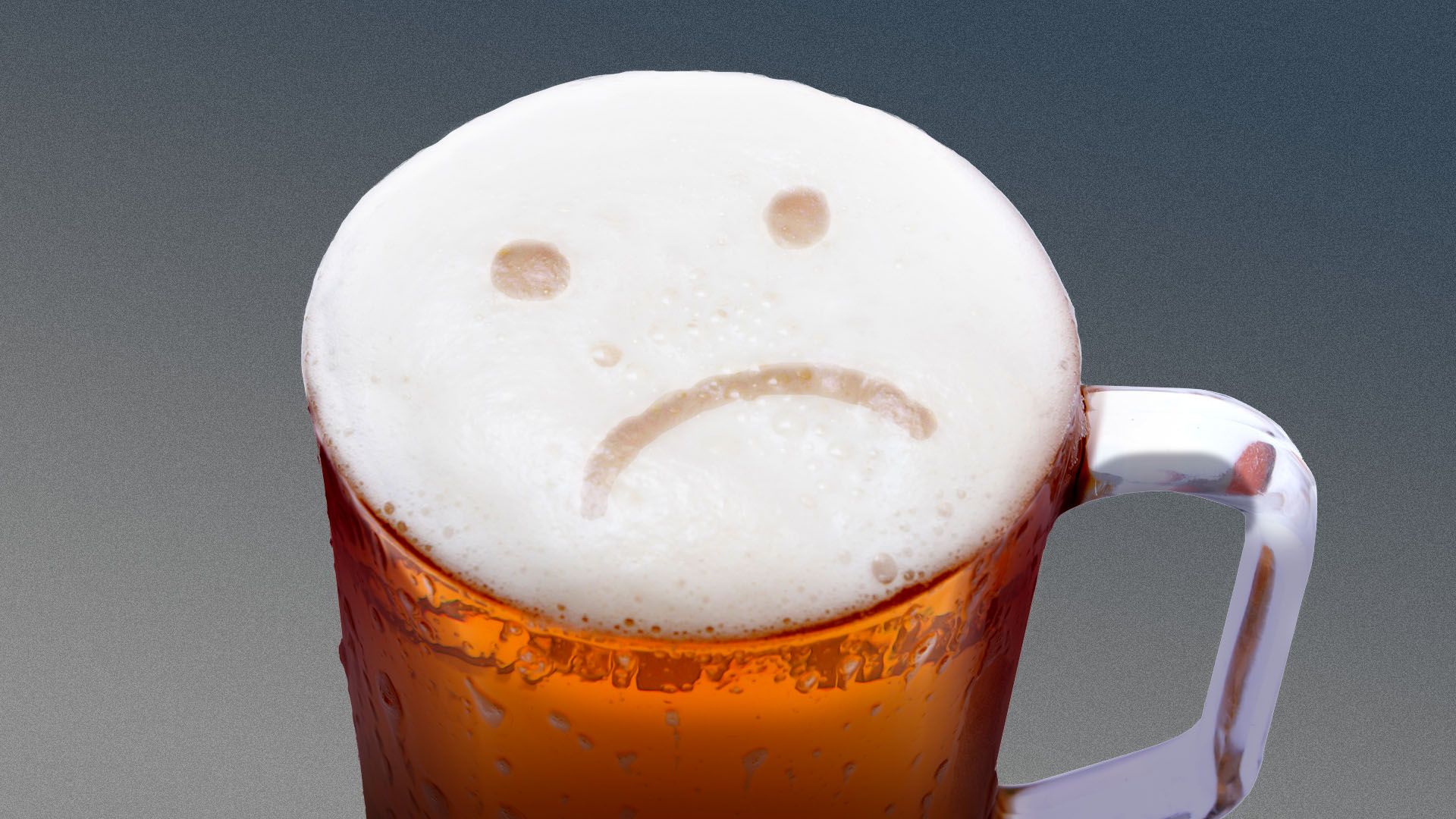 For decades, beer has been as American as apple pie and baseball. Now, we're starting to lose our taste for it, Erica writes.
The big picture: Americans will drink 1.2% less alcohol in 2023 than in 2018, per IWSR, an alcohol market research firm. That might not seem like much, but it's 364 million liters of booze.
And it's beer that's driving the fall. Consumption of wine and spirits is actually up, says Greg Cohen, an IWSR analyst. But beer consumption is projected to fall another 6.1% by 2023.
That's sending Big Beer into a panic. "The brewers are just terrified," says William Rorabaugh, a historian at the University of Washington who studies American drinking culture.
What's happening: Brewers that have long profited from Americans' seemingly insatiable appetite for beer are attempting to diversify their offerings — adding seltzers and cannabis-infused beverages — as beer consumption falls.
Anheuser-Busch InBev, one of the two biggest brewers in the world, has invested in energy drinks and non-alcoholic beer, reports The Wall Street Journal.
Big-time brewer Molson Coors is linking up with The Hydropothecary Corporation to roll out cannabis-infused drinks. Molson Coors is also planning to cut hundreds of jobs as it restructures to move beyond beer, per the Journal.
Diageo, the drinks giant behind Smirnoff vodka and Guinness beer, is investing in Seedlip, a European company that makes non-alcoholic drinks that can be mixed with alcohol or consumed as is.
It's the collision of a number of trends that's driving the drop in beer consumption, experts say. But it all boils down to generational differences.
Younger people are more health conscious than ever, and they're seeking out drinks with lower calorie counts and alcohol volumes.
The younger generation was also raised on sweet, sugary snacks, and those preferences may have followed them into adulthood, says Rorabaugh.
"When kids grow up with sweeter snacks, it's not surprising that when they reach drinking age, they'll want sweeter drinks." That could help to explain the craze around flavored seltzers, he says.
They're also rejecting big brands — in food, in clothing and in beer — in favor of smaller, independent sellers. "The stranger the brand, the more likely it is to be on the shelf. The big name brands of the past have shrunk back," Rorabaugh says.
The bottom line: Beer may be losing popularity, but it still comprises the lion's share of alcohol consumed in the U.S. Those Bud Lights won't be wiped out anytime soon.
3. Tech giants reach further into health care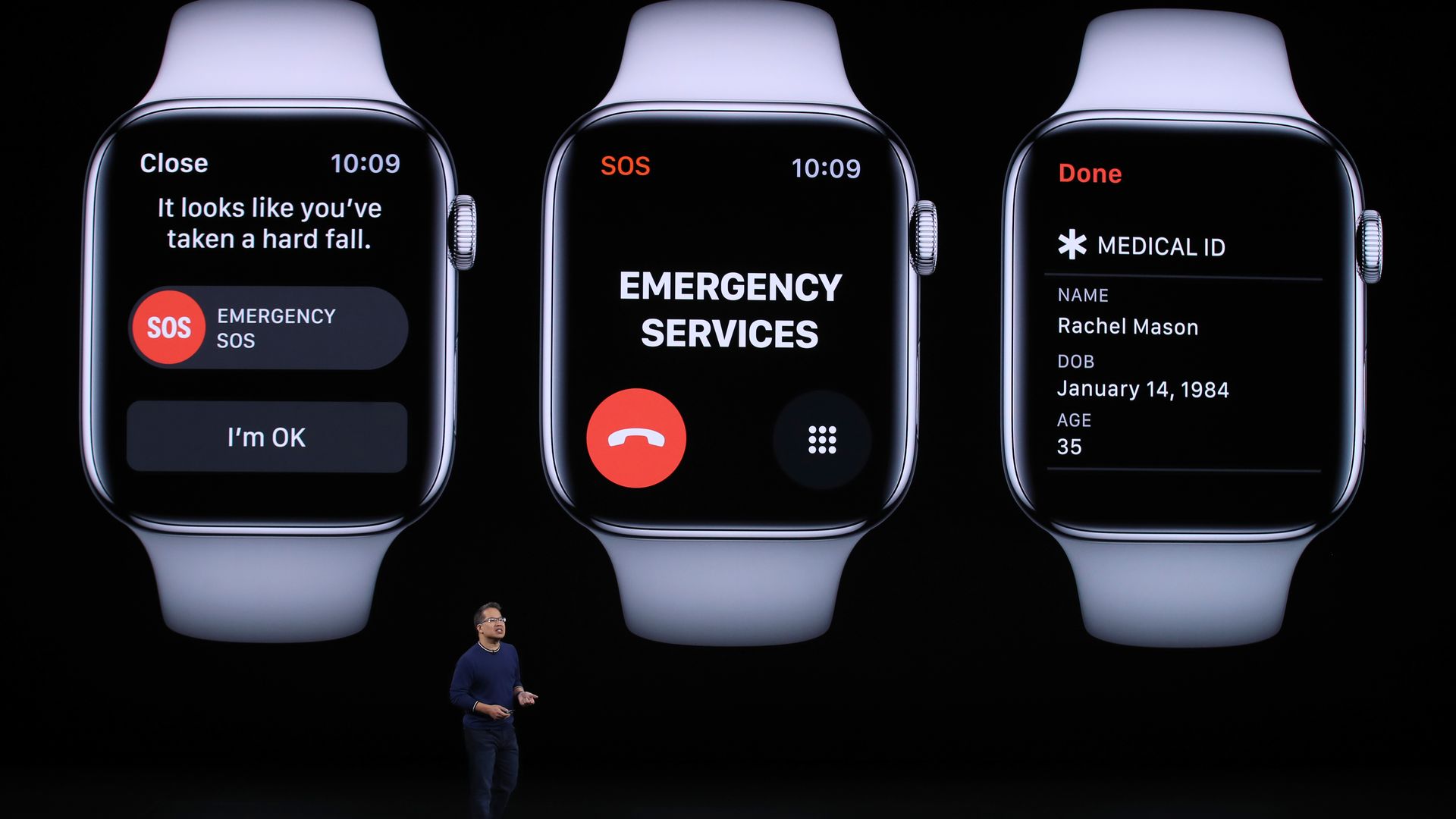 Big Tech, already under a withering spotlight from Congress for mishandling some user data, is elbowing further into health care — a world defined by its privacy pitfalls.
Why it matters: Giant companies have earned regulatory wrist-slaps for fumbling sensitive personal information, but the stakes are much higher for poorly protected health data.
What's happening: Recent moves, some unfolding in secret, show the reach of the companies' ambition — and, in some cases, their lack of preparation for the minefields.
Last week, the WSJ broke news of an agreement between Google and Ascension, the second-largest health care system in the country, that gave Google access to data from 50 million patients without informing them. The government is investigating the system's privacy protections.
On Friday, WaPo reported that Google had pulled the plug on a project with the National Institutes of Health in 2017 when NIH warned that the 100,000 X-ray images it was about to publish could identify the patients.
Apple, which has put health at the center of its products, announced three new research studies for Apple Watch owners — one of which aims to enroll a million women, monitoring them as they go about their daily lives. Doctors say it's still unclear how useful these large-scale studies are.
The big picture: Med tech is a hugely lucrative and fast-growing field, but it's been plagued by setbacks driven in part by a mismatch between can-do engineers and a more deliberate clinical culture.
The bottom line, from Axios' Caitlin Owens: "These companies are entering the health care world because it's clearly a profit bonanza and they want a piece of that money pie."
Go deeper: Americans have big hopes that Big Tech can improve health care
4. Worthy of your time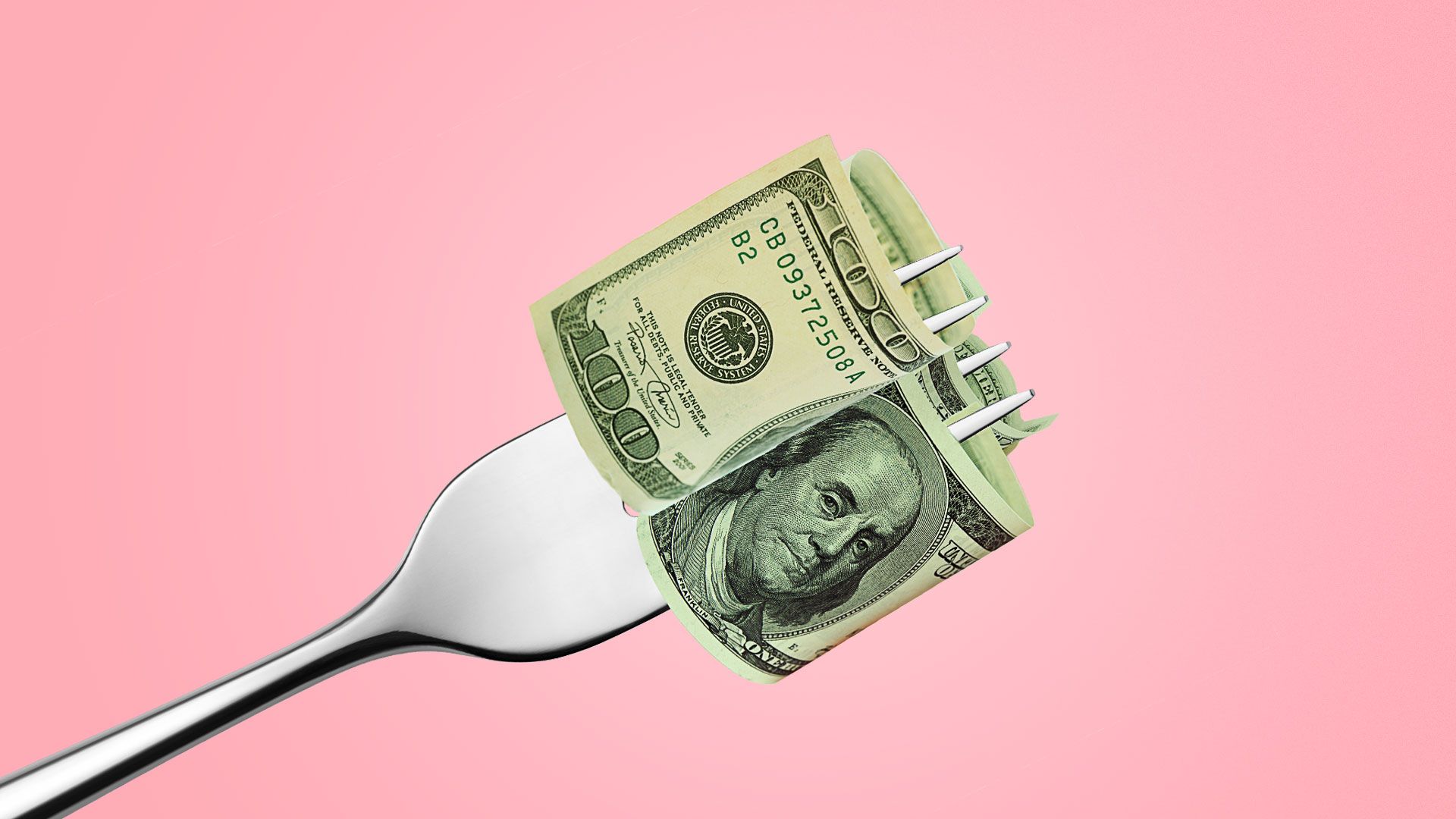 Tech is eating restaurants' lunch (Felix Salmon - Axios)
The everything town in the middle of nowhere (Josh Dzieza - The Verge)
The SoftBank effect (Nathaniel Popper, Vindu Goel & Arjun Harindranath - NYT)
The dark psychology of social networks (Jonathan Haidt & Tobias Rose-Stockwell - The Atlantic)
The influencer scientists debunking online misinformation (Emma Grey Ellis - Wired)
5. 1 not-fun thing: Dopamine fasting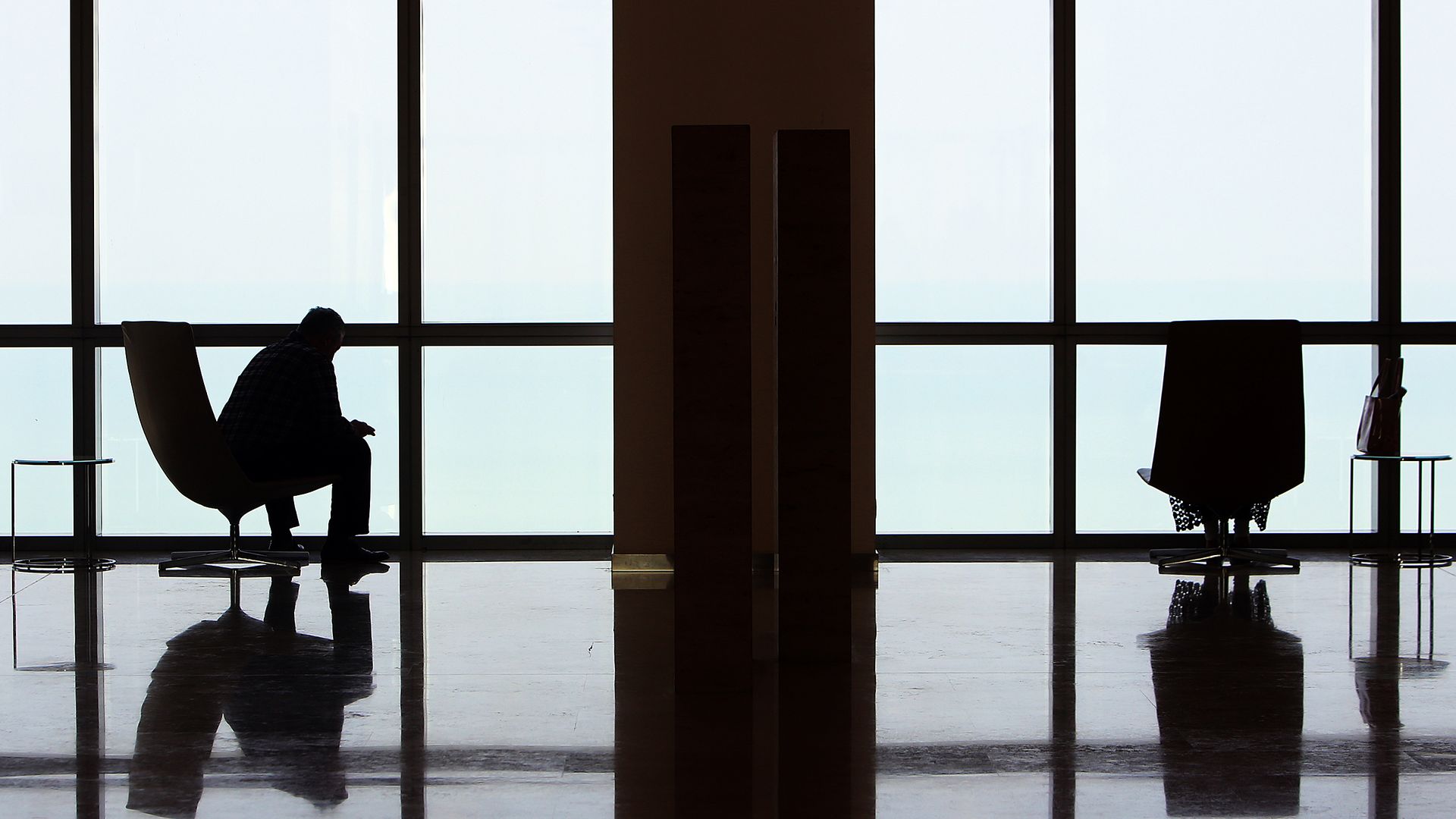 When everything feels good, nothing does. That's the idea behind a growing trend of detoxing from dopamine, reports Nellie Bowles for the NYT.
What they're saying: "We're addicted to dopamine," James Sinka told Bowles. "And because we're getting so much of it all the time, we end up just wanting more and more, so activities that used to be pleasurable now aren't. Frequent stimulation of dopamine gets the brain's baseline higher."
How it works: Don't do fun stuff. No screens, no music, no exercise or sex. No work, no eye contact… The list goes on.
Ideally, after the fast, everything good starts to feel good again.