January 16, 2020
I have a bumper issue of Edge for you this week: 10 different items, squeezed into 1,572 words, which should take 6 minutes to read.
Situational awareness: It's been a bumper week for trade deals, with President Trump signing the phase one agreement with China and the Senate passing USMCA. The NAFTA replacement is likely to receive Trump's signature any day now.
On the menu: Collective action problems under capitalism; MIT doesn't really come clean on Jeffrey Epstein; the weirdness that is the executive chairman; the bad global economy; internet banking; JPMorgan's astonishing profits; Yamaha's viral tweet; who's headlining Davos; and a spa in Lapland.
If you like this email, forward it to your friends! And if you were forwarded this, you can subscribe for yourself right here.
1 big thing: BlackRock won't save the planet
The planet faces a collective action problem of existential proportions. No one country or company can prevent catastrophic global warming; all of them need to work in conjunction with one another.
Why it matters: That kind of cooperation flies in the face of the standard capitalist mode, which is competition. If shareholders were to unite and force companies to cooperate on carbon reduction, that could prevent the death and displacement of millions of people.
Fortuitously, the rise of indexing means that fund management giants like BlackRock and Vanguard are increasingly in a position to do just that.
Disappointingly, however, those asset managers are unlikely to grow real teeth.
Driving the news: BlackRock CEO Larry Fink released his annual letter this week, in which he said that climate change is "almost invariably the top issue that clients around the world raise with BlackRock," and that it will drive "a fundamental reshaping of finance."
The big picture: If, like most BlackRock clients, your investment time horizon is measured in years or decades, then you are almost certainly worried about the effect of the climate emergency on your asset portfolio. Aggressive attempts to mitigate the crisis make economic sense.
What they're saying: "The near-term impacts of climate change add up to a planetary emergency that will include loss of life, social and geopolitical tensions and negative economic impacts," according to the World Economic Forum's Global Risks Report 2020.
All five of the most pressing risks facing the world are environmental. Extreme weather tops the list for the 4th consecutive year, followed by climate action failure.
Failure on climate action happens at both the government and the corporate level. We've already seen government failure from leaders like Donald Trump, Vladimir Putin, and Jair Bolsonaro.
At the corporate level, it makes little economic sense for a company to unilaterally constrain its options while its competitors retain freedom of action. The option to pollute is worth money.
The only way to eradicate that competitive disadvantage is to ensure that all companies have to play by the same rules. Those rules can be drafted by governments or by shareholders.
The glimmer of hope: BlackRock, which manages $7 trillion, last week joined Climate Action 100+, a group that manages some $41 trillion in total and aims to pressure major carbon emitters into becoming more climate-friendly. Fink, however, still put the onus of responsibility on governments rather than shareholders.
But, but, but: The other giant fund manager, Vanguard, doesn't even go that far. "We have to make sure we're talking to companies on how they are dealing with and addressing these issues, but not crossing the line and telling them what to do," CEO Tim Buckley told the FT. A spokesperson later confirmed to The Guardian that the company has no plans to join Climate Action 100+.
The bottom line: The growth of indexing means that at some point in the foreseeable future, it's possible that BlackRock and Vanguard between them will control a majority of most companies' shares. But it's very unlikely that asset managers will ever go further than governments in terms of mandating environmentally responsible corporate behavior.
Go deeper: Why climate change is so hard to tackle
2. MIT answers 10% of its Epstein questions
In a classic Friday afternoon news dump, MIT released a 61-page report last week that sought to close the chapter on the university's fraught relationship with convicted sex criminal Jeffrey Epstein.
The report bemoaned the fact that MIT accepted $850,000 from Epstein directly. But it had effectively nothing to say about the much larger donations for which Epstein claimed credit: $2 million from Bill Gates, and $5.5 million from Apollo Global Management CEO Leon Black.
MIT has stonewalled further questions from Axios; it's clear that they would like the outside world to treat the $850,000 as the full extent of Epstein-related donations, rather than as a mere 10% of a much larger $8.35 million total.
Someone is lying — or at the very least is being extremely careful in their exact choice of words. Lead investigator Roberto Braceras told me that "we were unable to connect with representatives of Mr. Black," but a spokesperson for Black told Axios' Dan Primack that "no one associated with the investigation contacted Mr. Black at Apollo or at his family office."
What we know: According to the report, MIT told former Media Lab head Joi Ito that the university would not accept Epstein money. The response: "Ito pushed back, suggesting several methods for Epstein to get money to MIT, including by having Epstein swap donations with someone else's foundation, to conceal the origin of the donation."
Former MIT development officer Signe Swenson told Axios in September that Gates and Black made the donations to the Media Lab because they owed Epstein "favors."
Gates flatly denies that Epstein had anything to do with his donation; Black has made no such denial.
What we don't know: Gates and Black still refuse to answer detailed questions about their donations.
The bottom line: MIT claims to want "a clear and comprehensive gift policy or a process to properly vet donors." In reality, its report would seem to be a guide for how to circumvent such a policy. Ito's donation-swapping tactic, it seems, would work exactly as intended.
3. What even is an executive chairman?
Steph Korey has unresigned. After replacing herself as CEO of Away in December, following a major investigation into a toxic corporate culture at the suitcase company, she has now changed her mind, telling the NYT's Andrew Ross Sorkin that she would instead stay on as co-CEO.
According to Korey, the news is largely cosmetic. She told Sorkin that even when she officially resigned as CEO, she still expected to operate pretty much in her original role, just with a different title.
Why it matters: Korey's December announcement said that her new job would be "executive chairman" — the classic role of someone who wants power without accountability.
How it works: All executives report to the CEO, so on some level an executive chairman should report to the CEO. But because the executive chairman is also the chairman of the board of directors — which can fire the CEO — the job is also that of the CEO's boss.
Other high-profile executive chairmen have included Eric Schmidt at Google and Reid Hoffman at LinkedIn.
The bottom line: Being a CEO carries with it an extremely uncomfortable degree of scrutiny and accountability; being an executive chairman, on the other hand, comes with very little of either.
My thought bubble: Korey intended to continue to run the company all along, with her resignation being just for show. That's cowardice, not leadership. The job of executive chairman has never made much sense, and this latest debacle helps to explain why the role probably shouldn't ever exist.
4. The bad global economy
Depressing news abounds in the 16th edition of the UN's definitive annual report on the global economy, released today. Not only has global GDP growth hit its lowest level in a decade, so has growth in global trade.
Africa's per-capita GDP has grown by just 0.5% per year, on average, over the past 10 years.
5. Global debt hits a new record high
The total amount of debt in the world hit a new record high in 2019, according to new numbers from the Institute of International Finance. It now stands at 322% of global GDP, up from 275% of GDP pre-crisis.
One silver lining: The kind of debt that caused the financial crisis — debt at mortgages and banks — has been pretty flat since the crisis. The big rise in debt has been among governments, which are generally very safe, and non-financial corporates, which can go bankrupt with many fewer systemic consequences.
What they're saying:
"Amid prolonged loose monetary conditions in developed economies and rapid credit growth in some emerging economies, high levels of debt are pervasive. Elevated debt levels not only pose financial risks themselves but also reduce an economy's resilience to shocks, creating a source of fragility in cases of further deterioration in economic activity."
—
UN World Economic Situation and Prospects 2020
6. Internet banking comes of age
Visa has bought Plaid for $5.3 billion. Plaid is a largely invisible tool that lets you use financial services apps to see your account balances at various financial institutions.
App use is exploding: According to Visa, 75% of internet-enabled consumers are using at least 1 fintech app. That's up from just 18% in 2015.
7. The most profitable bank ever
JPMorgan made $36.2 billion of profit in 2019 — the best year for any bank in the history of the USA.
My thought bubble: JPMorgan's earnings are now more than double their pre-crisis peak. This is not a good thing. When a high share of total income goes to financial intermediaries, that generally bespeaks deeper economic inefficiencies.
8. Viral tweet of the week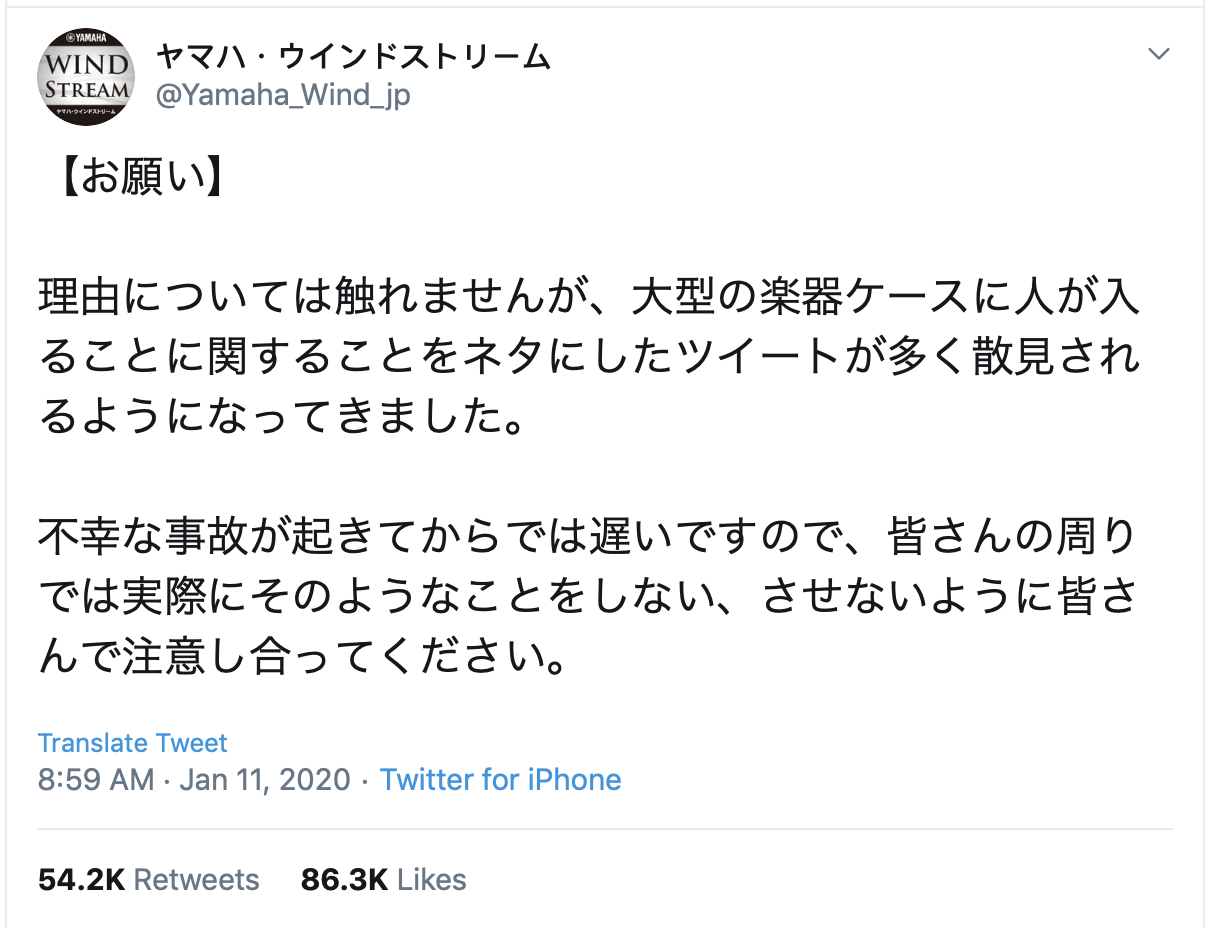 Translation: "We won't mention the reason, but there have been many tweets about climbing inside large musical instrument cases. A warning after any unfortunate accident would be too late, so we ask everyone not to try it."
9. Coming up: Davos
Thousands of CEOs and world leaders will be in Davos, Switzerland, next week, Axios' Courtenay Brown writes. Climate change dominates the agenda.
Many attendees will take private planes to get the conference.
Climate activist Greta Thunberg tops the billing on the WEF website. Trump, whose policies contradict the WEF's theme, is the number 2 attendee featured.
Of note: Among the world leaders sitting out Davos this year: Iran Foreign Minister Mohammad Javad Zarif and U.K. Prime Minister Boris Johnson.
10. Building of the week: Arctic Bath
Arctic Bath, a floating spa hotel in Swedish Lapland, officially opened on Wednesday.
Designed by architects Bertil Harström and Johan Kauppi and constructed using local materials, the main building was inspired by the logjams that used to be seen on the Lule River after felled trees were transported for processing.
The building floats during the summer and then freezes into the ice during the winter.
The center of the circular main building is left open to the river. The FT's Ruaridh Nicoll managed to spend 21 seconds in the January water and describes the pool as "a door to hell designed by Elsa from Frozen."