November 18, 2018
Situational awareness: "Axios on HBO" is pivoting away from politics this week. Tune in at 6:30 pm ET/PT for, among other things, an interview with at least one individual I've referred to as "the most powerful and important CEO on the planet."
1 big thing: Brexit chaos arrives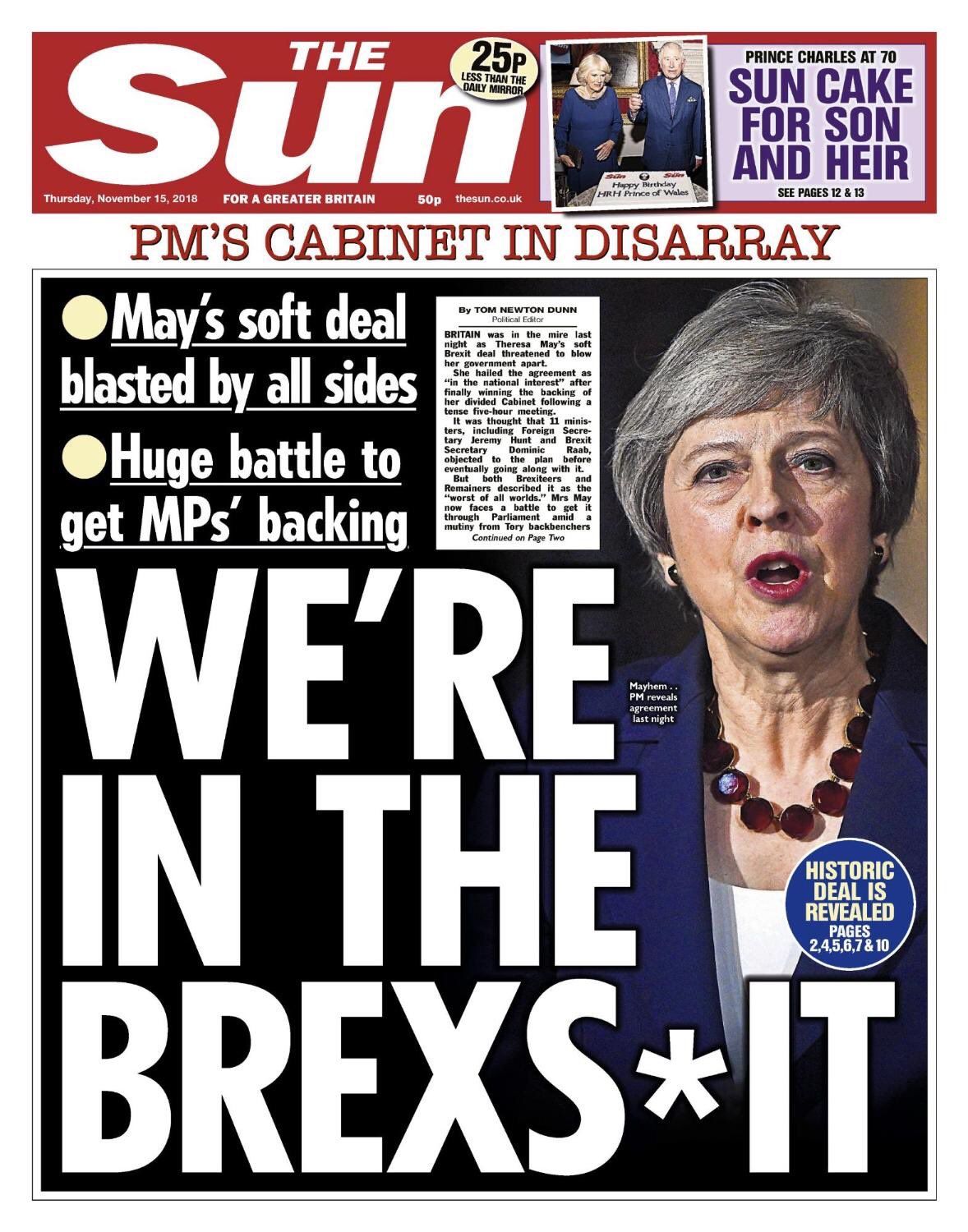 If you tried to put together a deal guaranteed to appeal to absolutely no one in the U.K., you could hardly do better than the 535-page draft agreement unveiled on Wednesday between Britain and the EU.
Britons who voted to leave did so because they wanted to take back control from the EU. This agreement notably fails to do that.
Europe retains effective control over UK trade rules. That control lasts at the very least through the end of the transitional period in December 2020, and realistically far beyond that.
For Britain to truly extricate itself from the EU, it first needs to find a workable solution to the problem of the Irish border, and it's abundantly clear that no such solution exists.
Britons who voted to remain, including the 700,000 people who marched in London last month demanding a second vote, want their country to be a full member state of the EU, with voting rights and influence over European affairs. All that disappears, under this agreement, on March 29, 2019.
The big picture: Prime Minister Theresa May is entirely correct when she says that Britain faces three choices: This deal, no deal, or no Brexit at all. The problem is that none of those choices are palatable to the U.K. Parliament, or even to her own Conservative Party.
Economically speaking, the best possible outcome is no Brexit. If the U.K. somehow finds a way to remain in the EU, finance and industry would breathe a huge sigh of relief, the pound would soar in value, and even the other 27 EU member states would cheer.
Conversely, a no-deal Brexit is unambiguously the worst possible outcome, but the clock is ticking. Absent a second referendum, Britain is going to exit the EU in 131 days.
May's attempt to find a middle way is worse politically than it is economically, but it's still bad economically. It effectively clears up none of the current uncertainty over Britain's status vis-a-vis the EU, and it would hurt a lot of businesses in the service sector, generally, and financial services, in particular.
The bottom line: Crisis is the new normal. Expect heightened political demagoguery, irrational levels of brinkmanship, and extreme financial-market volatility for substantially all of those 131 days. Nobody knows what the final outcome is going to be, but what's certain is that the road there from here is going to be extremely rocky.
Go deeper: Theresa May fights for her Brexit deal, and her political future
2. Amazon's Queens HQ gets a Bronx cheer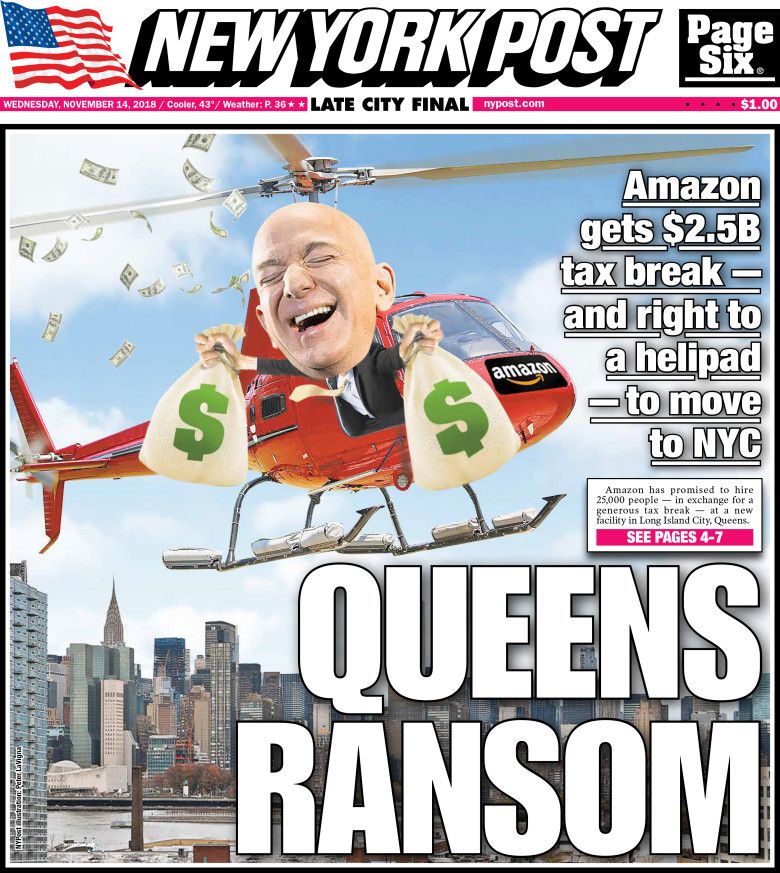 New Yorkers reacted to the news that Amazon was coming to town with roughly the same amount of enthusiasm that Tory MPs showed for Theresa May's Brexit deal.
It's not a Brexit-level fiasco: The politicians who negotiated the deal, for instance, didn't immediately resign in order to protest the deal they negotiated, a la Brexit secretary Dominic Raab.
Still, politicians immediately realized that their constituents did not consider this a win. What looks like a lovely new source of income tax to City Hall (25,000 workers making an average of $150,000 apiece) looks more like a source of inequality and gentrification to the people currently living in Long Island City, many of whom were looking forward to that land becoming affordable housing.
The similarity between Brexit and Amazon HQ is that voters are increasingly vocal in speaking out against systems that are seen to benefit the wealthy elite first and foremost.
Amazon vs. Google: On Dan Primack's Pro Rata podcast, New York Deputy Mayor Alicia Glen said that the city drove a hard bargain with Amazon, forcing the company to open up its new campus to all New Yorkers, rather than closing it off for employees only.
The fact that Amazon was reluctant to make that concession is a stark contrast to Google, which has quietly bought up more than 6 million square feet of non-campus New York real estate — enough to support some 20,000 highly paid workers.
Amazon likes flashy buildings; Google, by contrast, for all the space it owns in New York, is largely invisible.
Google has neither requested nor received any kind of tax-break sweeteners from New York. That means it's getting roughly $3 billion less than Amazon. (Surviving bad press in Toronto, it turns out, is much easier.)
The bottom line: Amazon has created a lot of ill will by setting city against city in a cruel and elaborate HQ2 game. That's not a great way to make friends in a world where mistrust of Big Tech is at record highs.
3. Facebook's executive trainwreck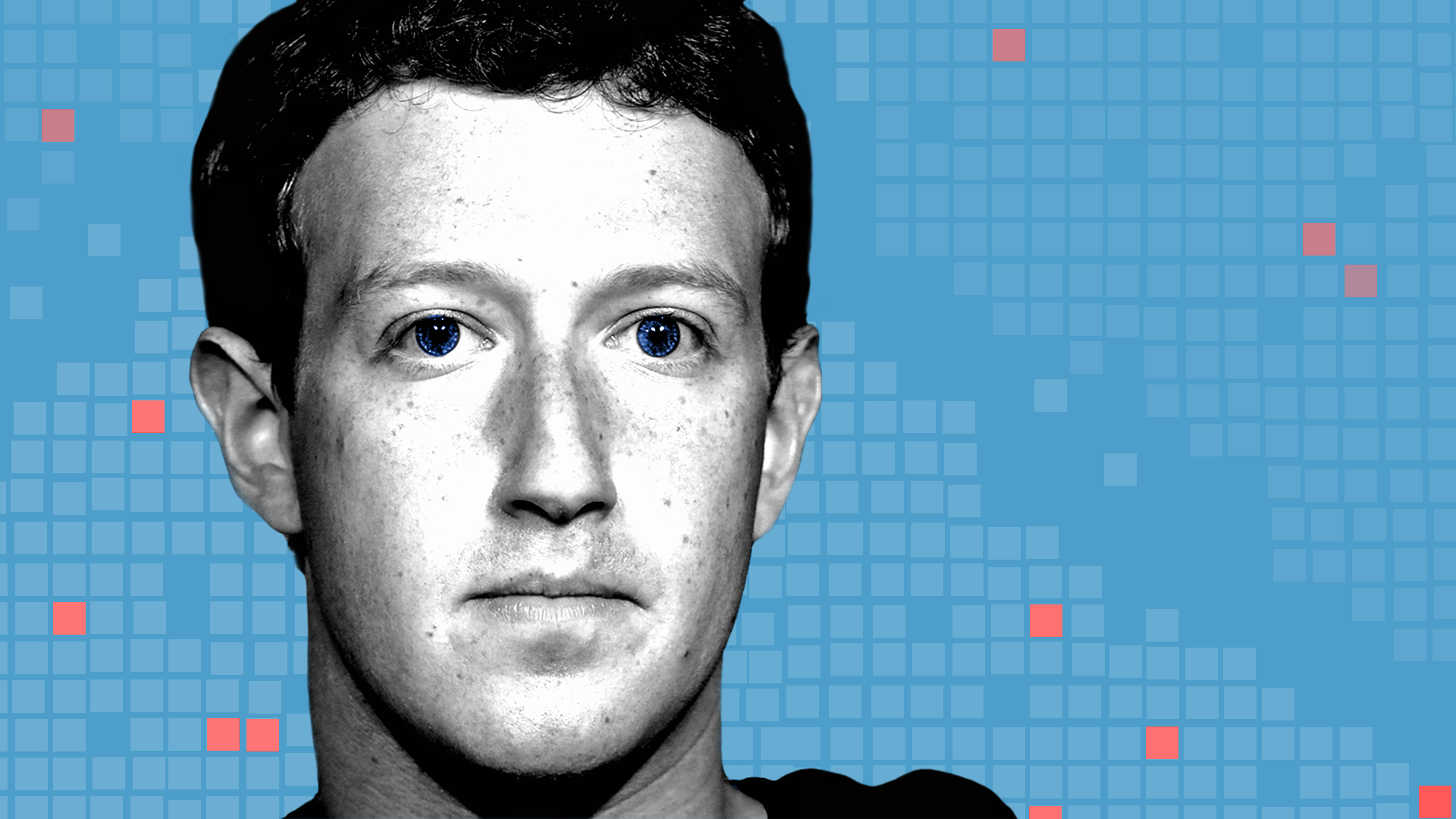 Facebook had even worse press than Amazon this week, thanks mainly to a devastating New York Times article on Wednesday.
The focus of the story is the manner in which Facebook's top two executives — Mark Zuckerberg and Sheryl Sandberg — react to bad news. Rather than deal with it directly, they tend, in the words of the article's headline, to "delay, deny and deflect."
The conclusion: "Bent on growth, the pair ignored warning signs and then sought to conceal them from public view."
Facebook also hired Definers, an opposition-research specialist in Washington, in a move that ended up backfiring spectacularly. Zuckerberg now denies (implausibly) that either he or Sandberg had ever heard of Definers before the Times article appeared.
Facebook shares closed at $139.53 on Friday, down 36% from their high of $218.62 in July, less than 4 months ago. That's a loss of $228 billion in market capitalization and a sign that the market has lost faith in Facebook's executive leadership.
Zuckerberg's attempt on Thursday to mollify the market and the press was predictably unsuccessful.
I made the case in April that Zuckerberg is no longer the right person to lead Facebook. His product and engineering skills are prodigious yet also irrelevant, and by Zuckerberg's own admission, neither he nor Sandberg are fully aware of what's going on internally.
Facebook's board has neither the ability nor the inclination to fire Zuckerberg. But that doesn't mean he can't resign as CEO. At any point, he is free to hand the reins over to someone with a better intuitive understanding of why governments and users around the world are so upset at the company (hint: patent applications like this one don't help) and what needs to be done to fix the problem.
The bottom line: Facebook has lurched from crisis to crisis, and it has managed none of those crises well. It's now clear who bears the blame for that.
4. General Electric deflates
General Electric would love to have a share price down 35% from its highs. The stock closed Friday at just $8.02 per share, which is down 75% from the July high of $33, down 80% from the pre-crisis high of $42, and down 85% from the all-time high of $60, set in August 2000. And those numbers if anything understate the degree to which GE has been diminished since its heyday.
In 2008, GE's enterprise value — the most comprehensive measure of the value of the company — was more than $880 billion. The financial crisis wiped about $300 billion from that figure, but the recent drop has been larger still.
In the past three years, GE's enterprise value has fallen by 66%, or $365 billion, to $175 billion.
No one's shedding any tears for speculators like Nelson Peltz, who has lost some $700 million on his GE bet. But GE bondholders are a different matter. GE has a total debt of $115 billion, including $100 billion of long-term bonds. That's more than its market capitalization.
The once unthinkable — a GE default — is now very thinkable. The company, which had a triple-A credit rating as recently as 2015, is already trading at junk levels.
In a sign of how desperate GE is for cash, it announced this week that it's selling Baker Hughes, its oilfield services unit. That's not the kind of thing that a healthy company would do while U.S. oil prices are on a record losing streak.
To see just how bad things are looking for GE, consider its perpetual preferred securities. If GE doesn't buy back that paper at par in January 2021, it's going to have to pay a punitive 333 basis points over Libor in interest. And it's looking very much as though GE won't have the wherewithal to buy back the stock.
If GE were in better shape, that would be good news for the price of the securities. All else being equal, bonds with higher coupons are more expensive. Instead, the price has plunged to less than 85 cents on the dollar.
What explains the low price? The risk that far from paying 333bp over Libor, GE will pay nothing at all. The company has the option to do that — if it stops paying a dividend on its common shares.
The bottom line: GE Capital needs at least $20 billion in new funds, and perhaps significantly more, according to a research note put out by Goldman Sachs this week. Goldman also raised questions about GE's insurance and power operations.
Why it matters: GE is far from insolvent, but it's definitely in trouble. If its $100 billion of debt got downgraded to junk status, the effect on the credit markets could be seismic.
5. Price discovery gets exciting
Remember volatility? Well, it's back. Take a look, for instance, at the last three months of the Dow Jones Industrial Average.
Between Aug. 17 and Oct. 9, the average daily range — the difference between the intraday high and the intraday low — was 177 points.
Between Oct. 10 and Nov. 16, the average daily range was 455 points, 2.5 times greater.
Why you'll hear about this again: 400- or 500-point days on the Dow are normal, these days, and they almost always happen for no particular reason.
Other asset classes are seeing a similar failure, on the part of markets, to come to a stable consensus on what they're worth. We've already talked about oil, so let's take a look instead at cryptocurrencies.
In just the past week, bitcoin is down 13%, ethereum is down 18% and bitcoin cash (don't ask) is down 30%.
Volatility tends to mean big drops more than it does big rallies. Chipmaker Nvidia has lost almost half its value since the beginning of October, Apple has lost almost $200 billion in capitalization over the same time, J.C. Penney looks like it might drop below a dollar per share, and California wildfires have poleaxed the stock of PG&E.
Be smart: Insofar as you can, it's worth tuning out this noise. The markets have been weirdly, puzzlingly quiet for a couple of years now. In a world where unknowns abound, it makes sense that valuations would be very hard to pin down.
6. How Civica will solve generic-drug market failures
Generic erythromycin, an antibiotic, saw price hikes every year from 2010 to 2017, ultimately ending up roughly 50 times more expensive than it started. It's not alone.
The market-based solution to this problem would be for a new company to start manufacturing those drugs. Often, however, there's a market failure, and the drugs remain hard to find or exorbitantly expensive for years.
Enter Civica Rx, a nonprofit that intends to solve the problem by not making any money at all.
Civica is a consortium of seven hospital groups and three philanthropies. They've each donated $1 million to the nonprofit and have pledged to make at least $9 million more in loans, if necessary. That's a total funding of $100 million.
Its hospital members can enter into a multi-year binding contract to buy large quantities of any given drug. That gives Civica, as a drug manufacturer, a lot of certainty when it comes to future demand.
Civica then contracts with its own vendors, locking in drug supplies for many years.
"Most generic manufacturers will never even run into us," says Dan Liljenquist, Civica's chairman.
Civica is not a danger to the generic drug industry; it will operate only as a manufacturer of last resort in the rare cases where that industry has experienced market failure.
"We don't need to fix the whole market," Liljenquist tells Axios, "because the whole market's not broken."
Expect to see Civica's first drugs hitting the market as early as the second quarter of 2019.
Go deeper: Read the rest of Axios' Deep Dive on prescription drug prices.
7. Price formula of the week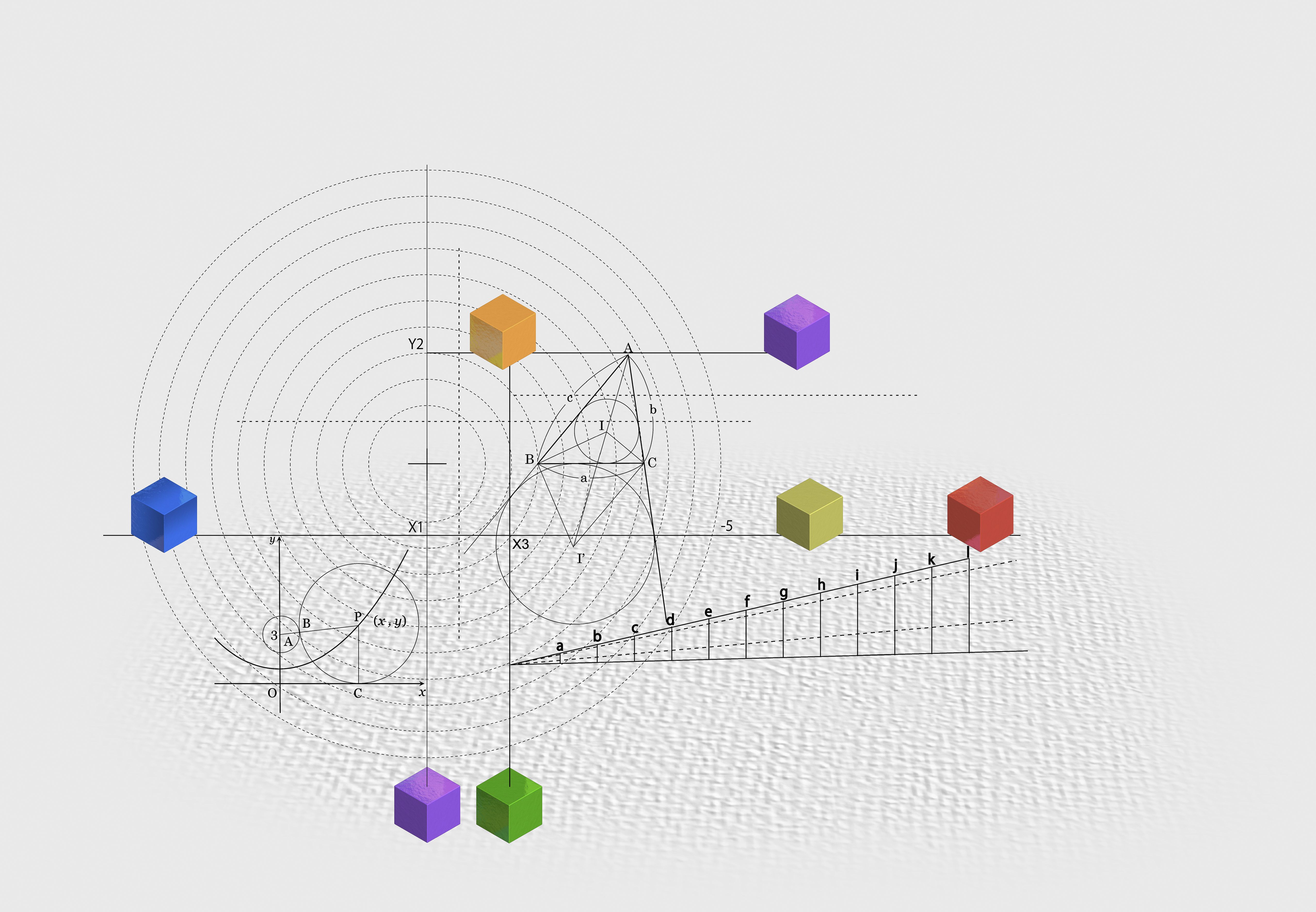 The latest fight between Michael Dell and Carl Icahn is over. Instead of paying 1.37 shares of Dell for each share of VMware tracking stock, Dell is going to pay more than that. That's good for Carl Icahn, who owns a large chunk of VMware tracking stock.
How much is Dell paying now? This much:
The exchange ratio will be at least 1.5043 and may be increased under certain circumstances (such increase, the "exchange ratio adjustment"). The exchange ratio adjustment will be a number of shares equal to (a) 0.01998 multiplied by (b) the lesser of (x) $15.45 and (y) the amount (which may be zero but, for the avoidance of doubt, not less than zero) by which the volume weighted average trading price of the Class V shares in the 17-day trading period ending on the election deadline is less than $120.00 multiplied by (c) the lesser of (x) one (1) and (y) a fraction (i) the numerator of which is equal to the aggregate amount of cash consideration elected by Class V holders as of the election deadline and (ii) the denominator of which is equal to $14,000,000,000. In no event will the exchange ratio be less than 1.5043 nor more than 1.8130.
Someone should buy Michael Dell this Sol LeWitt for Christmas.
8. This week: Thanksgiving!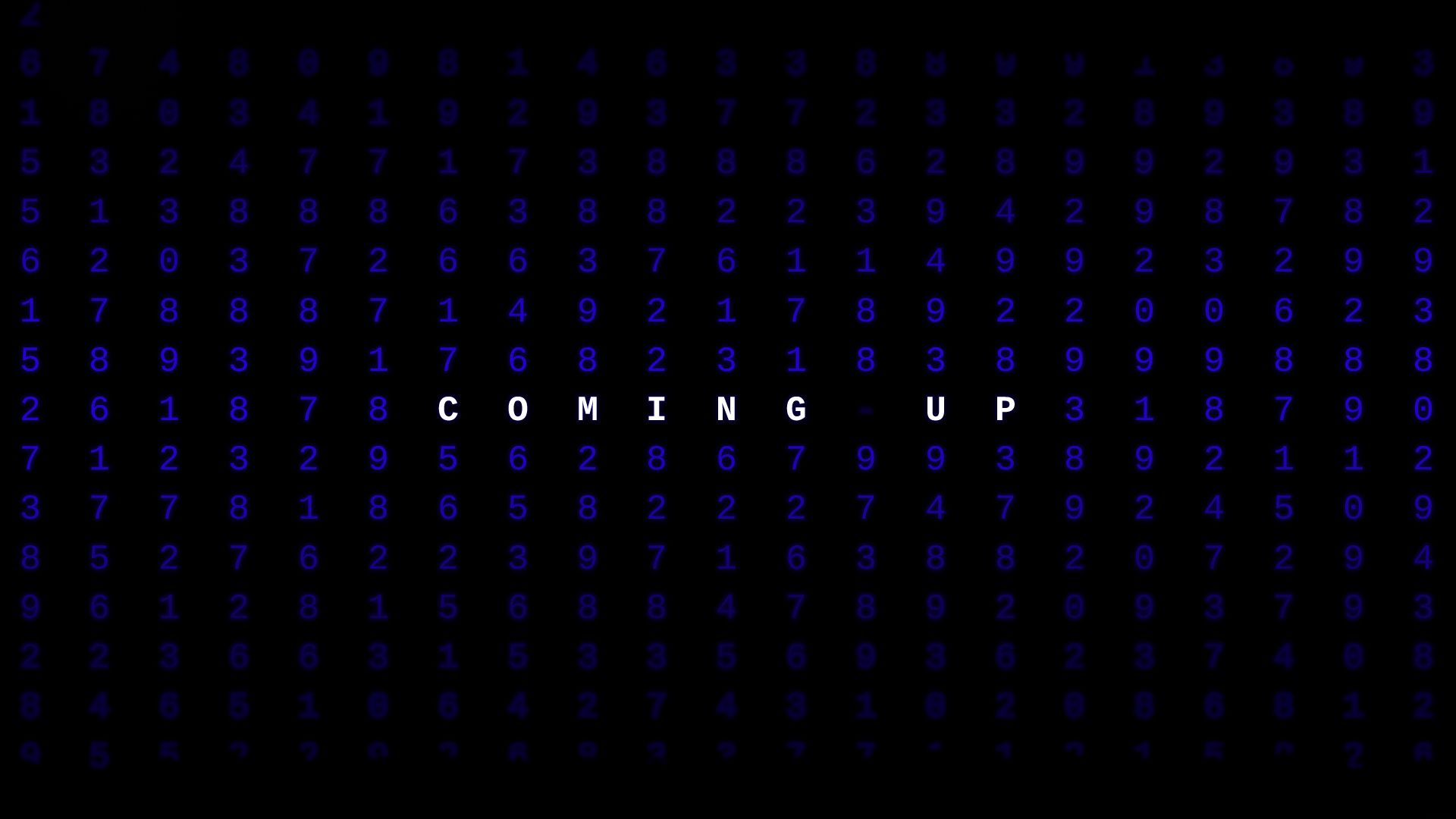 Go traveling, it's almost certainly going to be a record-setting year. Argue with your family about monetary policy. Take at least two days off, unless y0u're in retail, in which case start your sales on Thursday. Spending is expected to be strong — though not as much as last year.
In terms of quarterly results, a ton of retailers, including Target, are out with earnings, writes Courtenay Brown. And Monday sees earnings from JD.com, which could offer insight into the slowing Chinese economy.
It's also the first report since JD.com's CEO, billionaire Richard Liu, was accused of rape in August. He was detained (and then released) by Minneapolis police. He's since returned to China. The company says Liu is innocent.
Don't expect any more details about the case on the earnings call. Indeed, there's no certainty Liu, who's considered by shareholders to be key to the company's success, will be on the call at all. He's been MIA at big events in China in recent weeks.
9. Building of the week: Before and after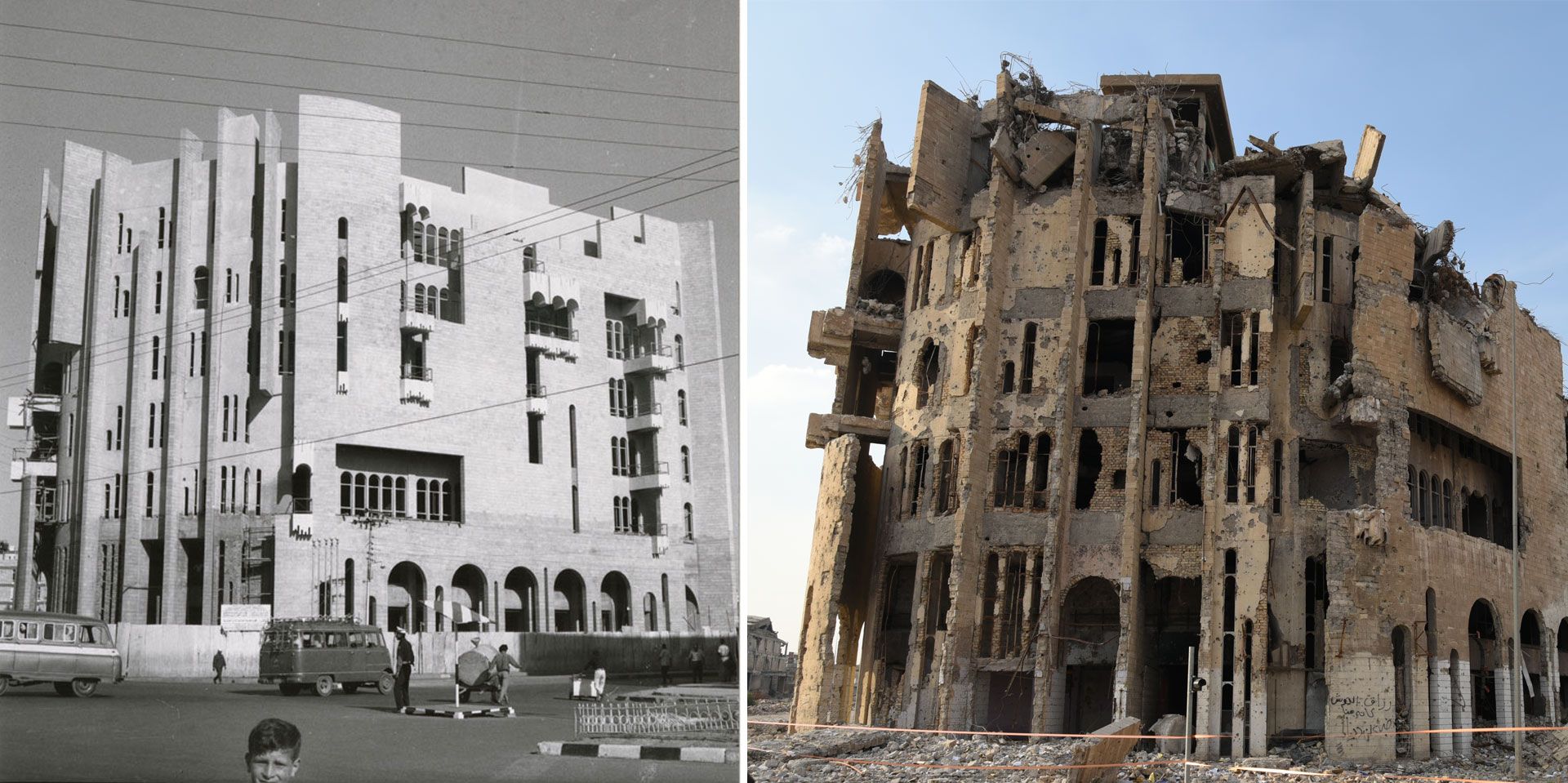 Rifat Chadirji has been described as "the father of Iraqi architecture." His architecture, blending modernism with regionalism, largely came to an end when his opposition to the Iraqi regime landed him in the notorious Abu Ghraib prison for 20 months in the 1970s. One of his masterpieces, the National Insurance Company in Mosul, was the tallest building in the city, which lent it a gruesome afterlife when the Islamic State, or ISIS, started throwing gay men to their death from its roof. It is now slated for demolition.