May 23, 2022
Good Monday morning. We hope you weren't affected by any downed trees after last night's winds.
⛅️ Today's weather: Partly sunny, then a chance of evening showers. High 74.
📍 Situational awareness: Lidl is expanding to Tenleytown, right next door to the soon-to-open Wegmans, the Washington Business Journal reports.
Today's newsletter is 952 words — a 3.5-minute read.
1 big thing: Abortion's precarious state of play in Virginia
The potential overturning of Roe vs. Wade has thrust abortion to the forefront of the battle for the Virginia state legislature.
Why it matters: Even if Democrats hold onto their one-seat majority in the state Senate during next year's election, the party could still lose on abortion if one of their members — the notoriously unpredictable Senator Joe Morrissey — sides with the GOP, Axios Richmond's Ned Oliver writes.
Morrissey already co-sponsored a GOP bill earlier this year to ban most abortions after 20 weeks.
"I believe that there is a period when the fetus can feel pain and I remain open to legislation that would prevent an abortion when the fetus is so far along it feels pain," he tells Axios.
Flashback: Morrissey served three months in jail in 2015 on charges stemming from a relationship with his then-17-year-old receptionist, whom he later married. He also did time more than a decade earlier, after getting into a courthouse fistfight with an opposing lawyer while serving as the city's chief prosecutor.
What's happening: Morrissey's abortion stance is fueling interest in his challenger in the primary, former Delegate Lashrecse Aird, a Democrat from Petersburg.
"We talk a lot about the brick wall in the Virginia Senate," Aird tells Axios. "Well, that brick wall has a huge crack in it right now, and it's him."
Meanwhile, on the Republican side, party leaders have made it clear they don't see abortion as a winning issue in a state where elections rise and fall in moderate, suburban districts.
2. 📬 Reader mailbag: The mask car
As Metro considers whether to establish mask-only railcars, we asked you all what you thought of the idea.
"I think there should be two mask cars on each train. The first and the last. A lot of elderly people ride METRO and many of them, myself included, prefer to wear masks and wish others did."
— Roberta Y. writes:
Some compared a would-be mask-only Metro car to another train ritual:
"Like Amtrak's quiet car, an oasis of sanity."
— Catharine G.
But there was a dose of skepticism about whether it would be enforced.
"Metro can't keep their cars safe or their operators certified, or open the Silver line to Dulles. How would they possibly be able to pull this off?"
— Dwight W.
It's not masks but service interruptions that are keeping riders away:
"My (relatively unoriginal) hot take about the proposed mask car is that it would be really wonderful if WMATA made an all-hands-on-deck effort to get the 7000 series trains back on track and their entire conductor workforce up-to-date on safety certifications."
— Max B.
What if the mask-only car gets very crowded?
"I would love this, and would be inclined [to] sit in one always. However, I suspect it would be a popular option, and would therefore be very crowded. So that would give me another level of decision-making — do I go into the more crowded car with masked people, or do I opt for the less crowded car, where some of the people (at least) will not be masking?"
— Susan R.
Flashback: In a survey earlier this month of 956 Axios D.C. readers, 71.2% said they always mask up in Metro.
3. 🎓 Around the Beltway: Congrats grads?
🍾 The National Park Service had to temporarily close the Lincoln Memorial this weekend after they say a graduation celebration left broken glass and spilled wine. (WUSA9)
😷 COVID-19 cases are rising in D.C. area schools, but school systems aren't returning to strict rules, such as masking. (Washington Post)
🚚 Yet, again the truck convoy came … and went. What did they want? It's not clear. (Washingtonian)
💬 Quote du jour
I was honored to learn that I, along with certain members of Congress and executive branch officials, have made Vladimir Putin's "enemy list" and have been banned from entering Russia.
— Ward 3 Council member Mary Cheh
Cheh tweeted that she likely made the list after renaming a portion of Wisconsin Avenue outside the Russian embassy Boris Nemstov Plaza, honoring the slain dissident leader.
4. ⚓️ Airbnb for boats
Don't own a boat but want to get out on the water? The D.C. area has several boat rental services that loan powerboats by the hour. Two of the outfits are Airbnb-style, with reviews, special features, and boat owner information.
Based at The Wharf, they have a fleet of electric 18-foot picnic boats that fit up to eight people. Customers should bring their own drinks and snacks (no red wine allowed). 
1 hour - $150 plus tax
2 hours - $300 plus tax
3 hours - $400 plus tax
Launched in 2013 in San Francisco, the company says it's the world's largest boat rental and water experience marketplace. There are dozens of D.C.-area listings.
Rentals start around $150 an hour with larger and luxury options starting around $350.
Many include a captain.
Launched in 2012, the company has listings around the world, including over 70 here.
Users can search based on whether or not they need a captain.
Smaller boats such as bayliners go for around $106/hour, with vessels described as luxury going for $350+/hour.
Before you set sail: All Washington-area boat drivers need a certification card.
D.C. requires a one-day, eight-hour course that's offered online and in person.
Virginia requires PWC drivers (jet skis, wave runners, etc.) and boaters driving vessels with motors powered by 10 hp or more to complete a safety course. There are online and free options.
Maryland requires anyone born on or after  July 1, 1972, to complete an eight-hour safety course. The price varies but there are online and free options.
🛥 Bon voyage!
5. 🧇 1 brunch to go
We spent Sunday Funday at HalfSmoke and enjoyed the W.A.P. and peach mimosas.
Where are your favorite brunch spots?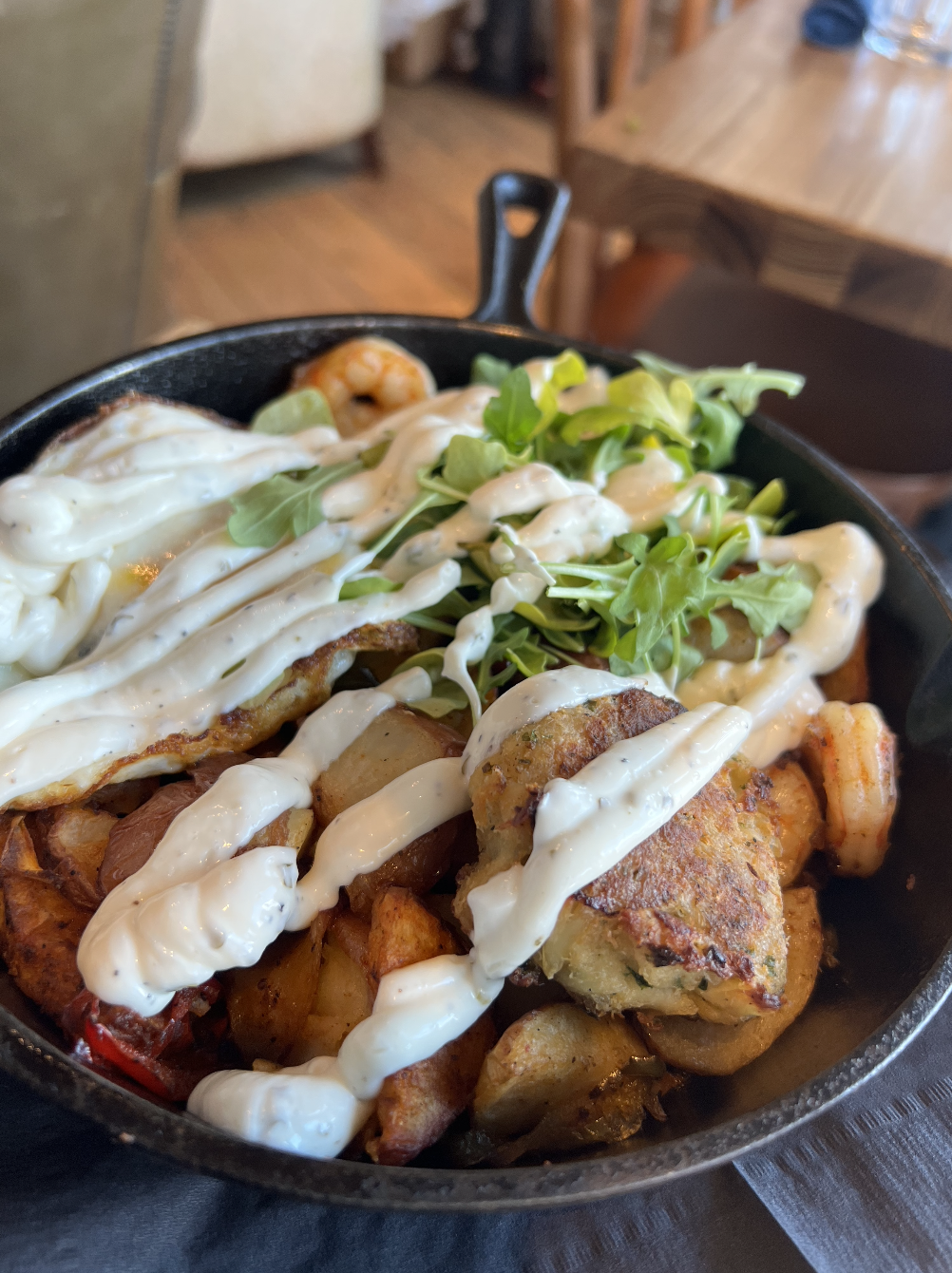 💔 Cuneyt is fuming over Manchester City's comeback to win the Premier League over my Liverpool.
🎮 Chelsea is replaying Skyrim.
👩🏾‍🍳 Paige is experimenting with new recipes.
🚰 Our editor Kayla is just trying to stay hydrated.