Axios Crypto
May 09, 2022
☕️ Good morning! It's Pete here. Brady is catching his breath until Thursday. But don't worry, we're all over this. Today we're talking fraud schemes, what's driving the NFT market, and the return of a name you know.
Email us: [email protected].
This newsletter was edited by Pete Gannon. It is 1,100 words, a 4-minute read.
😡 1 big thing: Multiplying risks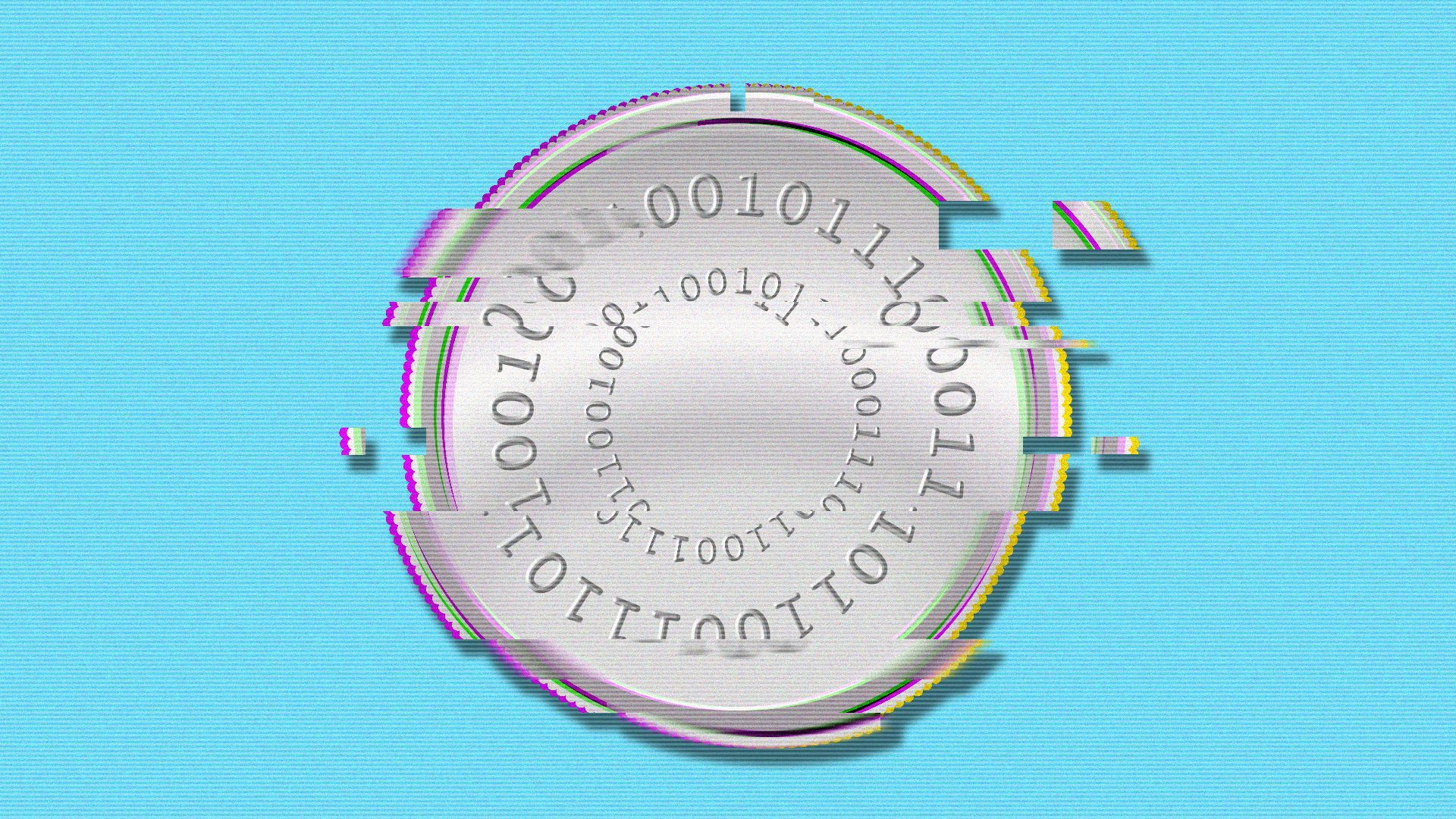 The exciting world of cryptocurrency moves at lightning speed and is attracting vast sums from big and small investors. As thrilling as the blockchain can be, it's best to be clear-eyed about the $1.5 trillion-plus sector's multiplying risks, Axios' Javier E. David writes.
Why it matters: As Washington jockeys for authority to oversee digital coins and protect investors, schemes involving ill-gotten crypto gains are mushrooming, even as glossy crypto conferences in Miami and the Bahamas dazzle investors.
A random Google search on "crypto fraud" yielded nearly 100 million hits – underscoring how 2021 was a banner year for scammers who walked away with billions in illicit transactions, Chainalysis notes.
Driving the news: Last week, the SEC – positioning itself to be the de facto sheriff of crypto's "Wild West" milieu – announced it was beefing up its cyber unit to go after digital asset fraud.
Zoom out: Crypto's head-spinning volatility, combined with its light (at least for now) regulation raises the stakes for policymakers to craft rules that don't snuff out innovation, but provide investors with adequate protection.
It's become a more urgent task amid the broader shake-out in risk-sensitive assets (a rising tide tends to lift all boats, but leaves lots of ugly debris behind when it rolls out).
Be smart: The rapid rise of web3, and the need to foster development and attract more capital, creates more urgency for crypto to clean up its act. Also, regulators have to come up with new tools to protect markets from the darker elements of Web 2.0.
Policymakers "are peeling the onion, and getting smarter about the space," crypto enthusiast Anthony Pompliano wrote in his weekly newsletter. "Many geographies are competing to take the crown of being "web3-friendly," he says.
Thought bubble: Crypto is getting a toehold in everything from home lending to retirement accounts and economic development, highlighting how digital coins aren't going anywhere, even if critics want them banished. But it also means there's a pressing need to address the sector's underbelly before the risks become systemic.
💰 2. Charted: Driving the NFT market
The NFT market is currently a collectors' playground, Axios' Kia Kokalitcheva writes.
With some exceptions, collectors (defined as those making transactions in the $10,000-$100,000 range), have accounted for about two-thirds of transaction volume in terms of money spent since January 2021, according to new data from Chainalysis.
Between the lines: Collectors have the financial resources and the conviction.
While retail investors still make up the vast majority of the number of transactions — and Chainalysis' data suggests more are continuing to join the market every week — institutional investors seem to spike in activity around the sales of highly coveted NFTs.
👋 3. He's back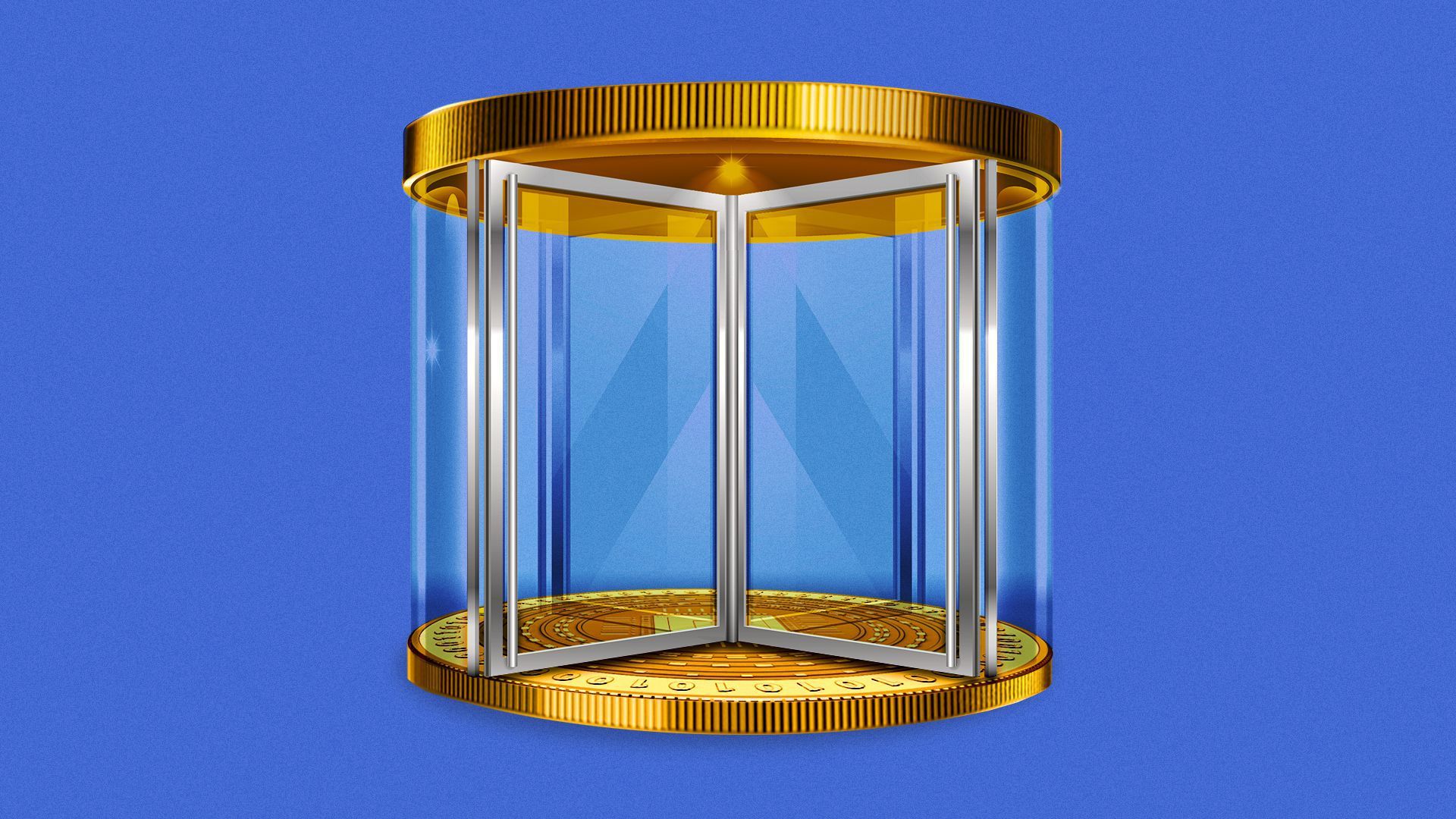 Just by coincidence, last week we told you about Yearn Finance, DeFi's friendly yield robot, which has $2.2 billion in assets users have entrusted it with growing. All that despite a creator who dropped off the blockchains in March, Axios' Brady Dale writes.
In an April blog post that could be read as explanatory, titled "The rise and fall of crypto culture," Andre Cronje wrote:
I wish I was older. I wish I was old enough to see the birth of monetary policy. I wish I could have seen the mistakes they had made, because I believe we are repeating them.
The latest: He's back, in a way.
He just showed up on "The Chopping Block," a DeFi YouTube show and podcast, to talk about what he's doing now.
What he's saying: "I don't think retirement is ever in the books. I think I'll just keep working till my brain dies," Cronje admitted.
It's not exactly a return, he tells Axios via Telegram, because he's doing what he's calling RegFi, translating DeFi (decentralized finance) to TradFi (traditional finance). He said, "I'm never touching public crypto/DeFi again."
Of note: He has always been more public and frank with his feelings than most leaders of similar prominence.
What's next: He's working on regulated crypto now. Primarily, he said, that means describing what blockchains can do in terms that make sense to more traditional companies.
Yes, but: Cronje's recent departure was controversial. In crypto, every move that doesn't drive markets up is treated as suspect by users, and Cronje's departure drove many tokens down, hard.
Cronje vehemently denied profit-taking on his creations. In fact, longtime Cronje watchers will note he's always taken a strange pride in not making money when he obviously could have (and no one would have blamed him for doing so).
Quick take: Cronje is driven by both an artist's urge to create and an engineer's frustration with inefficient designs. Dragonfly Capital's Haseeb Qureshi asked what keeps him going. He said:
"I don't know what else I would be doing if I wasn't doing this."
🚴 4. Catch up quick
🖼 NFT collective Doodles is doubling down on being a media business with the hiring of former Billboard president Julian Holguin as its new CEO. (Decrypt)
🚫 Bankless, a popular Ethereum-focused newsletter and podcast, said its channel was banned by YouTube without warning or justification. (CoinDesk)
🍔 It's been a few weeks since the Bored Apes Yacht Club burger joint opened in Long Beach, and while there seems to be consensus that the grub is great, some are enjoying (Decrypt) the schtick more than others. (Insider)
👋 Bitstamp CEO Julian Sawyer is leaving the company, with former Europe CEO JB Graftieaux taking the new global role for Europe's biggest crypto exchange. (CoinDesk)
Top Coins
Coin prices including the largest — bitcoin and ether — continued to fall this morning as investors broadly move away from risk.
🧐 5. Culture hash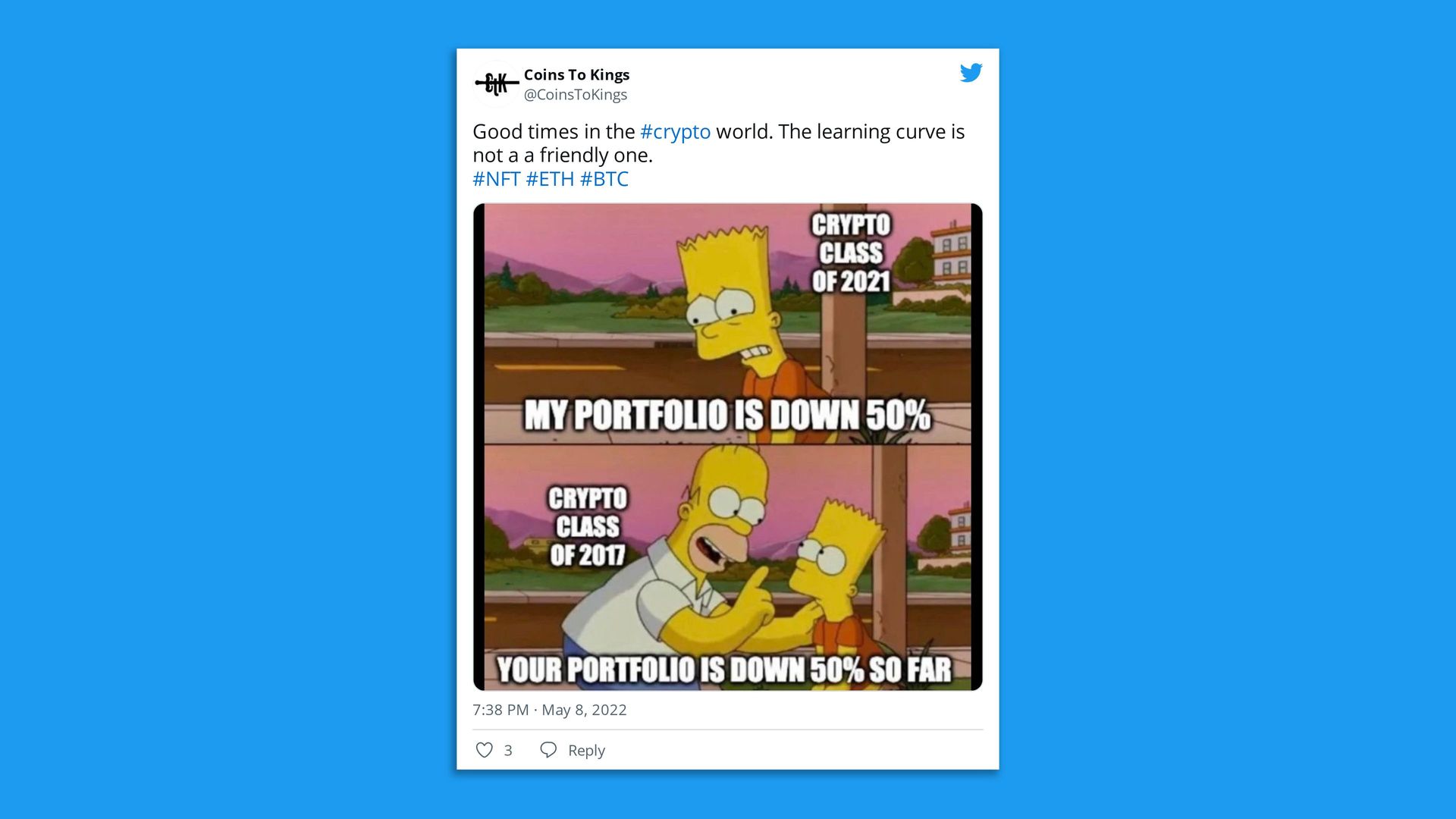 It can be hard to keep historical perspective when you join an asset class at just the right time, Axios' Kia Kokalitcheva writes.
Flashback: The crypto boom of 2017 included a massive wave of initial coin offerings, a bevy of new tokens, and the price of bitcoin nearly hitting $20,000 that December.
State of play: It hit an all-time high of $69,000 in November, but over the past 24 hours has fallen over 5% to below $33,000.
Yes, but: It wasn't all smooth sailing for the 2017s either. In 2018, after gradually coming down to $6,000-$7,000 and hovering around there for several months, bitcoin's price quickly dropped, hitting as low as $3,200 that December.
It didn't get back up to around $20,000 until December 2020 — and has remained above that since, though with some ups and downs.
The bottom line: It's all relative and cyclical.