Axios Crypto
May 11, 2022
Hello. Pete steering the ship again today, with Brady back at the wheel tomorrow.
🚨 Situational awareness: Yesterday we covered TerraUSD, the algorithmic stablecoin, breaking from its $1 peg and sinking as low as $0.69. Things got worse today, seeing it briefly below $0.24.
Email us at: [email protected].
This newsletter was edited by Pete Gannon. It is 1,025 words, a 4-minute read.
🤷‍♂️ 1 big thing: Venture investors undeterred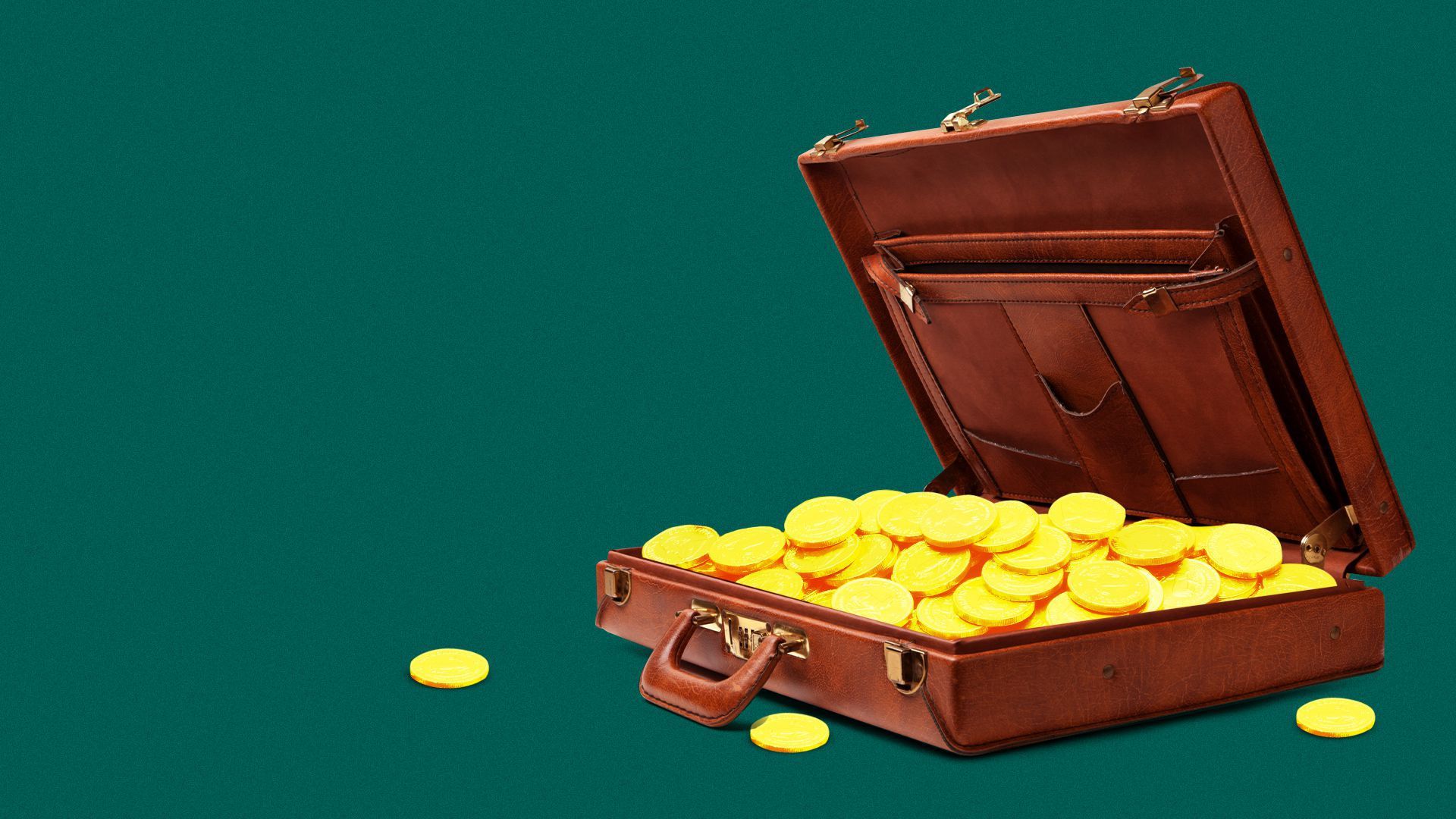 The crypto market has been in a downward trajectory since November, but venture investors — and the crypto companies they've backed in Q1 — do not seem to have gotten the memo, per new data from CB Insights, Axios' Kia Kokalitcheva writes.
Why it matters: With the sharp market dive in recent days, expect numbers to look different going forward.
The big picture: Crypto and blockchain companies globally raised a record amount of venture funding this past quarter, largely driven by a number of mega deals ($100 million and above) and investors' recently replenished coffers.
By the numbers: Companies raised $9.2 billion in venture capital globally in Q1 across 461 deals, while U.S. venture deals hit $5.8 billion or 63% of global funding.
There were 28 mega deals, a record quarter, up from 17 in Q4 and 18 in Q3.
There are now 62 unicorns (private companies valued at $1 billion and over), with 14 new ones from this quarter, the same number of new entrants as Q4. The U.S. remains the land of crypto unicorns as the home to 40 of them.
Between the lines: Average and median deal size remained flat compared to the previous quarter — and while median deal size was down in Asia, it hit record highs in the U.S. and Europe.
Mid and late-stage median deal sizes also fell year-over-year, while early-stage deal size increased slightly to $4 million.
Zooming in: Despite NFTs largely dominating headlines last year, DeFi was this quarter's winner, adding four new unicorn startups.
With $2.1 billion invested across 71 deals, DeFi startup funding is on pace for a record year. Q1's dollars invested have already surpassed prior quarters.
Average and median deal sizes for DeFi startups are also at all-time highs, and mid-stage deals are growing as a share of overall deal activity, suggesting the category is starting to mature.
Meanwhile, NFT startups saw deal activity and deal size remain flat from Q4, and startups in the custody and wallet, and exchange and broker categories saw mostly declines in investment activity.
Yes, but: Exit activity was in line with the broader market, with a sharp decline in M&A, IPOs, and SPAC deals.
M&A hit its lowest activity level since Q3 2020 with nine deals this past quarter, with the rest also declining.
What we're watching: How the rest of the year pans out. Crypto VCs have a lot of fresh dry powder and an unusually strong belief that downturns yield some of the best startups, but they're not immune from the larger uncertainties.
📉 2. Coinbase crumbles
Coinbase shares cratered after earnings yesterday afternoon on declining revenue, fewer monthly users and a drop in cryptocurrency prices, Pete writes.
Details: The company's $1.17 billion in revenue for the quarter was around $300 million below expectations and was down 27% from a year ago.
Monthly transaction users (MTUs) also fell by 19% since the fourth quarter, to 9.2 million. Total trading volume dropped by over 43% to $309 billion.
Meanwhile, it reported a decline of Assets on Platform, which stood at $256 billion at the end of the first quarter, down from $278 billion at the end of 2021.
The decline was driven by lower crypto asset prices, partially offset by billions of dollars in net inflows.
Decreases in price were larger for assets with high concentration on its platform – notably ETH and SOL – compared to the market overall.
What they're saying: Coinbase tried to shrug off the effects of crypto price volatility in its results, saying now is a time to focus on its business.
"We believe these market conditions are not permanent, and we remain focused on the long term," it said in its release.
"In fact, our investment in our business now is especially critical — these periods of low volatility can provide the opportunity to focus more intently on product development (as opposed to peak periods, when we are more focused on meeting high demand).
The intrigue: Some news reports focused on language in the company's 10-Q filing with the SEC, which said customers with crypto assets held on the platform could be treated as "general unsecured creditors" in the event of a bankruptcy, implying customers would have no direct claim to their assets.
Brady's thought bubble: Coinbase allows users to withdraw crypto to their own wallets (self-custody). In a bear market, it might make sense for those who don't plan to actively trade to do so.
Coinbase CEO Brian Armstrong took to Twitter to play down the significance of the disclosure.
The company included the statement as a new "risk factor" based on a newly required disclosure for public companies that hold crypto assets for third parties, he said.
"We have no risk of bankruptcy," he said to begin the thread.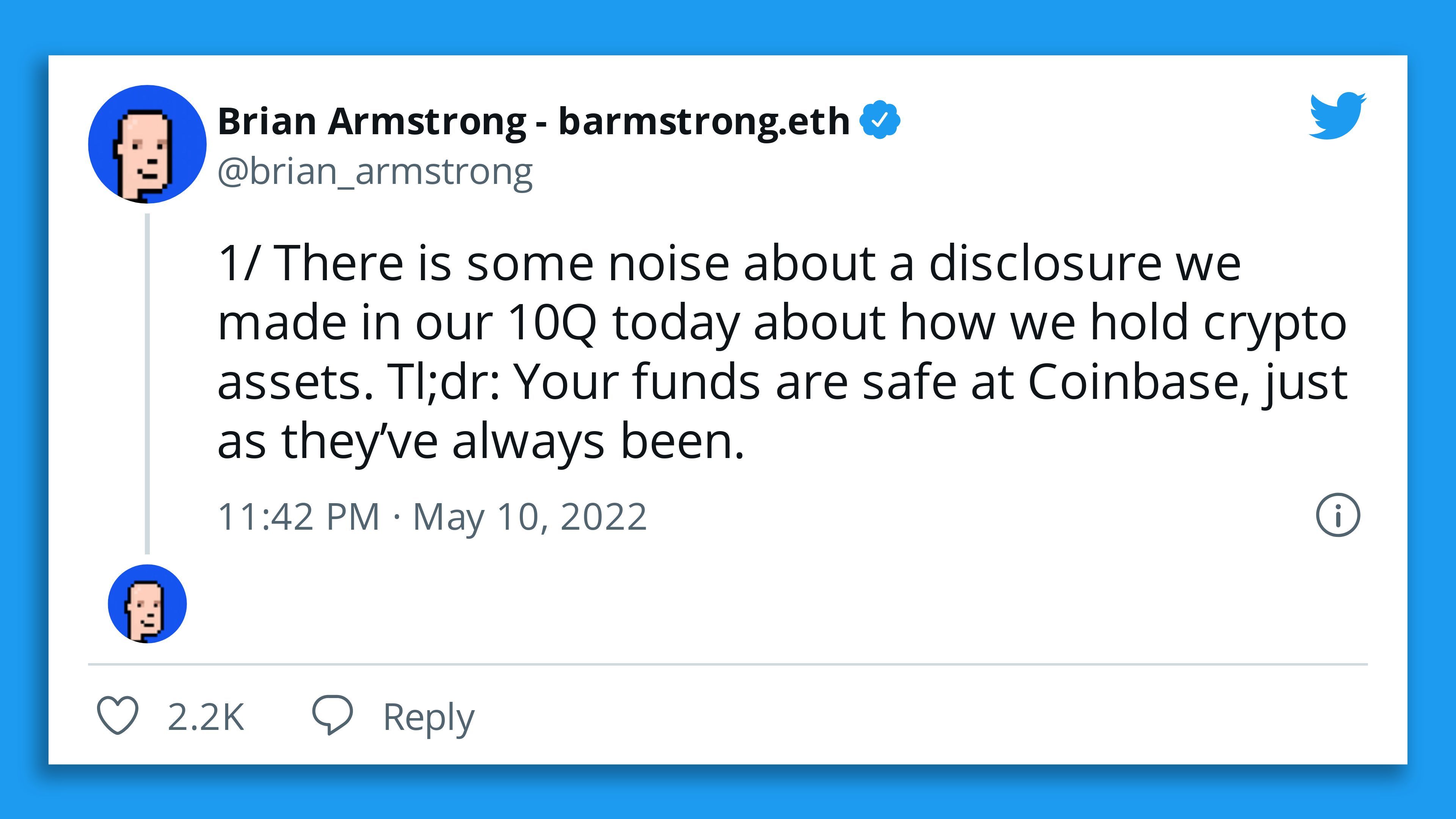 Armstrong said the company believes its Prime and Custody customers have "strong legal protections in their terms of service that protects their assets."
Yes, but: He acknowledged that these protections have not yet been tested in court for crypto assets.
"For our retail customers, we're taking further steps to update our user terms such that we offer the same protections to those customers in a black swan event," he said.
"We should have had these in place previously, so let me apologize for that."
Coinbase shares have fallen more than 82% since their high on Nov. 12, trading this morning below $56.
Top coins
🏄‍♂️ 3. Catch up quick
💰 Dapper Labs, the company known for the NBA Top Shot NFTs, debuted an "ecosystem fund" for its Flow blockchain with capital from Andreessen Horowitz, Coatue, Union Square Ventures, CoinFund and others. (Coindesk)
💨 FTX's U.S. affiliate opened its headquarters in Chicago and announced it's partaking in the city's pilot program to give 100 residents $500 in cash per month. (Blockworks)
 📉 Treasury Secretary Yellen renews call for stablecoin regulation following the TerraUSD situation. (WSJ)
⏳ 4. Culture hash: Can't stop, won't stop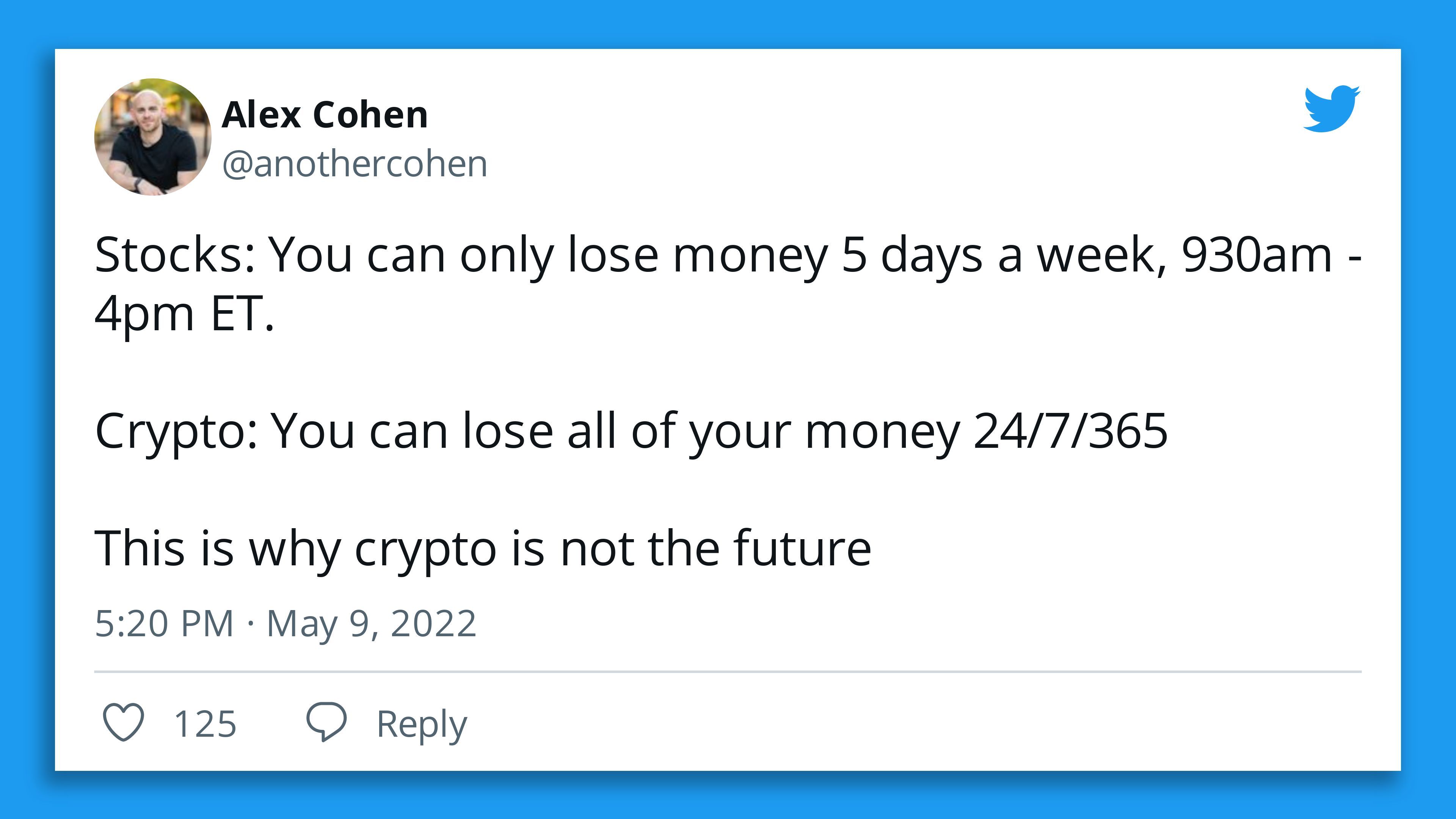 The crypto market's non-stop hours are often seen as an advantage over TradFi, Kia writes.
Why have your opportunities for financial gains confined to a specific slice of the day when you could be growing your riches round the clock?
Yes, but: After the last couple of days' market meltdown, perhaps that's not so great after all...