November 29, 2021
It's Monday! Good morning to everyone except That State Up North.
Today's weather: High of 41, low of 33, with a slight chance of snow in the evening.
💰 Situational awareness: The state will announce the winners of its Vax-2-School lottery every day this week on Twitter, Instagram and ohiovax2school.com.
Five $100,000 grand prize winners will be announced Friday. The deadline to enter is the end of the day Wednesday.
Today's newsletter is 945 words — a 3.5-minute read.
🎁 1 big thing: Local holiday shopping guide
The holiday shopping season is in full frenzy once again and shopping locally offers a chance to support our area's economy while crossing items off somebody's wish list.
Why it matters: This year's holiday season is one of the most important ever for Columbus' small business community according to Betsy Pandora, executive director of the Short North Alliance.
The district boasts the city's densest concentration of local businesses — nearly 300 — and many are still reeling from the pandemic.
"These are our friends and neighbors," Pandora tells Axios. "They make Columbus an incredible place people love to visit and love to live in. Without them, it would be a drastically different community."
State of play: After cutting back last year, shoppers are in a spending mood, Axios' Joann Muller writes. The problem is there may be fewer products to buy due to supply chain logjams.
Yes, but: Area vendors are stocked with Ohio-sourced products and can meet shoppers' needs, Ashley Vukovic, spokesperson for Experience Columbus, tells Axios. She refers shoppers to the destination marketing group's gift guide.
Our favorite central Ohio shops and the gifts they offer:
Tyler enjoys giving away gift cards to encourage friends and families from out of town to get lost in the 32-room shop.

Bonus points from us BGSU grads for having Falcons merch in Buckeye Country!
Locations: Polaris Fashion Place and the Mall at Tuttle Crossing.

Short North, Grandview Heights, Easton Town Center.

Short North, Grandview Heights and Worthington.
📬 What area businesses are your favorite? Reply to this email and help us create a local shopping guide.
2. The gift of giving
In addition to businesses, area nonprofits can also use our help during the holiday season.
Tomorrow is Giving Tuesday, so there's no better time to start.
Our suggestions:
Mid-Ohio Food Collective: This food bank helps distribute supplies to other local food help charities.
Franklin County Children's Services: The agency is accepting gifts for children and is hosting a "Black Girl Magic" toy drive on Dec. 11.
Charity Newsies: For over a century, this organization has raised money to donate clothing to local children in need.
📬 Which area nonprofits do you support? You know what to do.
3. 🏈 Well, it happened.
Ohio State's eight-game winning streak over its archrival had to end at some point, didn't it?
Driving the news: Michigan head coach Jim Harbaugh finally got his victory over OSU as the Wolverines defeated the Buckeyes at home, 42-27.
Why it matters: You know why.
What they're saying: "I feel awful," Ohio State head coach Ryan Day said after the game.
"It's a failure. It hurts. It hurts a lot."
Defensive tackle Haskell Garrett offered an apology to Buckeyes fans, writing: "As a defensive leader I did not uphold the standard that was set before me in that game … May the rivalry clock reset."
State of play: There was a lot at stake in this year's Big Game.
Michigan heads to the Big Ten conference title game Saturday for a shot at the four-team College Football Playoff.
The Buckeyes finish the regular season with two losses and are now on the outside looking in.
To make matters worse, we owe the victors some Ohio-made goodies.
What's next: The Buckeyes await the result of the Big Ten championship and this year's bowl game selection.
🧢 Last week, we asked readers to send in score predictions for a chance to win Axios swag.
Only three guessed a Wolverine upset.
The winner: John R., who predicted a 32-28 win for Michigan. Congratulations!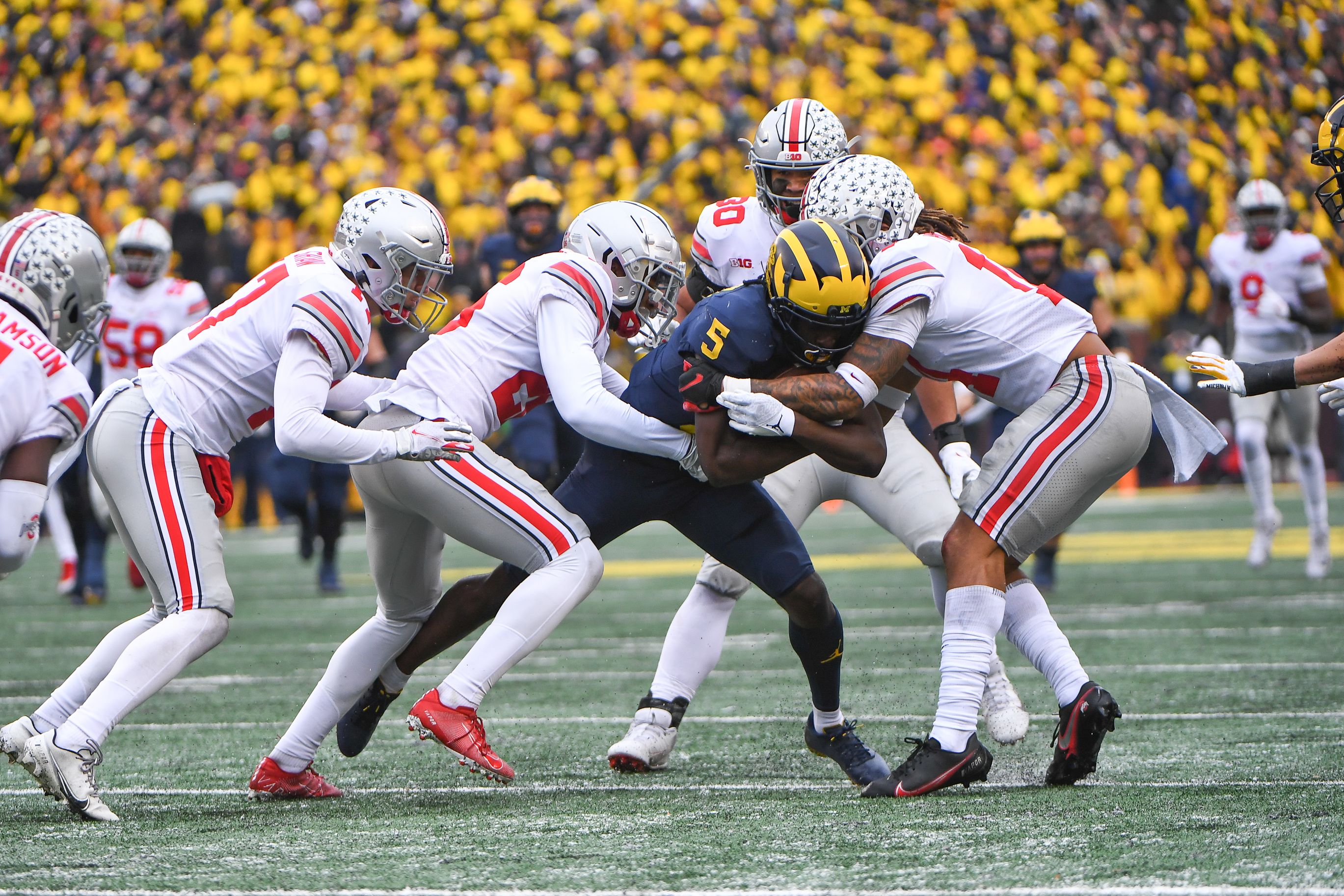 4. Nutshells: You walnut believe this news
🧑‍🎓 Bengals quarterback Joe Burrow, an Athens County native, recently launched a new career development program for Ohioans. (CBS Sports)
🚨 Ohio State Highway Patrol troopers will wear body cameras for the first time starting next spring. (WOSU)
🥪 The SK Food Group, a Seattle-based food supply company with a plant in Groveport, announced plans for a new Columbus facility that will create 305 new jobs. (One Columbus)
🎤 Nightbirde, a singer from Zanesville who wowed viewers of "America's Got Talent," says the cancer she's battling is starting to disappear. (CNN)
⚽ Columbus will once again host a World Cup qualifier match for the U.S. men's national team in January. (The Columbus Dispatch)
5. A trip back in time
👋 Tyler here. As a history nerd with too much time on my hands, I'm obsessed with old photos and comparing "then and now."
Flashback: The mind wanders. Is the man wearing a shirt and tie a professor or a well-dressed student? How long did the local typewriter store remain in business? What are sign-carrying students protesting?
It took some effort to correctly place some of the High Street jaunts, but I was able to track a few blocks with the help of Google Maps.
The intrigue: The building that would later house Buckeye Donuts can be seen around the 19:10 mark.
🏈 Tyler is just going to quietly note his alma mater, Bowling Green, won its last game. ¯\_(ツ)_/¯
🎄 Alissa put up her Christmas tree this weekend and hopes her cats stay on the "nice" list.
📬 All we want for Christmas is you to forward this newsletter to a friend and tell them to sign up here.