Axios Closer
March 23, 2021
Welcome back.
🔔 The dashboard: The S&P 500 closed down 0.7%. The Nasdaq fell 1%.
Biggest decliner? ViacomCBS (-9%), after a recent run-up in the stock.
Biggest gainer? WEC Energy (+4%), alongside a rally in other energy names.
🚨 Situational awareness: Trading app Robinhood has filed confidentially to go public, Axios has confirmed. Go deeper.
Shares of GameStop jumped after its first quarterly report since the Reddit saga. (P.S. If you were interested in listening to the earnings call, good luck. It appears to be at capacity, which... wow.)
Today's newsletter is 708 words, or a 2½-minute read.
1 big thing: The "vaccincentives" are here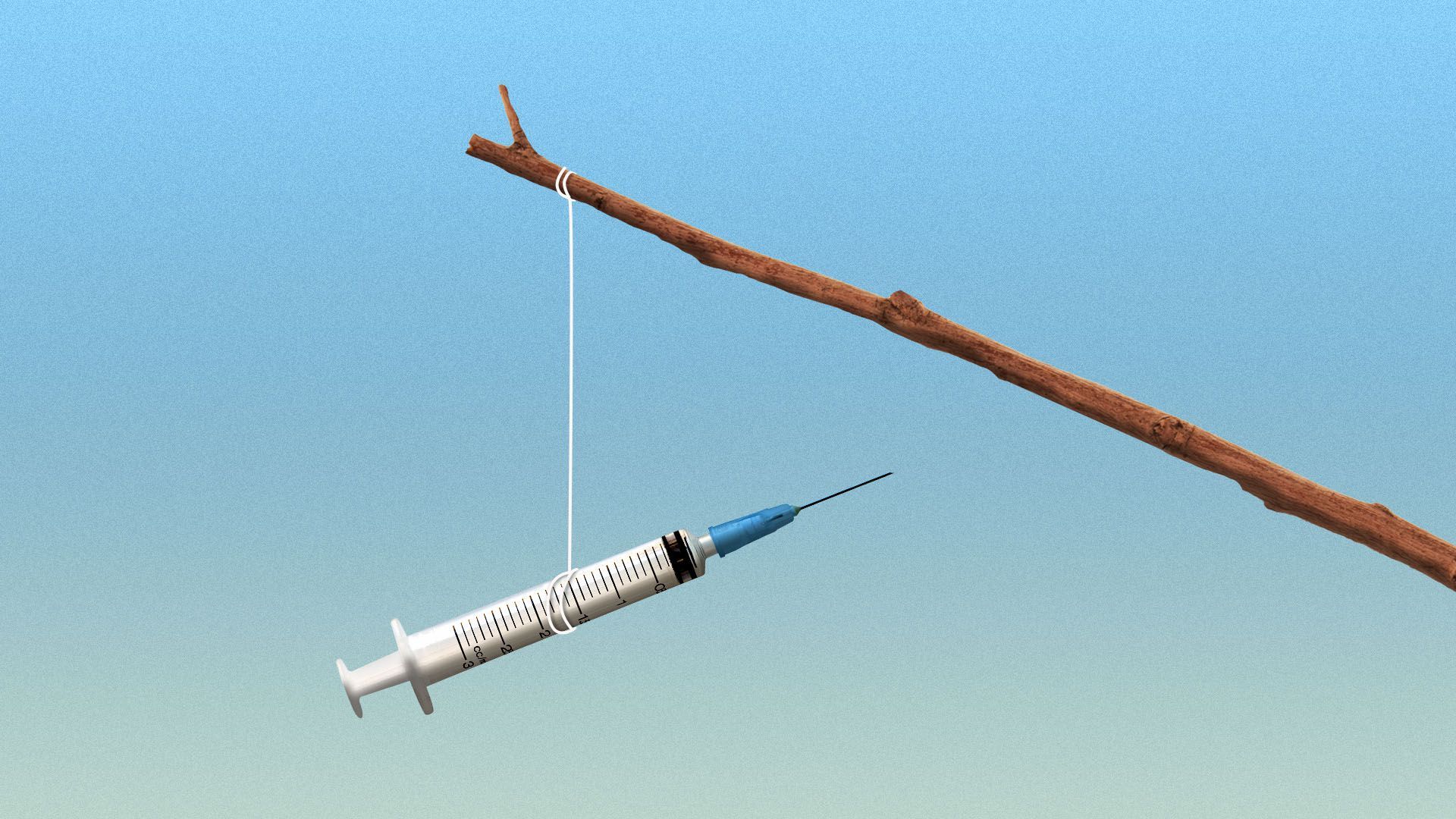 New pandemic lingo: "Vaccincentives" — the massive push by companies to encourage shots.
Why it matters: COVID-19 kicked off a big debate about whether companies will (or can) mandate workers to get vaccinated. The answer appears to be that most won't — but they are pulling out all stops to nudge workers in that direction.
What they're saying: "No we are not requiring people [to get vaccinated], but we have gotten on our bully pulpit like you can't believe," Danny Meyer, founder of Shake Shack and head of Union Square Hospitality Group, told CNBC.
What's going on: The incentives for workers to get vaccinated is getting longer as more vaccine supply comes online — and companies eye some form of return to the office (with the exception of front-line workers, who never left.)
How it's playing out...
A growing list of companies are offering paid time off for workers to get vaccinated.
Cash for vax: Juicemaker Bolthouse Farms is paying a $500 bonus to any of its full-time staff who gets inoculated, the Wall Street Journal reports.
In-house shots: Part of Indiana's plan is utilizing large employers who can vaccinate their own staff, and the surrounding community, Neil Bradley, chief policy officer at the U.S. Chamber of Commerce, tells Axios.
Trend to watch: how the "vaccincentives" trickle down to vaccinated customers (à la Krispy Kreme).
2. Charted: Happy Birthday to the bull market 🎂
It's been one year since the stock market's pandemic-era bottom (which also triggers the start of a new bull market).
Why it matters: Stocks have never risen so much in 12 months, Axios' Felix Salmon writes.
The government has approved more than $5 trillion of stimulus — much of which went straight into the market. The Fed promised to do everything in its power to keep money loose and employment rising.
Big asterisk: Americans with investments have done very well over the past year. But for the millions of unemployed, many of whom have no investments at all, that will come as little comfort.
Stat to go: A $500 investment each on Bitcoin and Tesla a year ago would be worth $8,221 today.
3. What's moving
💉 AstraZeneca says it will release more complete results from its trial, following a rare statement from the NIAID warning about the outdated trial data. Shares closed down 4%. (Axios)
Regeneron's COVID-19 treatment reduced hospitalizations and deaths by 70%, per final-stage trial data. Shares closed down 3%. (Release)
🎤 Microsoft is reportedly in talks to buy chat app Discord. Shares closed up less than 1%. (Bloomberg)
🎞️ Disney says it's pushing back a slate of film debuts, including "Black Widow." Shares closed down 2%. (Deadline)
👀 Warner Music is the latest label to sign a licensing deal with China-based Tencent Music ... Serena Williams-backed SPAC finds a target: a 3D printing company ... For any fellow Wrangler fans out there: Jeep unveiled a prototype of an electric Wrangler.
4. New: Fed launches climate panel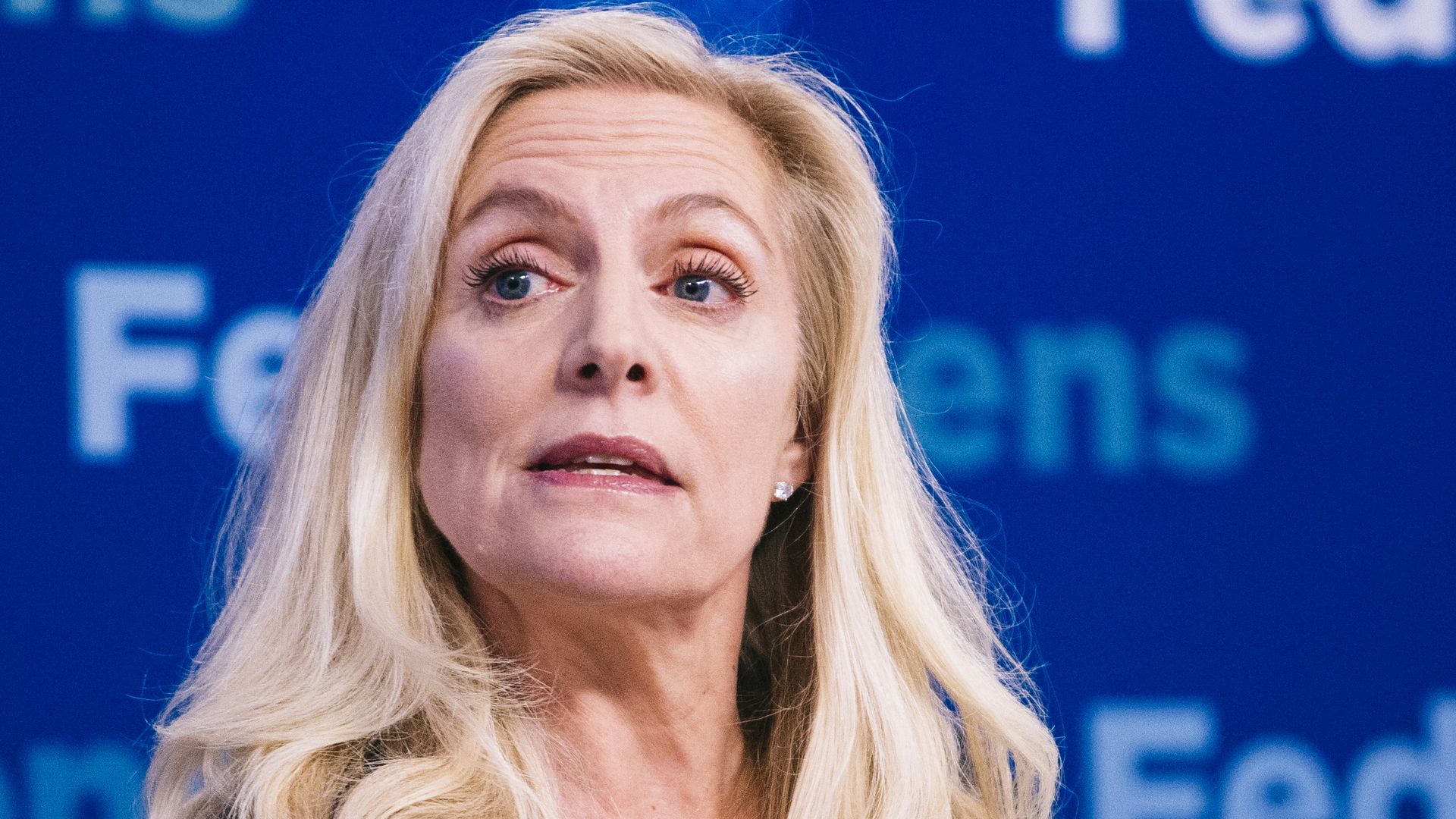 The Federal Reserve said today it's creating another panel dedicated to the effects of climate change.
Why it matters: It's a fresh signal of this central bank's ambitions to go where it never has before by considering how to factor in climate change as a major risk to the country's financial system.
The new panel will "assess and address" how climate change could threaten the economy as a whole, said Fed official Lael Brainard.
What to watch: (More) pushback from Republican lawmakers. It was a major topic during a hearing today, featuring Fed chair Jerome Powell and Treasury Secretary Janet Yellen.
"It's early days, but we feel like we have the responsibility to start the process of understanding" the risk of climate change, Powell said.
5. 💼 Wall Street burnout
The latest to reckon with the toll of the pandemic on workers: Wall Street, long known for its grueling culture.
Citigroup called for "Zoom-free" Fridays (at least for internal meetings), in a memo seen by Axios.
Goldman Sachs will better enforce its no-work-on-Saturday rule. CEO David Solomon also said the bank will hire more people in an effort to lighten the workload.
It comes after a self-selected survey of 13 first-year associates sketched out an "inhumane" workplace at Goldman.
Jefferies said last week it sent "thanks" to its junior employees — in the form of a Peloton bike, a Mirror workout system or a package of Apple products (their pick).
The bottom line: Pity may be hard to come by for these heartily paid workers — especially as COVID-19 wreaked havoc on underpaid essential workers and left millions without a job altogether.
But deals are plentiful and business is booming. That, on top of the pressures of the pandemic, has crushed workers on Wall Street.
6. What they're saying
"It's a meaningful and meaty role."
— BetterUP CEO Alexi Robichaux on
Prince Harry's new job
as chief impact officer at the mental health startup.
🙏 Thanks for reading. Tips, feedback or questions? Hit reply to reach me. Subscribe here.