Axios China
October 06, 2020
Welcome back to Axios China. Today we've got a scoop on a secret German intelligence report, negative views on China, a stronger yuan, and lots more.
Download the Axios app here, and follow the China channel to stay up to date on all the latest news.
Today's newsletter is 1,451 words, a 5½-minute read.
1 big thing: Exclusive — Top German official hushed up report on China's influence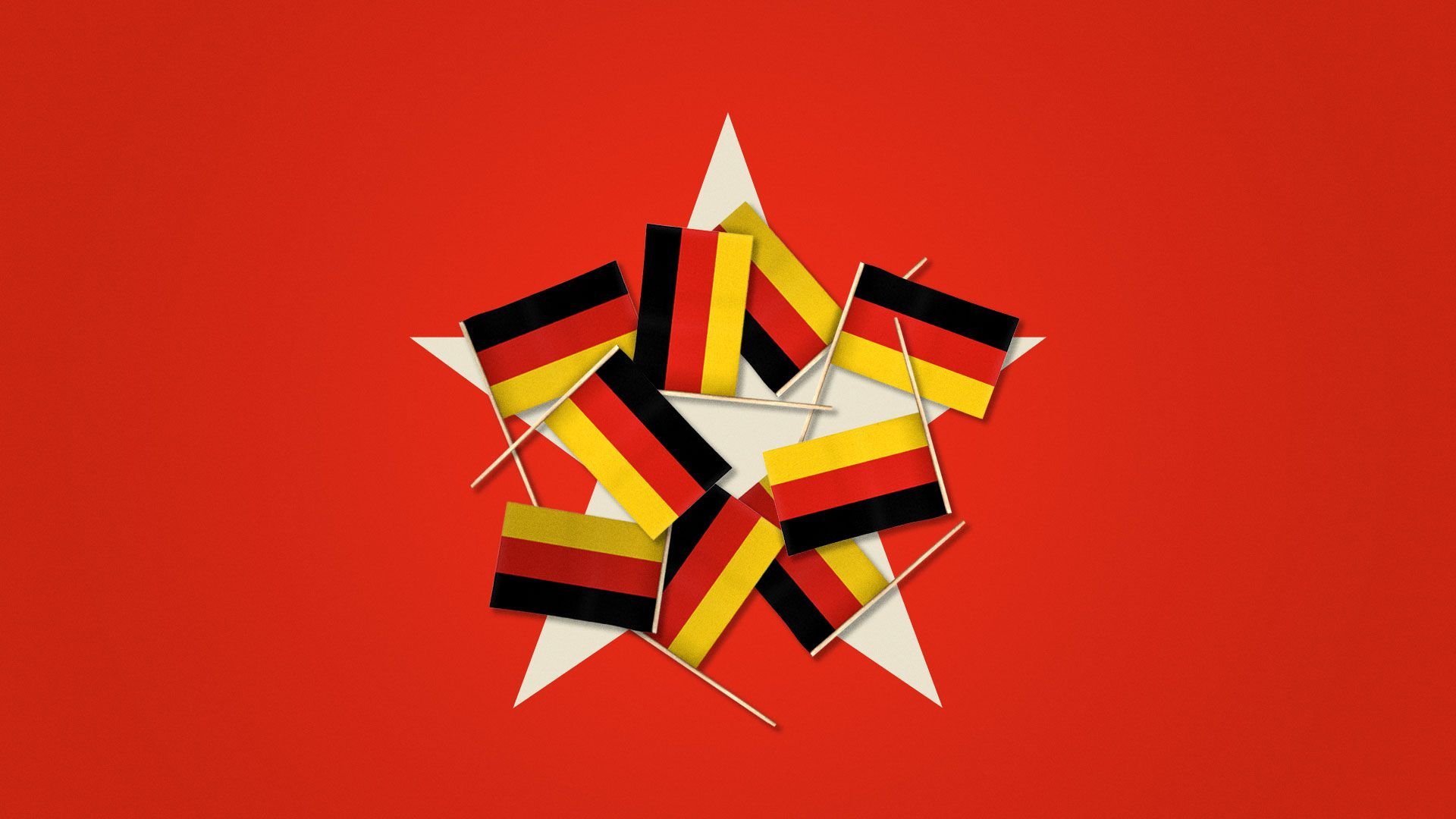 A high-ranking German official suppressed a sensitive intelligence report in 2018 on China's growing influence in Germany out of fear it would damage business ties with China, Axios has learned.
Why it matters: Business interests have long shaped Germany's relationship with China, to the detriment of human rights concerns and even national security. 
Details: The highly sensitive report, completed in 2018, examined the Chinese government's attempts to influence every level of German government, society and business, according to two former U.S. intelligence officials.
It cast a particularly harsh light on the intimate ties between German business and the Chinese government. 
But before it could be widely disseminated within the German government, as had been intended, a high-ranking official intervened.
German Chancellor Angela Merkel also saw the report, but few others did, said one official.
What they're saying: "As a matter of principle, the German government does not comment on matters concerning intelligence findings or activities of the intelligence services," a federal government spokesperson told Axios.
The Federal Intelligence Service, Germany's foreign intelligence agency, did not respond to a request for comment.
The big picture: German policy toward China has traditionally been driven by economic factors.
"Germany depends on exports to a high degree, and that gives business a large influence. Business representatives talk to the government and are used to being listened to," said Volker Stanzel, a former German ambassador to China, in an interview with Axios.
"The Chinese Communist Party succeeded in globalizing its economy because it was able to join itself to foreign business interests," said Stanzel.
How it works: Those business interests have tended to discourage their home governments from policies seen as harmful to economic ties with China.
But Beijing has increasingly fused trade with politics, threatening punitive economic measures against companies and governments that criticize China's human rights record, deny market access to Chinese companies like Huawei, or express support for Taiwan.
The result: "There has been a lot of self-censorship in Germany with regard to China," said Noah Barkin, an expert on Europe-China relations at the Rhodium Group. "Merkel's approach has been to criticize China behind closed doors, rather than in public."
But things are starting to change in Germany and around Europe amid growing global scrutiny over China's economic practices and human rights abuses.
On a recent five-nation tour of Europe, Chinese Foreign Minister Wang Yi was assailed with pointed questions about China's crackdown in Hong Kong, its mass internment camps, and concerns about Chinese telecom giant Huawei.
Merkel's trade-first approach to China is meeting resistance, and she may well be replaced next year by a more hawkish chancellor.
"Germany has traditionally viewed China through an economic prism, not a security prism. That has really begun to change this year," said Barkin. "Germans are coming to the realization that they need to establish red lines, that they need to push China more forcefully, and that they need to emphasize human rights."
Between the lines: The 2018 report thus landed at a crucial time for Germany's relationship with China — but before many powerful players were prepared to abandon their economics-first approach to the relationship.
What to watch: Germany has often set the tone for the EU. As Berlin begins to become more hawkish on China, so may the EU.
In September, European Commission President Ursula von der Leyen announced she will push for a European Magnitsky Act, a sanctions regime modeled on the U.S. framework intended to punish governments and officials who violate human rights.
2. Chart: Negative views of China surge around the world
Views of China in many countries — including Germany — have become more negative in recent years, with unfavorable views spiking in the past year as survey respondents disapproved of China's coronavirus response, according to a new Pew Research Center survey.
Why it matters: Beijing's global propaganda campaign earlier this year to deflect blame for the pandemic seems to have failed.
Details: The survey assessed views in 14 developed countries, including Britain, Sweden, Germany, South Korea and Japan.
78% of respondents said they had little faith in Chinese President Xi Jinping.
61% of respondents said China had handled the coronavirus poorly.
Yes, but: Survey respondents rated the U.S. pandemic response even worse, with 84% saying the U.S. had done a bad job.
The bottom line: People living in developed countries seem disillusioned with both China and the U.S.
3. China tops list of countries exporting products made with forced labor
A new report from the U.S. Department of Labor ranks China as the top country of origin for goods produced through forced labor.
The big picture: China has long utilized prison labor, but new coerced labor schemes targeting Uighurs and other ethnic minorities now taint numerous industries in China.
Details: The Department of Labor's annual report lists the products and their countries of origin that have been traced back to forced labor and child labor.
In this year's report, a total of 17 Chinese goods made the list, including artificial flowers, Christmas decorations, clothes, shoes, fireworks, and products made with human hair.
Between the lines: U.S. law prohibits the importation of products made through forced labor. By labeling these categories of products as tainted by forced labor, the U.S. government is indicating it will be scrutinizing supply chains for links to factories that employ unfree labor.
4. Catch up quick
1. China says U.S. bans on TikTok and WeChat violate WTO rules, Reuters reports.
2. The House Intelligence Committee said the U.S. intelligence community has failed to adapt to the growing threat from China, in a major report released last week. Go deeper.
3. China is preparing an antitrust suit against Google, in a case originally proposed by Huawei, Reuters reports.
5. China is attracting global investors' attention, boosting the yuan
The dollar strengthened against most of the world's currencies in late September, but China's currency bucked the overall trend and is on pace for its strongest month against the dollar since 2008, writes Axios' Dion Rabouin.
Why it matters: "What we do see is a strong Chinese economy, which is part of what's behind the strong renminbi," Jason Brady, president and CEO of Thornburg Investment Management, told WSJ.
What's happening: Investors have boosted Chinese stock and bond buying thanks to the equity market's strong rally and yields on 10-year government debt that recently topped 3% — around 230 basis points above comparable U.S. yields.
The big picture: The Chinese government has acted to keep its currency weak in the past, but both the onshore and offshore renminbi, or yuan, have strengthened significantly in the third quarter. That suggests the government has been more willing to allow market forces to move the currency.
The strength of its exports over the past three months suggests the currency's value has not hurt demand.
Watch this space: A recent article in the state-run China Daily newspaper noted that authorities plan to remove more barriers to using the renminbi internationally in an effort to "further promote the financial structural reform" and "create a level playing field for the renminbi and other major convertible currencies."
"We are improving our financial market regulations in order to integrate into the global financial market," Zhang Xuechun, a deputy director general at China's central bank, said in the article.
Why you'll hear about this again: China's strict currency controls are the major reason the yuan has not been used more in global trade and Chinese assets have not been more popular among global investors. Changing that could mean an avalanche of overseas investment funds flowing into China.
6. What I'm reading
More on Berlin vs. Beijing: China, once Germany's partner in growth, turns into a rival (Wall Street Journal)
Pandemic hunger: China faces food supply worries (Washington Post)
"In China, the two foods in the tightest spots are pork and corn, with the nation's pigs hit hard by African swine fever and much of the year's corn crop ruined by floods. But fresh foods of all stripes are in short supply, too, due to the coronavirus pandemic and flooding — from eggs, to seafood, to leafy green vegetables."
Taiwan leads: Audrey Tang on her "conservative-anarchist" vision for Taiwan's future (Rest of World)
This profile of Audrey Tang, Taiwan's digital minister (and first transgender minister) dubs her a "hacker iconoclast." Tang helped lead the country's successful fight against the coronavirus and is involved in its efforts to achieve cybersecurity in the face of China's growing threats.
When I visited the Executive Yuan in Taipei last year, I noticed an all-gender bathroom available for use by both visitors and staff. Taiwan leads Asia in embracing progressive social values.
7. 1 film thing: Fan Bingbing is back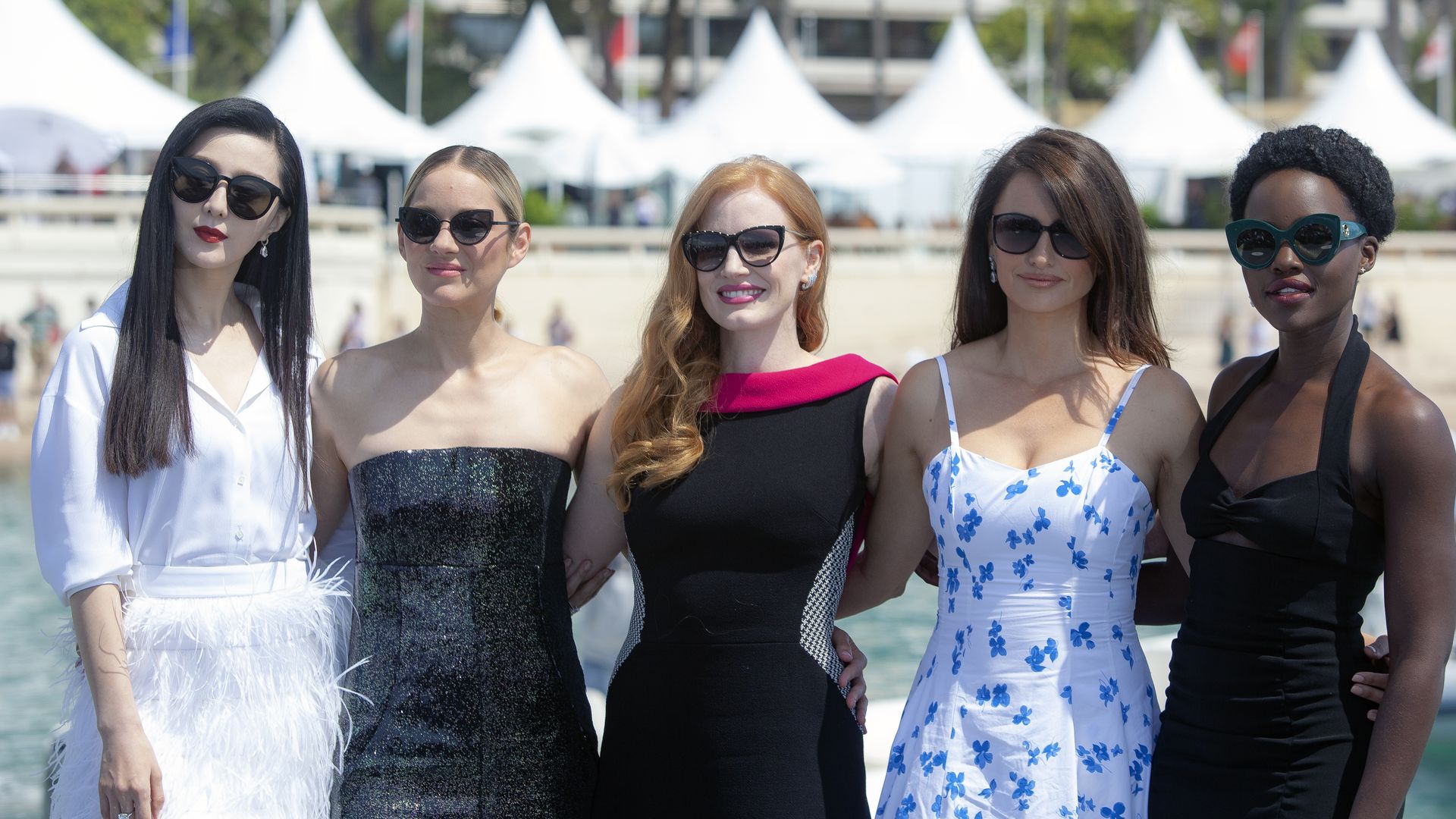 Chinese movie superstar Fan Bingbing has kept a low profile since she was embroiled in a tax evasion scandal in 2018.
But with last night's release of the trailer for "The 355," an all-female spy thriller, Fan appears to be back in business.
Details: The movie is slated to hit theaters in January 2021.
It's directed by Simon Kinberg, released by Universal Pictures, and backed by Golden Title, a Chinese company.
In addition to Fan, the film's all-star cast includes Lupita Nyong'o, Jessica Chastain, Penelope Cruz and Diane Kruger.
What to watch: These days, Hollywood films with ties to China have a tendency to include scenes tailored to please the Chinese government or appeal to a Chinese audience.
We'll just have to wait and see if "The 355" follows this trend as well.
Go deeper: Watch the trailer here.