Axios China
June 22, 2018
Happy Friday...I have been out of town for a funeral so this week's newsletter is mostly the work of the Axios team, with limited input from me. I will back in full force next Friday.
Thanks for reading, and if you want a daily and deeper look at China, please check out my daily Sinocism China Newsletter and follow me on Twitter @niubi.
1 big thing: U.S. sends mixed signals over trade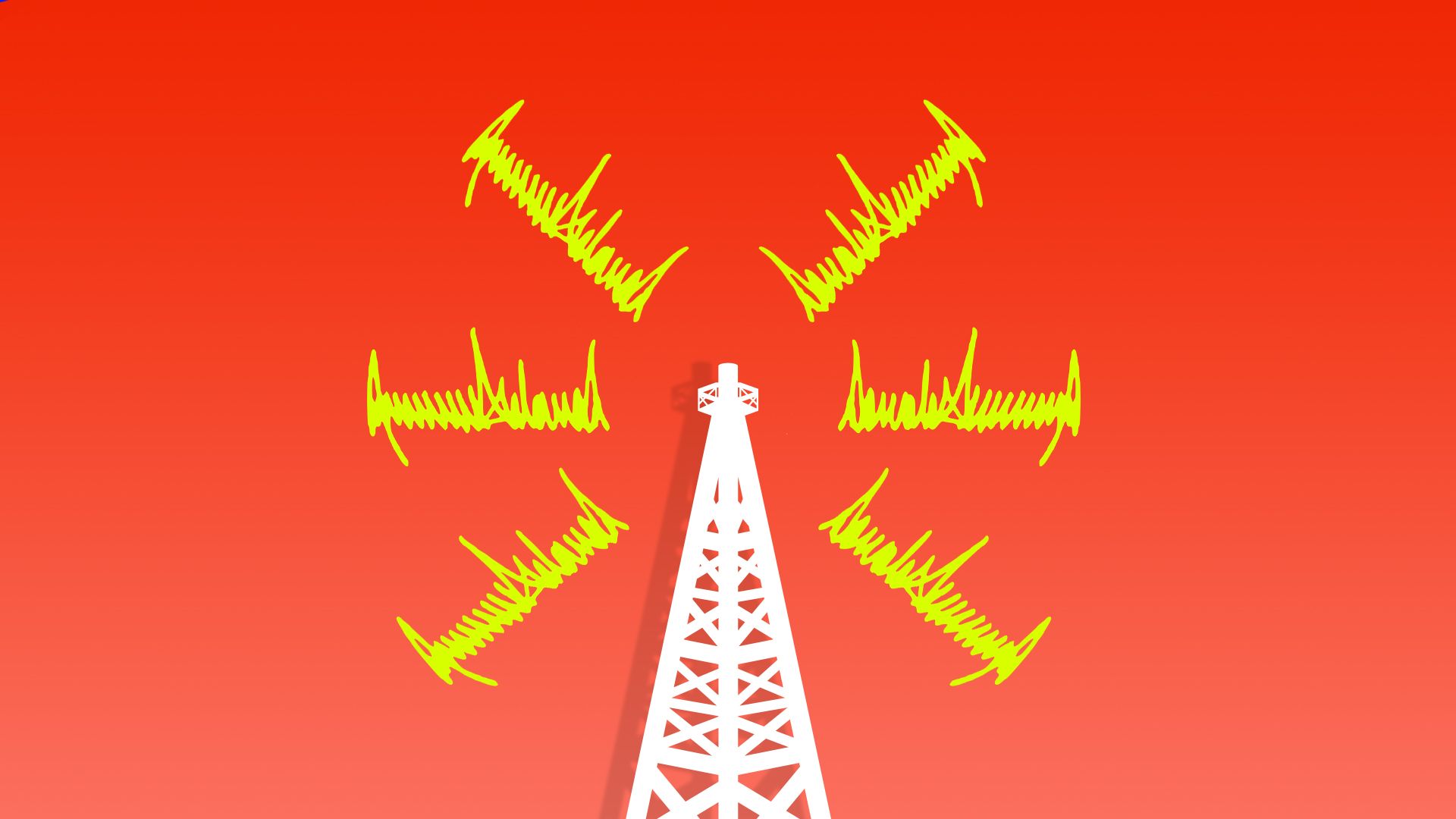 On Monday, President Trump directed the U.S. Trade Representative to identify $200 billion worth of Chinese goods for additional tariffs at a rate of 10% and threatened tariffs on another $200 billion.
The details: After the legal process is complete, these tariffs will go into effect if China refuses to change its practices, and also if it insists on going forward with the new tariffs that it has recently announced.
If China increases its tariffs yet again, the U.S. will meet that action by pursuing additional tariffs on another $200 billion of goods. 
The dilemma: China is not publicly budging and now there is a Bloomberg report, echoing something I started hearing earlier this week, that White House staffers are trying to figure out how to get the Chinese to talk again:
Staff of the National Economic Council have contacted former U.S. government officials and China experts in recent days to gauge chances for high-level talks in the next two weeks, the people said on condition of anonymity to discuss the inquiries. One idea NEC staff floated was inviting Chinese Vice President Wang Qishan before the tariff deadline, they said.
Why it matters: The Chinese will see this as further evidence of the lack of consensus within the Trump administration and as confirmation of their approach to wait out the administration while encouraging various affected U.S. interest groups to lobby against the proposed tariffs.
My thought bubble: The queries about how to get Wang engaged with the U.S. are interesting. So far, the Chinese vice president has not directly engaged in the negotiations over the tariff threats.
Wang may not yet have the mandate from Chinese President Xi Jinping to do so, but he also may have no interest in getting involved until he sees a clear pathway to a resolution that advances China's interests. And, as of now, there are no signs of such a resolution.
2. America's chipmakers go to war vs. China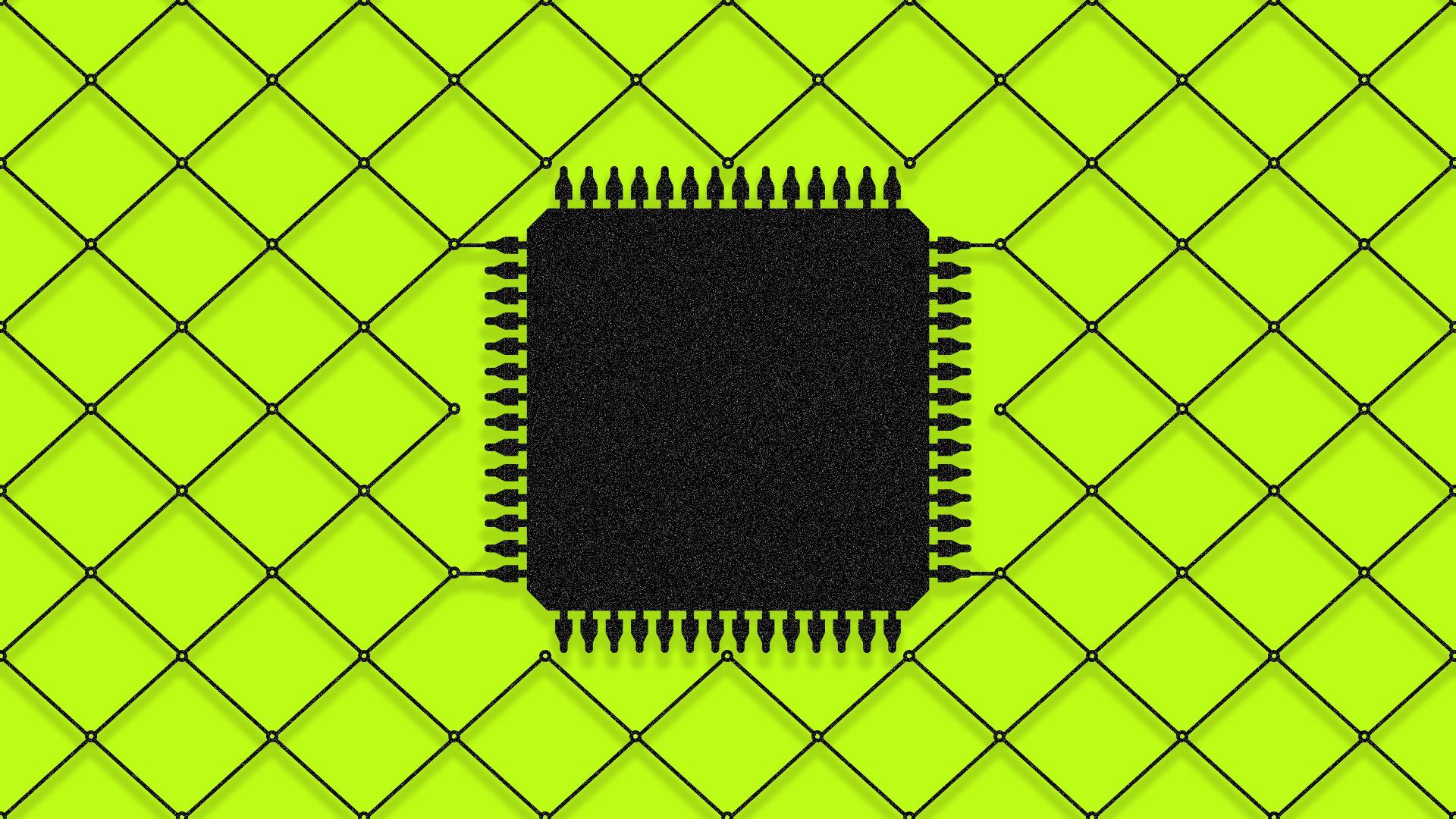 Axios' Erica Pandey writes ... Chinese raids of U.S. intellectual property have helped China build a solid high-tech economy. But the U.S. semiconductor industry is still far ahead — and China is desperate to catch up.
The bottom line: Semiconductor manufacturers are fighting to protect IP from the Chinese, fearing that, without coherent action from the Trump administration, Beijing could bulldoze their industries.
What's happening: Three weeks ago, Micron and South Korean chipmakers Samsung and SK Hynix all reported that the Chinese government had launched antitrust probes into their firms, and accused them of setting artificially high prices for memory chips.
But American companies and the U.S. government have long been suspicious about the link between China's anti-monopoly policies and its industrial goals.
"They want access to the intellectual property. They need us to teach them how to do it. Once they have the industry, they want to push us out," an industry source familiar with China's investigation into Micron tells Axios.
Micron's fight to protect its IP is not new. Other U.S. firms have run up against the same Chinese antitrust policies or regulations and have been forced to strike deals with Beijing.
China's stakes: Xi has clearly outlined in speeches that he'd like to see China become the global leader in cutting-edge technology — including semiconductors — by 2025.
However, semiconductor manufacturing is technically challenging, with the processing done at a microscopic level. Even if the Chinese can design these chips, the actual manufacturing presents enormous hurdles.
Still, China backs its industrial policy with nearly $115 billion of government money. Per Jimmy Goodrich, vice president of global policy at the Semiconductor Industry Association: "That's an incredible amount of capital that the state is deploying to try to catch up."
Go deeper: Read the full story here.
3. Micron says designs stolen by Chinese firm
Speaking of Micron, Paul Mozur of the New York Times has a blockbuster story today about the alleged theft last year in Taiwan of Micron's technology by a budding Chinese competitor :
What those devices contained was more valuable than gold or jewels: designs from an American company, Micron Technology, for microchips that have helped power the global digital revolution. According to the Taiwanese authorities, the designs were bound for China, where they would help a new, $5.7 billion microchip factory the size of several airplane hangars rumble into production...
Three years ago, Micron spurned a $23 billion takeover offer from a state-controlled Chinese company. Today it faces a lawsuit and an investigation in China, which accounts for about half its $20 billion in annual sales.
Then Micron was the target of the heist in Taiwan, according to officials there and a lawsuit the company has brought against the Taiwanese company that employed the engineers, UMC, and the Chinese company it says wanted access to the technology, Fujian Jinhua Integrated Circuit Company.
The alleged thieves were sloppy though:
Micron grew suspicious, according to its court documents, after discovering one of its departing engineers had turned to Google for instructions on how to wipe a company laptop. Later, at a recruiting event in the United States aimed at Micron employees, Jinhua and UMC showed PowerPoint slides that used Micron's internal code names when discussing future chips it would make, according to the court documents.
Sometimes the best way to fight allegations is to use friendly courts to punish your accuser:
In January, Micron was hit with a patent infringement suit by Jinhua and UMC over several types of memory. As part of the suit, the companies requested the court ban Micron from making and selling the products and pay them damages. The case is being heard by a court in Fujian Province. The Fujian provincial government is an investor in Jinhua.
And then, as Erica points out in the story above, regulators started investigating Micron, SK Hynix and Samsung Electronics in May for price-fixing allegations.
Go deeper: Read the whole NYT story and look at the White House's policy report on China's threat to U.S. tech and IP.
4. Xi woos foreign CEOs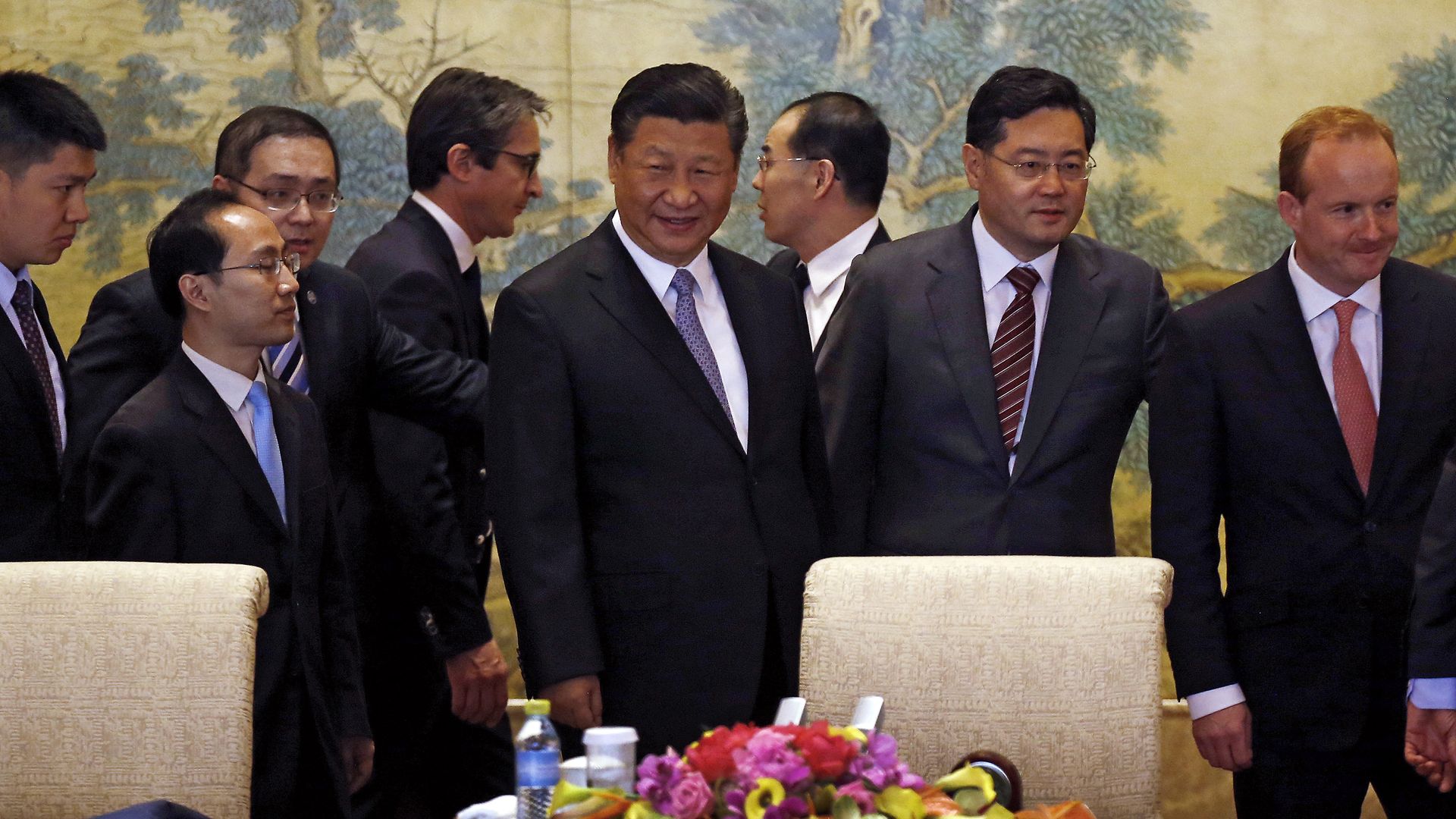 Xi met Thursday with foreign CEOs in Beijing for the annual Global CEO Council roundtable and gave them the pitch on China as the responsible country working to protect the global trading system.
What they're saying: According to Xinhua, Xi said world economic growth is still weak, partly due to trade protectionism, isolation and populism. The entrepreneurs responded with praise for China's global investments and market reforms. Per the report:
"The international community is a global village and should not engage in zero-sum games. The future of the world should be decided by all countries, with international rules written by all, global affairs jointly governed by all, and development progress shared by all. China is willing to work with other countries to build a community with a shared future for humanity," said the Chinese president...
"China's door to the outside world will open even wider, rather than being closed," he said. "China will continue to greatly ease market access, create a more favorable environment for investors, strengthen the protection of intellectual property rights and expand imports to create a more relaxed and orderly environment for domestic and foreign entrepreneurs to invest and start businesses in China."
My thought bubble: Xi was accompanied by Vice Premier Liu He and Politburo member Yang Jiechi, while Wang was not mentioned in any of the official media reports. Many of these CEOs may have concerns with China's trade practices but Xi and his team are redoubling their efforts to persuade them to assist in blunting Trump's tariff threats.
Go deeper: A Chinese Ministry of Commerce spokesman said Thursday:
The United States' capricious way of policymaking and swinging "big sticks" at negotiations will do no good in solving problems, and China has to take strong countermeasures.
5. Declining Chinese FDI into the U.S.
Axios' Eileen Drage O'Reilly reports ... Chinese foreign direct investment in the U.S. plummeted 92% the first half of 2018 compared with the same period in 2017 — and this may stay low for a while due to the current political environment and Chinese capital restrictions, the Rhodium Group says in an analysis issued earlier this week.
By the numbers, the report says the first half of 2018 showed:
Chinese companies completed acquisitions and greenfield investments worth $1.8 billion — a drop of 92% from 1H 2017 and the lowest level in 7 years. The pace of newly announced transactions remained similarly depressed.
Cumulative 2018 net Chinese FDI in the U.S. is negative $7.8 billion if it includes asset divestitures. Chinese investors sold $9.6 billion of U.S. assets in the first 5 months of 2018, mostly driven by deleveraging pressures from Beijing.
Between the lines: Thilo Hanemann, a director at Rhodium, says while Chinese restrictions on capital outflows remain the primary reason for the drop in investment, U.S. policy and politics are an increasingly important factor.
"President Trump's confrontative stance in economic relations with China has created tremendous uncertainty about the way forward and many investors are taking a wait-and-see position."  
— Thilo Hanemann
What's next: Hanemann says:
"Given the thin pipeline of pending acquisitions and the looming additional investment restrictions it is unlikely that Chinese investment will rebound significantly in the second half of the year. If current trends hold the full year figure will come in well below $10 billion, which would be the lowest in more than five years."  
Go deeper: Read Steve LeVine's look at why China's FDI dropped in the U.S. last year.
6. Chinese retail is winning the future
Axios' Steve LeVine writes ... As I learned in China last week, U.S. and European companies are being seriously out-smarted while China's Big Tech companies compete to pull traditional retail businesses into their exclusive, online corporate universes.
Why it matters: Retail is the largest single source of American jobs — and, in the U.S. and most other countries, one of the biggest parts of the overall economy. That Chinese companies are aggressively exploring how to save Main Street and middle-class jobs is terrific; that the U.S. and Europe seem all but flat-footed is not.
China's Big Tech companies are in furious competition to pull businesses of all sizes into their exclusive corporate universes. Their battlefield is digitalization-in-a-box — off-the-shelf systems that allow virtually any business, from a mom-and-pop shop to a Walmart, to zoom directly into the exosphere of e-commerce.
Meanwhile, in the U.S., the U.K. and elsewhere, retailers have been filing bankruptcy in increasing numbers. More and more analysts are advising calm — that the trend is ultimately less crucial than one might think because Amazon and other warehouses are snapping up workers in larger numbers than retail workers are losing jobs.
Be smart: Here is where Americans and Europeans may be getting the wrong picture.
The worker-less future: Among the places I visited was JD. Along with other reporters, I stood near its latest e-commerce fulfillment center, a warehouse that can ship 200,000 packages a day with just four human workers, all of them robot mechanics.
JD will decide over the coming months whether its investment building this futuristic warehouse justifies the savings in labor costs, and thus whether it should build more of them. Meanwhile, it is installing as much automation as it can in its other hundreds of warehouses in order to reduce its work force.
At the same time, Amazon and other e-commerce firms are hiring workers in droves — now. But when they approach full-automation, those workers are likely to vanish.
Go deeper: Read Steve's whole post here.
7. Litmus test for Confucius Institutes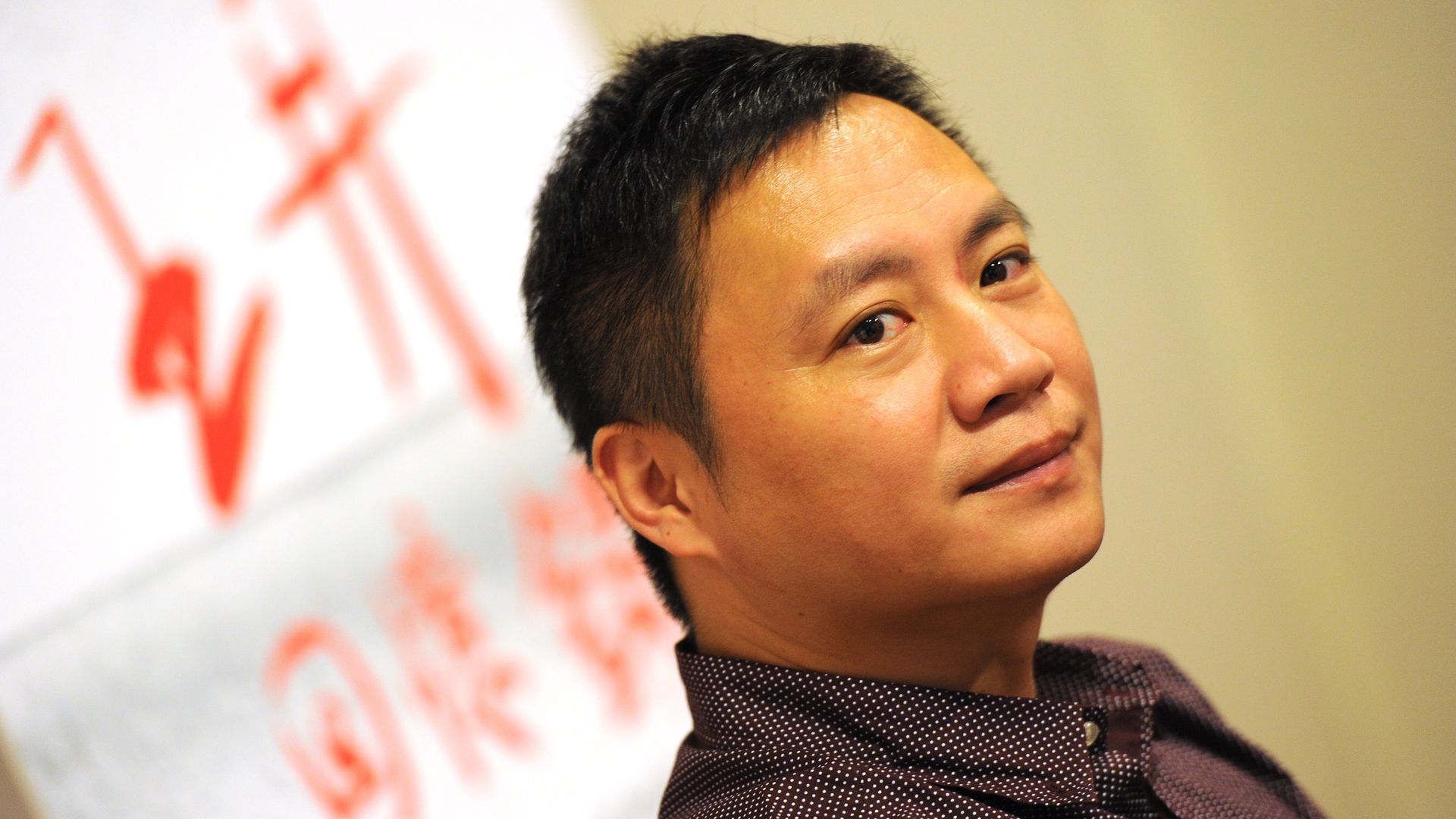 Next year is the 30th anniversary of the protests that led to the June 4 crackdown across China. Wang Dan, one of the student leaders, has issued a clever challenge to Confucius Institutes (CIs) in America that is sure to bring more focus on their activities from U.S. authorities.
Buzz: Wang's new think tank Dialogue China just released this announcement that said Wang will be joined by other key leaders from the historic event to launch:
[A] new initiative to commemorate 1989, titled "Understanding China: A Journey of Uncovering Buried History and Memory," which will include a national speaking tour, discussion forums, and exhibits,  and will focus on the significance of the events of 1989 in China's recent history, what it means for China today, and its relevance for China's future.
As part of this initiative, Dialogue China will reach out to Confucius Institutes across the U.S. to request a forum for discussion about the 1989 pro-democracy movement and its suppression.  In the upcoming weeks, Dialogue China will send letters making this request to Confucius Institutes, beginning with those in the Washington D.C. area (George Washington University, University of Maryland, and George Mason University).
My thought bubble: This kind of talk is likely anathema to CIs and their backers, but rejecting Wang and his team's discussion will make it impossible to claim any pretense of academic freedom at these institutes. Expect any rejections to trigger even more vigorous attempts from Congress to regulate and/or eliminate CIs embedded inside U.S. academic institutions.
8. One thing to watch: John Oliver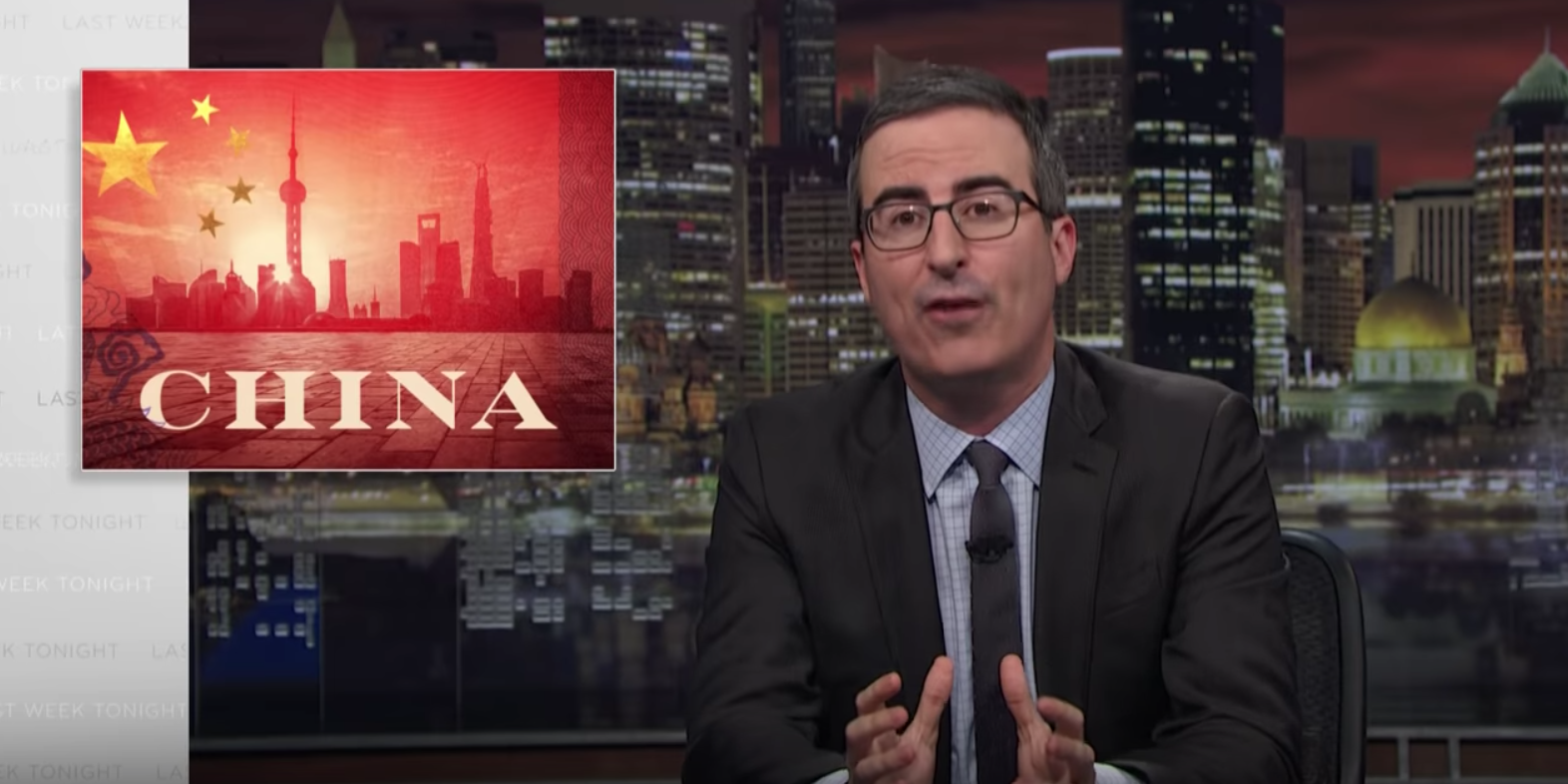 John Oliver had a 20 minute report about Xi's China on Sunday's "Last Week Tonight." Amidst the humor, it is a very sophisticated take on China today.
The reaction: The PRC government is not pleased and NYT reports that John Oliver is now censored in China.
Bonus: Worthy of your time
Foreign Affairs — Did America Get China Wrong?
Bloomberg — Xiaomi Starts Taking Orders for the World's Biggest IPO for Two Years
China Media Project — The Rise of "Xi Jinping News Thought"?
Macro Polo On The Road — Interactive feature to help you better understand life as in internal Chinese Migrant.
South China Morning Post — ZTE team presses ahead under high secrecy to replace management as US senators question settlement
China Change — Truckers on Strike and the Structural Contradictions of China's Logistics Industry
Politico Magazine — The 10 Names That Matter on China Policy (includes yours truly)
CNBC — US intelligence report: China will have the world's most powerful naval gun ready for war by 2025
Washington Post — Congress wants DeVos to investigate Chinese research partnerships on American campuses
The Atlantic —Beijing Wants to Rewrite the Rules of the Internet
Robert Sutter —Black Swan Trips Alarm, Fouls Moderate Outlook on China's Rise
Vanuatu Daily Post —President asks US for Military Base
Jamestown — The Lessons China Taught Itself: Why the Shanghai Cooperation Organization Matters
Xinhua — GM pigs developed by Chinese researchers release less pollution
Axios — Exclusive poll: Americans' fear of China spikes as North Korea fades
SCMP — Romance returns to Chinese cinema — but off screen, the film industry is mired in relationship dramas
This week's issues of my Sinocism China Newsletter