March 02, 2021
Happy March, everyone, and welcome back to Axios China. Today I'm looking at China's vaccine exports, Katherine Tai's confirmation hearing, and a whole lot more.
What new China-related books are you most looking forward to reading in 2021? Hit reply to send me your recommendations and reading lists.
Today's newsletter is 1,463 words, a 5½-minute read.
1 big thing: China and Russia vaccinate the world — for now
While the U.S. and Europe focus on vaccinating their own populations, China and Russia are sending millions of COVID-19 vaccine doses to countries around the world.
Why it matters: China's double success in controlling its domestic outbreak and producing several viable vaccines has allowed it to focus on providing doses abroad — an effort that could help save lives across several continents.
The vaccines from China and Russia are the first to reach low-income countries that likely won't have broad access to vaccines until 2023, according to some projections.
By the numbers: China has provided vaccines to 20 countries, including across South America and Africa, and has plans to send doses to at least 40 more, according to a Chinese Foreign Ministry statement sent to the Wall Street Journal.
Poland is the latest European country to consider Chinese-made vaccines.
Chinese companies and government officials have worked with local partners to create cold-chain infrastructure in Ethiopia to help transport and distribute vaccines.
More than two dozen countries have authorized the use of Russia's Sputnik V vaccine. Ten countries in Latin and South America have already received or will soon receive shipments, as have Slovakia, Hungary and several other nations.
Details: China's vaccines weren't as effective in clinical trials as some of those made in the U.S. and Europe, but they don't require ultra-cold storage, making them easier to transport and distribute.
Last week, China approved two more vaccines, bringing the total number of Chinese-made vaccines to four. One of the newly approved vaccines only requires a single shot.
Between the lines: With reported daily COVID cases often in the single digits, China's leaders face less pressure to quickly vaccinate Chinese citizens.
Only about 40 million doses have been administered domestically as of Feb. 9, falling short of the 100 million doses Chinese authorities had promised by that time.
On March 1, top Chinese disease expert Zhong Nanshan said authorities are now aiming to vaccinate 40% of the population by June.
Meanwhile, the U.S. and Europe are focusing on vaccinating their own citizens first.
The Biden administration has promised $4 billion in funding for COVAX, half of it available immediately — but has also said the U.S. will vaccinate Americans before sending doses abroad.
The European Union implemented limited vaccine export controls in late January, drawing criticism from the World Health Organization for "vaccine nationalism."
What to watch: The early dominance of China and Russia in the global vaccine rollout is likely to be relatively short-lived.
As more U.S. and European-made vaccines are approved for manufacture, extra doses of Western vaccines may soon greatly expand the global supply.
The global COVAX initiative, which is crucial to the vaccination outlook for middle- and low-income countries, will also start to ramp up distribution this month and quickly surpass Russia and China as the largest source of vaccines for several countries, Axios' Dave Lawler reports.
2. Where Latin America is getting its vaccines
Several countries in the Americas have received their first vaccine shipments over the past few weeks from China, Russia, and in some cases India, Dave writes.
Why it matters: Few countries other than the U.S. have the capacity to manufacture vaccines at scale, and most lack the resources to buy their way to the front of the line for imports. That's led to a scramble for whatever supply is available.
Only Chile (17%), the U.S. (15%), Barbados (12%), Canada (3%), Brazil (3%), Argentina (2%), Mexico (2%), Costa Rica (1%) and Panama have managed to provide a first dose to at least 1% of their populations.
Driving the news: Mexican President Andrés Manuel López Obrador — who has railed against vaccine "hoarding" by rich countries — was expected to ask President Biden in their virtual meeting Monday to share a portion of the U.S. vaccine supply with Mexico.
Ahead of the meeting, White House press secretary Jen Psaki said the answer would be "no," at least until all Americans have access.
Canada, which has purchased more doses relative to its population than any other country but struggled to obtain them due to limited manufacturing capacity, has received a similar response from Washington.
The bottom line: Moscow and Beijing may have gained lasting goodwill and influence in the region by stepping in when vaccines were at their scarcest.
3. Biden's trade nominee will hold China to trade deal commitments
The Senate hearing for Katherine Tai, President Biden's nominee for U.S. trade representative, was held last week. Tai appears popular with both Democrats and Republicans and is expected to be confirmed.
Why it matters: U.S.-China trade tensions have taken a back seat amid the pandemic, but billions of dollars in tariffs remain in place and China has not met its commitments under the phase one trade teal.
"If confirmed, I will work with Congress to ensure that those tariffs are appropriately responsive to China's practices; account for their impact on U.S. businesses, workers and consumers; and support the U.S. response to the COVID-19 pandemic," Tai wrote in response to congressional questions after the hearing.
On the phase one trade agreement, Tai said she "will not hesitate to make use of the agreement's mechanisms when China falls short of its commitments."
What they're saying: Tai's principal challenge if she is confirmed as the trade representative will be China, Craig Singleton, an adjunct fellow at the Foundation for Defense of Democracies, told Axios.
"There is broad international consensus about the need for a WTO reset, almost all of which centers on Beijing's predatory economic behavior and non-market practices," said Singleton.
"The good news is that Tai will find herself in very good company with the European Union and other nations as she seeks to navigate these thorny issues."
4. Catch up quick
1. The Biden administration will enact a Trump-era rule allowing greater scrutiny of U.S.-China technology transactions, the Wall Street Journal reports.
2. The Dutch parliament passed a resolution recognizing China's repression of Uyghurs as "genocide." Go deeper.
3. Two nonprofits have relocated from Hong Kong to Taiwan amid political fears, Reuters reports.
4. The UN human rights chief called for an assessment of human rights in Xinjiang, AP reports.
5. Melissa Chan on diversity in China watching
When longtime China correspondent Melissa Chan started reporting from Beijing in 2006, "China watching was still the purview of a predominantly white group of experts. But that was starting to change," she writes in an article for Politico.
The big picture: Chan says more reporters of Chinese heritage, such as herself, were breaking into the ranks of China correspondents.
What to watch: Another challenge now facing the China-watching community, Chan writes, is achieving even greater diversity, including people from Latin and South America, South Asia, Africa and elsewhere:
"The formation of the Black China Caucus last year serves as a reminder, however, that the China watching community is far from true inclusion and that it needs to move beyond a paradigm that assumes successful representation after the inclusion of those of Chinese descent."
"Hopefully, this helps us all reflect not just on the value of pursuing diversity for diversity's sake, but to see the genuine benefits when more voices contribute to our understanding of China."
6. What I'm reading
China's fried chicken: The Yum model (The Wire China)
Yum owns KFC, which is enormously popular in China. "The fast food giant's decision to spin off its China operations could serve as a reality check for U.S. companies."
Behind bars: Inside Xinjiang's prison state (New Yorker)
An immersive animation shows mass internment facilities in Xinjiang, as described by survivors to Ben Mauk, who has been working on this story for more than a year.
At gunpoint: How Beijing uses family videos to try to discredit Uyghur advocates (Hong Kong Free Press)
These proof-of-life "videos can be used to discredit the person alleging human rights abuses, the indirect equivalent of intimidating a witness."
Modern slavery: Strengthening the U.S. response to forced labor in Xinjiang (Heritage Foundation)
This report calls for the U.S. to implement a "rebuttable presumption," meaning that Customs and Border Patrol would operate under the assumption that certain categories of goods are made with coerced labor until proven otherwise.
7. 1 hopeful thing: Teacher getting a vaccine in Uruguay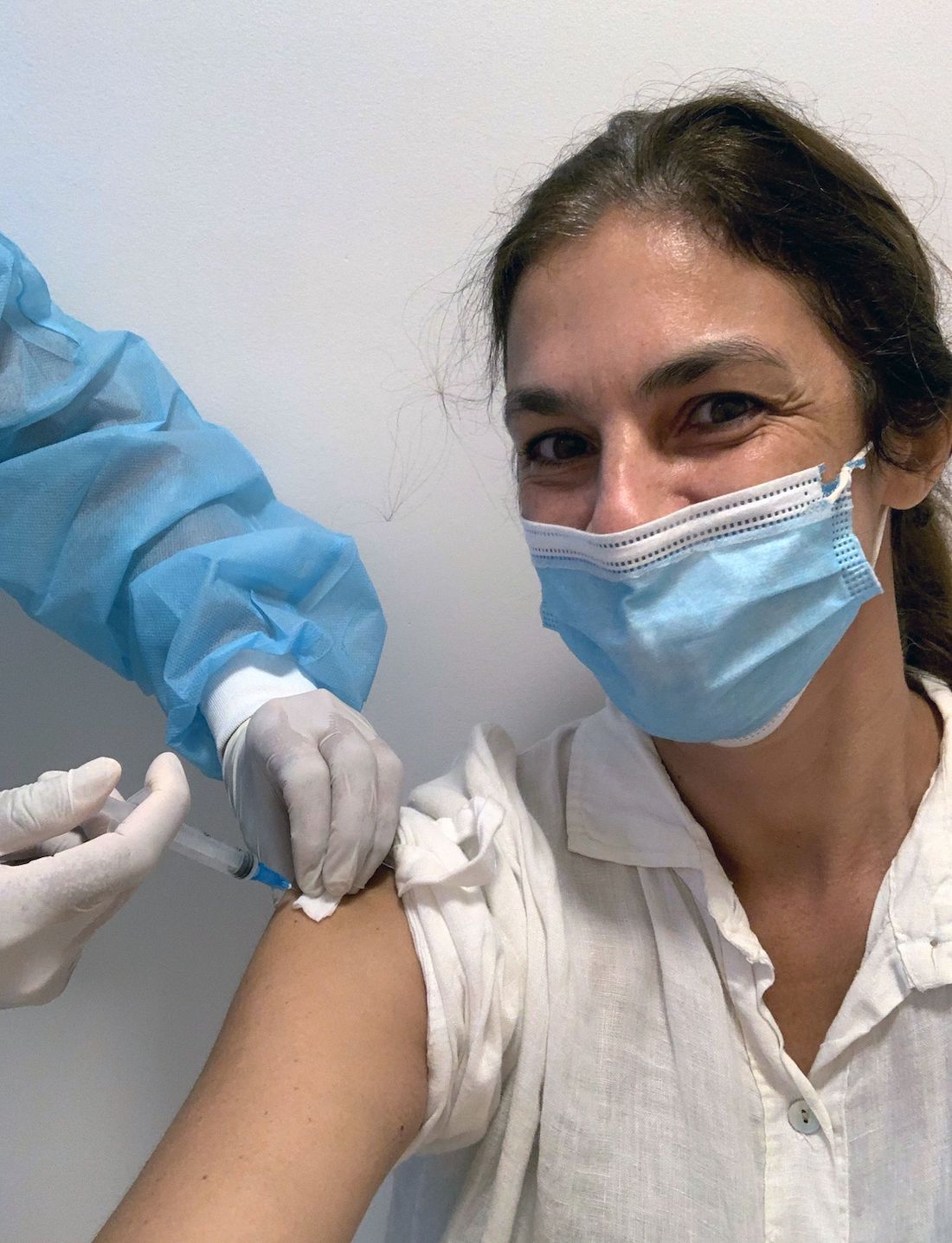 In this March 1 photo, a teacher in Montevideo, Uruguay, receives China's CoronaVac vaccine.
After Uruguay received its first shipment of 200,000 doses of the vaccine, the government launched an inoculation campaign, opening 90 distribution centers with the goal of vaccinating 140,000 essential workers.
"Today we have the means to confront this scourge," Health Minister Daniel Salinas said in a press conference.
The country is also due to receive 460,000 Pfizer-BioNTech doses within the next two months.
Alex Chan, a New York City resident and Axios China subscriber, emailed me after reading last week's newsletter item on rising attacks against Asian Americans. His message is quoted below, with permission:
"Just wanted to say thanks for raising visibility here. As a resident of Manhattan, I find myself increasingly hesitant to leave my apartment for fear of random harassment & violence. This fear is draining, and it's unfortunately becoming normalized among myself, family, and friend groups."
"Conversations with my parents now consist of constant reminders of 'If you don't need to go out, avoid it. Be careful.' It's a bit strange to think about now that I'm writing it for the first time: we live in a state of fear."
"Hopefully this climate of fear will be a thing of the past sooner than later, but it's not clear how that will happen."