Happy Friday from freezing D.C! It's nice to be back with you after the holidays.
https://www.axios.com/newsletters/axios-china-a5883697-1fd1-4c8e-acf4-a07a7c17f03c.html?chunk=0#story0
1. Xi Jinping convenes first ever meeting of entire military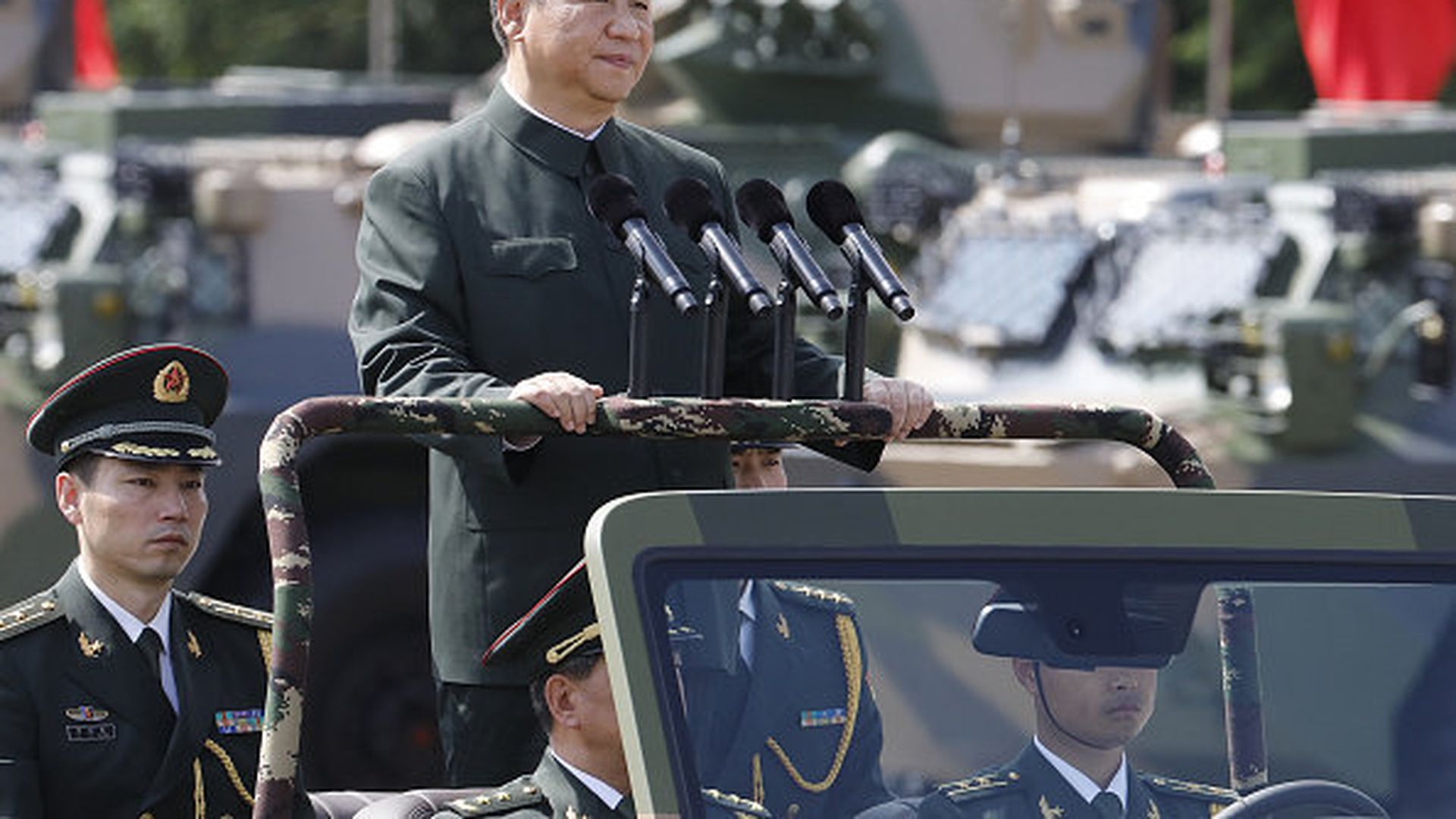 Chinese President Xi Jinping Jan. 3 convened a military mobilization meeting — the first ever for the entire Chinese armed forces. PRC media reports showed Xi in battle dress addressing the troops, looking at a tank, and peering through the sights of an automatic weapon.
"The Chinese military should modernize its buildup and management and focus on becoming an elite fighting force that uses digital technologies, President Xi Jinping said on Wednesday" per China Daily.
Quick take: Xi has undertaken the most ambitious reform of the military in decades, and in spite of resistance at the start, he looks to have largely won the political battles over those reforms.
Threat level: In what may have been a warning to the U.S., the China Daily says that after the mobilization meeting Xi inspected a division that fought the U.S. in the Korean War. The paper reports:
Xi viewed pictures of the division's intense battle near the Kaechon region in the Korean Peninsula during the "War to Resist U.S. Aggression and Aid Korea," aka the Korean War, from 1950 to 1953. He praised the soldiers who fought in it for their valor.
"Our military has always fought with great spirit, Xi said. In the past, we had more spirit than steel. Now we have plenty of equipment, so we need an even tougher and stronger spirit to wield it, he said."
Buildup continues: According to the South China Morning Post, China has started construction on its third aircraft carrier, and per Xinhua the military is outfitting a new 10,000 ton destroyer.
https://www.axios.com/newsletters/axios-china-a5883697-1fd1-4c8e-acf4-a07a7c17f03c.html?chunk=1#story1
2. Possible freeze in tensions with North Korea for the winter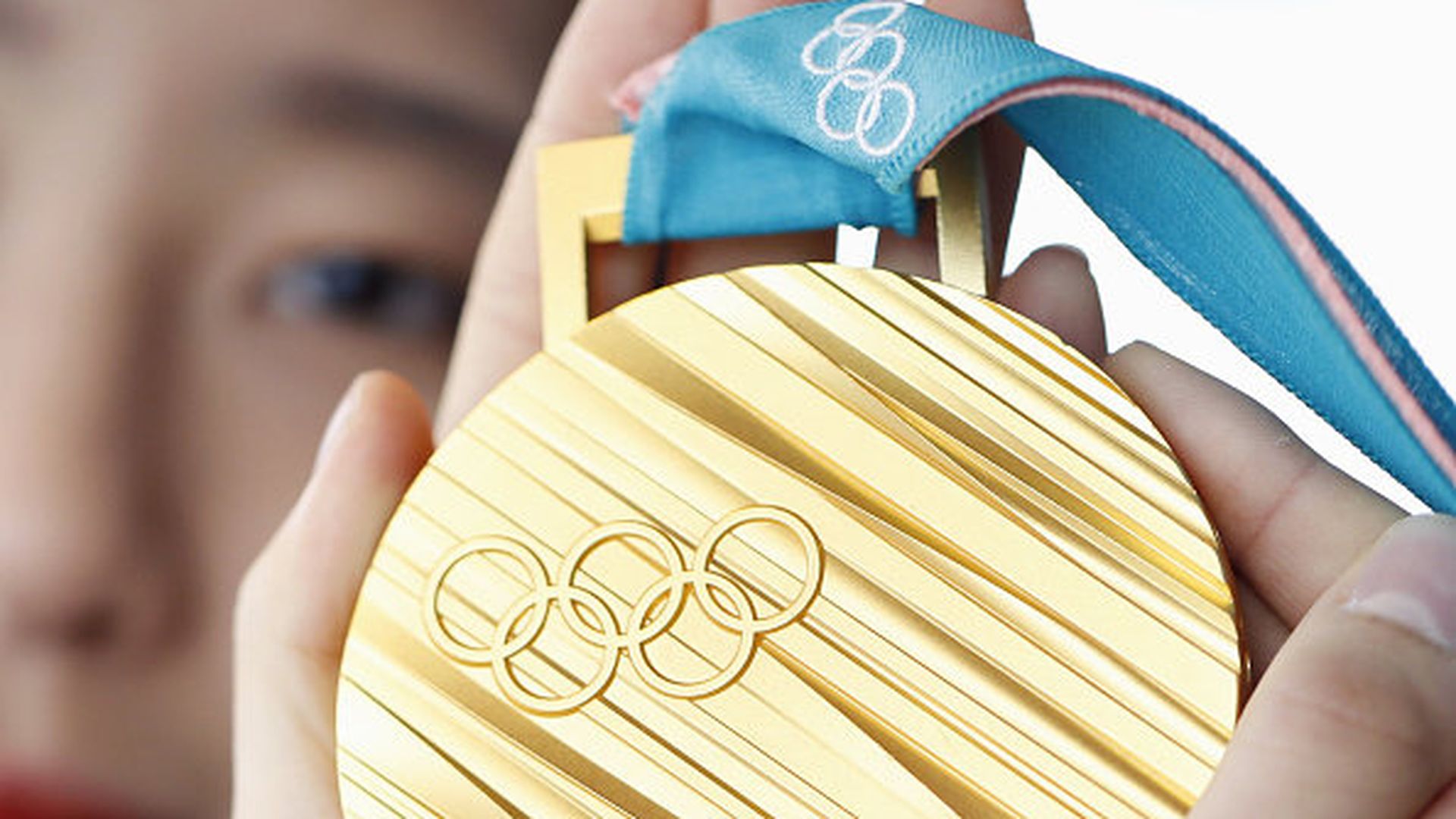 North Korea is sending a delegation to the Winter Olympics next month in Pyeongchang, South Korea, and has agreed to high-level talks with South Korea for the first time on more than two years.
U.S. and Chinese response: The U.S. has agreed to delay at least into March joint military exercises with South Korea until after the Winter Olympics, AP reports. The PRC and South Korea chief representatives to the dormant six-party talks on North Korea (which include China, Russia, U.S., Japan, North Korea, and South Korea) are meeting today and tomorrow in Seoul.
In the meantime, China has not stopped pushing its "freeze for freeze" plan in which the US and South Korea would agree to suspend large-scale military exercises and North Korea will suspend its nuclear weapons and missile development programs.
Why it matters: South Korea is looking for any plausible opening with North Korea to ratchet back the tensions. While the U.S. is unlikely to accept the "freeze for freeze" proposal it looks increasingly likely that tensions will subside somewhat at least until March.
Caveat: Of course, this can change in a moment — North Korean leader Kim Jong-un could test another missile or President Trump could press the button on another threatening tweet.
https://www.axios.com/newsletters/axios-china-a5883697-1fd1-4c8e-acf4-a07a7c17f03c.html?chunk=2#story2
3. The mystery of Miles Kwok and Steve Bannon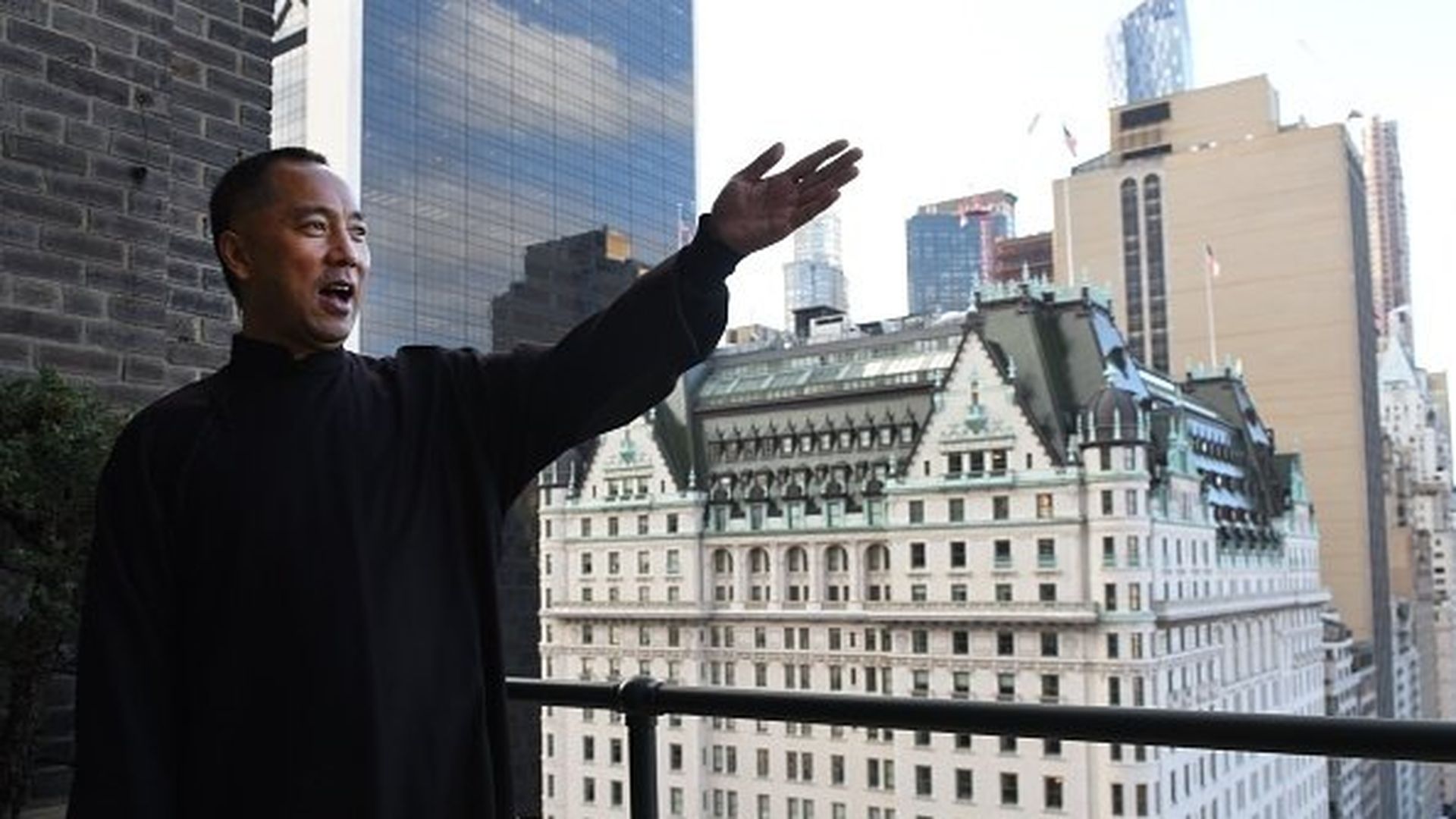 Drudge tweeted Thursday "LIFE AFTER MERCER! BANNON FINDS NEW BILLIONAIRE, MILES KWOK..."
Background: Miles Kwok, aka Guo Wengui, is a controversial, self-proclaimed billionaire and member of Mar-a-Lago who fled China and has taken up refuge in a Manhattan penthouse while awaiting a decision on his U.S. asylum application.
Beijing has been trying for months to get him back, including, as the Wall Street Journal reported in October, using Steve Wynn as an intermediary to ask Trump to repatriate him.
"President Donald Trump received a letter from the Chinese government, hand-delivered by Steve Wynn, a Las Vegas casino magnate with interests in the Chinese gambling enclave of Macau. Mr. Trump initially expressed interest in helping the Chinese government by deporting Mr. Guo, but other senior officials worked to block any such move, according to people familiar with the matter," WSJ reported.
What's happening now: Kwok was very active on Twitter until suddenly going quiet in late November. Before his Twitter break, he tweeted about several meetings with Steve Bannon, and his pinned tweet shows him with Bannon.
My thought bubble: Drudge provides no further evidence beyond the tweet, but I have been hearing similar things. Given Bannon's apparent issues with donors, Kwok and Bannon's convergent views of the PRC, and their love of the spotlight, this could be an interesting partnership. That is, until it collapses in recrimination, as every partnership eventually seems to do for both men.
https://www.axios.com/newsletters/axios-china-a5883697-1fd1-4c8e-acf4-a07a7c17f03c.html?chunk=3#story3
4. PRC to curtail bitcoin mining operations
Beijing does not like Bitcoin. After cracking down on trading, the government is now going after the country's Bitcoin miners, who account for somewhere near 70% of the global mining power.
According to Caixin:
Local regulators will take action to ensure bitcoin mining companies no longer receive preferential policies for electricity prices, taxes or land use, a source close to regulators told Caixin.
Another source from the central bank-led committee in charge of internet financial risk told Caixin that localities have been told to use electricity prices, land-use policy, taxation and environmental measures to "guide" companies out of the bitcoin mining business.
Background: Going after Bitcoin mining may kill two birds with one stone. Bitcoin miners have been able to take advantage of inefficiencies and overcapacity in the PRC's power generation system to mine coins cheaper than just about anywhere in the world. Regulators are trying to clean up the power sector and rein in Bitcoin usage in the country.
https://www.axios.com/newsletters/axios-china-a5883697-1fd1-4c8e-acf4-a07a7c17f03c.html?chunk=4#story4
5. Trump advisers' trick for proper pronunciation of Xi
Xi Jinping's name can be hard to pronounce. Lots of people think the "Xi" sounds like Z, but in fact it rhymes with "she".
Buzz: The Guardian obtained an advance copy of Michael Wolff's Fire and Fury book. The article says that among the China-related revelations in the book are Trump's problems pronouncing Xi's name:
"Not known for his linguistic talents, Trump was instead prone to call the leader of the world's No 2 economy 'Mr X-i'."
"To avoid such gaffes during Xi's visit, 'the president was told to think of him as a woman and call him she.'"
https://www.axios.com/newsletters/axios-china-a5883697-1fd1-4c8e-acf4-a07a7c17f03c.html?chunk=5#story5
6. U.S. and Germany increase scrutiny over PRC deals
Western governments are increasingly concerned about M&A activity in sensitive sectors by PRC firms, as highlighted by regulatory actions in the U.S. and Germany this week.
U.S. actions: There is a bipartisan push in Congress to expand the remit of the Committee on Foreign Investment in the U.S. (CFIUS) — specifically to deal with increased PRC activities — so expect Chinese deals in the U.S. to become even harder to close.
Ant Financial Services Group, controlled by Alibaba, dropped its bid to acquire MoneyGram after failing to gain approval of the deal by CFIUS.
German actions: Germany — partly prompted by concerns about China's high-tech manufacturing ambitions — recently expanded its powers to block foreign acquisitions, FT reports.
The article says German regulators are now investigating the proposed acquisition of aircraft parts manufacturer Cotesa by the state-owned China Iron & Steel Research Institute Group.
My thought bubble: U.S. and German firms could not buy similar firms in China, and the growing calls for reciprocity in Western capitals will only increase. Data-related deals like Ant-Moneygram will especially become much more difficult.
https://www.axios.com/newsletters/axios-china-a5883697-1fd1-4c8e-acf4-a07a7c17f03c.html?chunk=6#story6
7. Google backs Chinese game-streaming startup
Axios' Kia Kokalitcheva reports that while Google's search engine may be banned in China, it still decided to invest in Chinese mobile game live-streaming company Chushou.
Why it matters: This is Google's latest attempt to be involved in a massive market. In 2015, it invested in artificial intelligence startup Mobvoi and, this past December, it opened an AI lab in Beijing.
https://www.axios.com/newsletters/axios-china-a5883697-1fd1-4c8e-acf4-a07a7c17f03c.html?chunk=7#story7
8. Worthy of your time
Caixin: A company controlled by the National Internet Finance Association of China has applied to the People's Bank of China for a license to operate the country's first centralized online personal credit database.
The Cipher Brief: Michael Morell talks China and the U.S.-China relationship with Chris Johnson, now at CSIS and previously at the CIA, in the Intelligence Matters podcast.
Global Investigative Journalism Network: The best investigative stories from China in 2017 by PRC media.
NPR: Farmer livestreams his life in rural Sichuan province, makes $1500 a month in virtual gifts from nearly 200,000 subscribers.
Reuters: The Beijing government is a planning a $2 billion AI research park. While other cities have similar plans that may become boondoggles, Beijing's is likely to be meaningful.
WSJ: The Chinese government and technology firms believe they have a chance to dominate the development of AI chips and are marshaling billions of dollars.
Bloomberg: As part of the ongoing crackdown on financial risk, the China Securities Regulatory Commission has capped the annual salary of bond traders at 1 million yuan.
Sixth Tone: To activate the "red genes" in Chinese youth, Jiangxi province will introduce a set of "red culture" textbooks from preschools through universities.
China Heritage: Geremie R. Barmé on what makes a good, and bad, China watcher.
Caixin: Chinese court upholds decision forcing the National Ballet to pay royalties to the family of the scriptwriter of the Chairman Ma-era film and opera called "Red Detachment of Women."
Technode: News app Toutiao, whose parent company recently purchased music.ly and is rumored to be raising money at a $30 billion valuation, is hiring 2000 more content censors after the government shut several of its channels for a day over problematic content. The company says Communist Party members will receive preference in hiring for these jobs.
And of course The Sinocism China Newsletter.