China will be on vacation next Monday and Tuesday for the Labor Day Holiday. If you happen to be in Beijing on Saturday, be aware that authorities are warning evening rush hour traffic will be the worst of the year.
Thanks for reading, and remember, if you want a daily and deeper look at China please check out my daily Sinocism China Newsletter and follow me on Twitter @niubi.
https://www.axios.com/newsletters/axios-china-842d7276-b0c3-442e-88d5-aa41fea3469e.html?chunk=0#story0
1 big thing: China sounds alarm on tech self-reliance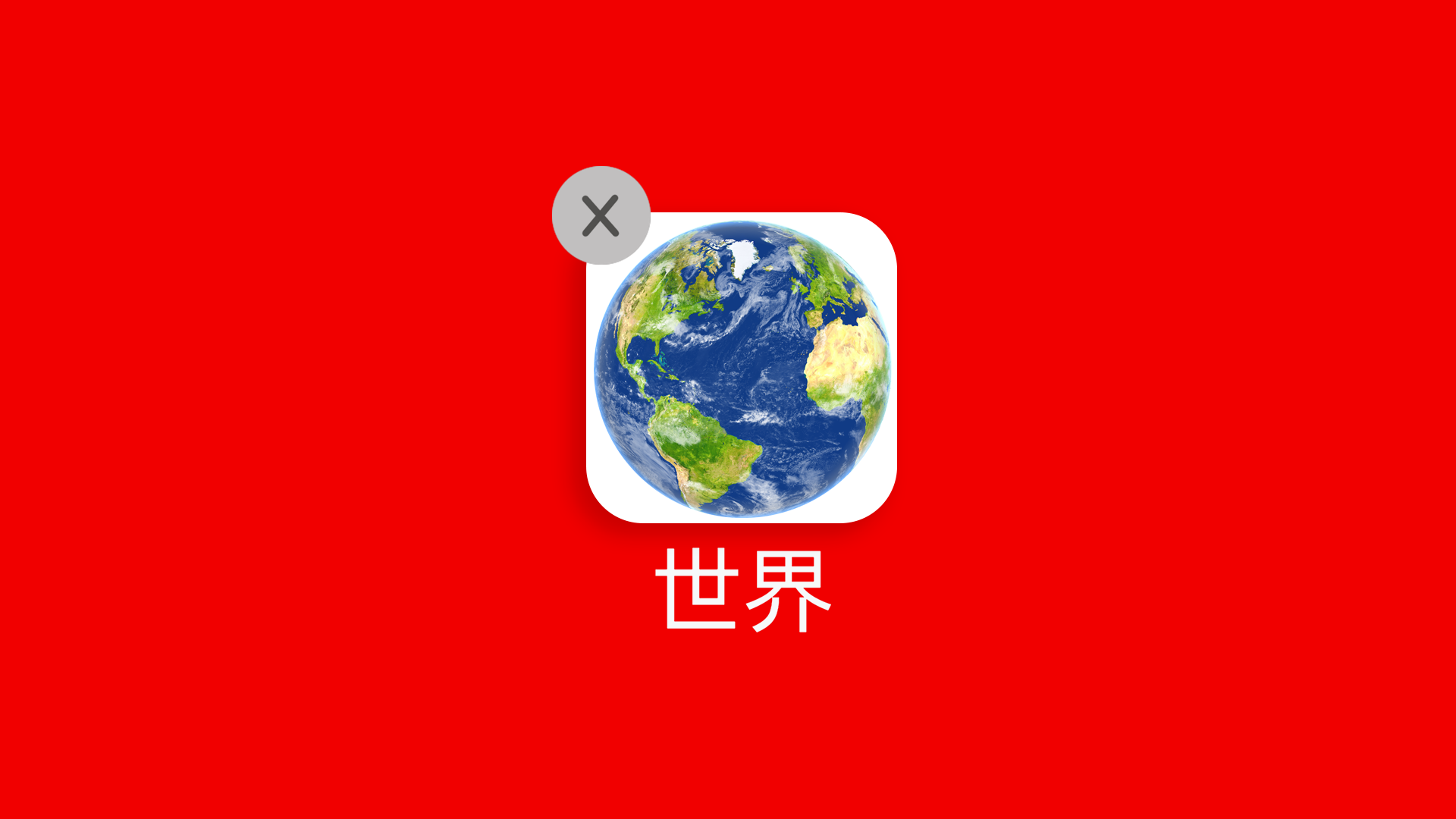 Chinese President Xi Jinping continues to emphasize the need for China to cut reliance on foreign technology.
Why it matters: China has had programs for decades to develop indigenous technologies, but the focus is rapidly intensifying as the U.S. puts more pressure on China.
What's happening:
1. Xi chaired a national conference on the "work of cybersecurity and informatization" last weekend.
Per Xinhua, he stressed that China will inject more resources into research, industrial development and policy making in order to achieve breakthroughs in information technologies.
2. Xi went on an inspection tour of Hubei Province. One of the main propaganda themes so far from his trip is the need to take control of China's technological destiny. At one stop on Thursday Xi told his audience, per the NYT's Chris Buckley tweet:
"In the past we tightened our belts, gritted our teeth, and built the two [atomic and hydrogen] bombs and a satellite...In the next step of tackling technology, we must cast aside illusions and rely on ourselves."
The threat: The recent U.S. sanctions that may cripple ZTE, a new Department of Justice investigation of Huawei that could lead to similar sanctions, and what appears to be a broader Trump administration strategy to thwart China's technology ambitions could make a U.S.-China technology war run much hotter than the overall conflict over trade.
Technology CEOs the world over with supply chain dependencies in China should be increasingly nervous and focused on their firms' efforts to have viable contingency plans for a U.S.-China technology cold war. 
The U.S. efforts may fail, according to James Lewis of the Center for Strategic and International Studies. Lewis writes:
"There are very few technologies where we still have a monopoly, and though it is in our national interest to prevent exports that improve China's technological base, we should not delude ourselves that this will frustrate Chinese ambitions. At best it may slow them ... China may not retaliate directly or immediately, as it still needs some U.S. technology for mobile phones, but it will not allow ZTE to go under. Foreign suppliers will offer ZTE substitute goods if they make them and look to build substitutes if they do not."
Go deeper: Reuters reports today that the Trump administration "may start scrutinizing informal partnerships between American and Chinese companies in the field of artificial intelligence."
https://www.axios.com/newsletters/axios-china-842d7276-b0c3-442e-88d5-aa41fea3469e.html?chunk=1#story1
2. U.S. delegation in Beijing next week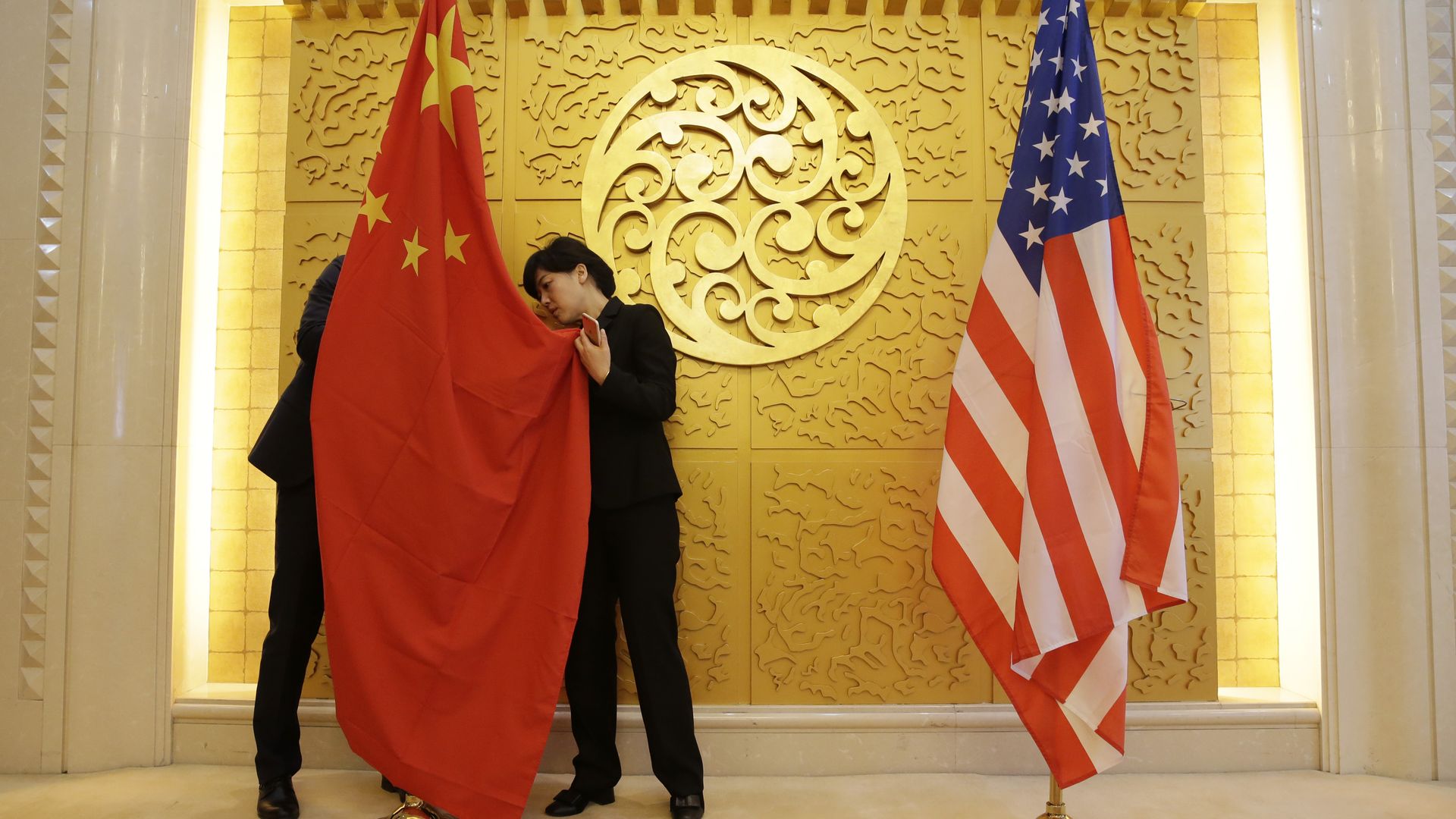 The South China Morning Post has a few more details on the trip next week. It does not sound like expectations should be particularly high:
US Trade Representative Robert Lighthizer and White House trade adviser Peter Navarro will join Treasury Secretary Steven Mnuchin and National Economic Council head Larry Kudlow in the party that will meet Chinese officials, including President Xi Jinping and vice-president Wang Qishan, on May 3 and 4, a source who is familiar with the situation said...
While it would be easy for China to cut the surplus by importing more US goods, the source said Beijing was less willing to discussing structural issues, such as changes to its industrial policy...
"China won't stop state-owned enterprises from distorting the market, won't alter Made in China 2025 and won't change the way it lends to Belt and Road projects," the person said.
Why it matters: Made in China 2025 goes to the heart of the growing US-China technology war. It was never reasonable to expect China to modify a plan it sees as vital to achieving its goal of National Rejuvenation, and given the renewed public emphasis from Xi on developing indigenous core technologies it is even less likely there will be a breakthrough in the US-China trade disputes, unless President Trump decides to take a lesser deal, declare victory, and move on.
Go deeper: Kudlow says China trade talks could be a 'long process'
https://www.axios.com/newsletters/axios-china-842d7276-b0c3-442e-88d5-aa41fea3469e.html?chunk=2#story2
3. "Internet Superpower" goal means more controls
The cybersecurity conference mentioned above was important to further China's agenda to become what it calls an "Internet Superpower."
The details: The meeting reiterated that the Communist Party intends to strengthen its ability to shape and control online activities. According to Xinhua, during the meeting:
"Xi urged improving the governance capacity in cyberspace and developing a governing network led by the Party."
"Internet media should spread positive information, uphold the correct political direction, and guide public opinion and values towards the right direction."
"Internet service providers should take responsibility to prevent cyberspace from degrading into a platform full of harmful, false, and provocative information".
"Efforts should be made to enhance self-discipline of the internet industry, and mobilize all sectors to take an active part in cyberspace governance".
Xi also reiterated China's goal of reforming global internet governance to better accommodate China's approach:
"Xi said it is a general trend and common aspiration of the people to promote the reform of the global cyberspace governance system by sticking to a multilateral approach with multi-party participation from the government, international organizations, internet enterprises, technology communities, non-governmental institutions, and individuals."
"Cyberspace governance under the framework of the United Nations should be advanced and non-state entities should play a better role, he said."
Quick take: As robust as China's internet controls may be, the party clearly does not think they are tough enough. Given the scandals in the West over fake news and the use of Facebook and Twitter to influence elections, expect more countries to welcome China's approach to cyber governance.
https://www.axios.com/newsletters/axios-china-842d7276-b0c3-442e-88d5-aa41fea3469e.html?chunk=3#story3
4. Summit of giants: Modi goes to China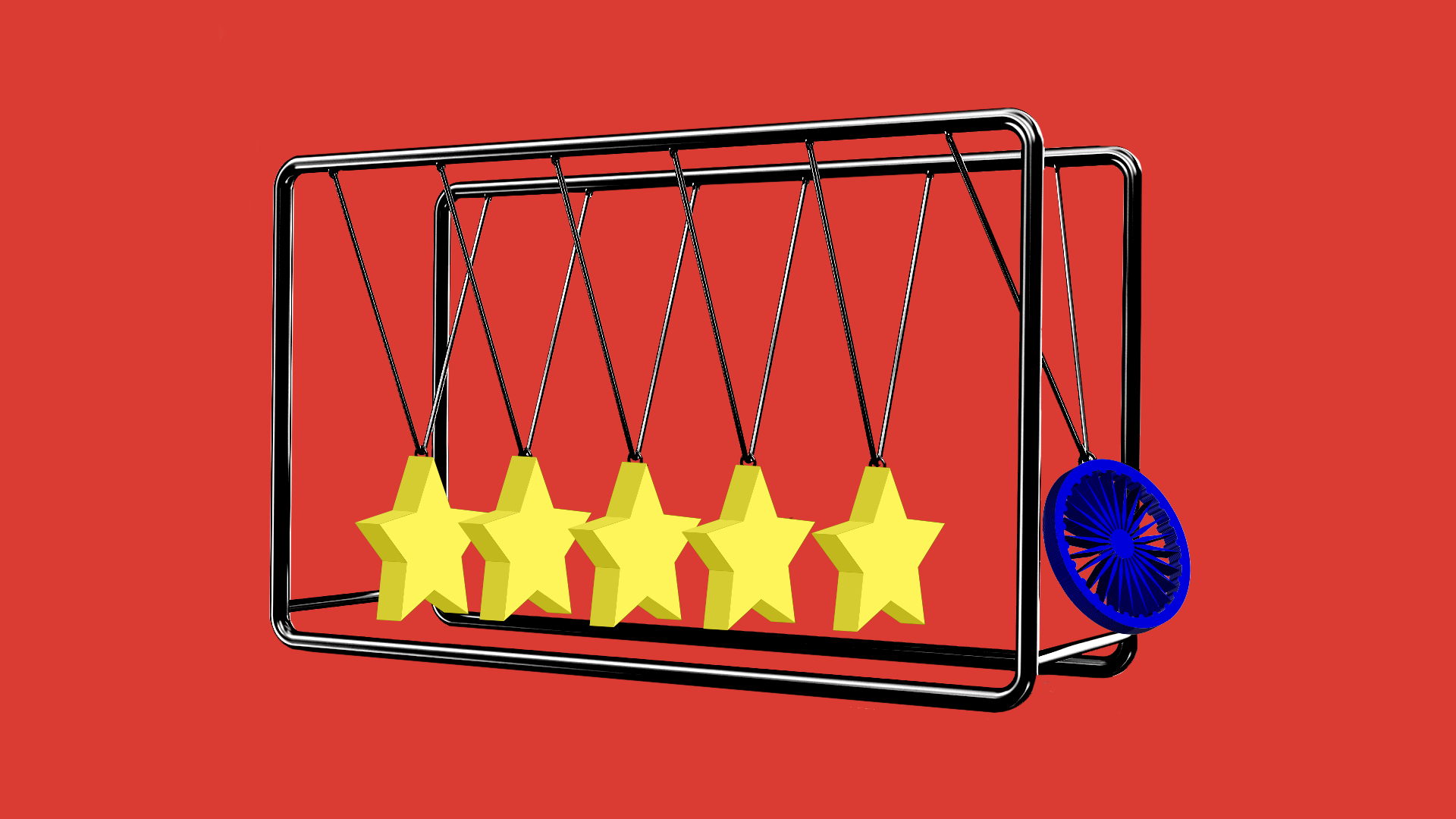 Axios' Erica Pandey writes: Chinese President Xi Jinping and Indian Prime Minister Narendra Modi will have one big goal for their summit today — dial down the tensions in a relationship that's full of them.
The big picture: As China ramps up its investments in South Asia through its trillion-dollar Belt and Road Initiative, India feels increasingly encircled — and threatened. India sees itself as China's equal, but Beijing doesn't see it that way at all. That makes cooperation difficult.
Go deeper: Read the full story here.
https://www.axios.com/newsletters/axios-china-842d7276-b0c3-442e-88d5-aa41fea3469e.html?chunk=4#story4
5. Putting the Communist back in the Party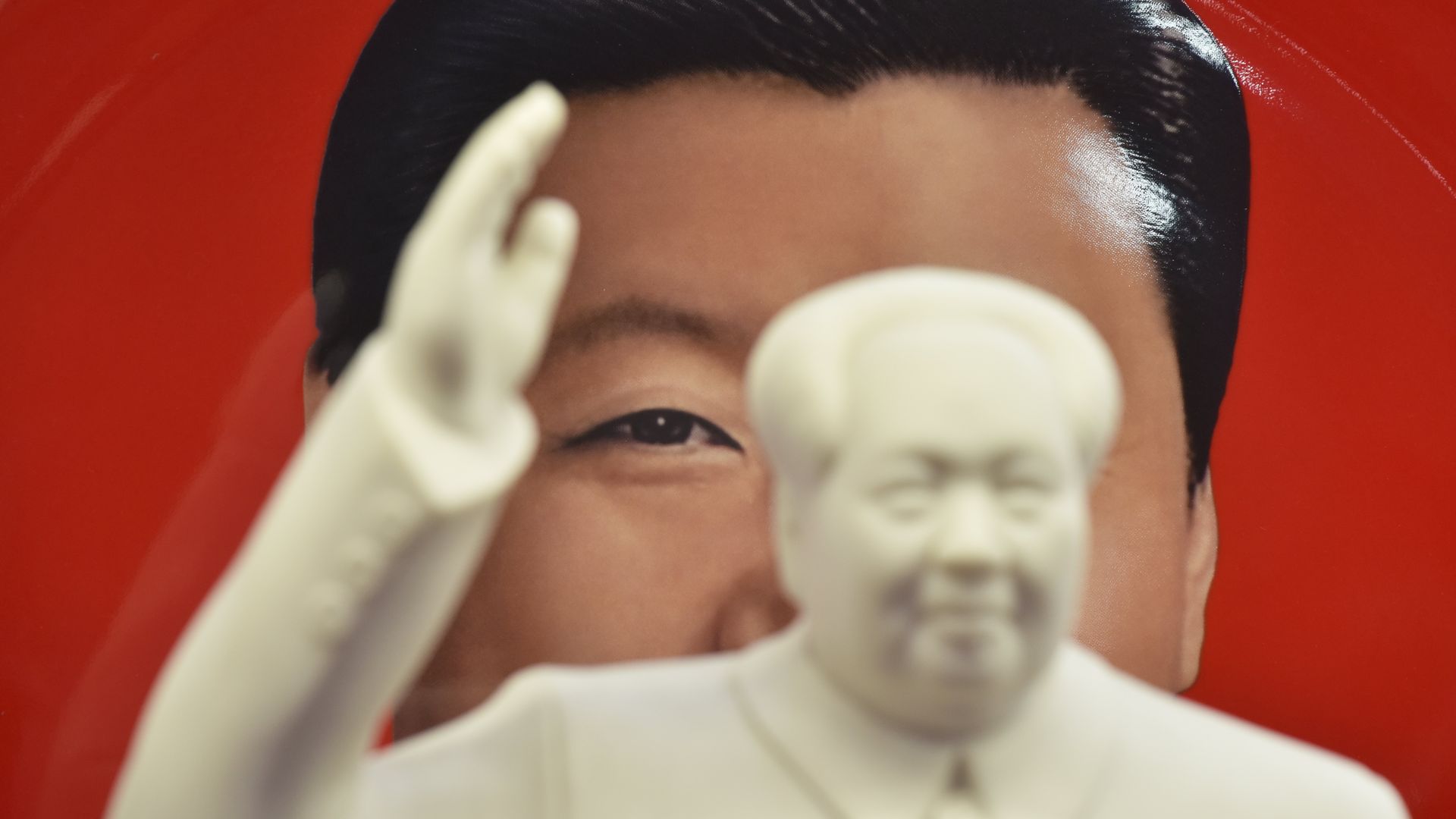 The Politburo met twice in the last week.
The first meeting excited investors as some interpreted official comments on the meeting as a sign a new round of economic stimulus is coming.
The second meeting, was a Politburo Study session Xi chaired on Marx and Engel's "The Communist Manifesto".
According to Xinhua, XI stressed the importance of studying the Communist Manifesto:
The purpose of reviewing the Communist Manifesto is to understand and grasp the power of the truth of Marxism and write a new chapter of socialism with Chinese characteristics in the new era, Xi said.
It's necessary to "apply the scientific principles and the spirit of The Communist Manifesto to the overall planning of activities related to the great struggle, great project, great cause, and great dream," he said
More efforts should be made to develop Marxism in the 21st century and in contemporary China, and write a new chapter of adapting Marxism to the Chinese context, Xi said.
My thought bubble: The contemporary PRC brand of Marxism and Communism is far removed from the original visions, but the CCP believes it has the right, the power and ability to evolve those ideas to fit the times, an effort led by a cadre of theoretical gymnasts who would put Nadia Comăneci to shame.
The big picture: Doubling down on Marxism is a means to an end for the Party, but that does not also mean that Xi himself is not an ardent Marxist whose fervor is only increasing as he sees a world evolving and fracturing in ways that would stir the loins of any sentient Chinese Marxist historical materialist. Xi proudly sees himself as a Marxist leading Communist China, even as he positions himself as the putative leader of globalization.
https://www.axios.com/newsletters/axios-china-842d7276-b0c3-442e-88d5-aa41fea3469e.html?chunk=5#story5
6. Alibaba is bypassing Amazon in China
Axios' Steve LeVine writes: Alibaba, the Chinese e-commerce gargantuan, says it isn't in a race with Amazon for U.S. customers, but that it's eager to take U.S. merchandise to its 550 million customers in China.
Why it matters: American politicians and technologists are unusually sensitive to what's often perceived as China horning in on American customers, markets and tech.
But they may be missing a different game — using an elaborately built system, Alibaba is linking U.S. merchants directly to millions of Chinese customers, bypassing Amazon and other American platforms and becoming an essential way station to the Chinese market.
Go deeper: Read the full story here.
https://www.axios.com/newsletters/axios-china-842d7276-b0c3-442e-88d5-aa41fea3469e.html?chunk=6#story6
7. West Virginia Senate Candidate Considered PRC Citizenship
The New York Times has a bonkers story on coal baron, convicted felon and GOP Senate candidate Don Blankenship.
According to the Times, in 2009 he said:
"I'm actually considering moving to China or somewhere and being more like George Washington if I can get citizenship," he said. "I can probably get citizenship in India. I'd rather be in China."..
"Americans confuse the words communism and dictatorship," he said. "The Chinese are running a dictatorial capitalism and it's very effective. That's the way corporations are run. Corporations are not a democracy."
A popular Twitter account that satirizes the Chinese government summed up it perfectly: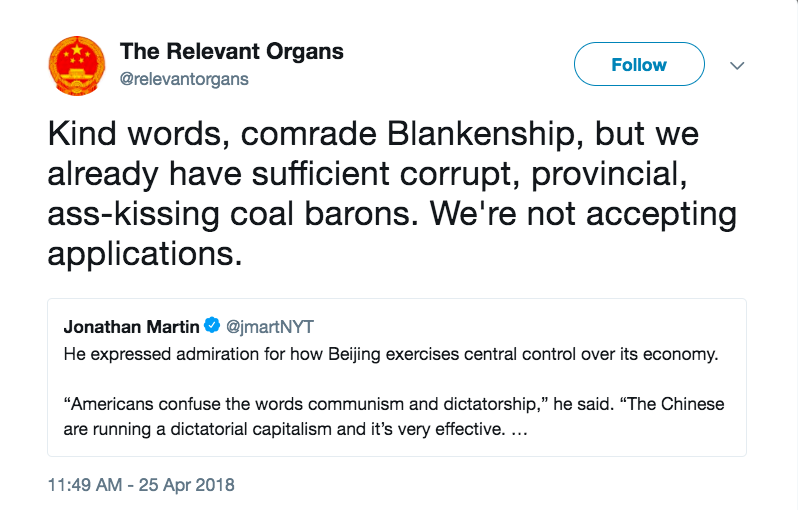 https://www.axios.com/newsletters/axios-china-842d7276-b0c3-442e-88d5-aa41fea3469e.html?chunk=7#story7