August 24, 2018
Happy Friday. It's nice to be back in your inboxes after my trip to Beijing and Shanghai.
Thanks for reading, and if you want a daily and deeper look at China, please check out my daily Sinocism China Newsletter and follow me on Twitter @niubi.
Situational awareness: President Trump has canceled Secretary of State Mike Pompeo's North Korea trip due to lack of "sufficient progress" in denuclearization. Sanctions related to North Korea may return to the forefront of U.S. policy towards China if Trump believes Beijing has eased off on the maximum pressure campaign.
According to unconfirmed reports, Chinese President Xi Jinping may travel to Pyongyang in early September for the DPRK's 70th founding anniversary. It is unlikely he would attend if North Korean leader Kim Jong-un thought he was still squeezing North Korea at America's behest.
1 big thing: U.S.-China trade talks sputter
As expected, two days of talks this week between mid-level U.S. and Chinese officials in D.C. did not reach any breakthroughs.
What's happening now: There may be no substantive negotiations until after the November midterms, and the next round of threatened tariffs on $200 billion of Chinese imports look increasingly likely to take effect in September. As Bloomberg reports:
"The two sides had met with low expectations for this week's meetings and no further talks had been scheduled, a person familiar with the discussions said. The person, who requested anonymity to discuss the private deliberations, also said Chinese officials had raised the possibility that no further negotiations could happen until after November's mid-term elections in the U.S...."
My thought bubble: During my recent Beijing trip, I consistently heard that Xi and his advisers had decided U.S. trade pressure is just one piece of a multi-dimensional strategy to "thwart China's rise," and so it made little sense to them to offer significant concessions.
Assuming Trump holds firm, the tariffs and other measures will likely only increase in intensity over the coming months, perhaps until one or both sides have felt enough pain to reconsider.
Go deeper: Read my thoughts from my recent Beijing trip.
2. Xi's control over the "gun" and the "pen"
Since July, rumors have swirled that Xi was facing pushback over his policies and the propaganda efforts led by Politburo Standing Committee member Wang Huning.
Shot: Xi's absence from official media for the first 15 days of August as he made the annual summer trip to the Beidaihe seaside resort only further fueled the intrigue.
Chaser: Xi reappeared last weekend in media reports on his chairing a meeting of the leadership of the People's Liberation Army (PLA), in which he called for strengthening party leadership in the military.
This week, Xi also chaired a national conference on propaganda and ideological work where he declared:
[D]ecisions and plans made by the CPC Central Committee since the 18th CPC National Congress in 2012 are correct and that officials on the publicity and ideological front are reliable.
Why it matters: Xi may be indicating that whatever criticism there was about the propaganda strategy and Wang has now been completely rejected.
I reached out to Chris Johnson, Freeman chair at the Center for Strategic and International Studies, for his reaction:
"This would seem to cement the idea that the judgment from the 19th PC [Party Congress], and then validated by FAWC [Foreign Affairs Work Conference] on external and H2 PB [Politburo] meeting on domestic economy, that China is 'on the right track' is correct, and that any suggestion of otherwise, whether made internally or externally, is erroneous, and 'hostile.'  That's the real point, no?"
My thought bubble: It's not a coincidence that in just the last week Xi has chaired very high level meetings showing his control over the "gun" (PLA) and the "pen" (propaganda). He does not look like someone who is weakened — if anything he may be gaining strength.
If there really had been an effort over the summer to push back against Xi and/or Wang, those moves look to have been squashed, and they likely gave Xi an even clearer idea of where his enemies are.
If you come at the king and you miss, your life in the CCP will not be pleasant, and the message to any other cadres who might be wavering is very clear.
The gathering, comprehensive conflict with the U.S. may only serve to strengthen him further, as dissension in the face of an existential struggle with the primary hostile foreign force could be seen as treasonous.
Go deeper:
3. Rewriting the history of "Reform and Opening"
2018 is the 40th anniversary of China's Reform and Opening policy, launched under the leadership of Deng Xiaoping.
Flashback: Last year's 19th Party Congress declared a "New Era" for China — the Xi Jinping Era — following on the Mao Zedong and Deng eras.
What's new: In the Xi Era, the party historiographers are changing the history of Reform and Opening to diminish the role of Deng. Chun Han Wong of the Wall Street Journal looks at one recent example:
When a museum paying tribute to China's economic reforms opened here in December, visitors were welcomed by a panoramic sculpture depicting a local visit by Deng Xiaoping, hailed in Communist Party history for launching the country's rise to prosperity.
Then in early June, the museum was closed for what it called "upgrading." When it reopened in August, the sculpture was gone, replaced by video screens showing local development and a beige wall adorned with a quote from President Xi Jinping...
The goal, historians say, is to bolster Mr. Xi's authority by cementing his own story for China: the Communist Party — led by a strong and astute leader — shepherding the Chinese people toward restored national glory.
Go deeper: In the July 27 Axios China newsletter, I interviewed historian Julian Gewirtz about the politics around the 40th anniversary of Reform and Opening. I asked him "What are the politics around planning celebrations in this anniversary year?" Part of his response...
Xi will dominate this anniversary, and the backward-looking appearance of celebrating an anniversary will be used to glorify Xi's "New Era" and the path forward.
Domestically, it presents an opportunity to crystallize which elements of reform and opening Xi wants to keep — and which he is discarding, such as more open intellectual debate or greater limits on the Party's authority.
Internationally, amid serious trade conflict, the anniversary gives the Party an opportunity to remind countries that they've benefitted from China's growth over the past 40 years and to advocate for a form of globalization with "Chinese characteristics."
4. Chinese troops to attend Russia war games
PLA troops will join the upcoming Vostok 2018 war games, the South China Morning Post reports:
The Chinese military will send about 3,200 troops to take part in Russia's biggest war games in more than 35 years, putting their combat-readiness to the test after a massive overhaul of the People's Liberation Army...
The troops, equipped with an array of weaponry including 30 fixed-wing aircraft and helicopters, will participate in the Vostok 2018 exercises in the Tsugol training range in Russia's Far East Trans-Baikal region later this month, China's defence ministry said.
Why it matters: Alexander Gabuev, senior fellow and chair of Russia in Asia-Pacific Program at Carnegie Moscow Center, wrote a Twitter thread explaining why the PLA's participation is a "milestone." Included in the thread...
"for the first time in history Russia invites China to be part of major strategic exercise - a role that was previously reserved for [Collective Security Treaty Organization] allies like Belarus during infamous Zapad-2017."
5. Taiwan's dwindling diplomatic allies
Earlier this week El Salvador switched official diplomatic relations from Taipei to Beijing, leaving Taiwan with just 17 remaining official diplomatic allies.
White House response: The Trump administration and at least one U.S. senator are not pleased. In a statement, the White House said:
The El Salvadoran government's receptiveness to China's apparent interference in the domestic politics of a Western Hemisphere country is of grave concern to the United States, and will result in a reevaluation of our relationship with El Salvador.
Countries seeking to establish or expand relations with China in order to attract state-directed investment that will stimulate short-term economic growth and infrastructure development may be disappointed over the long run. Around the world, governments are waking up to the fact that China's economic inducements facilitate economic dependency and domination, not partnership.
The United States will continue to oppose China's destabilization of the cross-Strait relationship and political interference in the Western Hemisphere.
Senator's response: Sen. Cory Gardner, chairman of the Foreign Relations Committee's Asia subcommittee, is planning to introduce the Taipei Act of 2018 to "authorize the State Department to take action such as downgrading relations or altering foreign assistance to discourage decisions seen as adverse for Taiwan," Reuters reports.
Go deeper: Taiwan President Tsai Ing-wen made two stopovers in the U.S. during her recent visit to Belize and Paraguay.
6. Pig problems from African swine fever
China is the world's biggest pork producer with more than 430 million pigs. It is now grappling with the spread of the African swine fever (ASF), which is highly contagious and often fatal disease among pigs and wild boar but not humans.
Threat level, according to Science Magazine:
"The entry of ASF into China is really a very serious issue," says Yang Hanchun, a swine viral disease scientist at China Agricultural University in Beijing. Given the scale of China's pork sector, the economic impact could be devastating, Yang says, and the outbreak puts a crucial protein source at risk.
From China, the virus could also spread elsewhere; if it becomes endemic, "it will represent a major threat for the rest of the world, including the American continent," says François Roger, an animal epidemiologist at the Agricultural Research Center for International Development in Montpellier, France.
Quick take: Rising pork prices are very politically sensitive in China. The country has a strategic pork reserve to stabilize prices.
Grim reality: A couple of weeks ago there was a video going around on WeChat of pigs being buried and then burned alive around Shenyang in attempt to stop the spread. It was just awful.
7. BuzzFeed journalist denied China visa renewal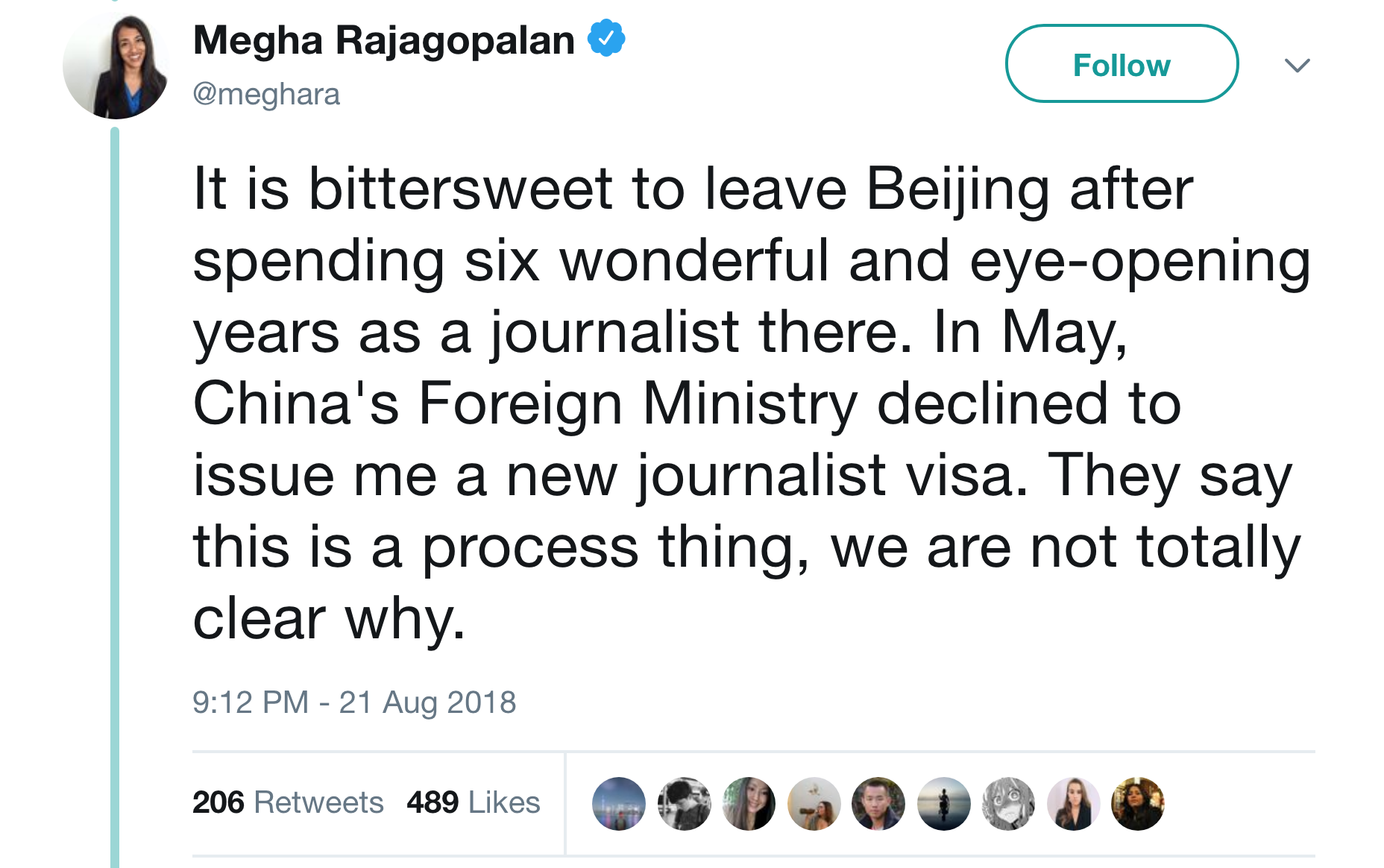 Megha Rajagopalan, the China bureau chief of BuzzFeed News, left the country after her journalist visa was not renewed, as seen in her tweet above.
Of note: She has written several groundbreaking stories about surveillance and incarceration of Uighurs in Xinjiang.
Go deeper: China's re-education camps for a million Muslims.