Good morning and welcome to the second issue of the Axios China weekly newsletter. There will be no newsletter next Friday as we will be sleeping off Thanksgiving.
President Trump is back from his 12 day Asia trip, including a "state visit plus" in China. Expectation were low but the trip overall was not as bad as some have claimed.
And, just a reminder that today is the last day of charter pricing for my daily Sinocism China Newsletter. The price jumps Saturday at midnight. So if you want more than a weekly dose of China from me please subscribe here. Thanks for reading.
https://www.axios.com/newsletters/axios-china-514a3bf6-ae5c-4e60-9bad-a4b8e5c2f3de.html?chunk=0#story0
1 big thing: Trump's Jekyll and Hyde approach to Asia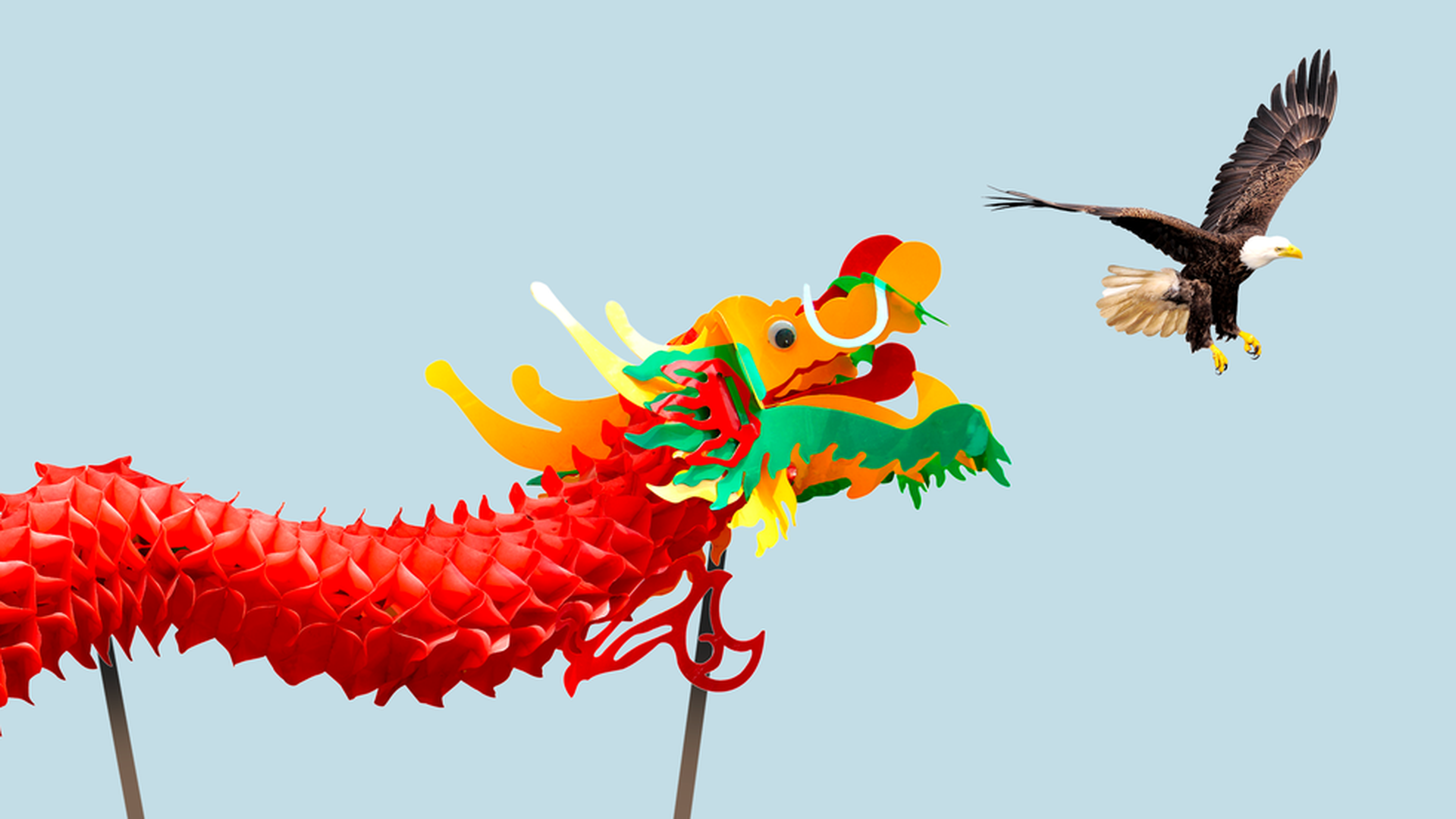 President Trump's trip to Asia displayed a Dr. Jekyll and Mr. Hyde approach to security and economics in the region. Militarily, he is reassuring allies to stand against China's growing military might, but economically Trump is turning his back on broad trade pacts with those same allies.
Our thought bubble: Asian nations worried about China's rise want both strong military and economic ties with the U.S.
The security aspect of the U.S. strategy towards Asia was reinforced with the visits to Japan, South Korea, Vietnam and the Philippines.
In support of the recently articulated "Indo-Pacific" strategy, Trump is working to revive the "Quadrilateral Security Dialogue," aka the "Quad," which is a group the U.S., India, Japan and Australia first formed in 2007 but quickly shelved, in deference to Beijing's concerns. Beijing is concerned again.
The U.S. insistence on renegotiated bilateral trade deals was not well received.
Rather than helplessly pining for the U.S. while rushing into the embrace of China and its President Xi Jinping, key Asian states are working amongst themselves to increase inter-Asian connectivity and balance against China.
Australia, Brunei, Canada, Chile, Japan, Malaysia, Mexico, New Zealand, Peru, Singapore and Vietnam agreed to revive a variant of the Trans-Pacific Partnership (TPP), without the U.S. The new grouping is called the TPP-11 and they hope that the U.S. will eventually want to join.
Bottom line: The Asian nations, with the exception of China's near-vassal states Cambodia and Laos, want U.S. leadership and are very concerned about the "America First" agenda and the withdrawal from many multilateral efforts. What they're telling U.S. diplomats is that "we will wait and hope you return to your senses." China has not won yet.
https://www.axios.com/newsletters/axios-china-514a3bf6-ae5c-4e60-9bad-a4b8e5c2f3de.html?chunk=1#story1
2. No apparent North Korea breakthroughs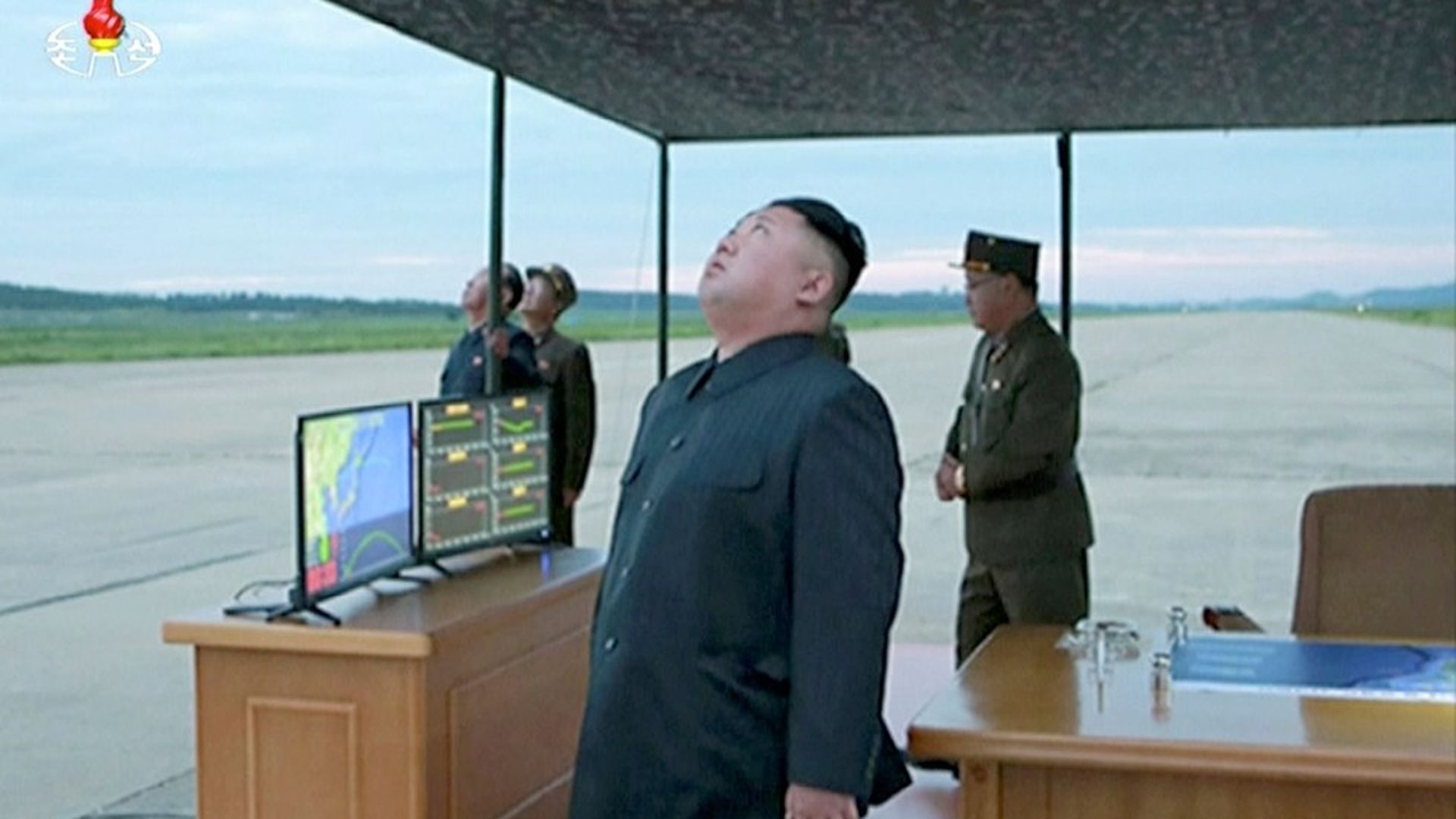 North Korea was at the top of the Trump-Xi agenda but there are few signs of progress, and already signs of miscommunication between the two. The two sides gave different statements after the visit.
Trump said: "President Xi recognizes that a nuclear North Korea is a grave threat to China, and we agreed that we would not accept a so-called 'freeze-for-freeze' agreement like those that have consistently failed in the past."
China's Ministry of Foreign Affairs spokesman Geng Shuang said at a weekly news conference Thursday: "Suspension-for-suspension is the most realistic, viable and reasonable solution in the current situation," per AP.
Quick take: Xi is sending special envoy Song Tao to Pyongyang. His visit does not appear to be a result of American pressure (Song's predecessors went after previous congresses). But the language announcing his visit suggests there is more on his agenda than just the 19th Party Congress briefing.
We are left to speculate about what Xi may be working on:
Will Song meet North Korea leader Kim Jong-un to deliver a warning?
Does Xi, on the heels of his rapprochement with South Korea and the announcement of a December visit to Beijing by the South Korean president, have a plan underway for a broader deal to ease tensions?
The big picture: Crafting a "Chinese" solution, even a temporary one, to the North Korea crisis would be a huge diplomatic win for Xi and China, would fit with the global aspirations articulated at the 19th Party Congress as well as the "major power diplomacy" efforts, and would damage U.S. prestige and influence.
Trump seems to think he and Xi see eye to eye on North Korea, but that seems a bit of a stretch given the U.S. and China's disparate strategic calculations about the DPRK.
https://www.axios.com/newsletters/axios-china-514a3bf6-ae5c-4e60-9bad-a4b8e5c2f3de.html?chunk=2#story2
3. Congress increasingly sees China as strategic competitor
It feels like the U.S. is close to a tipping point towards a much tougher approach to China.
My thought bubble: I expect the administration to harden its position soon with the completion of the China strategic review and the eventual, inevitable disappointment with Beijing over North Korea. Congress, of course, has been more consistently hawkish.
Senator John Cornyn (R-TX) just introduced the the Foreign Investment Risk Review Modernization Act, an attempt to empower the Committee on Foreign Investment in the United States (CFIUS) to review more China deals inbound into the U.S. And earlier this week Cornyn gave a speech where he said the U.S. is in a "Cool War" with China:
"For decades, U.S. policy has been to welcome the so-called peaceful rise of China, and I was onboard with that."
"For the sake of our own national security in the long term, I think it's time for the U.S. to adopt a new policy on China"
"In some ways, what we're now embarking on has been termed a "Cool War" with China – not quite a Cold War, as we had with the Soviet Union throughout the latter half of the 20th century, but very serious nonetheless."
And on Wednesday, the U.S.-China Economic and Security Review Commission released its 2017 report recommending: an update of CFIUS legislation, a review of proposed Chinese media acquisitions, and a strengthening of the Foreign Agents Registration Act to require the registration of all staff of Chinese state-run media entities (to monitor staff for possible involvement in Chinese intelligence gathering and information warfare.)
https://www.axios.com/newsletters/axios-china-514a3bf6-ae5c-4e60-9bad-a4b8e5c2f3de.html?chunk=3#story3
4. Internet freedom and China's World Internet Conference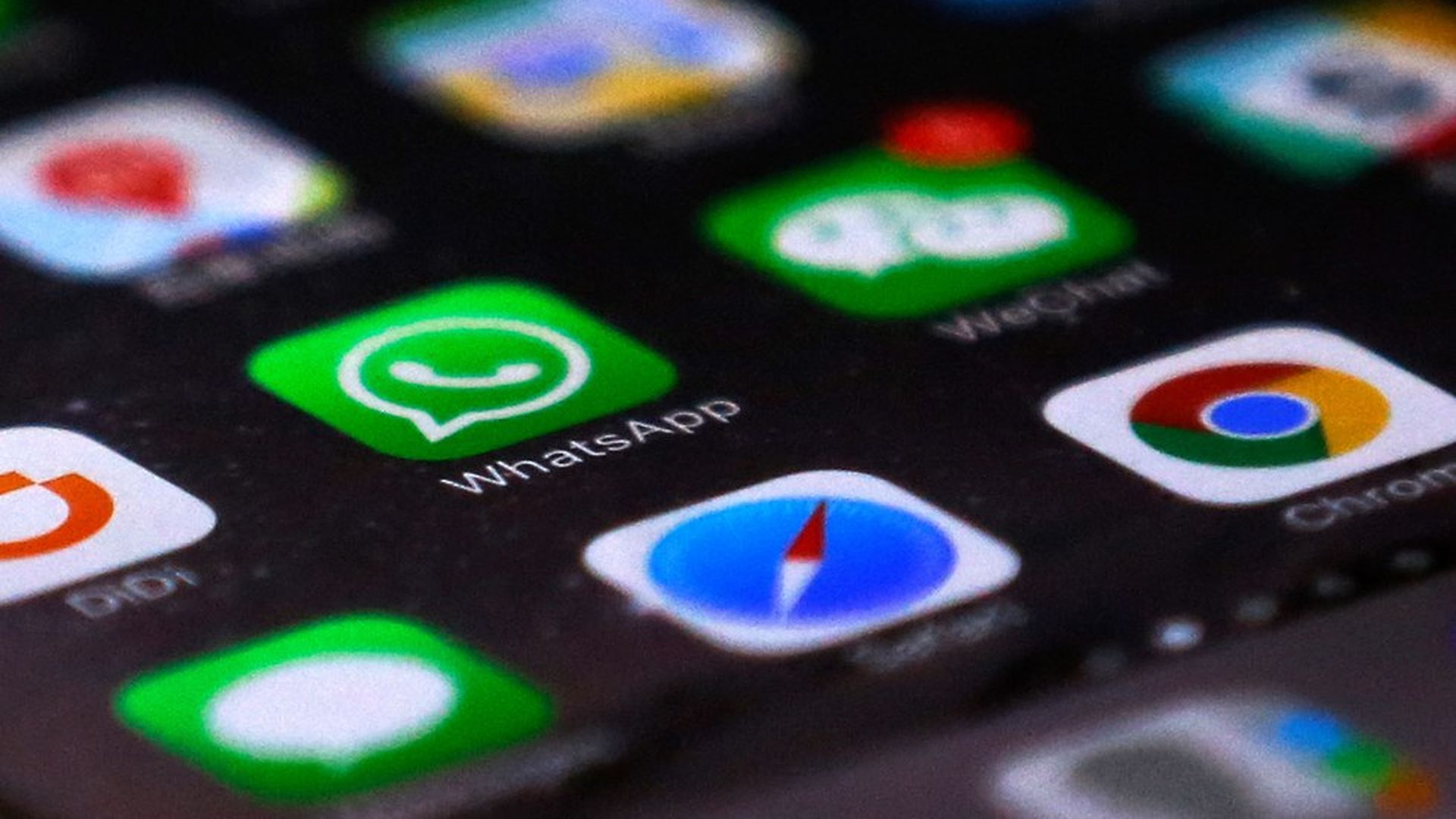 Freedom's House has released its "Freedom on the Net 2017" report. The China section claims that:
China was the world's worst abuser of internet freedom for the third consecutive year;
The 2016 cybersecurity law mandates real name registration and storage of PRC user data within China;
Censorship on WeChat increased and several were detained for comments on WeChat;
New rules constrict the space for online news;
A crackdown virtual private network (VPN) tools.
Ren Xianliang, deputy director of the Cyberspace Administration of China criticized the report, per Reuters:
"We should not just make the internet fully free, it also needs to be orderly...The United States and Europe also need to deal with these fake news and rumors."
The key point: Chinese officials, some of who have warned for years of "hostile foreign forces" using the internet to subvert China, believe they have found the solution to managing the political risks from the internet while harnessing its economic and technological power. The interference in the U.S. presidential election process by Russia, a "hostile foreign force" to America, only strengthens their resolve.
One interesting fact: The censorship has not hurt wealth creation. Overseas-listed Chinese internet firms have a combined market capitalization of over one trillion dollars, and three of China's richest people are internet moguls.
https://www.axios.com/newsletters/axios-china-514a3bf6-ae5c-4e60-9bad-a4b8e5c2f3de.html?chunk=4#story4
5. Top five Chinese billionaires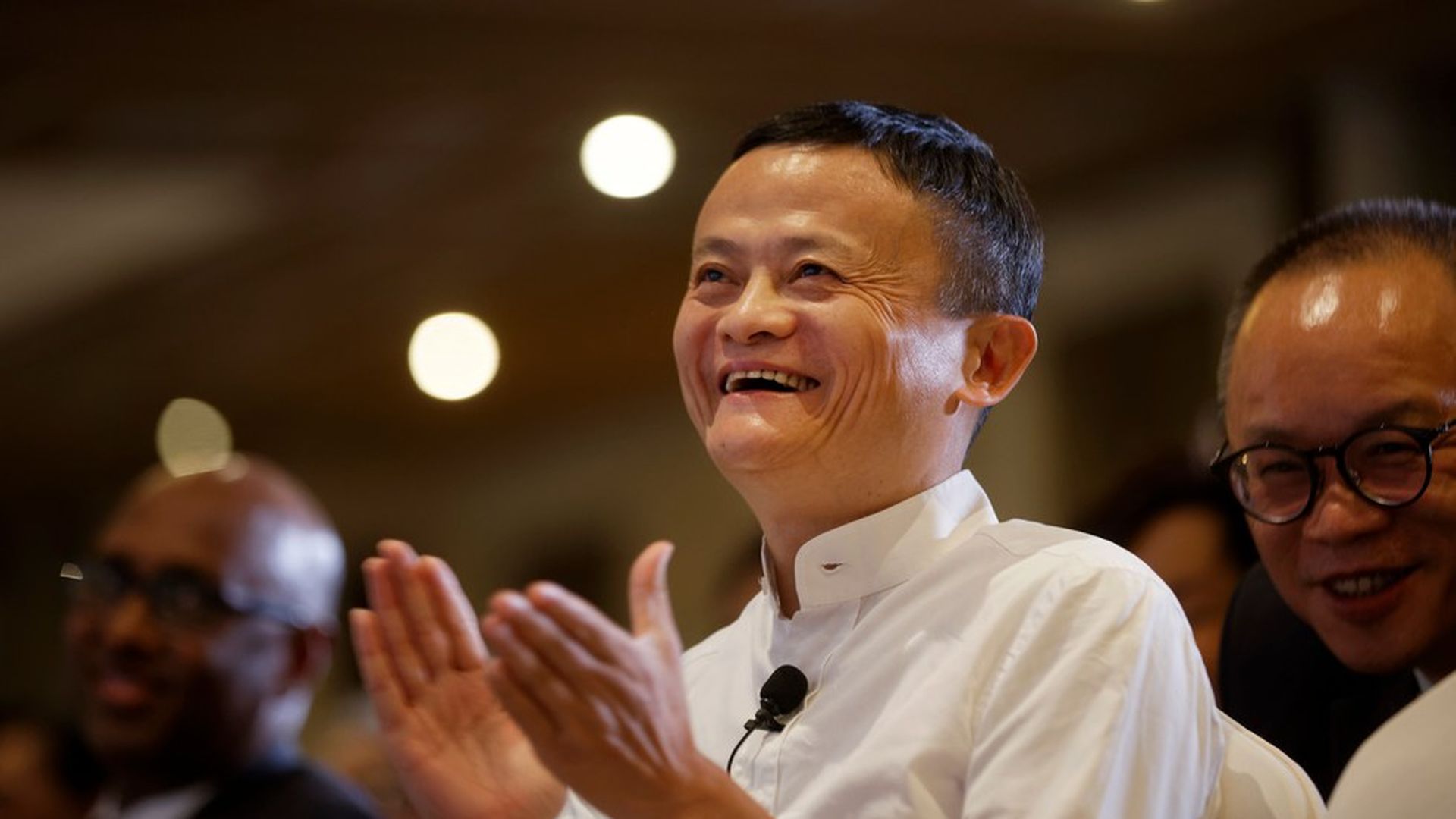 Tech and real estate are the path to riches in China. The latest top five are:
Hui Ka Yan, chairman of real estate developer China Evergrande: $40.7 billion;
Tencent co-founder and chairman Pony Ma Huateng:$39 billion;
Jack Ma, Alibaba co-founder and chairman: $39.9 billion;
Wang Jianlin, chairman of real estate developer and entertainment giant Dalian Wanda: $25.1 billion;
Wang Wei, chairman of SF Holding, aka the "Fedex of China": $21.1 billion
Jack Ma may be having the most fun. He stars in a new short film about a Tai Chi master – himself.
https://www.axios.com/newsletters/axios-china-514a3bf6-ae5c-4e60-9bad-a4b8e5c2f3de.html?chunk=5#story5
6. Down With Jesus, Up With Xi
China is far from having a cult of Xi that comes anything close to the cult of Mao that led to the disastrous Cultural Revolution, but some of the signs are worrisome.
Ucanews reports that local officials in Jiangxi province offered poverty relief aid in exchange for Christian residents to replace religious images with posters of Xi:
"The message from officials stated that the Christians involved had 'recognized their mistakes and decided not to entrust to Jesus but to the (Communist) Party' claiming the Christians voluntarily removed 624 religious images and posted 453 portraits of Xi."
Quick take: Local officials doing this likely see it as double-win:
They get to show they are cracking down on foreign religions.
They demonstrate loyalty while disseminating the Party's good news.
Reaction: Of course, this has led to some interesting Instagram responses.
Also: Last week another set of local officials made a pilgrimage to a tree Xi had planted several years earlier. They admired the "big, verdant and tall...Xi Paulownia tree" before retaking the oath to join the Communist Party, the Guardian reports.
https://www.axios.com/newsletters/axios-china-514a3bf6-ae5c-4e60-9bad-a4b8e5c2f3de.html?chunk=6#story6
7. Victoria's Secret Shanghai show hanging by a thread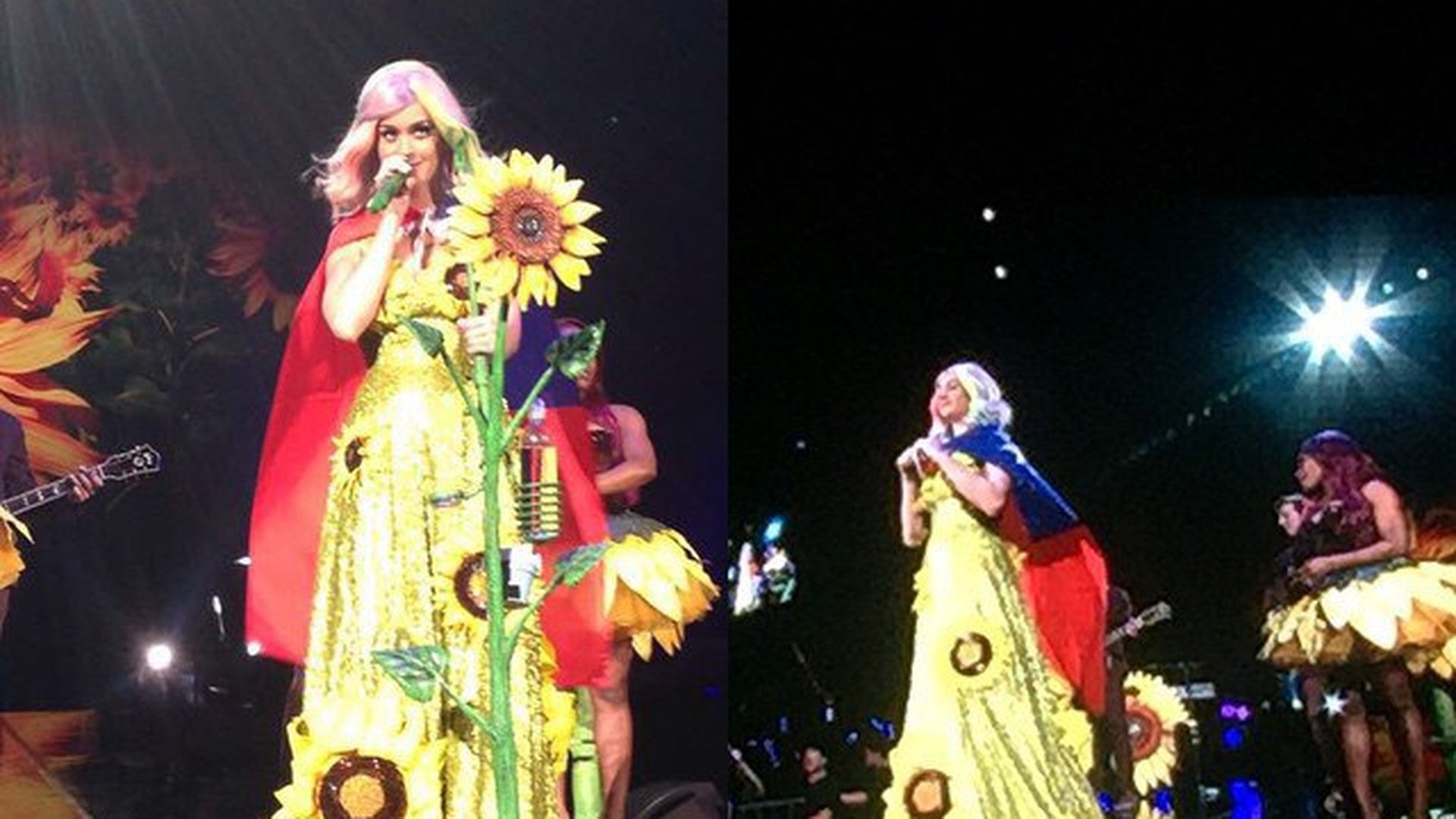 Katy Perry reportedly can't get a visa to China to perform at the Nov. 28 annual Victoria's Secret Fashion Show. The singer upset Beijing during a performance in Taiwan when she:
wore a dress with sunflowers on it, not long after Taiwanese protesting against Beijing used sunflowers as their symbol;
waved the Taiwan flag during the concert.
Perry recently sent a letter to the Chinese authorities promising not to "do or say anything religious or political" or "participate in any activities that jeopardize China's unity and integrity."
Page Six says that this year's Victoria's Secret Fashion Show "is turning into an international media crisis" because of visa problems and media restrictions.
Chinese netizen anger: Model Gigi Hadid has pulled out of the fashion show as netizens have erupted over an online video showing her apparently making a slanteyes face, SCMP reports.
Cognitive dissonance: On Friday, China's propaganda chief Huang Kunming warned against seduction by Western culture and political values.
https://www.axios.com/newsletters/axios-china-514a3bf6-ae5c-4e60-9bad-a4b8e5c2f3de.html?chunk=7#story7