July 27, 2018
Happy Friday! I am off to China next week, and the next issue will be August 24.
Thanks for reading, and if you want a daily and deeper look at China, please check out my daily Sinocism China Newsletter and follow me on Twitter @niubi.
1 big thing: 40 years of reform and opening
2018 is the 40th anniversary of the launch of China's reform and opening policy. Chinese President Xi Jinping and the Communist Party are making a very big deal of the anniversary.
What we're hearing: I spoke with Julian Gewirtz, an expert in modern Chinese history and author of a book on China called "Unlikely Partners," on the current state of China's market and Xi's plan for "the great rejuvenation of the Chinese nation."
My interview, lightly edited for space:
1. What is reform and opening and how is has it changed over the last 40 years?
Above all, "reform and opening" means the policies of market-oriented change and international trade and investment that facilitated China's extraordinary growth ... But the new economic policies were introduced gradually and were highly contested — witnessing dramatic ups and downs in how the leadership handled major tradeoffs between the market's scope and the Party-state's control, as well as questions such as political reform and intellectual openness. And new changes are underway today.
2. What is Xi's vision for China, and if he is successful what will China look like in the next 10-20 years?
Xi envisions China becoming a superpower with the Party firmly in control over all aspects of life. If he succeeds, China will be the world's largest economy, a global leader in technological innovation with a modernized military, and the major force in Asia and beyond. He sees this as restoring its historic stature, "the great rejuvenation of the Chinese nation" that only the CCP can produce. Of course, we don't know yet if he will succeed.
3. Some experts now say that [economic] reform is dead under Xi. He and the Party of course say both reform and opening are moving forward with urgency. Who is right?
Xi uses this term to mean not market-oriented liberalization prioritizing the private sector but rather strengthening China's system on his terms: promoting more "balanced" growth with a powerful state sector enduring, and modernization led by the Party.
4. What are the politics around planning celebrations in this anniversary year?
[It] will be used to glorify Xi's "New Era" and the path forward. Domestically, it presents an opportunity to crystallize which elements of reform and opening Xi wants to keep — and which he is discarding, such as more open intellectual debate or greater limits on the Party's authority. Internationally, amid serious trade conflict, the anniversary gives the Party an opportunity to remind countries that they've benefitted from China's growth over the past 40 years.
Go deeper: Read the full interview.
2. How Beijing misread Donald Trump
The South China Morning Post examines Beijing's misreading of President Trump, where they look at "how Beijing got it wrong."
What they're saying: Interestingly SCMP cites the crackdown on corruption as one of the contributing factors:
[T]he problem is policies introduced by Beijing — driven by a need to consolidate the party's power — that have discouraged policy advisers from having in-depth discussions with their US counterparts that would help them to understand the latest thinking in Washington, or from speaking their minds...
Six years ago, as President Xi Jinping's major crackdown on corruption began, Beijing introduced a series of rules to curb overspending, including limits on government officials, academics and policy advisers travelling abroad.
Since then, many officials have had to hand in their personal passports and instead use special government duty passports when travelling – and in most cases they are barred from staying overseas for more than a week.
The ideological crackdown has also exacerbated things:
At the same time, Beijing is tightening ideological control in all aspects of life, including on university campuses, and demanding that the party line be strictly adhered to. Any unauthorised discussion of government policies can result in a reprimand for "improper discussion of a party directive".
That has left Chinese advisers and Western diplomats worried about whether their suggestions will be filtered before they reach top-level officials, to ensure they are politically correct.
My thought bubble: I had many conversations with Chinese interlocutors who really did not understand how the attitude towards China in D.C. and the U.S. business community had hardened so much. An earlier realization may not have altered the outcome much given the structural problems in the relationship, but when the stakes are so high, ignorance and surprise can be very dangerous.
Go deeper: Mark Leonard, director of the European Council on Foreign Relations, wrote an OpEd in the Financial Times earlier this week in which he says the Chinese are wary of Trump's "creative destruction":
My interlocutors say that Mr Trump is the US first president for more than 40 years to bash China on three fronts simultaneously: trade, military and ideology. They describe him as a master tactician, focusing on one issue at a time, and extracting as many concessions as he can. They speak of the skillful way Mr Trump has treated President Xi Jinping.
"Look at how he handled North Korea," one says. "He got Xi Jinping to agree to UN sanctions [half a dozen] times, creating an economic stranglehold on the country. China almost turned North Korea into a sworn enemy of the country."
But they also see him as a strategist, willing to declare a truce in each area when there are no more concessions to be had, and then start again with a new front.
3. U.S. to WTO: China is the "most protectionist"
The Trump administration is also taking its trade fight with China to the halls of the World Trade Organization. At a meeting of the general council of the WTO Thursday, U.S. Ambassador Dennis Shea presented the paper "China's trade-disruptive economic model."
The U.S. position, according to Reuters:
"Despite China's repeated portrayal of itself as a staunch defender of free trade and the global trading system, China is in fact the most protectionist, mercantilist economy in the world," Shea said...
"For China, economic reform means perfecting the government's and the Communist Party's management of the economy and strengthening the state sector, particularly state-owned enterprises." 
The Chinese side, of course, disagrees:
"The US is seeking to divert the attention of the international community and ease the heat on itself," said Zhang [Xiangchen, China's WTO envoy], adding that the US has unsettled the world by launching a global trade war citing its domestic laws – Section 232 and 301, which has met strong oppositions from WTO members. 
"China's state-owned enterprises are independent market entities responsible for their own profits or losses, and China does not have mandatory technology transfer regulations," Zhang said. 
My thought bubble: That last claim about the state-owned enterprises and technology transfers will likely not help the PRC's argument at the WTO.
Go deeper: Read the full U.S. paper presented to WTO.
4. Xi goes to the 10th BRICS summit
Xi is on a trip to the United Arab Emirates, Senegal, Rwanda, South Africa and Mauritius. The highlight of the trip is the 10th BRICS (Brazil, Russia, India, China and South Africa) Summit in Johannesburg.
What's happening: In his address to the summit Xi reiterated his themes about technology, the changing world and the need for China and other countries to protect the global trading system:
Today, we are experiencing another revolution in science, technology and industry, which is greater in scope and depth. Breakthroughs are being made in quick succession in frontier technologies like big data and artificial intelligence...Countries around the world have found their interests and future tied together like never before.
That said, we have yet to sustain global growth with new driving forces and to address the North-South imbalance and other deep-seated structural problems. What's more, constant flare-ups of geopolitical conflicts and the escalation of protectionism and unilateralism are directly affecting the external development environment of emerging markets and developing countries...
We need to step up trade, investment, economic, financial, and connectivity cooperation to make this pie still bigger. At the same time, we must work together at the United Nations, the Group of 20, and the World Trade Organization to safeguard the rule-based multilateral trading regime, promote trade and investment liberalization and facilitation, and reject protectionism outright.
During the summit Xi and Russian President Vladimir Putin had dinner and, according to Xinhua, "exchanged in-depth views on current international situation."
My thought bubble: The Chinese leadership is working hard to win friends and reshape the global order in China's favor. BRICS and Xi's trip is part of that.
Go deeper:
5. How U.S. tech powers China's surveillance state
Axios' Erica Pandey writes ... American companies eager to enter China's massive market brace themselves for potential intellectual property theft or forced technology transfers. But there's another threat at play: Their technology is being used for surveillance.
Companies doing business in China often get caught in a web: Beijing uses its economic leverage to draw them in and then uses their technology for police-state tactics. As a result, "there are American companies enabling or complicit in major human rights abuses," says Elsa Kania, a technology and national security expert at the Center for a New American Security.
Companies often take on projects for the Chinese government in the name of curbing crime, according to Scott Kennedy of the Center for Strategic and International Studies, but "the boundary between promoting public safety and protecting the state is increasingly blurred with these types of technologies."
"A lot of people wanted very much to believe that once China had exposure to the outside world, political liberalization would come with economic liberalization," Sophie Richardson, China director at Human Rights Watch, tells Axios."They're getting a lot richer and a lot more powerful and no more politically liberal."
The big picture: China has sophisticated systems of state surveillance, and elements of these systems have long been powered by technologies developed by American companies. Beijing has used U.S. tech to surveil its citizens, violate human rights and even modernize its military.
Go deeper: Read Erica's full story here.
6. Nasdaq mints another China billionaire
PRC e-commerce Pinduoduo raised $1.6 billion in a Nasdaq IPO this week. Founder Colin Huang is now the 12th richest person in China, according to Bloomberg:
The former Google engineer's $13.8 billion fortune after the IPO places him among the world's 100 richest people, according to the Bloomberg Billionaires Index. Huang, who started PDD, as the company is known, retains a 46.8 percent stake after the IPO, before any exercise of an over-allotment option.
The details: PDD uses a "team purchase" model that relies heavily on WeChat. WeChat's owner Tencent is a large shareholder of PDD. According to an excellent overview presentation from GGV Capital:
60% of users are in third-tier cities or below
70% are women
57% are between 25–35 years old
The average order value is $6
The chart below, from the GGV Capital presentation, shows its rise compared with Taobao and JD: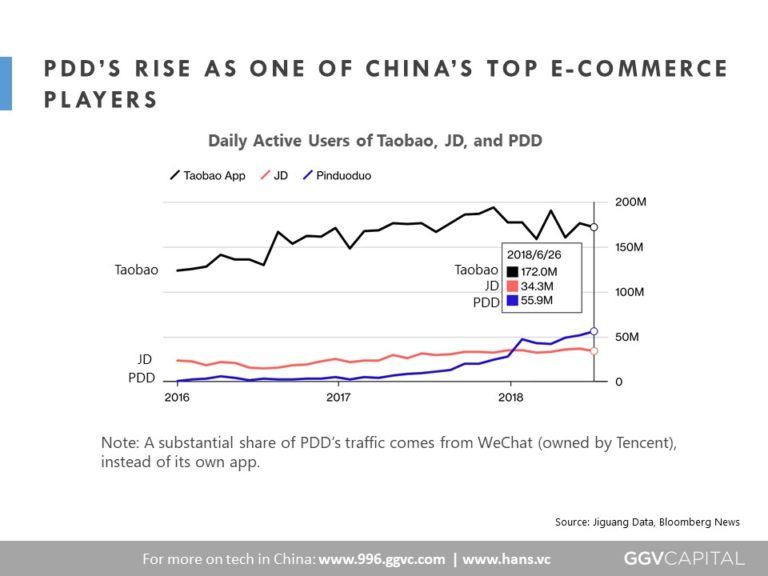 Why it matters: PDD was founded barely three years ago. Its meteoric rise shows the growing online spending power of the people living outside of China's largest cities. And in spite of U.S.-China tensions, the U.S. capital markets are still a preferred exit for many Chinese companies and investors.
Go deeper:
The full deck on Pinduoduo is here.
New York Times: The Latest Hot E-Commerce Idea in China: The Bargain Bin
The New Yorker: How E-Commerce Is Transforming Rural China
7. #MeToo is back with a vengeance in China
An outpouring of #MeToo exposures of sexual assault and harassment by powerful Chinese men earlier this year had appeared to be squelched by the efforts of government censors.
What's new: Over the last few days, a fresh round of allegations have been made against well-known journalists, professors and NGO workers via open letters posted on social media sites. The New York Times reports:
While the letters, many of them anonymous, do not appear to have been part of a coordinated campaign, they offer a collective indictment of the patriarchal culture that pervades Chinese society...
"It's only the beginning of 'Me Too' in China," said Li Tingting, an activist for gender equality. "The men-dominant structure is everywhere. The rape culture is still powerful."
My thought bubble: The censors are again working hard to control the outpouring and it's very unlikely it will be allowed to target anyone with real power.
Go deeper: Muyi's #MeToo Story, an essay by journalist Xiao Muyi about her experiences with rape and harassment.
8. 1 happy thing: a new Faye Wong video
Faye Wong is back with a new music video:
Mandopop diva Faye Wong wowed fans last Friday with a reprise of The Cranberries' "Dreams" in the debut of 《幻乐之城》 PhantaCity, an ambitious new variety show sponsored by dating app Momo on Hunan TV.
The show aims to celebrate creativity in original songs, all performed live by singers backstage in a ginormous 3,000 square-meter studio with the help of a cast of supporting actors and dancers. There is no editing, no retake, and singers need to get their act right in just one take to produce a music video-worthy performance.
Watch the video on YouTube.
Bonus: Worthy of your time
Reuters — Exclusive: China eyes infrastructure boost to cushion growth as trade war escalates, according to sources
SCMP — China's vaccination system has been crippled by corruption, weak regulations and staff shortages
China Media Project— Impatient China
China Heritage — It's Time to Talk About 'Evening Talks at Yanshan'
Bloomberg — Inside Tencent's Gambit to Dominate a $13 Billion Esports Arena
The Washington Post — China takes its political censorship global
MacroPolo — Returning to Its Roots: The Role of Taobao Auctions in Resolving Delinquent Loans
Sino-NK — From New York to Dandong: Maximum Pressure
Wall Street Journal — American Professor Cites Academic Intolerance as Reason for Leaving China
New York Times — NXP's Chief Criticizes China After Qualcomm Deal Collapses
Washington Examiner — House Republican warns John Boehner not to lobby for China
Sinica Podcast — Australia's Beijing problem