Happy Friday. Things are slowing down in China as the country starts to focus on the Spring Festival Holiday.
Remember, if you want to read me more than once a week please check out my daily Sinocism China Newsletter and follow me on Twitter @niubi.
https://www.axios.com/newsletters/axios-china-35465d09-256b-49d0-9f27-34371dc74ab6.html?chunk=0#story0
1. The Vatican may have a deal with Beijing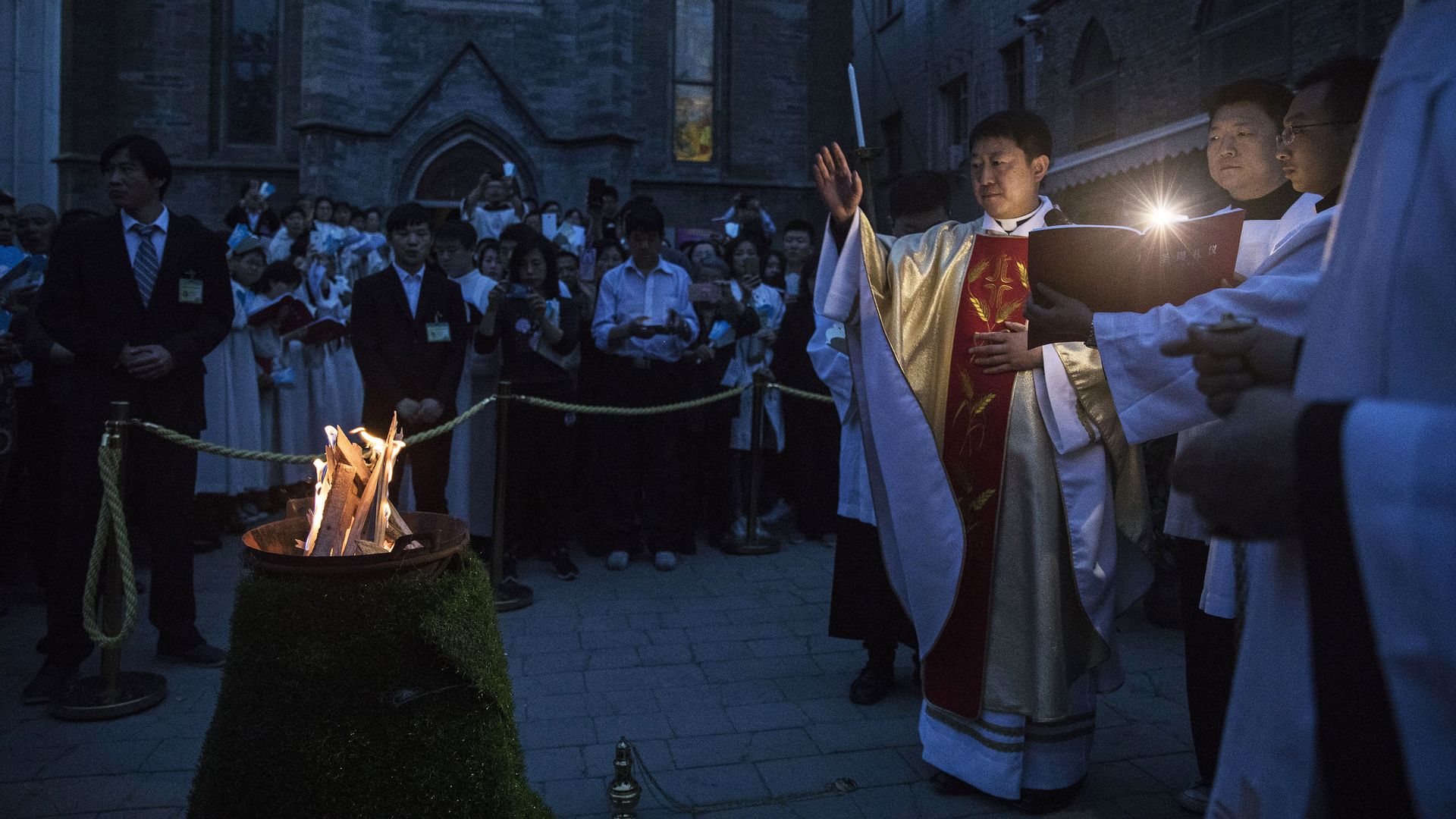 The Vatican appears close to a deal with Beijing to settle a long running dispute over who has the power to appoint bishops, Reuters reports.
Why it matters: The Vatican, which believes there are roughly 10 million–15 million Catholics in China, appears to be bending to the will of the atheist Chinese Communist Party. This is a concern to Taiwan, because a Beijing-Vatican official diplomatic rapprochement would require the Vatican to drop official diplomatic relations with Taiwan in favor of the PRC.
Go deeper: John L. Allen Jr., editor of Crux, offers 4 reasons the Vatican appears "so eager" for a deal:
1."There are Catholics in China — somewhere between 10 and 15 million, according to most estimates, though no one knows for sure due to the difficulties of doing reliable religious surveys."
2."The Vatican has its own diplomatic corps, aspiring to be a voice of conscience on the global stage...the Vatican understands that if you're not talking directly to Beijing, you're basically out of the loop."
3. "There's a deep romance about China nurtured over centuries in the Catholic psyche, associated with legendary figures such as Matteo Ricci and St. Francis Xavier. There's also a nagging historical sense that the Church sort of blew it with the Chinese Rites controversy in the 17th and 18th centuries."
4. "The Vatican also understands that China is rich with missionary potential…Many experts regard China as the world's last truly competitive spiritual marketplace."
More: Read the full story here.
https://www.axios.com/newsletters/axios-china-35465d09-256b-49d0-9f27-34371dc74ab6.html?chunk=1#story1
2. U.S. lawmakers nominate controversial Hong Kong leaders for Nobel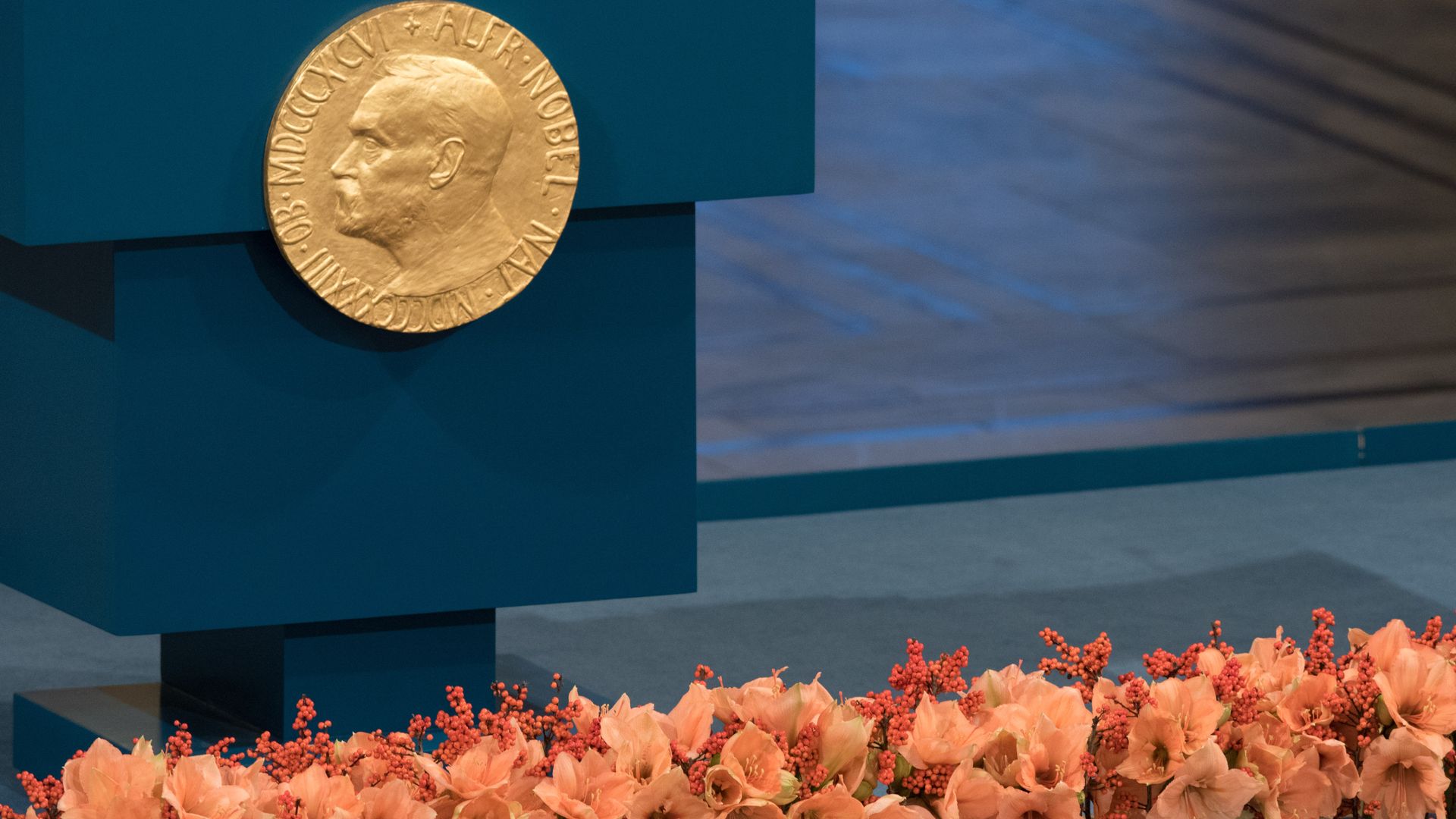 A group of 12 bipartisan lawmakers, led by Sen. Marco Rubio and Rep. Chris Smith, has nominated 3 controversial Hong Kong leaders and "the entire pro-democracy movement in Hong Kong" to the Nobel Peace Prize Committee.
Why it matters: U.S. lawmakers, and especially Rubio, appear to be ramping up the human rights pressure on the PRC. It may go nowhere but it is at least another sign of the growing contentiousness in U.S.-China relations.
Beijing's response: Livid, as expected. In addition to an official denunciation, the Communist Party tabloid "Global Times" has weighed in with "Ludicrous to tout Hong Kong rabble rousers for a Nobel Peace Prize."
Some details from the editorial:
"The nomination of Wong and the other two for a Nobel Peace Prize showed the US congressmen's ill will toward China. They obviously want to send a signal that whoever opposes Beijing in Hong Kong will be supported by the US."
"Even by Western standards, Wong and the others are too young. By nominating them for the Nobel Peace Prize, the West is adopting pets — and it looks ludicrous." 
"Wong and the others have in fact become tools for anti-China forces in the West...There is no honor to be found in pursing their wrongful path of betraying the interests of Hong Kong and the motherland. "
Go deeper: Read the full story here.
https://www.axios.com/newsletters/axios-china-35465d09-256b-49d0-9f27-34371dc74ab6.html?chunk=2#story2
3. Wang Qishan looks set to have an official job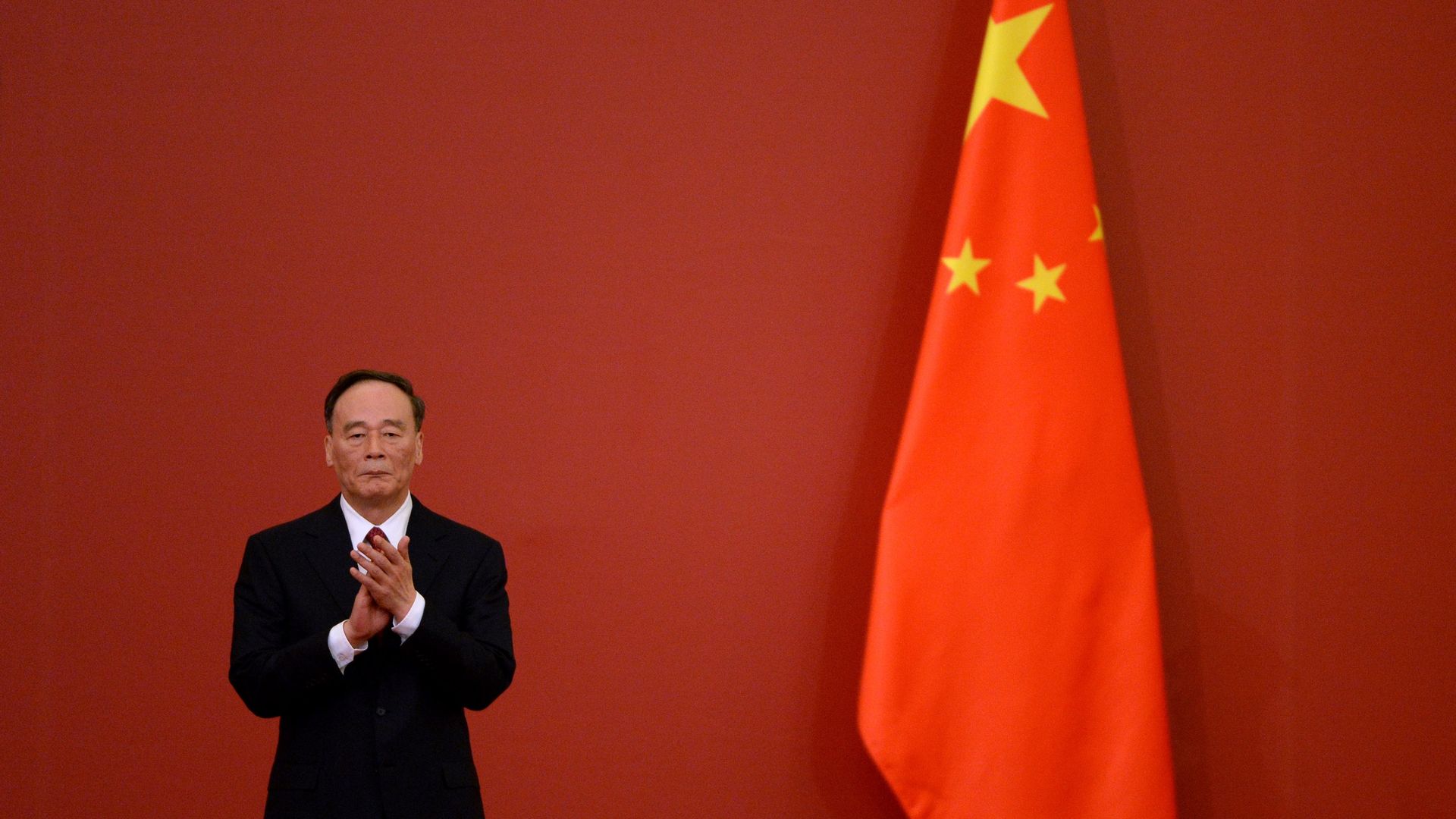 Wang Qishan, the feared discipline and anti-corruption official who stepped down from the Politburo Standing Committee in October, was elected a delegate to the upcoming National People's Congress. This is leading to renewed speculation about his future.
What's happening: The Wall Street Journal reported earlier this week that Wang is under consideration for Vice President as well as a role managing U.S.-China relations.
Flashback: As reported in the Dec. 5 issue of Axios China, my sources were telling me Wang would be "tasked with managing the U.S.-China relationship as well as assisting with economic work.
Why it matters: It's unprecedented for a retired official like Wang to stay on as a NPC delegate, let alone return as Vice President, so it is more evidence of Chinese President Xi Jinping's power and willingness to break with the previously accepted norms of Chinese elite politics.
My thought bubble: If Wang oversees the U.S.-China relationship, which is expected to become increasingly contentious, the U.S. will be dealing with one of the savviest, experienced and most feared Chinese official.
https://www.axios.com/newsletters/axios-china-35465d09-256b-49d0-9f27-34371dc74ab6.html?chunk=3#story3
4. Chinese internet population hits 772 million
The most recent China Internet Network Information Center (CNNIC) report (in Chinese) again shows the massive size of China's internet.
The key points, translated into English by Technode:
772 million users
40.74 million new users in 2017
55.8% internet penetration rate
753 million mobile internet users
65.5% of mobile internet users used their phone to pay for things
Why it matters: Increasing internet censorship does not appear to stifle economic activity or innovation, and the scale of the PRC internet economy makes it obvious why Facebook and other U.S. firms seem willing to make many compromises to enter the market.
https://www.axios.com/newsletters/axios-china-35465d09-256b-49d0-9f27-34371dc74ab6.html?chunk=4#story4
5. Concerns on liquidity crunch for giant conglomerate HNA
The PRC leadership has repeatedly stressed the need to reduce the threat to the financial system from "grey rhino" risks like ≈ conglomerates.
By the numbers: HNA Group, founded in Hainan and the owner of the province's airline and two of its airports, is one of the most indebted of these conglomerates. Bloomberg reported earlier this week that HNA faces a loan repayment shortfall of $2.4 billion in the first quarter.
The New York Times reported Thursday that HNA is aggressively asking its own employees to loan the company money.
Unlucky timing for HNA: According to Bloomberg, China is considering allowing gambling in Hainan. While normally this would be benefit HNA, because of steps it may have to take to alleviate its debt, the conglomerate may miss out on this opportunity.
"Government agencies under a party reform group headed by President Xi Jinping are considering allowing online gaming, a lottery or sports betting in Hainan, said the people, who asked not to be identified because the discussions aren't public. The proposal, which is still in an early stage, could open the door to physical casinos over the long term, two of the people said. China currently bans gambling and casinos on the mainland," Bloomberg writes.
The bottom line: Beijing will not allow HNA to collapse, but if a bailout is needed, expect management changes with possible detentions, a shareholder restructuring, and a sale — even at a loss — of its many overseas assets.
https://www.axios.com/newsletters/axios-china-35465d09-256b-49d0-9f27-34371dc74ab6.html?chunk=5#story5
6. China intends to play a bigger role in Afghanistan
Beijing has sent a new ambassador to Afghanistan and, according to Afghan officials, is in talks to build a military base in the country, the Times of India reports. Per the article, PRC officials are worried about the threat of militants entering Xinjiang from Afghanistan and are very interested in Afghanistan's mineral wealth.
The details: Liu Jinsong is the new PRC ambassador to Afghanistan.
According to the South China Morning Post, his appointment "is a sign that Beijing wants the war-torn nation to play a bigger role in the strategy...Liu was raised in the northwest Xinjiang region and was a director of the Silk Road Fund established under the "Belt and Road Initiative."
AFP reports that:
"Worried about militants sneaking into a restive Chinese region from war-torn
Afghanistan
, Beijing is in talks with Kabul over the construction of a military base, Afghan officials say, as it seeks to shore up its fragile neighbour."
"The army camp will be built in Afghanistan's remote and mountainous Wakhan Corridor, where witnesses have reported seeing Chinese and Afghan troops on joint patrols."
Why it matters: There is potential for U.S.-China cooperation to improve the security environment in Afghanistan, and this is more evidence that China under Xi is going to play a larger, more assertive role outside its borders.
https://www.axios.com/newsletters/axios-china-35465d09-256b-49d0-9f27-34371dc74ab6.html?chunk=6#story6
7. Spring Festival travel madness has begun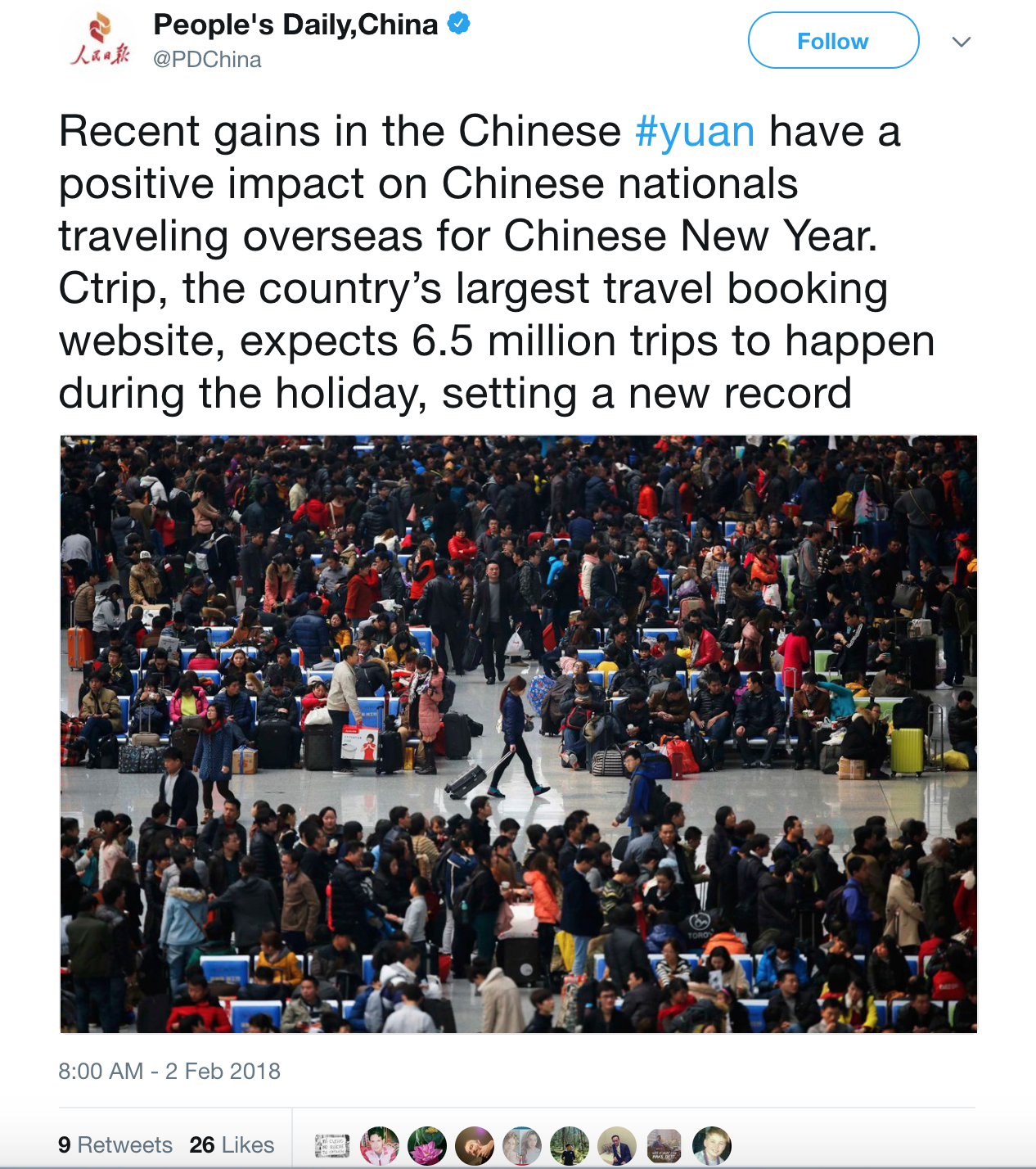 The Lunar New Year holiday, also known as the Spring Festival in China, has begun. New Year's Day falls on Feb. 16 this year.
By the numbers: Every year hundreds of millions of Chinese travel during the 40 day period around the holiday and the country basically shuts down for a week starting on New Year's Eve.
Be smart: Chinese travel patterns are shifting and more people are taking overseas vacations during the Spring Festival holiday. Online travel agency Ctrip reports via China News Service that:
Chinese overseas tourists will spend 9,580 yuan ($1,510) on average during the Spring Festival holiday, led by the most expensive trip — a journey to the Antarctic at 160,000 yuan;
The number of tourists who have booked Antarctic trips nearly doubled over last Spring Festival.
Get ready for the Year of the Dog.
https://www.axios.com/newsletters/axios-china-35465d09-256b-49d0-9f27-34371dc74ab6.html?chunk=7#story7