Axios China
January 25, 2019
The Year of the Pig begins on Feb. 5 and China's annual Lunar New Year migration has already begun. The official holiday lasts Feb. 4–10 but many people in China are already getting into holiday mode.
If you want a daily and deeper look at China, please check out my daily Sinocism China Newsletter, now with a 20% discount for Axios readers. Plus, follow me on Twitter @niubi.
1 big thing: Party leadership prepares for risks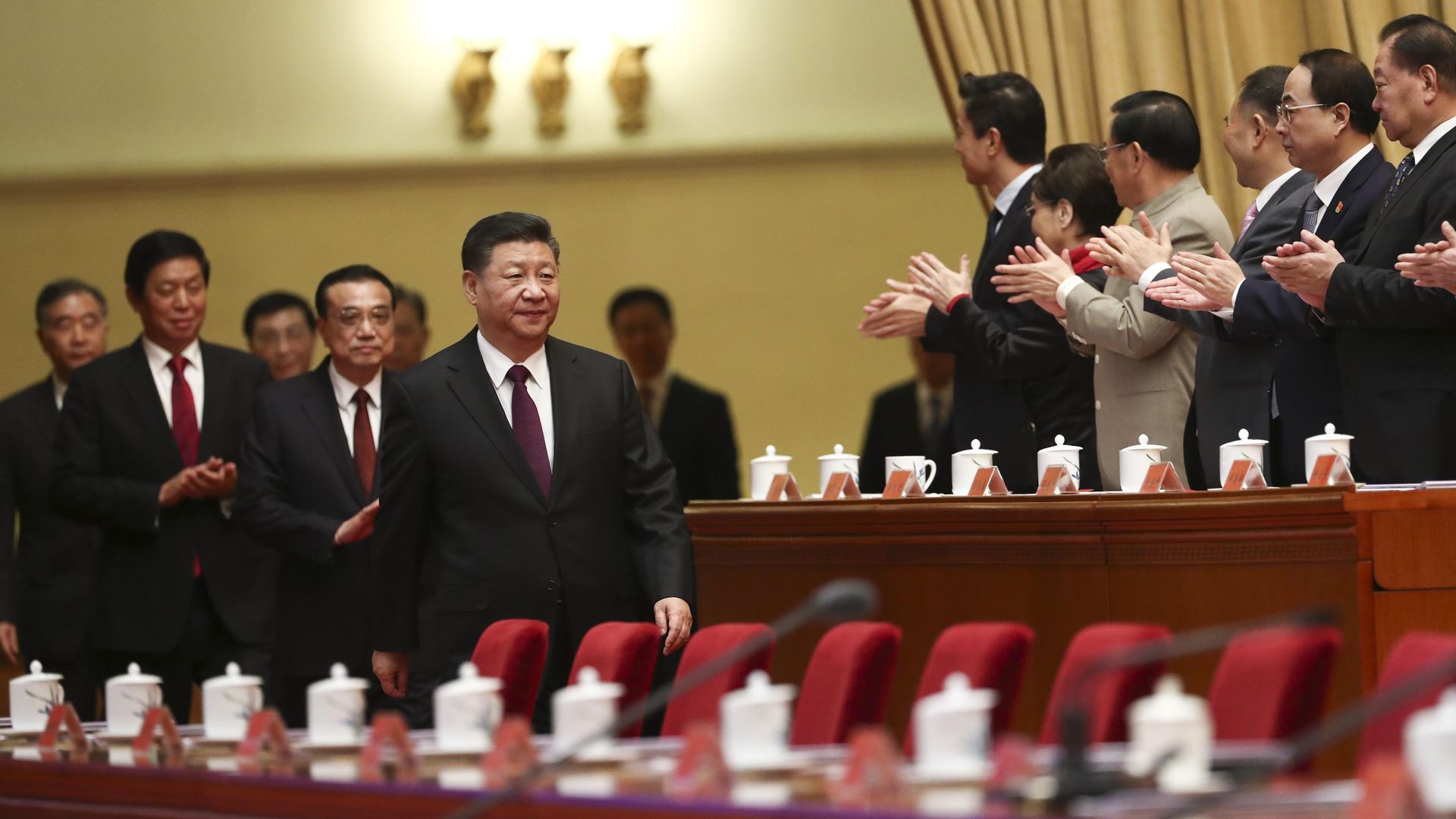 Last week, this newsletter suggested that a big political meeting would happen this week, but rather than the Fourth Plenum it could be a meeting of provincial and ministerial-level officials similar to the one held the summer of 2017 before the 18th Party Congress.
Sure enough, Chinese President Xi Jinping convened a seminar of provincial and ministerial-level officials on "preventing and defusing major risks to ensure sustained and healthy economic development and social stability." Per Xinhua...
In his speech, Xi analyzed and raised specific requirements on the prevention and defusion of major risks in areas including politics, ideology, economy, science and technology, society, the external environment and Party building.
Quick take: Xi is telling the party that it should prepare for heightened risks across every dimension. The seminar lasted 4 days, a duration that is a clear sign of the intensity of concerns.
Why it matters: Xi's ability to convene and chair this meeting should be seen a sign of his strength in the party, not weakness. He is laying the groundwork for even more ideological tightening and enhanced social control in face of the economic issues and the many sensitive anniversaries in 2019.
These include the 100th of the May Fourth Movement, the 30th of the Tiananmen Square crackdown, and the 70th of the founding of the PRC.
The bottom line: The Year of the Pig looks like it may be an especially nasty, brutish year in China.
Go deeper: Samantha Hoffman writes in Foreign Policy...
The party leadership uses anxiety to shore up loyalty within the party and to convince Chinese society of its need for the party's protection. Anxiety is a tool. Whether it is real or manufactured, or for the party's internal consumption or the public's, is almost irrelevant. There must always be an enemy to create anxiety.
2. A big week ahead in U.S.-China trade talks
Another week with no public progress in U.S.-China trade talks but plenty of leaks, conflicting comments and stock market moves based on them.
What's next: The next important episode in the talks will be Politburo member and Vice Premier Liu He's visit to D.C. next week.
Liu may be bringing an offer of more significant structural concessions but do not expect major breakthroughs next week.
The deadline for this round of talks is March 1 and it would be surprising if the Chinese side put its best offer on the table so far from that date.
Yes, but: China runs the risks of offering too little again, so the pressure is on Liu and his team to at least show the U.S. side they are sincere, because if Liu leaves D.C. and the word out of the talks is the two sides are still far apart then the markets may get nervous.
My thought bubble: Chill out ... this will continue to be a grind, but I still believe Xi is very motivated to make a deal, the trade war is one more risk he does not want right now.
More importantly I hear he is very concerned about the push from some U.S. officials towards "decoupling" and so views a deal as a way to blunt those forces even as the U.S.-China competition heats up across multiple dimensions.
3. Bad news ... It wasn't the trade war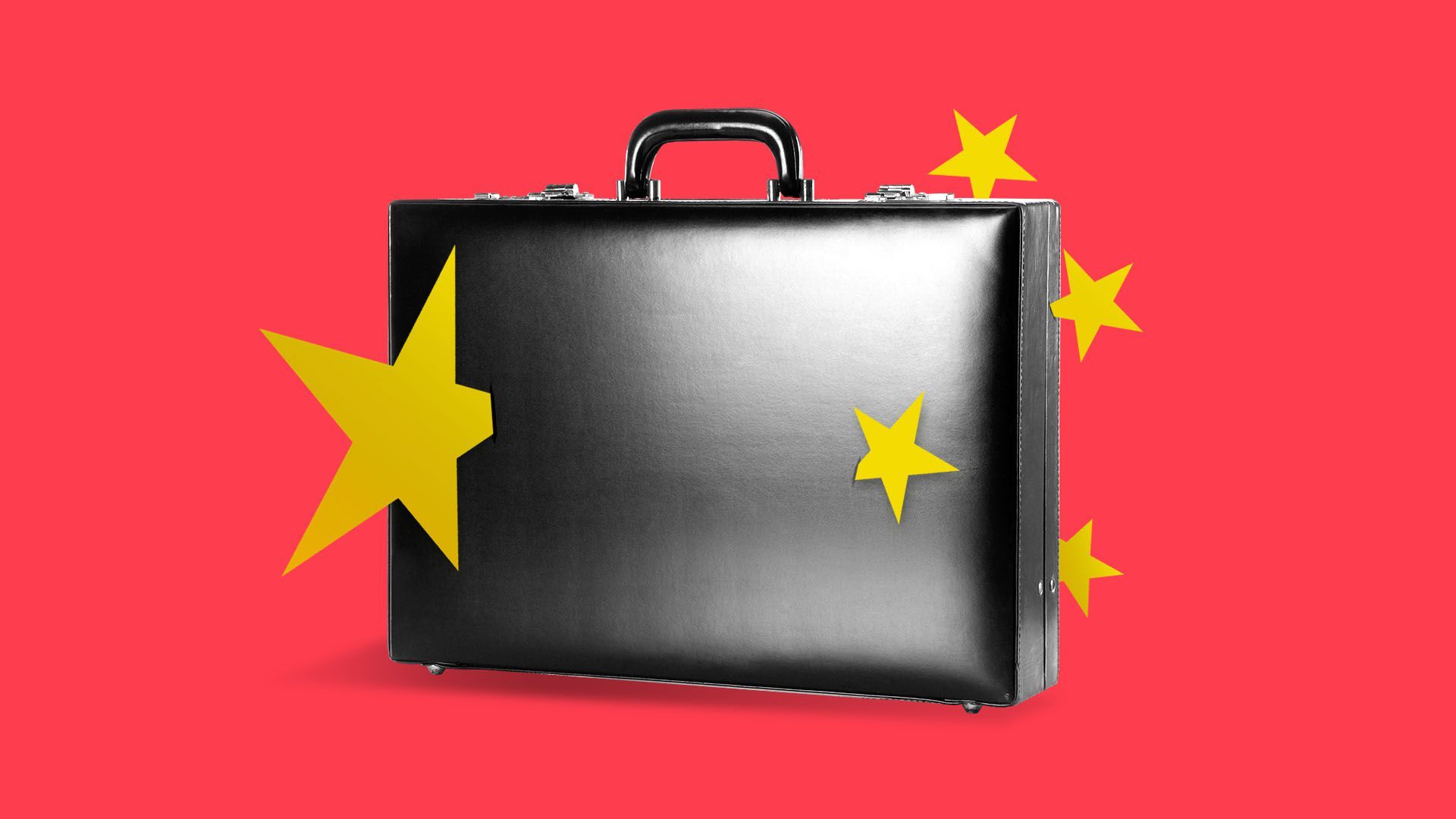 Axios' Courtenay Brown and Dion Rabouin write ... U.S. companies with significant exposure to China have seen their stocks tumble since President Trump's opening salvo in the trade war. But it wasn't really China or the oft-invoked trade tensions that hurt those companies.
The big picture: Chipmakers like Skyworks, Qorvo, Qualcomm and Micron, along with Wynn Resorts, top the list of S&P 500 companies that make their biggest share of revenue in China, data compiled by Goldman Sachs shows.
All of those stocks are deeply in the red since Trump took the first steps toward a full-blown trade war on Jan. 22.
Yes, but: An Axios analysis shows shareholders weren't punishing these companies because of their exposure to China. 14 of the top 20 companies most exposed to China are semiconductors — an industry that suffered during this period, thanks to a sector-wide slowdown. Those stocks fared no worse than an exchange-traded fund tracking the industry, which fell 14%.
Semiconductors were bound to suffer, regardless of a trade war, thanks to slowing demand for memory chips, rising inventory levels and falling prices, Sebastian Hou, an analyst at CLSA, told CNBC last year.
More consumer-focused companies like Nike (which nets 12% of of its revenue from Greater China) saw their stock prices increase, in line with the consumer discretionary sector which outperformed the broader market.
Rather than a broad-based China slowdown, data shows individual companies saw largely individual results. For instance, shares of Advanced Micro Devices (AMD), which generates about 30% of its sales in China, jumped almost 60% since last year.
Go deeper:
4. 1 fun thing: Trump's tweets in Chinese
Anna Fifield of the Washington Post profiles Zhang Jiaqian, who has taken on translating Trump's tweets in his free time. (Trump's tweets stretch the rules of English. Try translating them to Chinese). Per WashPost...
"If we want to win the trade war, if China is going to make the right policies, we need to understand Trump," he continued in passable English he taught himself. "He may be reelected in 2020, so we may have to cope with him for a long time." ...
What Trump conveys in a word takes Zhang whole sentences to contextualize. He had to introduce his followers to Stormy Daniels. "Pocahontas" was particularly time-consuming. To explain why a Kardashian was visiting the Oval Office, he had to first explain what a Kardashian was.
Yes, but: He has to avoid any of the tweets about China.
"When he criticizes China, it's sensitive," Zhang said. "The Chinese government doesn't like China being seen as the bad guy. So I just don't translate those tweets."
5. Huawei expects to be world's top smartphone maker by year-end ...
Dion writes ... Despite being blackballed from the American market as U.S. regulators explore legal and possibly criminal action against the company, Huawei has been growing its share of the smartphone market and has an ambitious goal for the end of the year.
"Even without the U.S. market we will be number one in the world," Richard Yu, Huawei's consumer division chief, said at a new-product news conference in Beijing this week. "I believe at the earliest this year, and next year at the latest."
Between the lines: With chief financial officer Meng Wanzhou set to appear in court on Feb. 6 and likely to stand trial this year, Huawei could become the first telecommunications company to have the world's top-selling smartphone while its CFO is in jail. Shades of the late Tupac Shakur.
6. ... but its overseas troubles are mounting
Speaking of Huawei, the company's position in Europe may have just gotten more complicated.
What's new: The Polish espionage case centered around now fired Huawei employee Wang Weijing could lead to a rethink of Huawei's European marketshare. The Wall Street Journal reports:
Part of the investigation — which officials said Poland is coordinating with the U.S. — involves events at the country's elite Military University of Technology, whose graduates often go on to take sensitive security and military jobs..
Mr. Wang had visited the university in conjunction with a contest run by Huawei called "Seeds of the Future," according to the university. In recent years, students there have been among the winners of the contest, which offers all-expenses-paid trips to China, including a week at company headquarters in Shenzhen.
Quick take: The Poland case may be a useful lever for the U.S. to convince European countries they need to "de-Huawei," as WSJ points out here...
Senior U.S. officials say they are exploring how to roll back the deep involvement of Chinese companies such as Huawei in the economies and infrastructure of Poland and other European countries.
"We are figuring out how to deal with that," said a senior U.S. official with detailed knowledge of the region. The broader telecommunications infrastructure is at risk "now that some countries have been infected."
The big question: Is this U.S. exploration of "roll back" unfair? Joe Tsai, executive vice chairman of Alibaba, told a Reuters event in Hong Kong that it is...
I think what the American government and together with the Five Eyes Alliance — what they're trying to do with Huawei — is a bit unfair, there's definitely a political agenda behind it."
My thought bubble: It does not matter if some people think what is happening to Huawei is "unfair" and part of an "political agenda." The tide has turned against Huawei amongst most key U.S. allies.
Go deeper:
7. Alibaba moves into sports
Axios' Michael Sykes writes for the Axios Sports newsletter ... Chinese tech giant Alibaba is using its unparalleled reach across e-commerce, logistics, entertainment and travel to change the way its users consume, interact with and participate in sports.
Driving the news: The company's sports arm, Alisports, is leveraging Alibaba's expansive ecosystem and gigantic user base (over 600 million active users) to move into the world of organized sports, Bloomberg recently reported. Per the piece...
Using marathons as a guinea pig, it's scooping up broadcast rights and collecting information on participants and viewers to sell them everything from running shoes to health insurance.
Fans watching the event on the company's Youku streaming service can even send virtual gifts and tips to their favorite runners.
The big picture: Once this strategy is replicated across other sports, Alibaba will slowly begin to involve itself in nearly every aspect of the Chinese sports market: media, advertising, retail, events, fitness and health.
The bigger picture: This will provide a blueprint for how other platforms like Amazon and Twitter should — and shouldn't — go about using big data to penetrate the sports market.
P.S. Speaking of Alibaba, the company's co-founder and executive vice chairman Joseph Tsai — who already owns 49% of the Brooklyn Nets — officially purchased the WNBA's New York Liberty yesterday.
8. Invasive species could hitch ride on China's Belt and Road
Axios' Andrew Freedman writes ... China's ambitious Belt and Road Initiative, a program to fuse Asia with Africa and Europe via land and maritime networks, has the potential to forever alter the biodiversity of key habitats on multiple continents, a new study warns.
Why it matters: By connecting regions through large infrastructure projects — including ports, railways and telecommunications networks — scientists fear the project could accelerate the spread of invasive species.
What they did: The new study, published Thursday in Current Biology, uses a comprehensive risk analysis to find the areas most vulnerable to the introduction and spread of 816 different invasive species — including amphibians, reptiles, birds and mammals.
What they found: Most of the high-risk areas fell along the 6 corridors that have been proposed for the project, study co-author Yiming Li, CAS professor of animal ecology and conservation biology, tells Axios. Some of the species studied include...
The African clawed frog is an invasive species that destroys native populations of frogs.
The ship rat has "directly caused the extinction of many species including birds, small mammals, reptiles, invertebrates, and plants, especially on island ecosystems," per Li.
The authors recommend that a fund be established to help countries monitor for the spread of invasive species and to combat them, Li says.
Go deeper:
Bonus: Worthy of your time