July 13, 2018
Happy July 13! I am off next Friday so the next issue will be July 27.
Thanks for reading, and if you want a daily and deeper look at China, please check out my daily Sinocism China Newsletter and follow me on Twitter @niubi.
1 big thing: U.S. "slander" and "lunatic ravings"
China's Ministry of Commerce (MOC) issued a long statement Friday in response to the U.S. Trade Representative Robert Lighthizer's July 10 statement announcing the U.S. would start the process to impose 10% tariffs on $200 billion more of Chinese imports in the next few months.
Among the highlights, per the MOC statement:
The slander of the United States against China about gaining extra advantage through unfair trade practice is a distortion of facts and hence is groundless.
For the purpose of meeting its political need at home and containing China, the U.S. side produced a whole set of policy logics that distorted the truth of China-U.S. economic and trade relations. As a matter of fact, underlying problems in the American economy and society are purely caused by domestic, structural reasons in the United States..
The United States accused China's countermeasures have no international legal basis, but in fact it is the U.S. unilateral initiation of a trade war that has no international legal basis at all...
It is fair to say that this largest trade war in the economic history launched by the United States is not a trade war between the United States and China, but a global trade war. Such U.S. practices will drag the world economy into the "cold war trap", "recession trap", "anti-contract trap" and "the trap of uncertainty", seriously worsen global economic and trade environment, destroy global industrial chain and value chain, hinder global economy recovery, trigger global market fluctuations and hurt the interests of numerous multinationals and average customers in the world.
My thought bubble: PRC official media response to the trade war has been relatively restrained, for now. It takes a while for the system to decide upon responses, and while is there still time to negotiate before the next round of tariffs, the government likely wants to keep the vitriol manageable. But there still have been some angry words in official media this week:
People's Daily: A Thursday commentary on page two referred to the "lunatic ravings of the White House 白宫这种痴人说梦." The abridged, official translation of that piece — U.S. bullying practices are a global provocation — left out the bit about lunatic ravings but did write that "Washington has lost its rationality."
China Media Group (中央广播电视总台): A commentary (which has no official translation) on Thursday concludes by saying that "more Americans may start to wonder where a government that has lost reason and is nearly insane is taking its country." 
What's next: Beijing will keep working on U.S. firms to lobby the White House to back down. Tesla CEO Elon Musk was the latest target, the South China Morning Post reports. He was given the full treatment by Vice President Wang Qishan, who's often called the PRC's top "barbarian handler."
Go deeper:
2. China's currency drop
In Axios Expert Voices, CFR's Brad Setser writes ... Since the middle of June, China's currency — the yuan — has fallen more than 3% against the dollar, and by a bit less against the currencies of China's main trading partners. After a particularly large drop last Monday, China is reported to have intervened to limit the yuan's fall.
Why it matters: Few prices matter more to the global economy — or to global trade — than the value of China's currency. A weaker yuan supports China's exports and generally pushes down the currency values of countries that compete most intensely against China in global markets.
The background: China manages its currency, so changes in its value never reflect just the moves of an unfettered market. But it isn't clear if the yuan's recent depreciation stemmed from a swing in market consensus — i.e., that China's currency needed to fall because of economic slowdown and pending U.S. tariffs — or from a conscious decision by China's government to weaken its currency to support its exports ahead of the tariffs.
The big picture: On one hand, a weaker currency gives China a way of retaliating against the U.S. even after it maxes out on its ability to match U.S. tariffs dollar for dollar. On the other, additional depreciation might invite Trump to accuse China of starting a currency war — and it also runs the risk of triggering a reprisal of the capital outflows that followed the yuan's surprise depreciation in 2015.
Read the full piece by Setser, who's the Steven A. Tananbaum senior fellow for international economics at the Council on Foreign Relations.
My thought bubble: China can obviously control the direction of the RMB in at least the short to medium term, so interpreting the most recent moves as signaling to the U.S. is not illogical.
But is the threat of a significant devaluation in the face of a U.S.-China trade war really credible, given the damage to domestic sentiment and subsequent increased capital flow pressure such a move would cause?
And, let's not forget the fact that a competitive devaluation would blemish the image China and Chinese President Xi Jinping have worked so hard to cultivate since Davos 2017 — that China is a responsible major economic power and upholder of the global trading system.
3. ZTE is saved, but the lesson is not lost on Xi
The U.S. officially lifted its ban on ZTE today that will allow it to survive, and the company's shares soared.
Between the lines: The dangerous reliance on foreign and especially U.S. technology is at the top of Xi's mind. Xinhua reports he chaired another meeting Friday to discuss "improving innovation capabilities for key, core technologies":
Key and core technologies are crucial to a country and bear major significance for promoting China's high-quality economic development and maintaining national security, Xi, also head of the Central Committee for Financial and Economic Affairs, said at a meeting of the committee on Friday.
China must improve innovation capabilities for key and core technologies and keep a firm hold on the initiative in the development of science and technology to offer a strong technological guarantee for China's development, Xi pointed out.
Flashback: As I wrote in the April 20 newsletter ...
...the episode has strategic and propaganda value for Beijing. The timing of the announcement — right before the 2nd anniversary of an important speech on cybersecurity and technology made by Chinese President Xi Jinping — only serves to strengthen the point he's been making about the need to reduce reliance on foreign, and especially American, technologies.
China cannot reduce its reliance overnight but they are closer than they were 2 years ago. The ZTE decision, especially in the context of the worsening U.S.-China relationship, will lead to a redoubling of the PRC's efforts to de-Americanize its core information technology stack and achieve the goals laid out in the "Made in China 2025" Plan.
Quick take: The ZTE case may end up being a pyrrhic victory for the U.S.
4. Liu Xia is released to Germany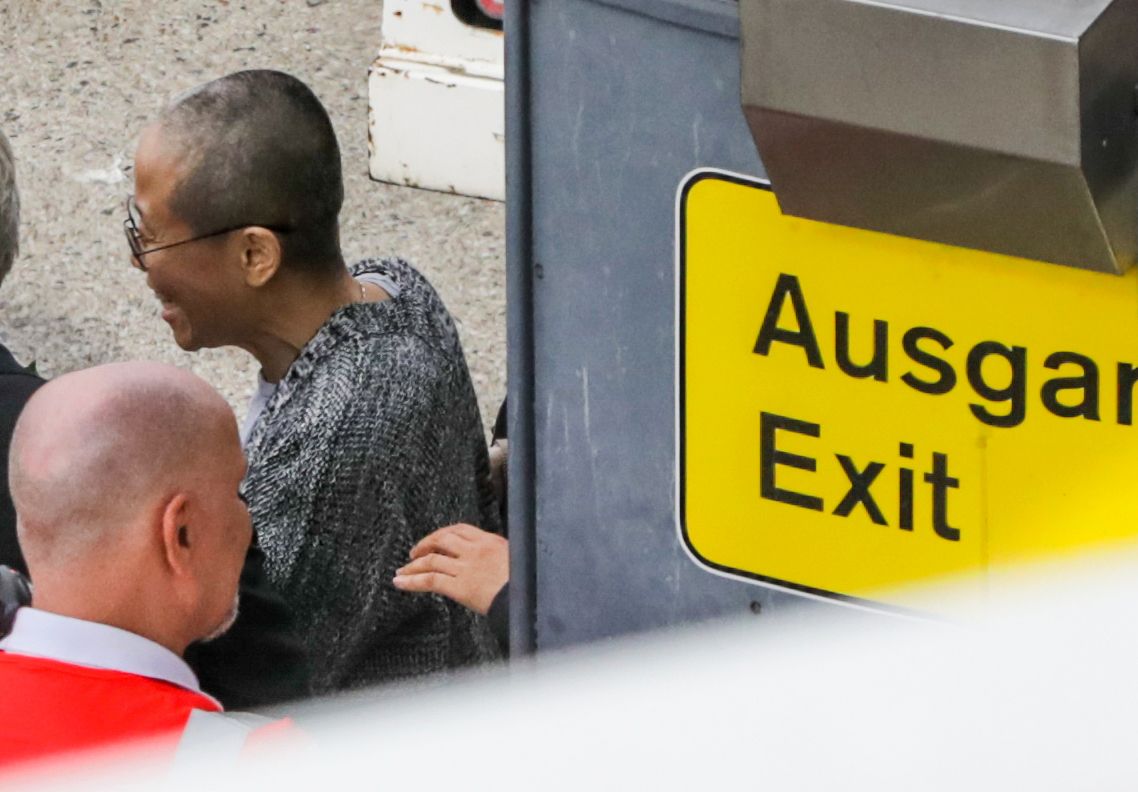 Liu Xia, widow of Nobel Peace Laureate Liu Xiaobo, who died in custody one year ago today, flew to Germany earlier this week. Jane Perlez and Ian Johnson of the New York Times explain How Germany Won Freedom for the Widow of China's Most Famous Dissident:
The decision by the Chinese government to release Ms. Liu days before the anniversary of her husband's death sprung from the passionate interest in her fate by Chancellor Angela Merkel of Germany, who requested Ms. Liu's release during a meeting with her Chinese counterpart, President Xi Jinping, an unusual move by a Western leader.
That request coincided with China's realization that Ms. Liu, a talisman of international human rights groups, had become a liability just as China's image was taking a battering in the United States and Europe over what are considered predatory economic policies and increasingly authoritarian rule.
Beijing calculated, diplomats said, that events planned in Germany on Friday to commemorate Mr. Liu's death risked turning starkly negative if Ms. Liu were still under house arrest in Beijing, unable to talk to anyone but a few people, and forbidden to move freely beyond her apartment building.
Why it matters: Liu's release demonstrates that concerted, high-level pressure from Western governments can still work. There has been much debate in recent years about whether to take a low-key approach to pressuring Beijing over human rights or to make the efforts public.
Dissident Liao Yiwu, also based in Germany now, released deeply disturbing tapes of Liu's anguish in May, despite what he says was pressure from Western diplomats:
"Can you keep a low profile dealing with a tyranny? Westerners do not understand that, but I do, because I came from that place."
Go deeper: Quartz's Why Berlin is the favorite city of Chinese dissidents.
5. 1 big read: Rio Tinto execs' jail time
Former Rio Tinto China executive Stern Hu was released from eight years in a Shanghai prison earlier this month. Bloomberg Businessweek has a new story looking at the case that sent him and three colleagues to jail:
Over the course of three years, however, more than 20 sources—including current and former government and intelligence officials, current and former Rio Tinto employees and executives, and private security consultants — revealed details of Hu's incarceration, the company's interactions with Chinese officials, and the hacking allegations. ... Many said the experience had been unforgettable, even traumatic. One former executive called it the most nightmarish period of his career. Taken together, their accounts portray one of the first and most devastating instances of China's now-famous hackers spying on a Western corporation, and a cautionary tale about the country's ability to influence global trade.
Of note: Bloomberg says its sources asked not to be identified, Rio declined to comment, and the Chinese government denied any knowledge of a targeted campaign.
Go deeper: Read Bloomberg's When Rio Tinto Met China's Iron Hand.
6. Chinese firm roots for Croatia to beat France
Kitchen-appliance maker Vatti came up with a clever marketing scheme around the World Cup, Caixin reports:
Back in May, Vatti promised that anyone who bought a specific set of "championship products" in June would receive a full refund of the purchase price if France were [go] to the tournament. The full product set, which cost up to 4,999 yuan, included a gas stove and a ventilator. The company later extended the purchase deadline to receive the refund to July 3.
The bottom line: If France wins Sunday the company will be on the hook for nearly $12 million in refunds.
7. Don't vape and fly
On Tuesday, an Air China flight from Hong Kong to Dalian dropped 25,000 feet in just a few minutes, causing the oxygen masks to deploy.
The cause? One of the pilots was vaping and tried to hide the smell, as The South China Morning Post explains:
CAAC, which seized the aircraft's flight data and voice recorders and interviewed crew members, said preliminary investigations found that the co-pilot had, without telling the pilot, attempted to turn off a circulation fan to prevent e-cigarette smoke from reaching the cabin.
"[But the co-pilot] mistakenly switched off the air-conditioning unit that was next to it, resulting in insufficient oxygen in the cabin and an altitude warning," said Qiao Yibin, of the authority's safety office, at a press briefing on Friday, according to state-run Xinhua news agency.
8. Worthy of your time
China Heritage — Mendacious, Hyperbolic & Fatuous — an ill wind from People's Daily by Geremie R. Barmé
SSRN — Party Ideology and Chinese Law by Rogier Creemers
South China Morning Post — China to send strategic bombers, fighter jets for war games in Russia
TV.81.cn — Music video of theme song for 2018 PLA recruitment drive (2018解放军征兵宣传片主题曲《青春不一样》 吴京李晨杨幂等激情演绎)
Buzzfeed News — Spy For Us — Or Never Speak To Your Family Again
Magpie Kingdom — Chinese Web Novels Launch Gold Rush for Adaptation Rights
Pandaily — Web Reshapes the Lives of China's LGBT Community
The New York Times — Years After Retiring, Li Na Wields Major Influence in Tennis
The Strategist — The African Union headquarters hack and Australia's 5G network
The Information — China's Huawei Plots AI Push With 'Project Da Vinci'
CNBC — Apple announces $300 million clean energy fund in China