Axios China
March 15, 2019
Happy Friday! I am off for Spring Break for the next two weeks, and will be back in your inbox the first week of April.
Was this email forwarded to you? Sign up here.
1 big thing: U.S.-China trade deal won't happen this month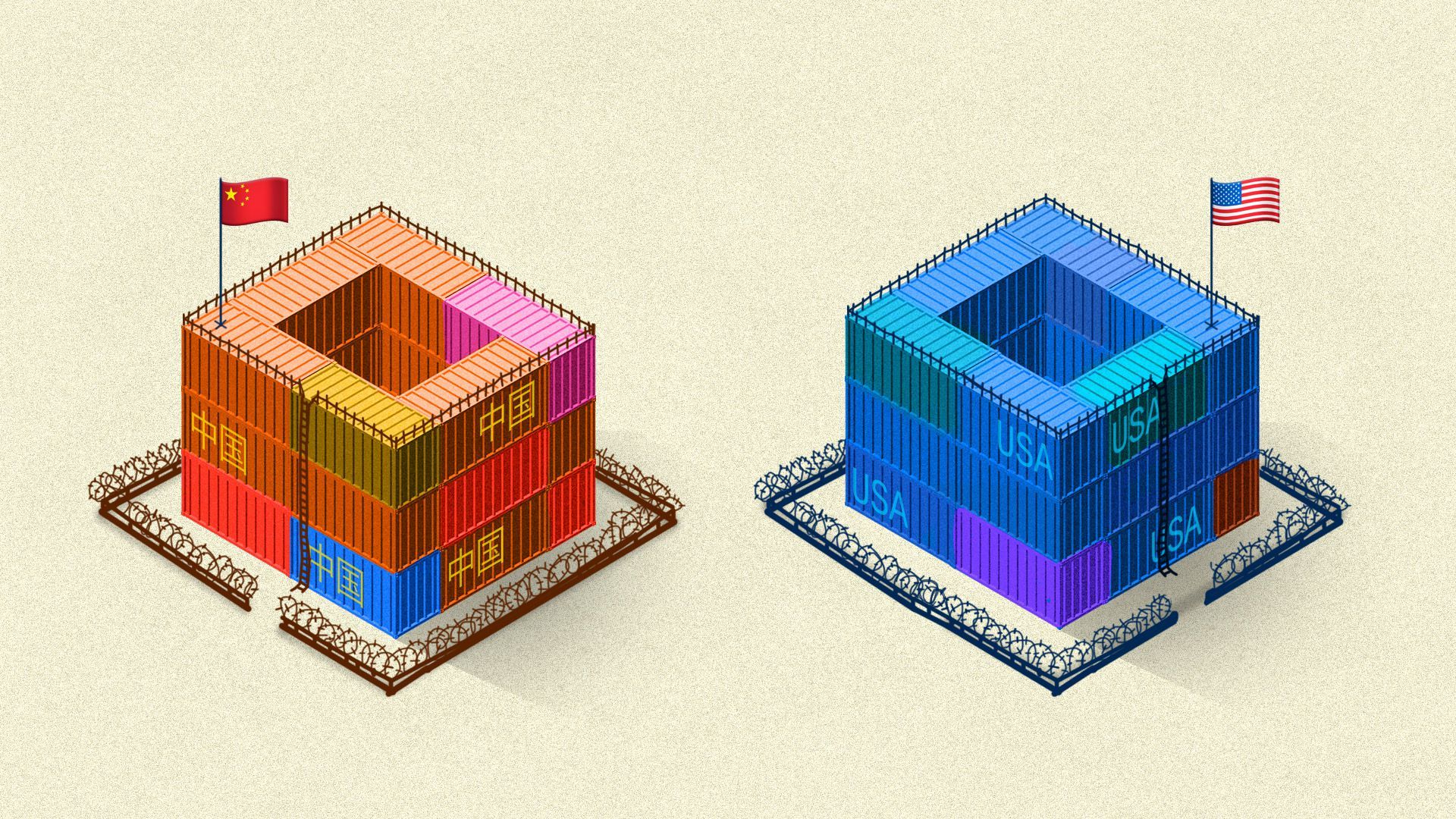 The U.S.-China trade negotiations show will continue into April at least.
Driving the news: There had been fading hope that President Trump and Chinese President Xi Jinping would meet at the end of March to sign a deal, but on Thursday Trump said "we are going to know over the next three to four weeks" and Treasury Secretary Mnuchin said a summit will not happen in March.
The two sides are in regular contact and Xinhua reported that:
Vice-Premier Liu He spoke by phone on Thursday with US Treasury Secretary Steven Mnuchin and US Trade Representative Robert Lighthizer, making further substantive progress on trade talks.
My thought bubble: Bloomberg reported Thursday morning that a Trump-Xi meeting would be in April at the earliest and stock markets did not seem to care. Extending the talks may be a sign the U.S. is not going to settle for a weak deal as many have feared, and in the meantime the markets and businesses seem to be getting used to the existing tariffs and the trade negotiations purgatory.
Go deeper:
2. "Two Meetings" conclude without surprises
The annual meetings of the Chinese People's Political Consultative Congress and the National People's Congress concluded this week.
There were no big surprises:
The 2019 GDP growth target was set to 6%–6.5%.
The government continues to resist large and unfocused monetary stimulus, instead pushing tax cuts, administrative streamlining and improving the business environment.
"We are not going for monetary easing, but trying to provide effective support to the real economy," Premier Li Keqiang said.
The new foreign investment law passed and will go into effect Jan. 1, 2020. On paper it addresses many concerns of foreign investors and governments but it is hard to get too excited until we see how it is implemented and enforced.
My thoughts: 2019 looks to be another difficult year for the PRC economy but while the government looks willing to accept more economic pain it will step in with more significant stimulus if things really go off the rails. 2019 is an especially sensitive year given several big anniversaries — 100th of May 4 Movement, 30th of Tiananmen Square, 70th of the founding of the PRC — and Xi kicked off 2019 by convening a 4-day meeting of senior leaders to focus on risks to Party rule.
Go deeper:
3. Parched Beijing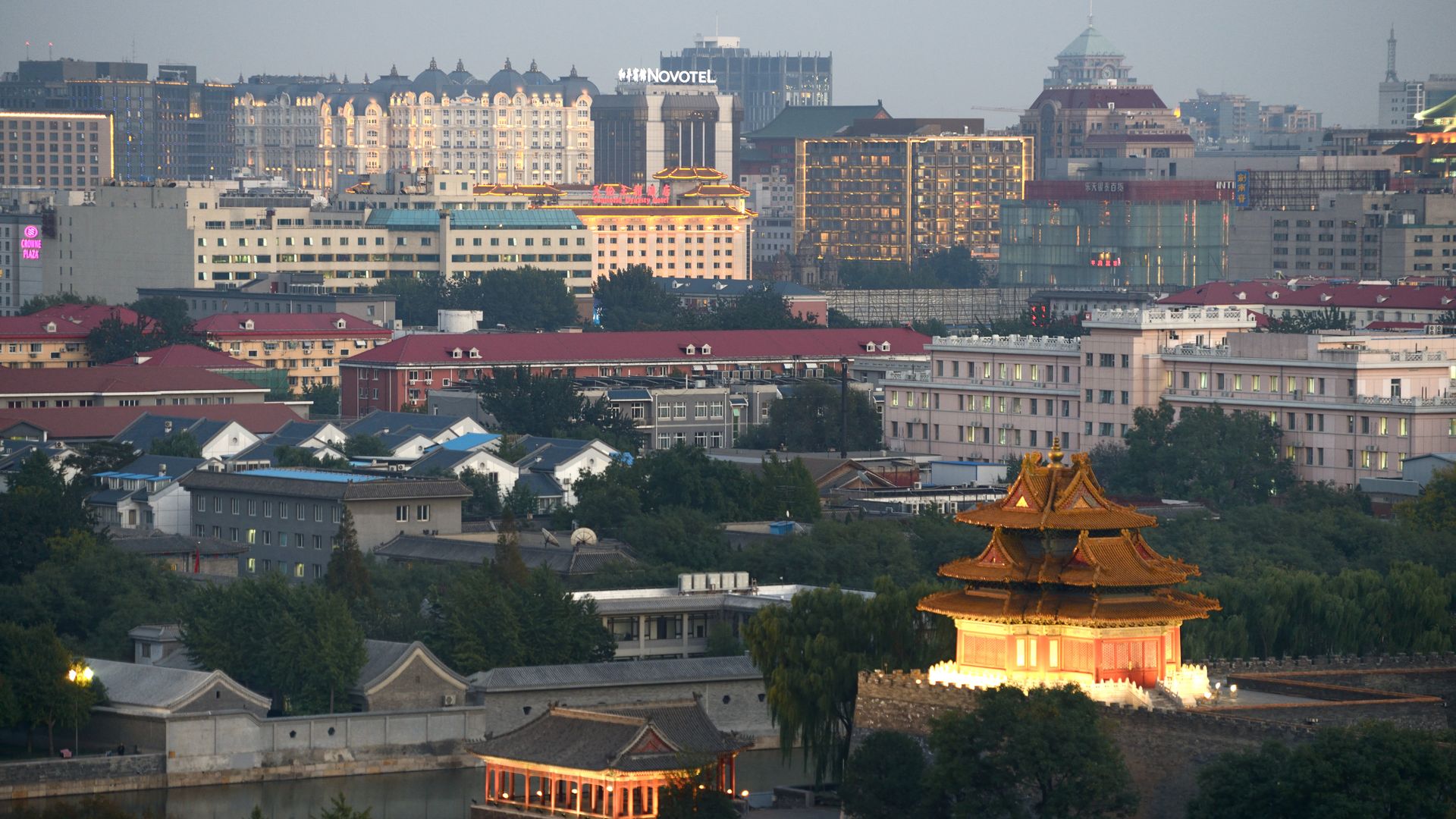 The Two Meetings are the most public annual demonstration of the PRC's "consultative democracy" and so every year there are interesting comments by some of the more courageous delegates.
Details: This year one CPPCC member warned about Beijing's water shortage, as Caixin reports:
Beijing has become over-reliant on water diverted from the Danjiangkou Reservoir, which is part of the Yangtze River system in Hubei province, said Zhong Zhiyu, chief engineer and professor at the Changjiang Water Resources Commission's Changjiang Institute of Survey, Planning, Design and Research...
Currently, 70% of Beijing's water prepared for daily use comes from the diversion project, greatly reducing the amount of water in the Danjiangkou Reservoir. While the greater reliance on supplementary water has slowed the depletion of already-low underground water sources in the area, potential exhaustion of the reservoir could have serious consequences for cities that rely on the diverted water, Zhong said...
The second problem that Zhong noted was that overall demand for water is continuing to increase. With economic development, populations in regions getting diverted water through the massive infrastructure project have grown, requiring more water.
Why it matters: Xi and the Party have massive development plans for Beijing and its surrounding region, from the Beijing-Hebei-Tianjin integration plan to the construction of an entirely new city in Xiong'an, Hebei. Water, unlike debt, can not just be conjured out of nowhere, and it may turn out real liquidity may be the ultimate constraint on Beijing's future plans.
Go deeper:
4. Dueling human rights reports
Every year, the U.S. and China release reports on the human rights situations in each other's country.
What's happening: Per Xinhua, some of the highlighted issues in China's report include:
The severe infringement on citizens' civil rights.
The prevalence of money politics, the rising income inequality.
Worsening racial discrimination, and growing threats against children, women and immigrants.
Human rights violations caused by the unilateral America First policies.
Gun violence.
The report also noted that:
[T]he environment for the press in the United States has further deteriorated ... the U.S. government has often publicly and vehemently accused the media and journalists of making "fake news", creating an intimidating and hostile environment.
Some of the highlighted issues in the U.S. State Department's report on China include:
A significant intensification of the campaign of mass detention of members of Muslim minority groups in the Xinjiang.
Arbitrary or unlawful killings by the government.
Forced disappearances by the government.
Torture by the government.
Arbitrary detention by the government.
Political prisoners.
Physical attacks on and criminal prosecution of journalists, lawyers, writers, bloggers, dissidents, petitioners, and others as well as their family members;
Severe restrictions of religious freedom.
Why it matters: Pointing out America's shortcomings while denying its own serves China's broader strategy of slowly chipping away at America's credibility globally.
Go deeper:
5. China's global approval rating has surpassed the U.S.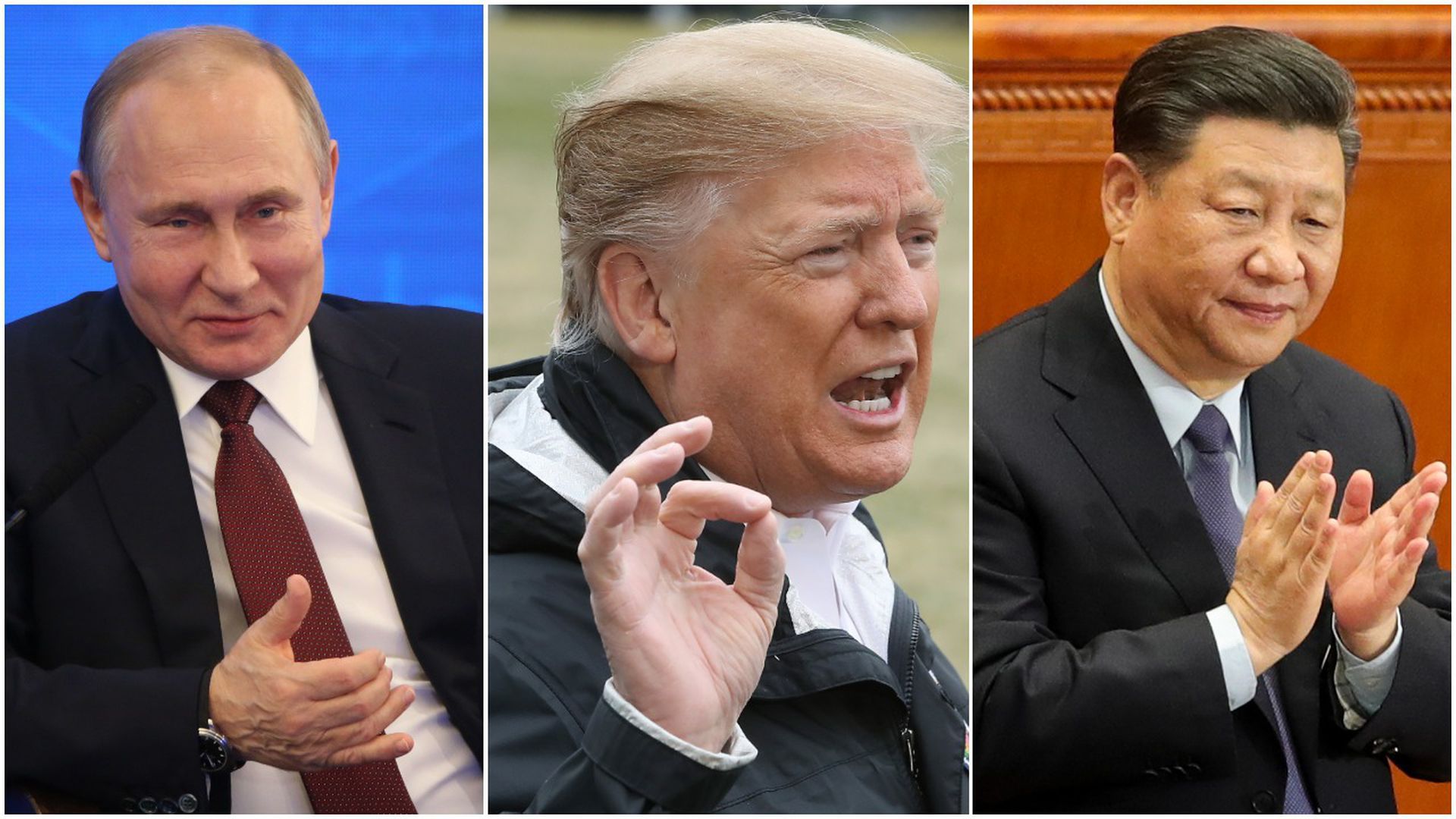 From Axios' Orion Rummler: China's median global approval rating has surpassed the U.S. at 34%, the country's highest score since 2009, Gallup reports in a newly released survey.
Where it stands: The U.S. approval rating for 2018 stands at 31%, only a 1% increase from the "new record low" seen during the first year of Donald Trump's presidency, per Gallup. 2018 also marks the first time that the global approval rating of Russia — currently at 30% — has been on equal ground with the U.S.
PRC media reaction: CGTN, the overseas of CCTV, concluded that:
This low rating may have implications for the U.S.' soft power. It suggests that the unpredictability of the Trump administration and its lack of commitment to international obligations are sowing doubts abroad.
Our thought bubble, per Axios' Dave Lawler: It's well-documented that global views of the U.S. — which always shift based on who's in the White House — have fallen dramatically under Trump. What's interesting is that views of China and in particular Russia, generally considered a malevolent power in the U.S., are ticking upwards.
Go deeper: Read Orion's full story.
6. 1 big read: Chinese trolls on Reddit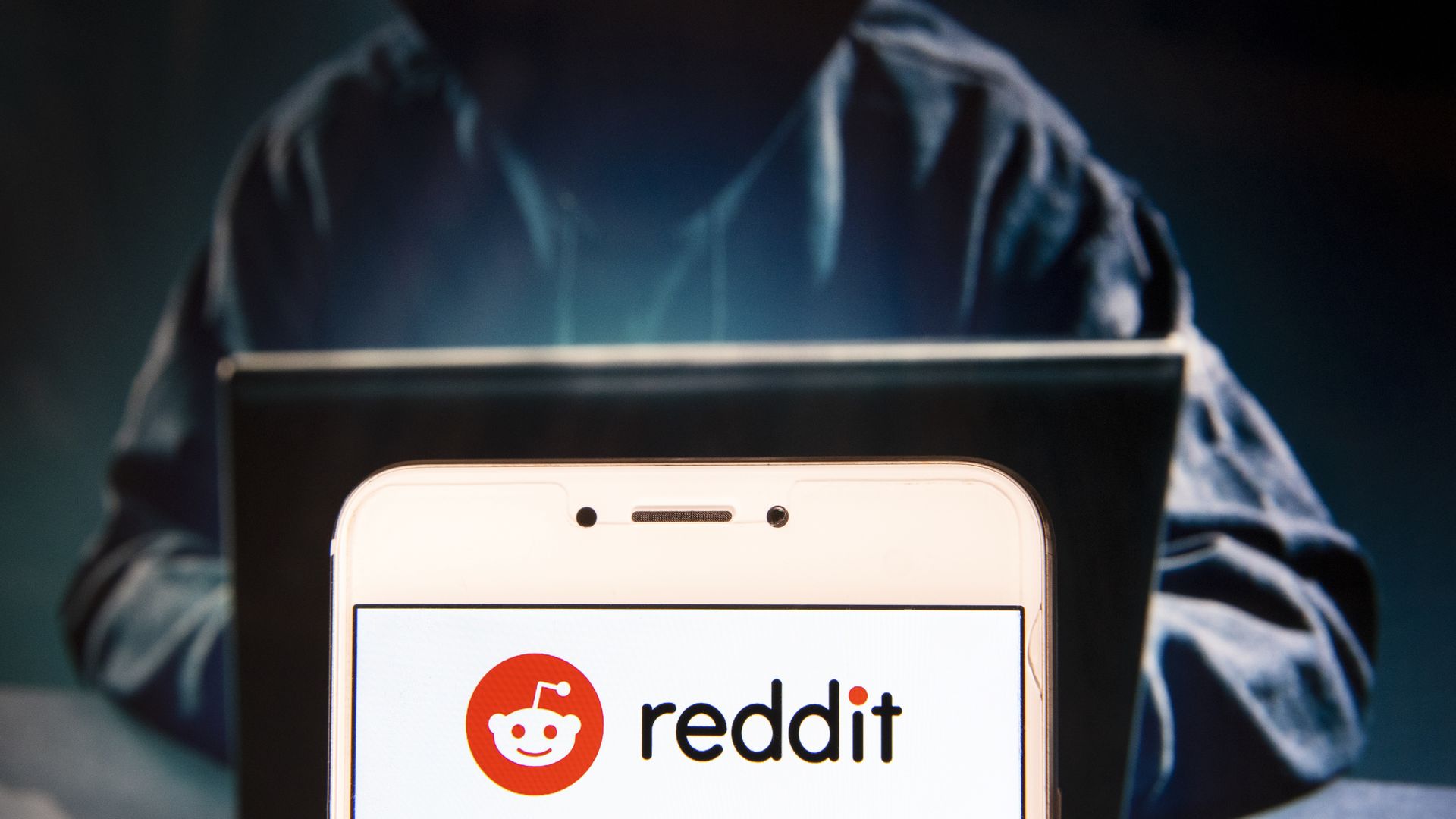 Russian trolls have lurked around Reddit for years, and it seems that China is getting involved, too.
Threat level: Craig Silverman of Buzzfeed examines the rise of pro-China activity on Reddit in Reddit Has Become A Battleground Of Alleged Chinese Trolls:
The sources say they've seen an increase in posts from newly created accounts that downvote anything critical of China, swarm threads to push pro–Communist Party views, or attack anyone criticizing the country...
While a BuzzFeed News analysis indicates that some of these accounts appear to belong to Chinese citizens based overseas acting in support of their country, there are also indicators that something more coordinated could be taking place...
One source familiar with the moderation practices of the /r/geopolitics subreddit, which they say generates roughly 1 million visits a month, called the influx of pro-China accounts and activity "the most active and aggressive" effort they've witnessed to date.
In the past, /r/geopolitics had been targeted by Russian trolls, who are generally the most well-known and active across various social media platforms. However, in our situation the pro-CCP effort vastly overshadows any operation by the Russians.
Read the whole piece here.
My thought bubble: This activity on Reddit aligns with a multi-year Chinese effort to gain greater global "discourse power" to shape the global discussion about China.