May 18, 2022
1 big thing: The CTU election
The Chicago Teachers Union holds its tri-annual election Friday.
Why it matters: The CTU has emerged as arguably the most powerful labor force in the city. Its moves affect hundreds of thousands of residents and rattle the mayor.
The big picture: The race is largely seen as a referendum on the broad progressive advocacy and combative styles of its current leaders, outgoing president Jesse Sharkey and vice president Stacy Davis Gates.
Challengers say they want less focus on political personalities and more on bread-and-butter issues like prep time and benefits.
Between the lines: There are three caucuses with candidates for president, including:
CORE: Davis Gates is running on continued progressive momentum and the leadership's record on:
Class size protections.
Cost-of-living raises and COVID-19 safety agreements.
Winning bargaining rights and a fully elected school board.
Members First: Mary Esposito-Usterbowski is pushing a platform of "change" through strategies like:
Engaging in collaboration "with all stakeholders."
Creating more transparency by posting CTU records "in a timely manner."
Using strikes and work stoppages as the last step.
REAL: Darnell Dowd leads this caucus of former CORE supporters "concerned about the direction of the CTU." REAL promises to:
"Track bully[ing] administrators" and "publicly call out toxic school leadership."
"Include a minimum of two rank-and-file members" in most bargaining discussions.
"Add a CTU hotline" to address member needs in a timely manner.
What's next: A caucus needs to win more than 50% of the vote, which ends Friday, to avoid a runoff.
2. The new Chicago (map)
The new ward map was approved on Monday with a 43-7 council vote.
Why it matters: Many Chicagoans will find themselves living in a different ward under a newly drawn map that will readjust power centers for the next decade.
Now that the dust has settled and alderpeople are done fighting, we're taking a closer look at the biggest changes.
36th Ward: It's being called "the noodle" because it stretches along Grand Avenue from the Far Northwest Side all the way to West Town.
This ward's alderperson is Gilbert Villegas, leader of the Latino Caucus, which spearheaded opposition to the map. He recently tweeted a sarcastic #punishedforspeakingup hashtag.
34th: The Far South Side ward office is on 111th Street, but this map moves the ward north to the popular areas south and west of the Loop.
Ald. Carrie Austin is not running for reelection.
3rd: The Near South Side ward represented by Ald. Pat Dowell already had one mega-development in One Central and is adding another — The 78 will move from the 25th Ward to the 3rd.
40th: The North Side ward, led by Ald. Andre Vasquez, is now 47% white, 22% Latino, 20% Asian and 10% Black.
This will be the first time that the ward's white population is under 50%.
The 40th gains parts of West Ridge and Ravenswood Manor and stops just a block short of former Gov. Rod Blagojevich's home, which will stay in the 33rd Ward.
3. Low-cost airline lands at O'Hare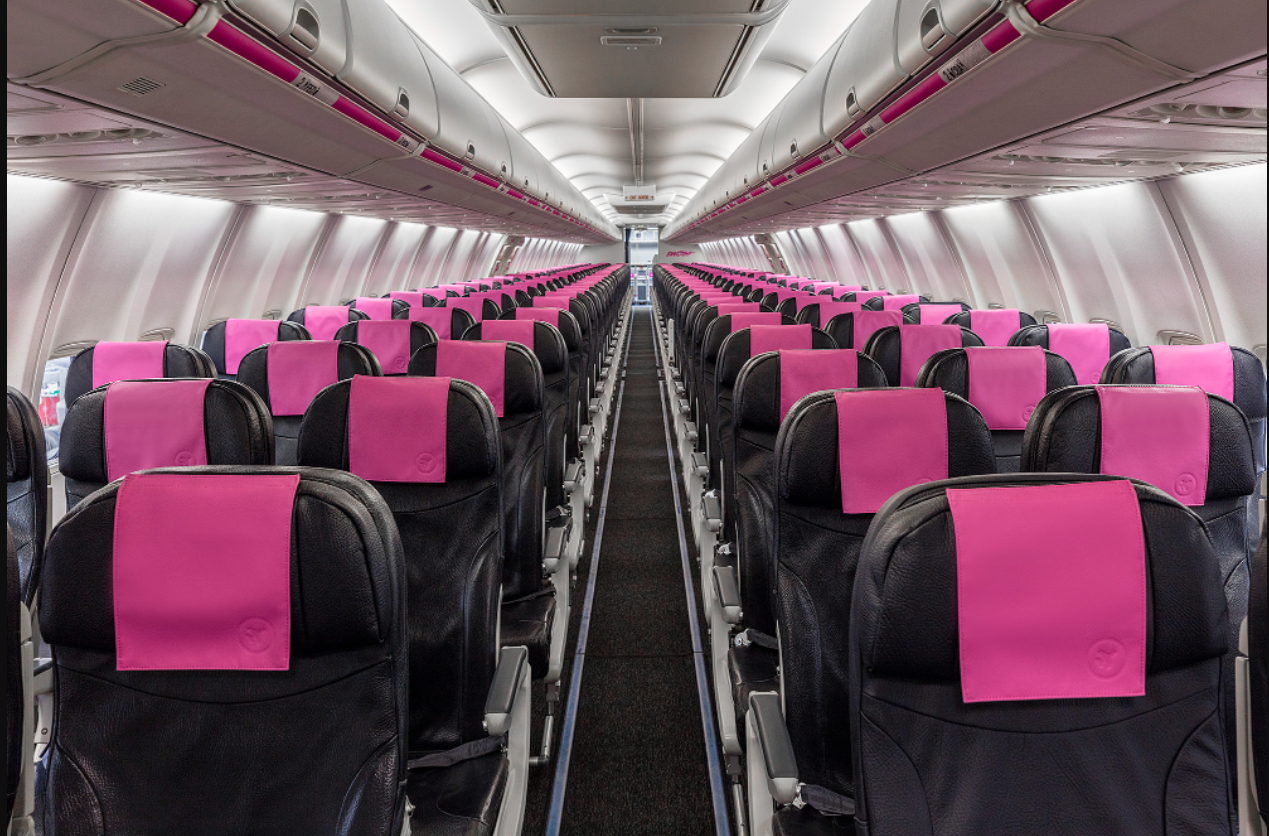 A handful of new economy airlines are offering crazy low fares on certain routes from select cities, Axios' Joann Muller reports.
Driving the news: One of those low-cost carriers, Swoop, starts flying between O'Hare and Toronto for as low as $59 each way starting May 30.
How it works: Swoop says it keeps prices low by cutting out perks. Snacks, checked bags, additional leg room and WiFi all require an extra fee.
What they're saying: While some bargain airlines can be notoriously late and unreliable, Swoop aims to bust that reputation.
"In 2021, Swoop carried almost 1 million travelers and completed 99.4% of scheduled flying, with 82% of flights departing on time and 78% arriving on time," head of finance Bert van der Stege tells Axios.
For comparison, American and United had 85% and 83.5% on-time rates in 2021, respectively, which ranked third and fourth best nationally, according to a report from the Official Airline Guide.
Go deeper for van der Stege's suggestions for Chicagoans in Toronto.
4. Tips and hot links
🏭 Little Village has some of the worst air pollution in the city, according to data collected in a new survey. (Sun-Times)
Another train accident in the western suburbs — this time, a pedestrian was killed near Geneva. (NBC 5)
🕯 Merz Apothecary is buying a New York candle company and relocating production to Avondale. (Block Club)
🌭 Portillo's unveiled its first vegan hot dog. (Tribune)
5. Old-fashioned baby names still reign
Illinois' top 10 baby names in 2021 mirror the national list almost exactly, with old-fashioned monikers still topping the charts.
Local favorites: Mateo and Camila ranked higher here than nationally.
Of note: Biblical names including Elijah, Isaac, Ezekiel, Ezra and Josiah enjoy continued popularity in Illinois.
130 boys in the state were given the name Messiah last year, which feels a little pressure-y to us.
💭 Monica's thought bubble: Where are all the Michelles and Jasons of my youth?
💭 Justin's thought bubble: Hmmm, I was hoping to see more Obi-Wans.
6. Where's Justin? Whiting, Indiana
Many of you guessed correctly: Justin was at the Mascot Hall of Fame in Whiting, Indiana.
The museum celebrates crowd favorites, including this year's inductee, Southpaw.
Located right on the lakefront, it's next to a park with a great view of the skyline.
Whiting is also home to the Pierogi Fest.
👏 Congrats to Marta M. and Marisel H.! We pulled your names out of a mascot head.
Pick up your Axios swag at our next office hours event!
Our picks:
😤 Monica has been thinking back to 1984, when police arrested her for curfew outside a party in Rogers Park. As her angry mom drove home from the station, Monica explained that none of it was her fault. But she was grounded anyway. Bogus.
🍾 Justin is heading to the nation's capital for the Axios retreat. He's looking forward to eating bottomless brunch where George Washington once ate bottomless brunch.