Axios Charlotte
June 14, 2022
Hello, Tuesday. It's Ashley.
Weather: Yesterday we saw some of the hottest temperatures of the year and it's only getting hotter! Highs around 100 today.
🎂 Happy birthday to Axios Charlotte members Christine Adams, Sarah Overcash, Dee Dee Rinehart and Blair Wright.
🩸 Situational awareness: It's World Blood Donor Day. Find a location to donate.
Today's Smart Brevity™ count is 950 words — a 3.5-minute read.
1 big thing. 🚓 Keeping up with crime data
Most of the Charlotte area's law enforcement agencies reported full crime data to the FBI in 2021, Axios' Danielle Chemtob and Laura Barrero report.
Yes, but: 40% of law enforcement agencies nationwide failed to do so, according to data provided to Axios from a partnership with The Marshall Project.
Why it matters: Our region bucked a trend that will result in a data gap that makes it harder to analyze crime trends and fact-check claims politicians make about crime.
State of play: Last year, the FBI retired its nearly century-old national crime data collection program and switched to a new system, the National Incident-Based Reporting System (NIBRS), which gathers more specific information on each incident.
The FBI announced the transition years ago, but still some 7,000 of the nation's 18,000 law enforcement agencies didn't report.
Nearly all agencies around Charlotte were on top of it, though.
Full story: CMPD ahead of the curve in reporting 2021 crime data
2: 👨🏿‍🍳 Charlotte's James Beard Award run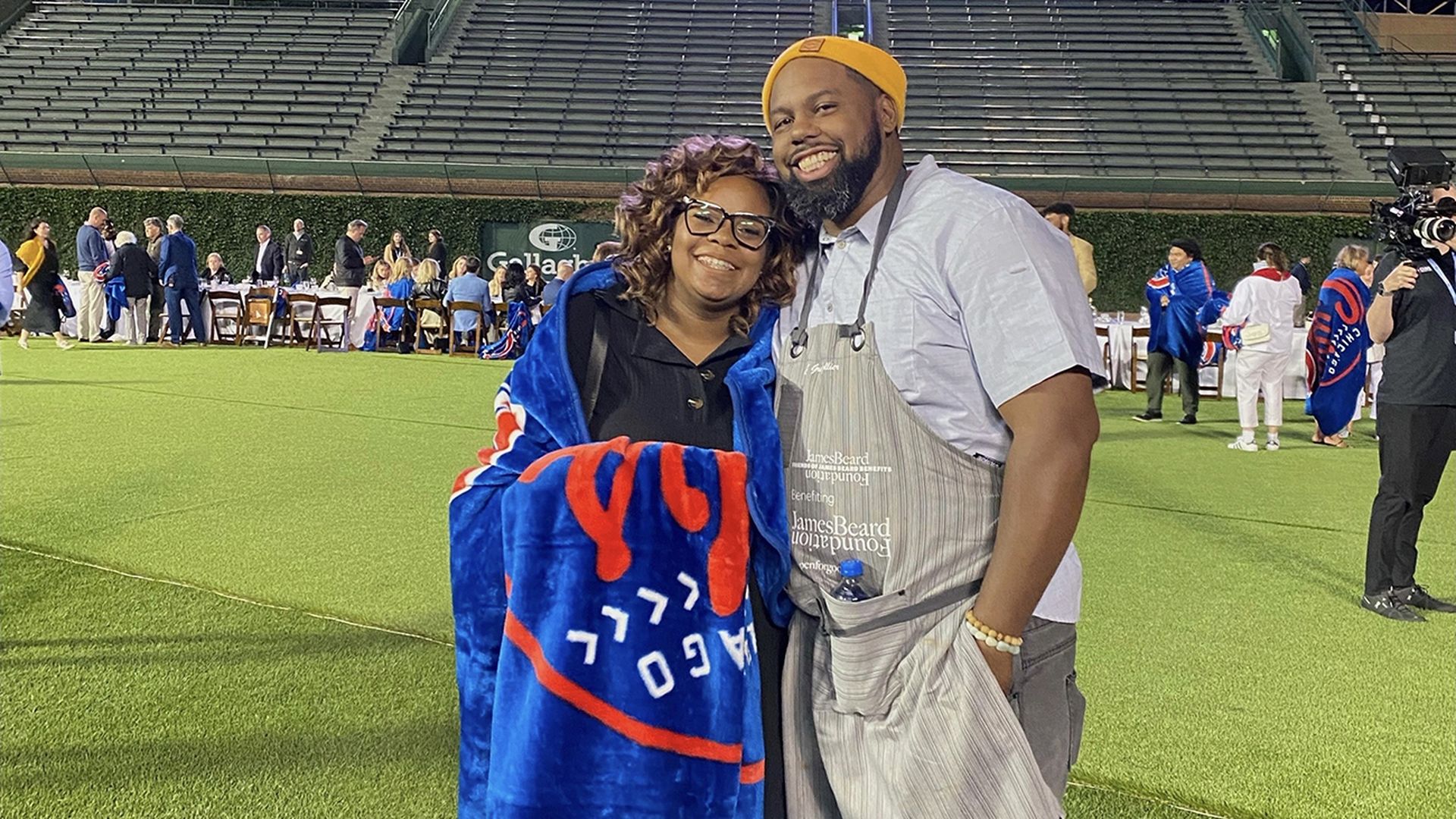 Charlotte was *this* close to winning its first-ever James Beard Award, but despite chef Greg Collier's loss, it's been a historic year for our local food scene.
If you're unfamiliar, the James Beard Awards are to chefs as the Grammys are to musicians.
What's happening: The three-time nominee didn't win best chef in the Southeast, but he made it further than any Charlotte chef before him.
He was the first Charlotte chef to advance past the semifinalist round in the James Beard Foundation Awards.
Chef Ricky Moore of Saltbox Seafood Joint in Durham won, so reluctantly we must tip our caps again to the Triangle, where our Axios colleague Zachery Eanes was reveling in victory last night.
State of play: It's been a year to remember for Collier and his wife and business partner Subrina, who are known in Charlotte and beyond for uplifting Black culinary creatives. The two will soon become first-time parents.
Full story: Chef Greg Collier loses James Beard Award, but makes Charlotte history
3. 🎥 Indie theater to open in NoDa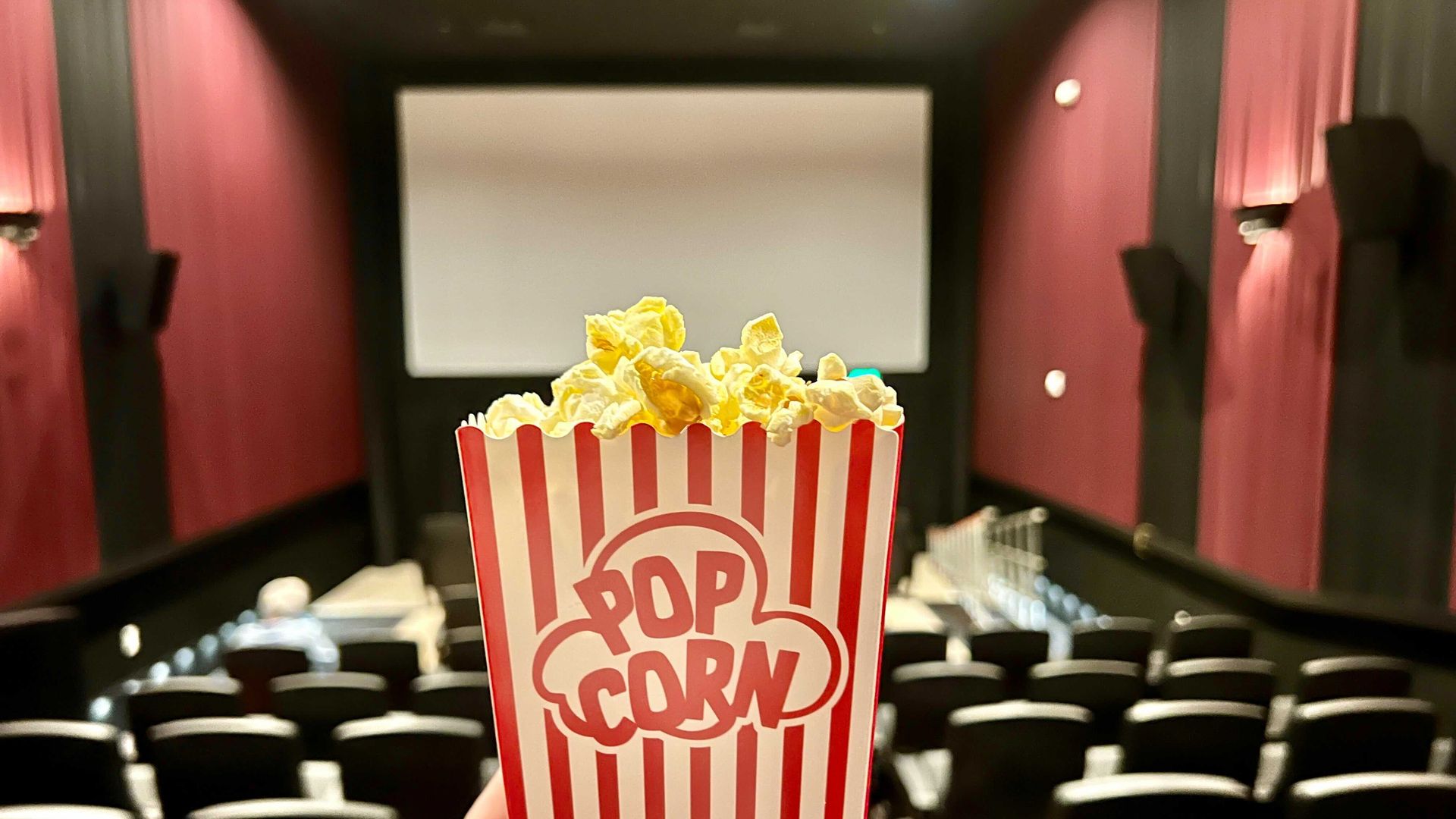 Independent Picture House, a new indie, nonprofit movie theater, will open on June 24 in NoDa, Axios' Emma Way writes.
What to expect: The three-screen, 5,900-square-foot theater will have a lounge and concession stand with popcorn, local beer, baked goods and more.
The cinema will kick off its grand opening on June 24 with showings of "Memoria," "The Phantom of the Open," "Cocoon," "Neptune Frost" and "Flux Gourmet."
Screening times vary. New films will come weekly.
They'll also have pre-open screenings June 20-21.
Why it matters: Charlotte lost its last movie theater focused on independent movies in 2020 (RIP, The Manor).
Location: 4237 Raleigh Street.
It's located in the same building as Charlotte Art League within NoDa's rapidly growing Trailhead District, an artsy development by Charlotte-based Fly Wheel Group.
Full story: New indie movie theater to open in NoDa this month
4. 🥵 Stay cool, kids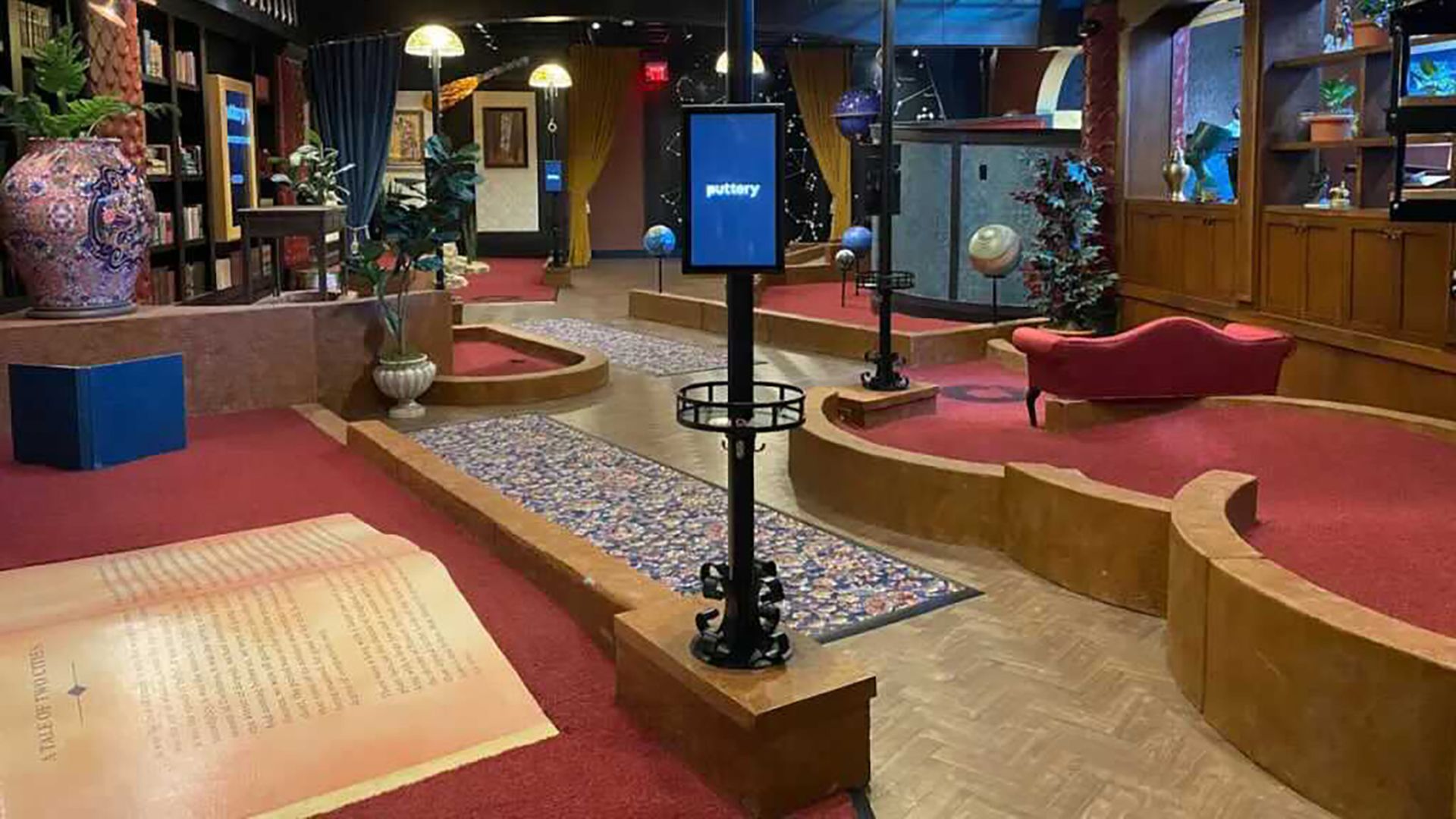 It's hot out, y'all!
What's happening: Charlotte set a record high temperature yesterday: 98°, toppling the 64-year-old record of 97° (set in 1958).
As we prepares for triple-digit temperatures today, it's important to stay hydrated and, if you can't get out of the heat, avoid direct sunlight.
Why it matters: It takes a lot for the body to cool itself off, Atrium Health's assistant program director for emergency medicine residency, Bryant Allen, told the media yesterday.
Yes, but: Staying inside doesn't mean staying home. Grab your friends and head to The Puttery, Luck Factory Games or one of these places to cool off.
Full story: 36 best indoor activities when it's miserably hot out in Charlotte
5. New report talks affordable housing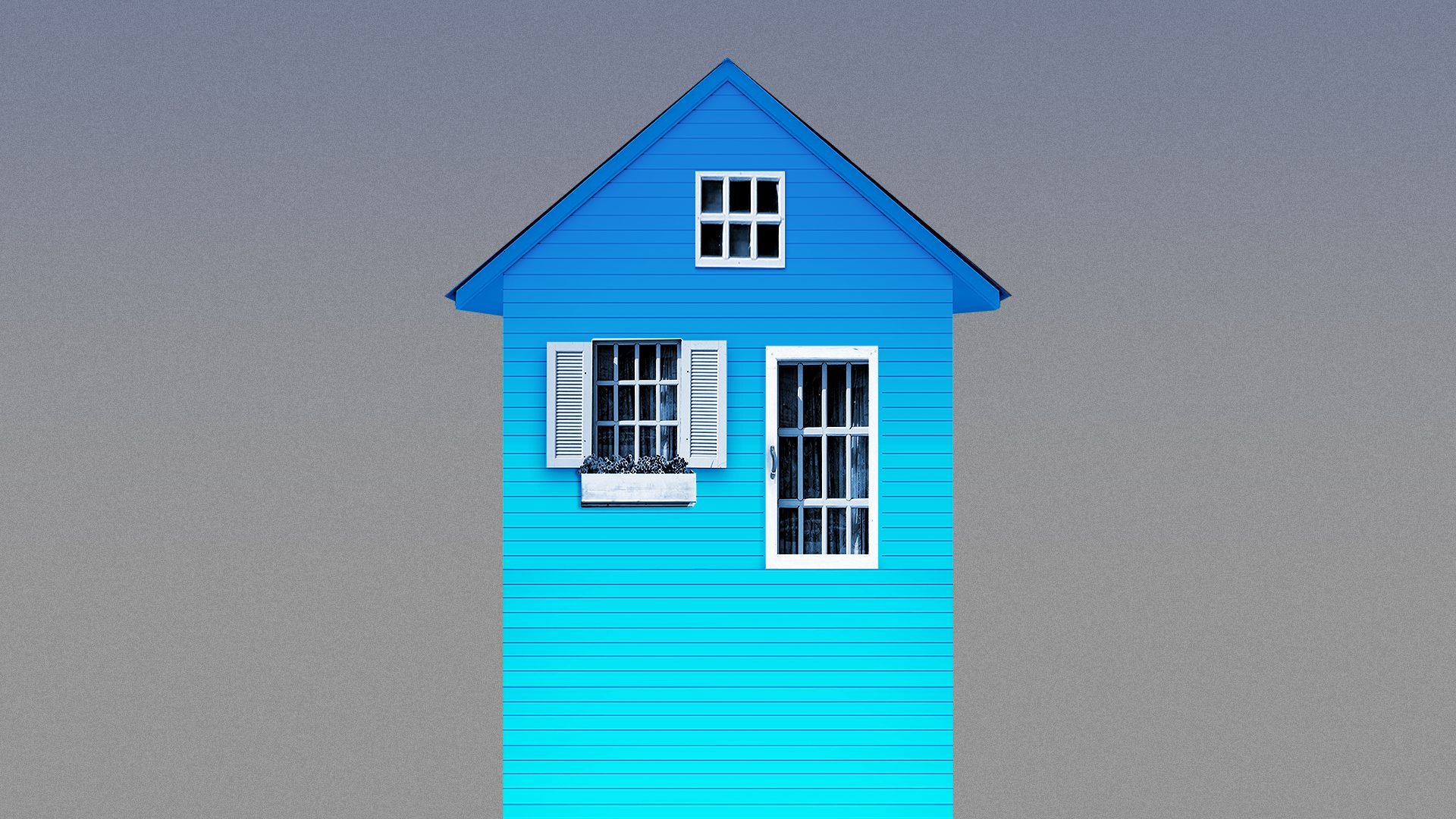 A new study set to be released this morning shows the Charlotte Housing Opportunity Investment Fund (CHOIF) created or preserved 1,047 housing units and raised $53 million in private capital since it was founded in 2019.
By the numbers: CHOIF is on track to create 1,500 units, per the LISC report.
Plus, CHOIF's investments have led to $167 million in development thus far. 93% of housing units have been reserved for households earning 80% or less of Charlotte's Area Median Income (AMI), and 25% are affordable for those making 30% of AMI or less. 
Why it matters: Only 1% of apartments in Mecklenburg County rent for under $1,000, and the average one-bedroom costs $1,288 per month. The salary needed to rent an apartment here is $56,268, per a Mecklenburg County study. 
Yes, but: That leaves a lot of people out in the cold, or in this case, the heat. The median salary for elementary school teachers, firefighters and hotel desk clerks all fall below that figure at $45,860, $32,590 and $21,000 respectively, per information from a January Mecklenburg County study.
Knights by the numbers ⚾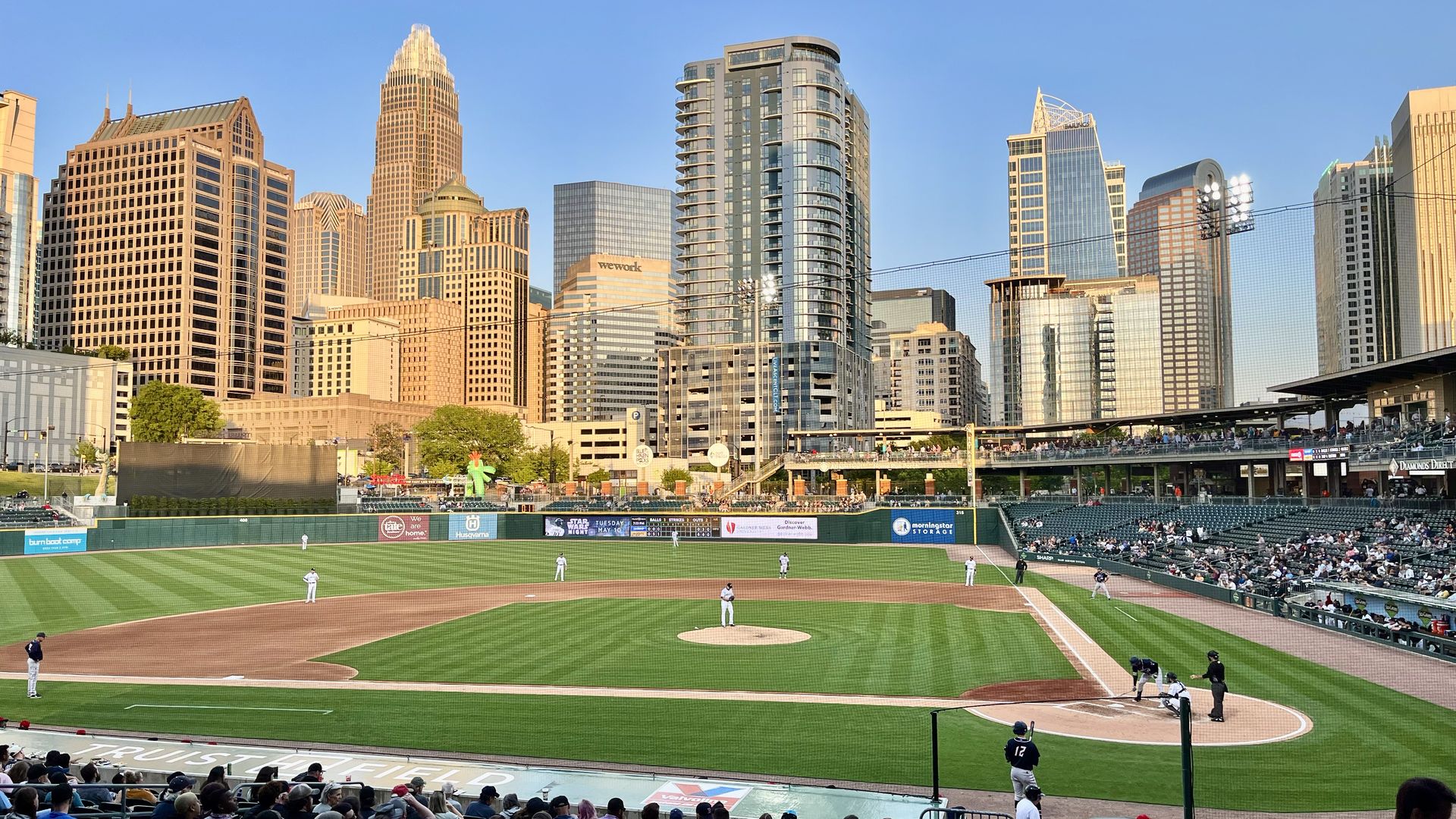 Key number: The Charlotte Knights pop over 16 million popcorn kernels every season. 
If you spread all that popcorn over Truist Field, you would have 3+ feet of popcorn to play in. 🤯
More key numbers: The Knights have six home games in the next six days, including one hosted by "The Office" star Kate Flannery (AKA Meredith). Snag tickets.
6. Arena renovations and other speed reads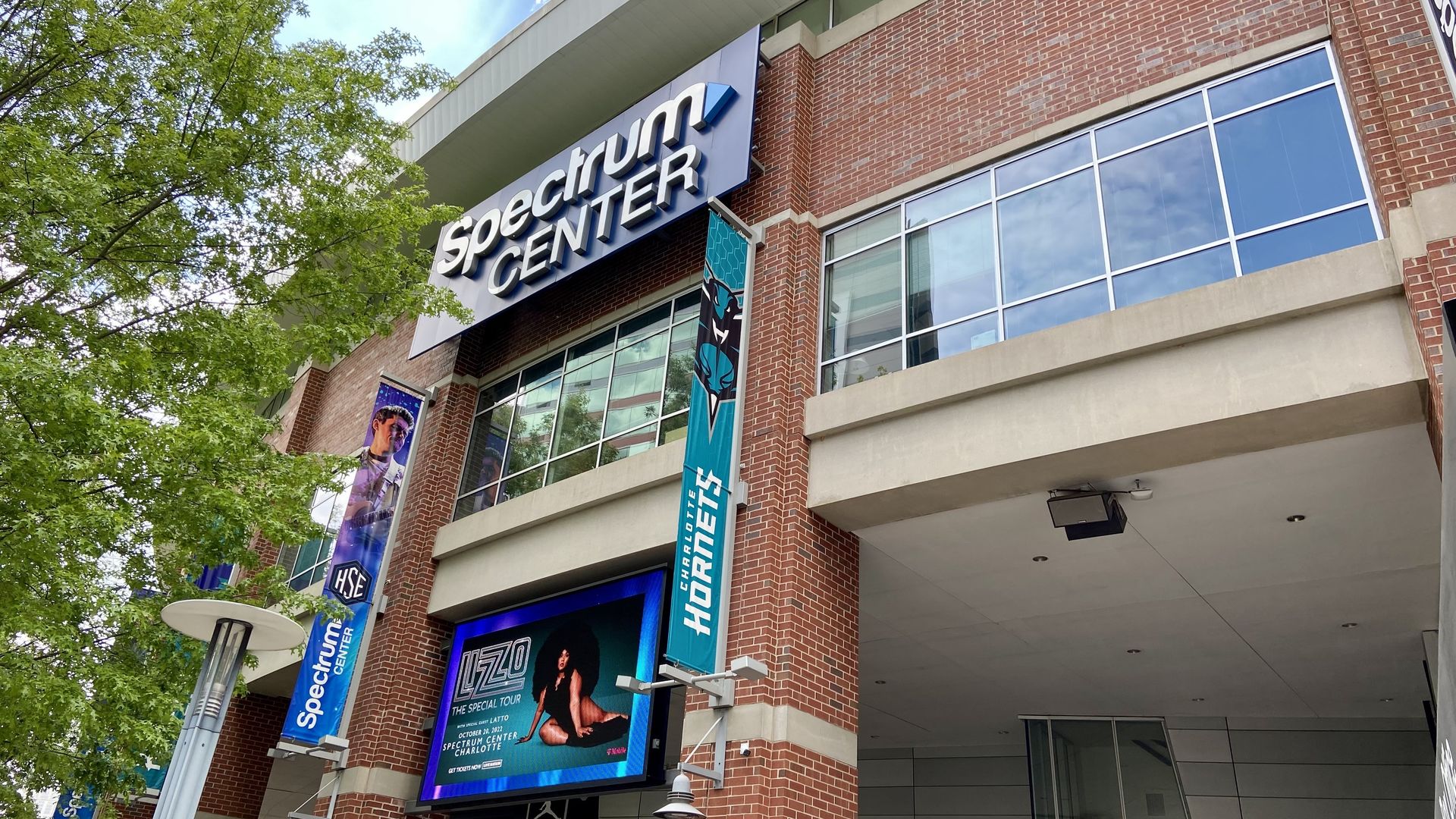 🏀 Charlotte City Council voted 9-1 to approve Spectrum Center renovations last night. (Axios)
🤔 Some Charlotte spots, like 1315 East Blvd., can't seem to keep a restaurant tenant. (Charlotte magazine)
🎭 Davidson College and North Carolina A&T State University are launching Common Thread Theatre Collective on Davidson's campus this summer. (The Charlotte Post)
🌀The loop (we're keeping you in it)
News you can use from our partners.
Visit Unseen Oceans at Discovery Place Science to see larger-than-life species, play video games, and learn about what lies beneath the surface of our oceans. Plan your visit. 
The accounting advisors at Fisher, P.A. know a thing or two about taxes. Add them to your business' toolkit so they can develop a tax planning strategy for the whole year.
Events to fill your calendar
7. Now open: 🐶 Pet care center in South Charlotte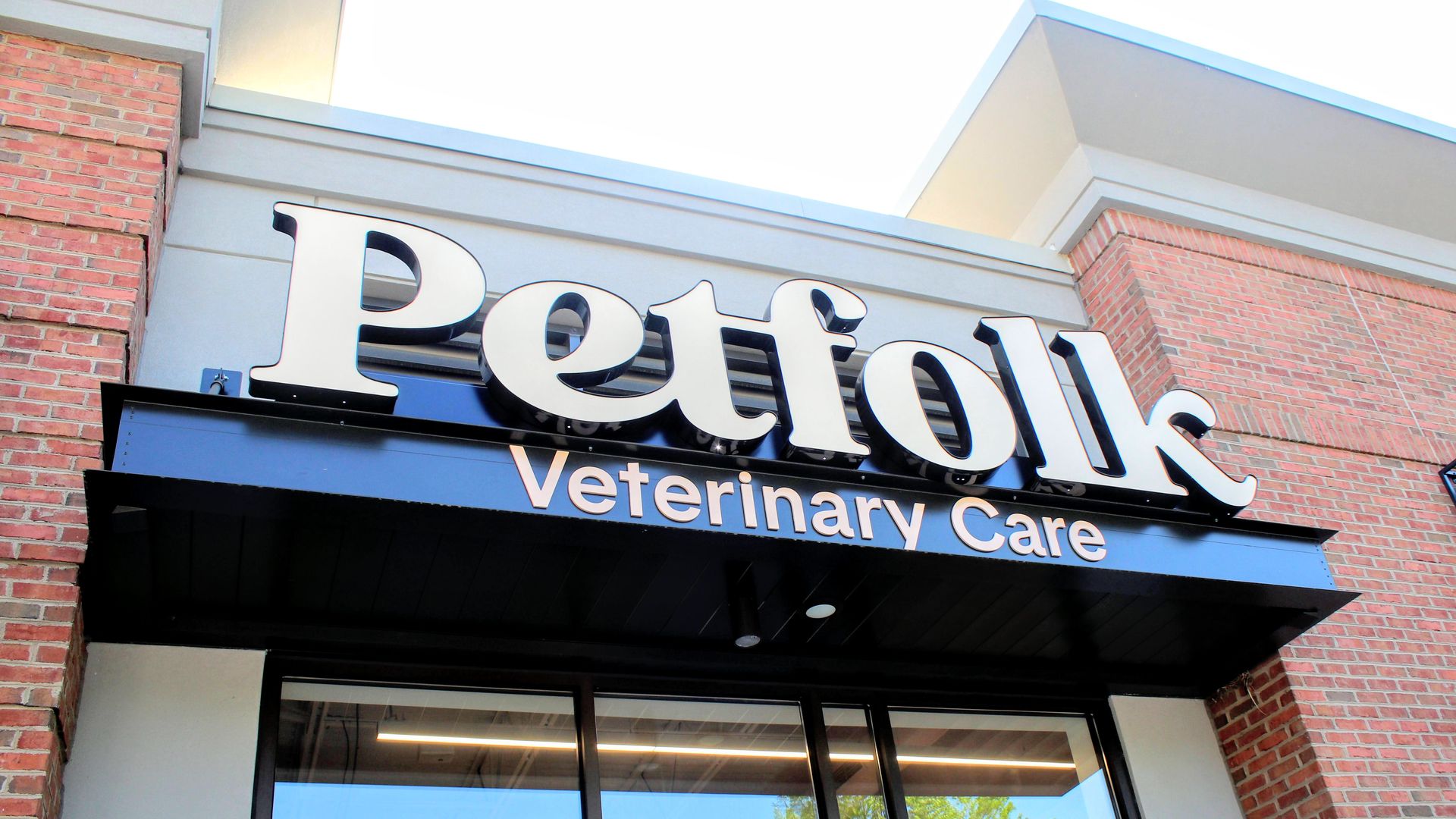 A new veterinarian office called Petfolk opened at the Promenade on Providence shopping center in South Charlotte, Laura writes. 
Why it matters: There's a shortage of veterinarians nationwide, Laura wrote in January.
At the time there were only five emergency veterinary hospitals in the Charlotte area. 
Details: Petfolk was founded by local veterinarian Audrey Wystrach and this is its second location— its first is in Strawberry Hill.  
They offer same-day appointments daily, urgent care, virtual care and a variety of check-in and diagnostic services. 
Location: 5335 Ballantyne Commons Pkwy, Suite 150. 
Of note: Petfolk was originally called "One Vet," and recently rebranded. 
What's next: Petfolk plans to open 15 pet care centers throughout the Southeast by 2023, and they're already in the process of hiring 40 veterinarians and 120 support staff for those new locations.
🏡 Thank you all for sharing birthday celebration suggestions. In the end, we decided to buy a home to celebrate.