Axios Capital
June 17, 2021
Welcome to a special edition of Axios Capital, where the whole newsletter is devoted to a single subject.
Last week, when I reported on the astonishing extent of unemployment fraud over the course of the pandemic, I was met with a chorus of both supporters and critics asking for more information on what has been going on.
So this week, that's what you're getting. No "coming up," no building of the week — just a deep dive into what might be the biggest theft in history. It's 1,899 words, about a 7-minute read.
1 big thing: America's pandemic of unemployment fraud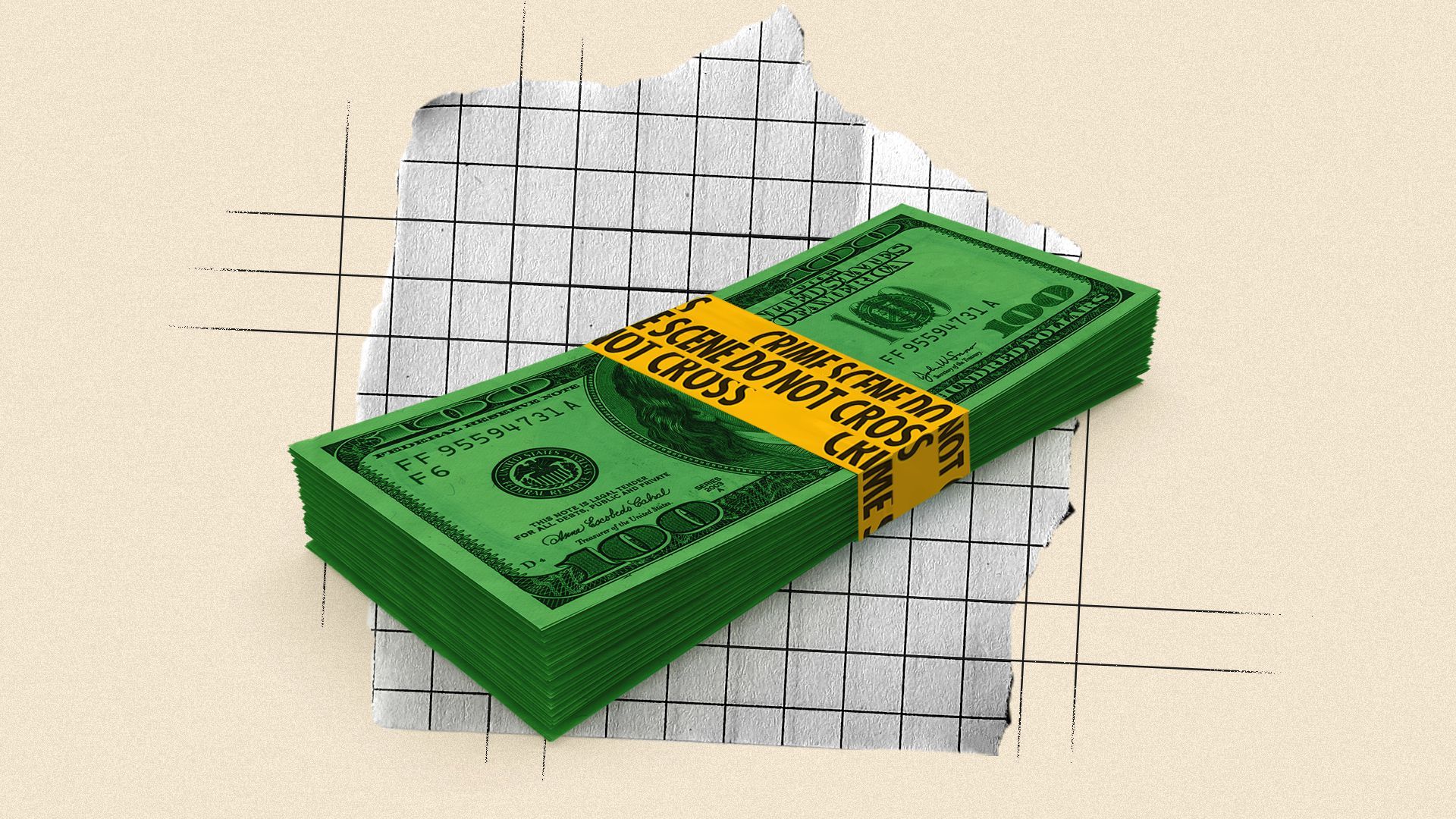 COVID-19, and the government's response to it, created a perfect storm for unemployment fraud — which Axios reported could have accounted for half of all the payments made throughout the pandemic.
Why it matters: The government has not officially audited the issue. But there are good reasons to believe that the number is enormous.
At an estimated $400 billion, which is where it's pegged by security company ID.me, the fraud would account for almost 2% of annual GDP.
The big picture: When the pandemic hit, all unemployment applications had to be made online. While going to an office and pretending to be someone is difficult and dangerous, the same kind of impersonation is much easier — and largely risk-free — if you're filing your application from Russia or China.
By the numbers: A successful unemployment application can easily net $20,000, over time. In Washington state, for instance, the regular maximum unemployment benefit is $844 per week. Add on $300 per week in extra federal unemployment benefits during the pandemic, and you get to $20,000 in less than 18 weeks.
How it works: In March 2020, international criminal syndicates already owned — or could easily purchase — massive databases of Americans' personal information, gleaned from thousands of data breaches over the years. New breaches during the pandemic, including one at the Texas DMV, helped to keep up the flow of personal data.
Because the states didn't effectively share information, a single identity could be used for unemployment benefits in dozens of states. In the pandemic, people moving from one state to another after they were laid off was common, so an out-of-state applicant wouldn't necessarily raise red flags.
The easiest program to defraud was Pandemic Unemployment Assistance, or PUA, say experts. The program was designed for gig-economy workers and other independent contractors, and therefore didn't require employer confirmation of a layoff.
All unemployment programs have seen large-scale fraud, however, and criminals simply moved to other programs when anti-fraud controls were put in place.
Unemployment Insurance fraud, for instance, is a bit harder to pull off because of the involvement of employers. But it's still rampant. One rapper who was dumb enough to rap on YouTube about the money he was making from UI fraud was charged with stealing $1.2 million in jobless benefits.
2. What the federal government is doing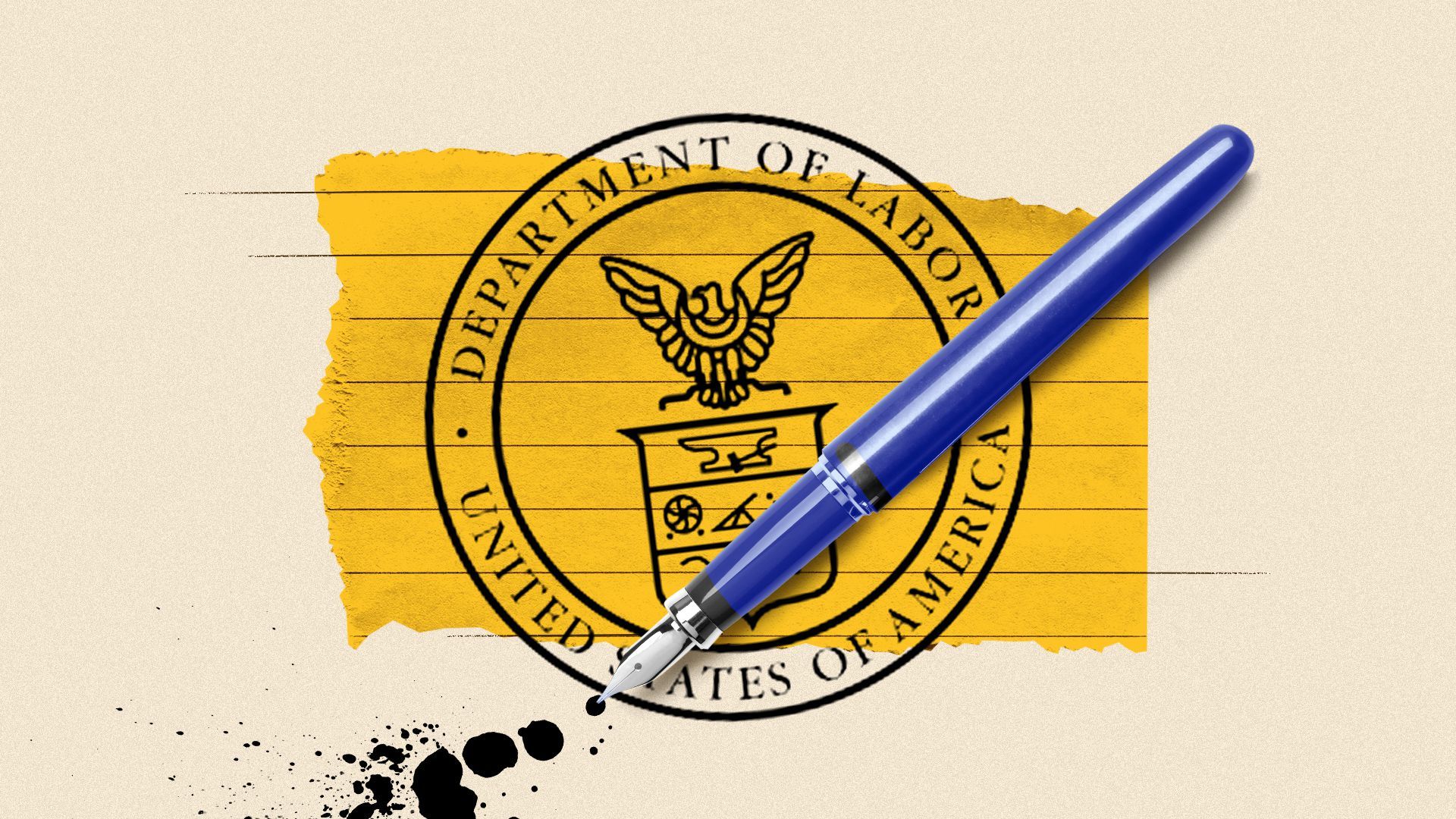 The U.S. government is clear that unemployment fraud is a huge problem, and has budgeted $2 billion to try to fix it.
Where it stands: The Department of Labor inspector general reported last month that 20 states did not perform what was required of them in terms of detecting improper payments, and 44 states did not do what was recommended (but not required).
The inspector general cites an "improper payment rate" of 10.6% — but that is not an estimate of the amount of fraud that took place during the pandemic. Instead it is a lower bound — the lowest fraud rate that was seen before the pandemic.
The report says that the rate during the pandemic was probably "much higher" but hazards no guesses as to just how high it was.
The Labor Department itself "has not estimated an improper payment rate for UI benefits provided in response to the COVID-19 pandemic," notes the inspector general.
What they're saying: "Widespread fraud at the state level in pandemic unemployment insurance during the previous administration is one of the most serious challenges we inherited," said White House economist Gene Sperling in a statement provided to Axios.
President Joe Biden said last month: "There is perhaps no oversight issue inherited by my administration that is as serious as the exploitation of relief programs by criminal syndicates using stolen identities to steal government benefits. Last year, this type of criminal behavior robbed American families of billions of dollars."
The other side: House Republicans Darrell Issa, James Comer, and Gary Palmer are today demanding a Congressional hearing on this issue.
"As much as $400 billion may have been lost to fraud by way of falsified claims for COVID-related unemployment benefits," Palmer says in a statement provided to Axios. "Identity theft has become rampant and foreign crime rings have stolen hundreds of billions of dollars."
"This is one of the greatest thefts of American tax dollars in history, totaling more than the entire 2021 budgets of the Army and Navy combined, and more than the combined budgets of eight American states. It's beyond time for Congress to exercise more oversight of these benefit processes to ensure that Americans are never again the victims of fraud on this unacceptable scale."
3. What happened in Arizona
Arizona has been particularly public about the anti-fraud controls in its unemployment office.
By the numbers: Arizona has said that it saw 570,400 initial PUA claims filed in the week ending October 10, 2020. A month later, after hiring ID.me to filter new applications, that number had plunged by 99% to 6,700.
In December, the ID.me contract was expanded to include continuing PUA claims — which at that point were numbering 268,556 per week. One week later, the number of continuing PUA claims had fallen to 85,174 — a decrease of 68.3%.
Something very similar happened with the main Arizona unemployment insurance program. In the week of February 6, the state saw 75,041 new UI claims. Then it brought in ID.me. The following week, the number of new UI claims fell by 96.3% to 2,759.
What they're saying: "When it became clear that fraud was rising within this program, we added identity verification to the regular UI system February 6," Arizona Department of Economic Security press secretary Tasya Peterson tells Axios. The move, she says, "has significantly reduced the number of fraudulent claims received."
4. What happened in other states
Experiences similar to Arizona's can be seen across the country.
Florida's official dashboard shows 111,904 unemployment claims in the week ending Jan. 30, and then 10,480 the following week, when fraud controls were introduced — a drop of 90.6%.
In Colorado, according to the official state dashboard, 2,107,988 claims have been sent to ID.me for testing. Of those, 268,060 — or just 12.7% — have been verified.
In Nebraska, the overall fraud rate within the unemployment program was 65.97%, according to a report from the state auditor.
The Department of Labor's data site provides information on all the states.
In New York, weekly PUA claims averaged 43,863 in the four weeks to March 20. Then fraud-prevention measures were put in place, and the average immediately dropped to 3,421 — a fall of 92.2%.
In California, PUA claims hit 405,878 in the week of August 29, and 440,882 in the week of September 5. After October 1, when it became harder for fraudsters to game the system, the numbers immediately crashed — there were just 14,843 in the week ending October 3 — and have stayed low ever since.
The big picture: Fraud doesn't happen evenly. Every state has a different system for claiming benefits, and tends to see a surge in fraudulent claims when a criminal syndicate manages to hack that particular system. (Pennsylvania, for instance, saw a large spike in fraudulent claims in May 2020.)
If fraud rates fall dramatically in one program or in one state, that doesn't mean fraud overall has fallen — it is just as likely to have moved to a different program or location.
5. How fraud shows up in economic statistics
The fraud is not hard to see in economic statistics, once you realize it's there.
By the numbers: Before the pandemic, continued unemployment claims — the number of Americans claiming unemployment benefits for two weeks or longer — were counted at 2,152,733. That was one-third of the official number of unemployed Americans, as measured in the monthly household employment survey, which was 6,504,000.
Since the CARES Act boosted unemployment benefits, however, continued claims have consistently been significantly higher than the total number of unemployed. In August, for instance, there were 29,570,321 continued claims, well over double the official unemployment count of 13,742,000.
The excess number of claims is theoretically possible, since certain Americans are eligible for unemployment even if they're not counted as officially unemployed. The number of unemployed, for instance, is generally undercounted.
The new federal unemployment benefits were also large enough that many Americans applied for them even if they might not have filed for unemployment in the past.
Nevertheless, the economic statistics are entirely consistent with widespread unemployment fraud.
How it works: During the pandemic — between the week of March 21, 2020, and the week of June 5, 2021 — there have been a total of 83,506,986 initial claims for unemployment insurance. On top of that, there have been 27,315,075 initial claims for PUA, according to data compiled by The Century Foundation.
Add them up, and you get more than 110 million layoffs over the course of the pandemic — out of a total workforce of about 15o million people.
Where it stands: Recently, America has been experiencing a period of massive labor shortages, where employers have been desperate for workers and certainly haven't been laying them off in large numbers. Yet initial unemployment claims are still running at more than three times their pre-pandemic level.
There were 5,230,478 initial claims between April 3 and June 5 of this year, plus another 924,627 PUA claims, for a total of 6,155,105 layoffs.
Compare that to the same period in 2019, when there was much less talk of a labor shortage. Back then, initial claims totaled 2,001,137 — less than a third of this year's number.
6. The anti-fraud software provider: ID.me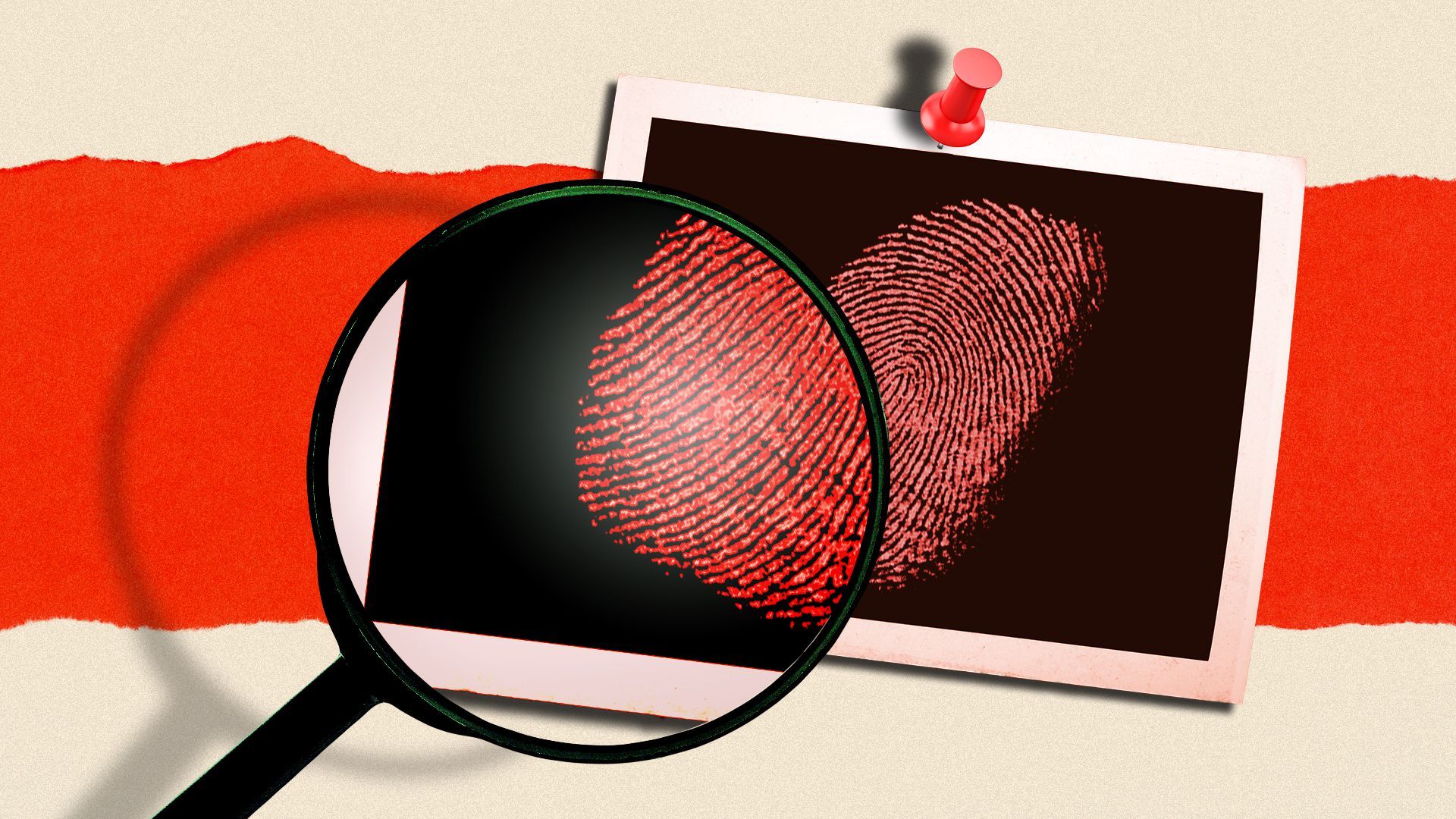 ID.me, a private company founded to make it as easy as possible for individuals to prove who they say they are, was most recently valued at $1.5 billion. It has emerged over the course of the pandemic as the leading provider of anti-fraud software for state unemployment offices.
How it works: The company says it does not directly profit from fraud. Quite the opposite: CEO Blake Hall tells Axios that it costs his company $7 for each video chat session, and makes $0.50 for every applicant who goes through the system without needing to talk to one of his employees.
At the moment, about 14% of applicants end up in video chat. "We signed contracts and will follow through with the government," he says, but "I'm losing money on all these deals."
The big picture: ID.me, like all fraud prevention, inevitably makes it harder for some people to claim benefits. In an ideal, fraud-free, world, it wouldn't need to exist.
Fraudsters can and do get past ID.me's defenses — that's statistically inevitable. But they also naturally gravitate to where their fraud is easiest. And with roughly half the states still having very weak protection against this kind of fraud, that is where the criminals are concentrating their efforts.
Axios contacted ID.me as part of the reporting on our last story, because the company is a key part of the states' anti-fraud architecture. We received no PR pitch or press release from them.
Of note: The big budgetary win for the information security sector has already happened as part of the American Rescue Plan, which earmarks $2 billion for cybersecurity funding for unemployment programs.
What they're saying: "The American Rescue Plan is the first time we've felt like help is on the way," Hall says in a statement to Axios. "The current administration and Congress could not have done more in the time they have had to address the fraud plaguing these programs."
7. When Tupac Shakur and Dianne Feinstein filed for unemployment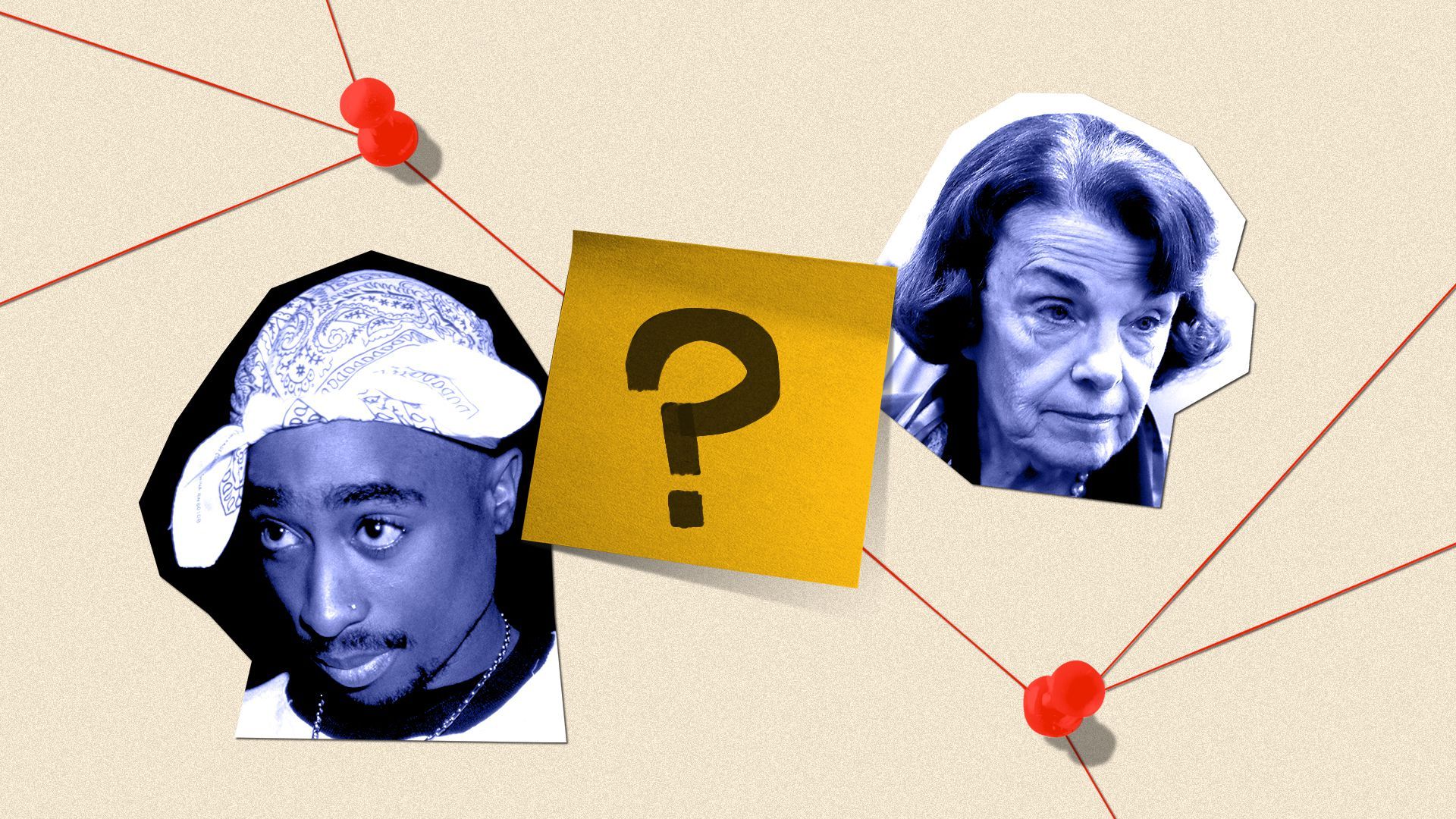 One footnote about the Arizona claims data: I'm using the state's own numbers, rather than the Labor Department numbers for Arizona, which aren't identical but have much the same shape. I can't explain the discrepancy.