Axios Navigate
December 05, 2018
Good morning! Thanks for reading. Please share this newsletter and tell your friends they can subscribe here. If you have tips or feedback just reply to this email.
1 big thing: Waymo's driverless taxis for hire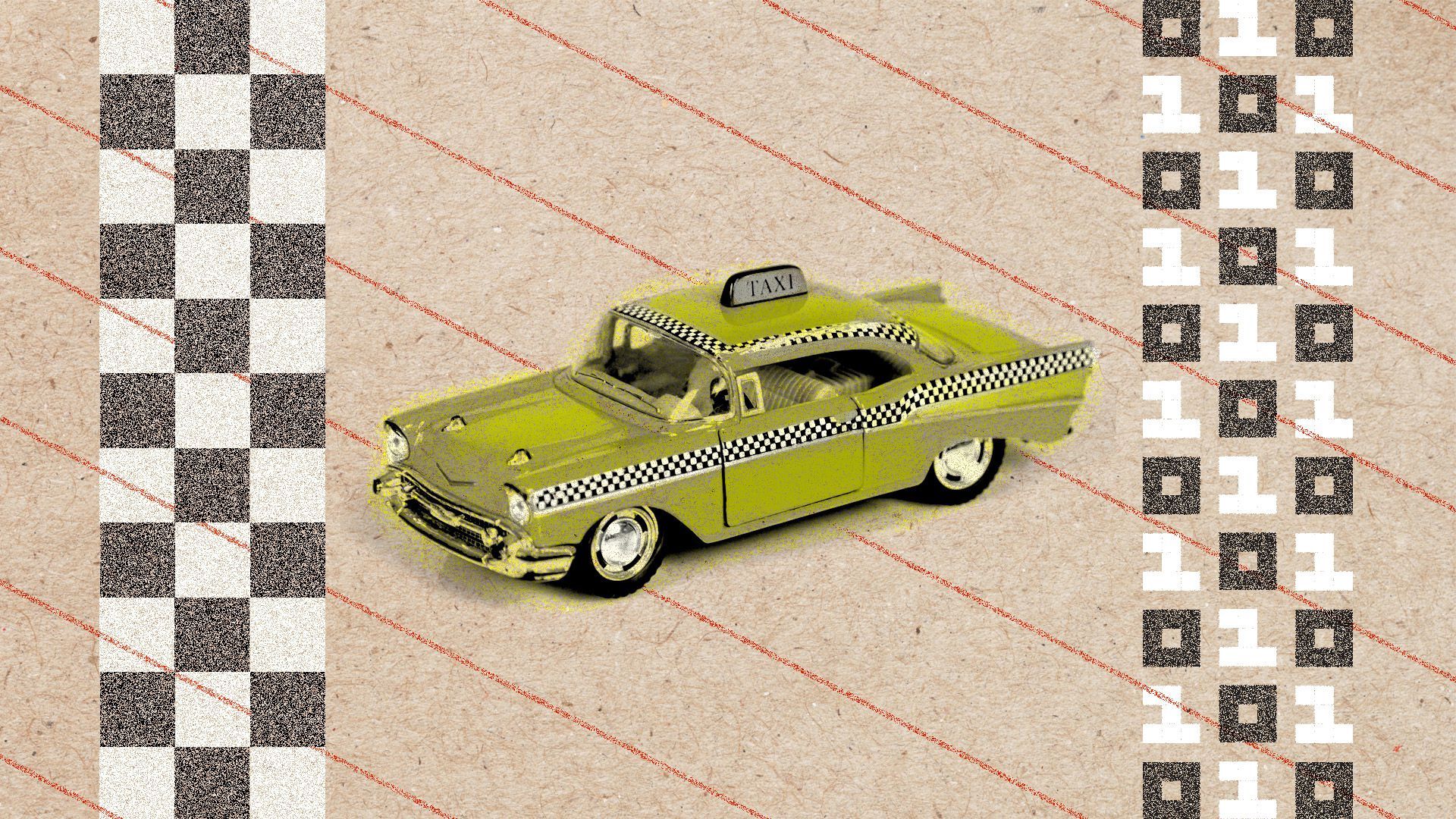 Starting today, some Phoenix-area residents can use an app on their phone to summon a driverless taxi from Waymo. But even Waymo is playing down the historic milestone.
The big picture: After years of hype, it's the first real test of consumer demand for robocars. But the low-key launch speaks volumes about where AV technology is today — and how long it will take before people feel comfortable with cars that drive themselves.
Waymo is a leader in self-driving cars, having started as a Google "moonshot" project in 2009. Since then, it has racked up 10 million miles of real-world driving and 7 billion simulated miles — more than any other tech or auto company. But even with a massive lead, the company is taking only baby steps toward commercialization.
Details: The first customers will be participants in the company's free test ride program who will be invited to start paying for the service, called Waymo One. Over time, the service will become more widely available to the public.
That means if you're on a business trip to Phoenix, you won't be able to just download the app and order a robotaxi — at least for now.
The service will operate on the same streets in the 100-square-mile area around Phoenix where Waymo's early rider test fleet has been operating since April 2017.
Analysts briefed on the plan say about 100 of Waymo's 600 Chrysler Pacifica pilot vehicles will be available for public hire, while the rest will continue testing in Phoenix and 24 other cities.
Fares will be "competitive" with Uber and Lyft, a spokesperson said, although in the long term most analysts expect driverless taxis will be substantially cheaper.
And at least for now, riders won't have to worry about nobody being behind the steering wheel — because a Waymo employee will monitor the vehicle from the driver's seat.
Waymo has reached deals to buy as many as 62,000 plug-in hybrid Chrysler Pacifica minivans and 20,000 fully electric Jaguar I-Pace SUVs to build out its fleet over the next few years. But at this rate, it could be decades before self-driving cars become part of our everyday lives.
"If they're going to do something like this in every market, how long will it take to proliferate across the country? We're talking about some serious roll out time."
— Mike Ramsey, research director, Gartner
The bottom line: The challenge for Waymo and everyone else is to turn their advanced technology into a service that people want — and will pay for.
"The realities of the business are setting in while they are working on the technology. It's almost as daunting."
— Michelle Krebs, executive analyst, AutoTrader
Go deeper: Read the full post.
2. Trade war could crush China's AV dreams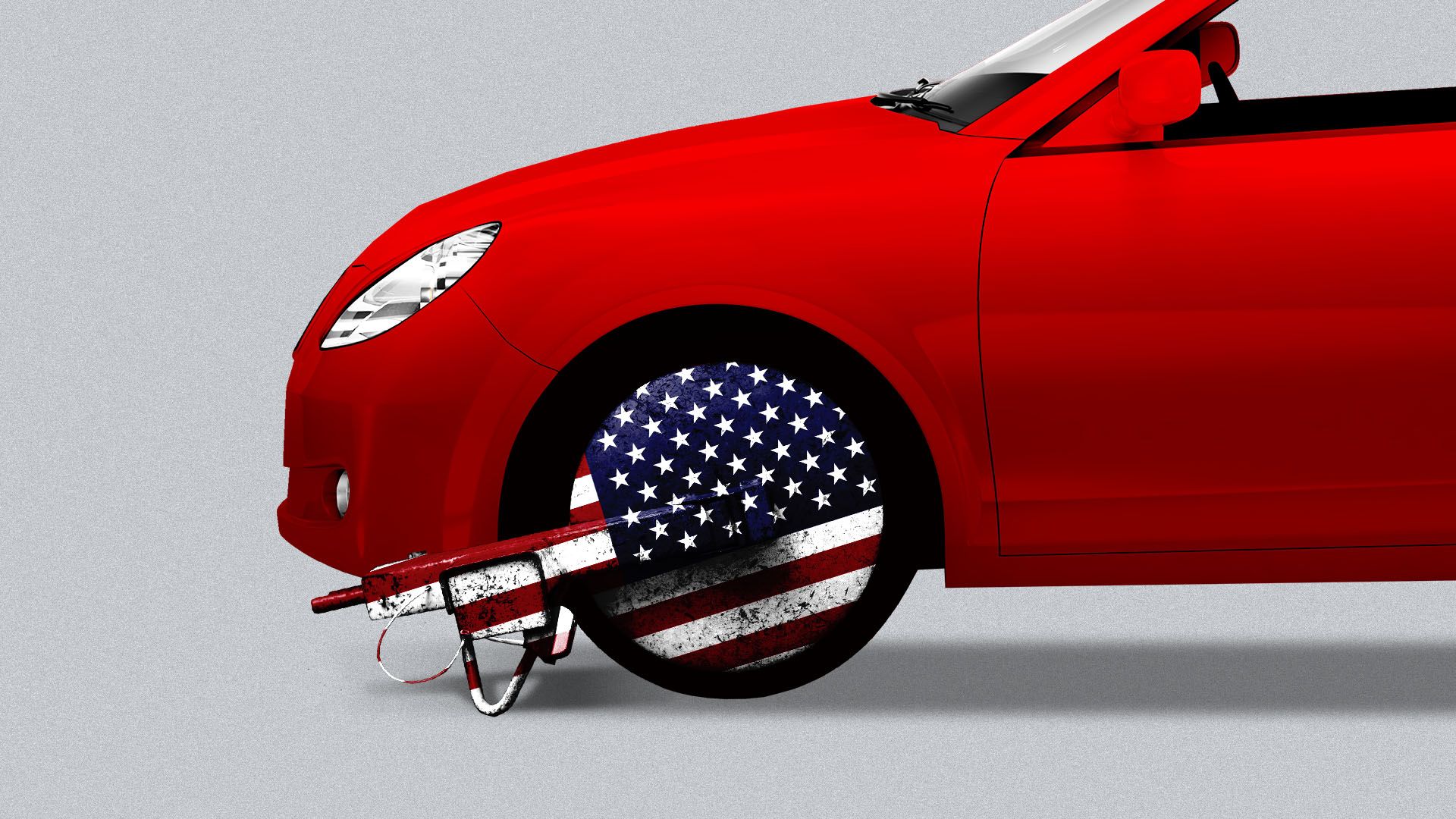 The Commerce Department recently proposed export controls that could bring China's ambitious autonomous vehicle push to a screeching halt, Patrick Lozada, China practice director at Albright Stonebridge Group, writes for Axios Expert Voices.
Why it matters: The move to block exports of these "emerging" and "foundational" technologies from the U.S., even by non-American companies, would limit partnerships with Chinese firms and possibly the employment of Chinese nationals in the U.S. AV industry, since technical information could qualify as an export.
Background: The decision is part of the Trump administration's efforts to hold China accountable for unfair treatment of American companies.
Details: The proposed restrictions include computer vision, artificial intelligence, geospatial positioning, computer chips and memory, and mobile electric power — technologies critical to the development of AVs.
Baidu, Xpeng Motors and other Chinese AV players rely heavily on chips made by companies like NVIDIA and sensors from companies like Velodyne (at one industry showcase, 85% of Chinese companies used its lidar).
China's strategy document for the AV industry instructs companies to purchase foreign players to obtain key technologies — an approach that is now imperiled, as this list will be used by the interagency panel that reviews foreign investments in U.S. companies.
What to watch: Public comment is open until Dec. 19 and industry is likely to push back, as these export controls would have an impact on broad areas of the economy — from self-driving cars to biotech. Changes within the Treasury or Commerce Departments, where leadership transitions have been rumored, could also shape the outcome.
Be smart: Even if the U.S. takes no action, the Chinese side likely will. China's plan for its auto industry calls for the entire supply chain to be "secure and controllable" (i.e., to exclude foreign participation). President Xi Jinping has made it clear that "core technologies" must be in Chinese hands. Multinational corporations, take note.
Go deeper: Read the full piece.
3. May Mobility's driverless tours start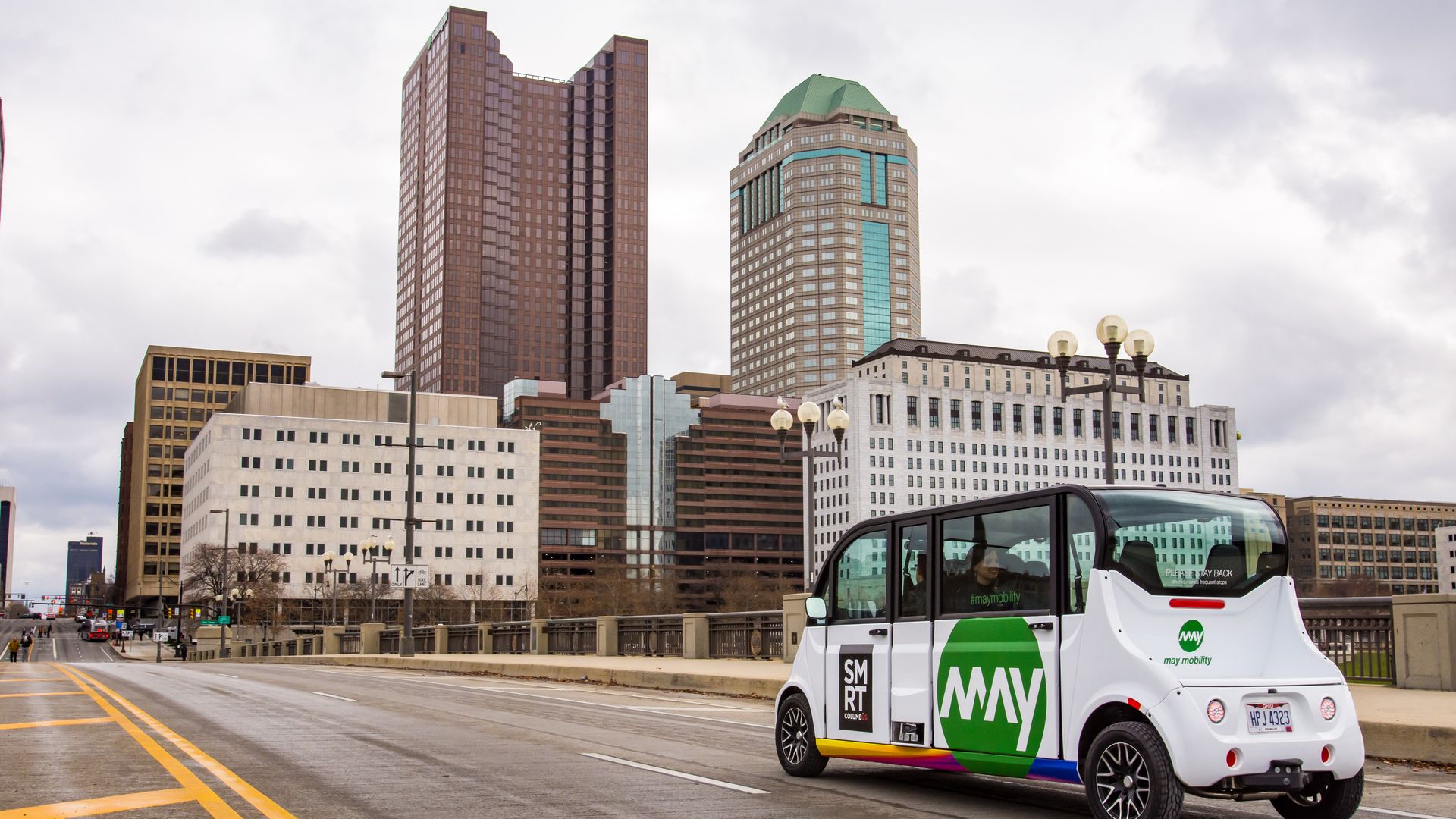 May Mobility's autonomous shuttle service in Columbus, Ohio, will open to the general public beginning Dec. 10th, offering free rides and a glimpse into the future of transportation.
Why it matters: Until now, the startup based in Ann Arbor, Michigan, has focused on developing self-driving shuttles for college campuses, corporate clients, and central business districts. This will mark the first time May's service will be open to the general public.
The low-speed vehicles, nicknamed Smart Circuit, will deliver visitors to some popular tourist destinations, while delivering insights to city planners in Columbus, winner of the 2016 U.S. Department of Transportation's Smart City Challenge.
May Mobility has been on a roll: Earlier this week, it signed a contract with Rhode Island's DOT to connect existing transit systems near Providence with its electric, self-driving shuttles.
It is May's fourth contract behind Detroit, Columbus and Grand Rapids, Michigan.
The shuttles are being used to solve local transportation issues that are unique to each city.
The bottom line: May has figured out that future mobility solutions will vary from city to city, depending on their local transportation issues.
4. Driving the conversation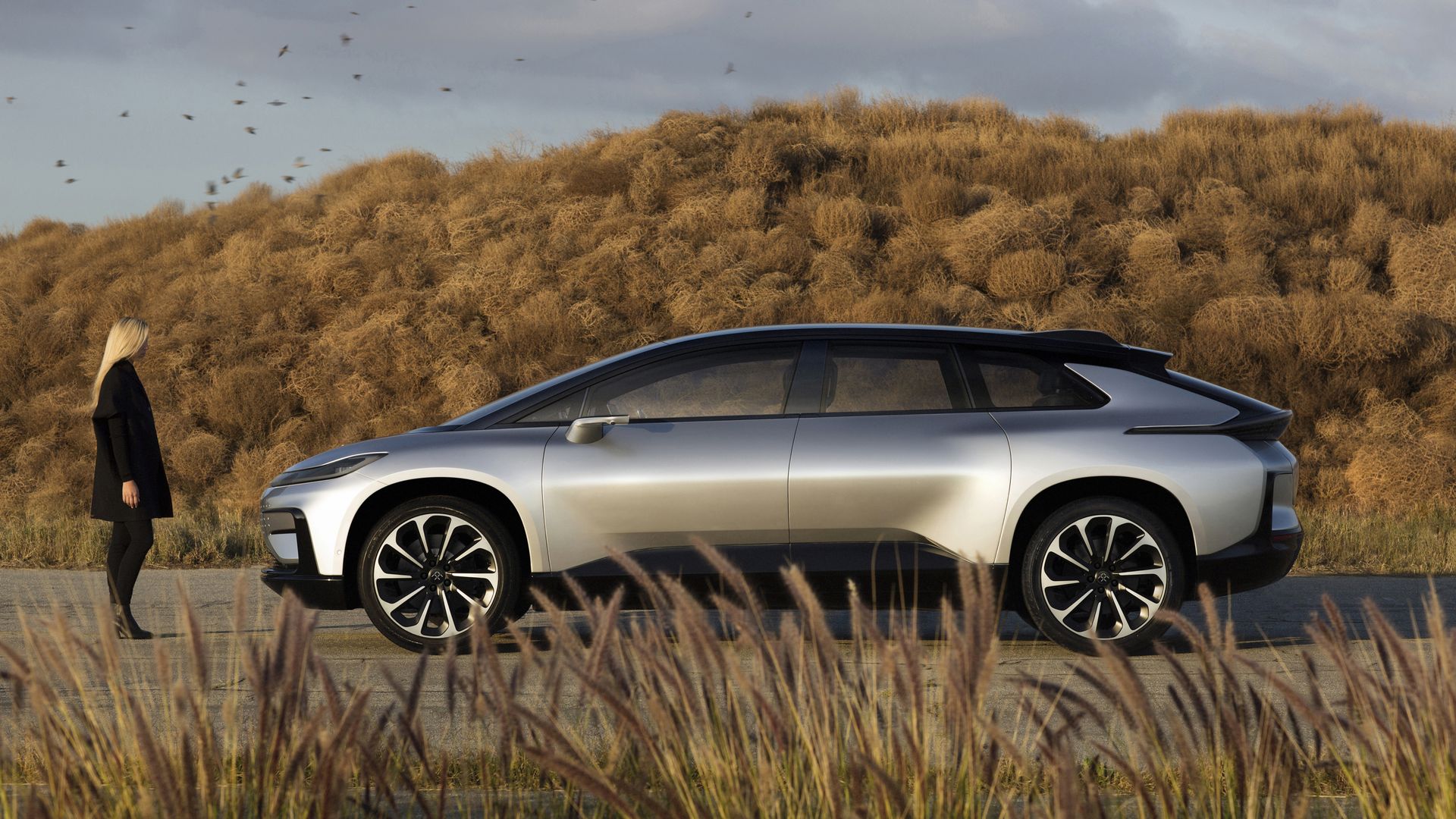 Movement: America's first self-driving car bill gets last-minute push from Congress (Makena Kelly — The Verge).
What to watch: Federal legislation of AVs remains stalled in Congress, but after some changes to the proposed bill, time is running out to pass it during the lame-duck session. One way to get it across the finish line is by attaching it to a spending bill that would prevent a government shutdown.
Co-pilots: BMW is on verge of adding automakers to self-driving consortium. (Gabrielle Coppola — Bloomberg).
Why it matters: The massive cost of AV research and the daunting technological challenges are too much for some automakers, who may find it makes more sense to partner up. BMW has already formed a leading consortium with Intel, Mobileye and key AV suppliers.
Death watch: Faraday Future furloughs more employees as cash woes continue (Brian Heater — TechCrunch).
My thought bubble: Lots of people dream of creating a new car company. Very few ever succeed.
5. 1 serious thing: An AV is not a designated driver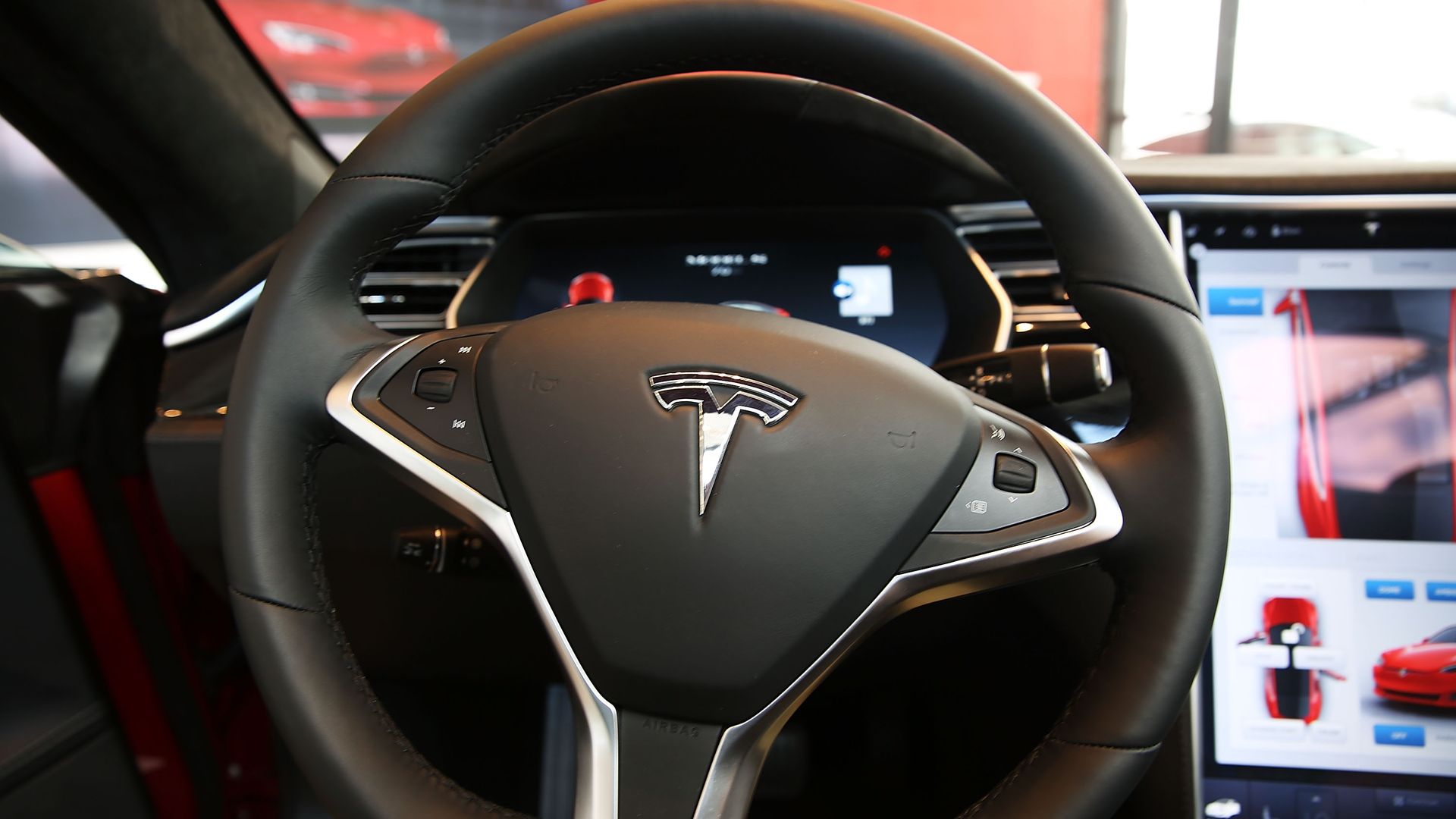 Police stopped a drunken driver on California's Highway 101 last weekend — a routine matter on most Friday nights except the driver of the Tesla Model S was asleep at the wheel and the car was likely operating in Autopilot mode.
What happened: Even in Autopilot, a Tesla cannot drive itself. Nor can any other semi-automated vehicle. But people continue to misuse driver-assistance technologies — whether out of ignorance, invincibility or, in this case, inebriation.
The driver, who faces a DUI charge, is lucky to be alive.
Fast-thinking cops used Tesla's own technology to corral the cruising snoozer by pulling ahead of the Model S and gradually coming to a stop. Sensing the slowing traffic, the Tesla stopped too.
It's still unclear why Tesla's Autopilot technology, which is programmed to stop the vehicle when the driver doesn't respond to visual and audible warnings, didn't do so on its own.
CEO Elon Musk tweeted that the company is looking into what happened.
California Highway Patrol (CHP) believes Autopilot was engaged based on the car's steady driving along a 7-mile stretch of highway but hasn't completed its investigation.
A CHP spokesman said it's not the first time drivers have put too much trust in their Tesla's Autopilot system.
"The technology is great but we're not using it the way it's supposed to be used."
— Art Montiel, officer, CHP
Yes, but: Tesla says its owners have driven 1 billion miles on Autopilot and its publicly available safety data shows far lower crash rates in vehicles where Autopilot was engaged compared to government crash rate data.
Be smart: Drunk driving is illegal no matter what kind of technology is in your car.