Transforming the Semiconductor Supply Chain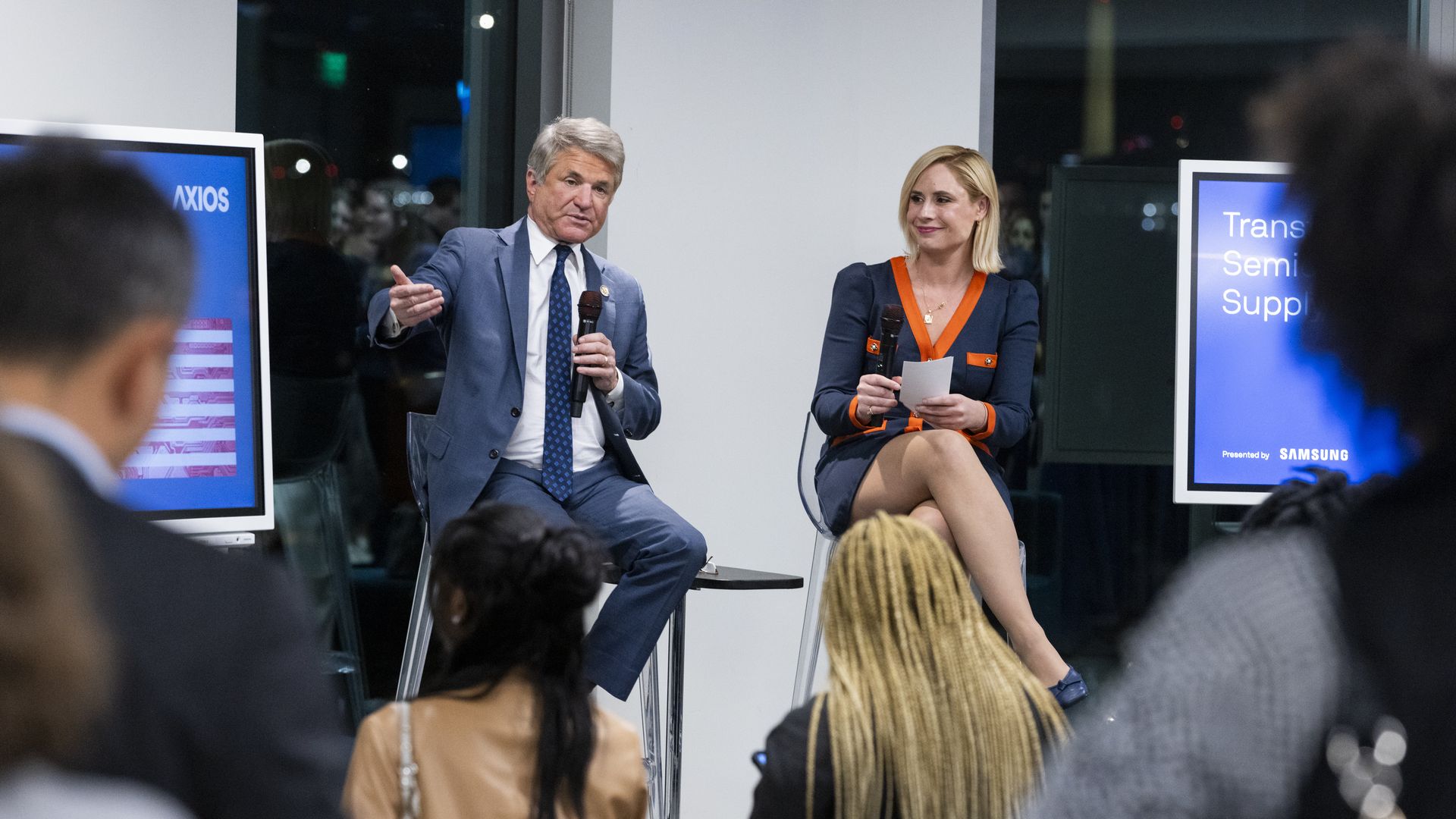 The big picture: On November 8, Axios hosted a reception in Washington, D.C. to explore the continuous impact the semiconductor industry has on the U.S. economy and abroad.
Axios business reporter Nathan Bomey and Capitol Hill reporter Juliegrace Brufke hosted one-on-one conversations with Sen. Mark Kelly (D-Ariz.), Rep. Michael McCaul (R-Texas), and Rep. Raja Krishnamoorthi (D-Ill.).
Why it matters: Manufacturing semiconductors in the U.S. has been a major focus for Congress and the Biden administration, especially with the passage of the CHIPS and Science Act last year.
This focus comes with ripple effects impacting different industries like education, tech, national security, and more.
Sen. Kelly said that progress has been made since the CHIPS and Science Act was passed, but explained the challenges that still lie ahead for the semiconductor industry.
"Once this grant money is distributed to the company, it will trigger a [the National Environmental Policy Act, or NEPA] process. And what that means is they may have to pause construction for an extended period of time to do this review. That's not good for anybody. I mean, it's not good for the company. It's not good for the people that work at the company. It's not good for our national security. We've got to get these chips being made here in the United States. So we're still working on that."
Rep. McCaul, chairman of the House Foreign Affairs Committee, detailed the urgency of allowing the semiconductor industry to bypass the NEPA regulation.
"We can't wait five years doing environmental impact studies to build these manufacturing plants. We need to get this done now, and it has to happen in the National Defense Authorization bill. If we don't get this done, we're going to jeopardize the whole intent of the [CHIPS and Science Act] and slow it down by 3 to 5 years. So that's why it's so important that we get this done"
He also explained why the urgency to expand the U.S. semiconductor industry is important to national security.
"After the January elections in Taiwan, if the PRC candidate does not win, then we're looking at really a window of time, possibly a year when China could actually invade Taiwan…Then they would either own or break…90% of the global advanced semiconductor chip manufacturing. So that's a very, you know, kind of startling prospect. We obviously don't want that to happen. We want to continue with what's happening in the United States and hopefully the lawmakers understand that."
Meanwhile, Rep. Krishnamoorthi discussed the probe into investment firms like Sequoia Capital, Sequoia Capital China, and GGV Capital to determine how much they have invested into China's AI and semiconductor industries.
"We're still gathering information…but what we know is that a number of them have invested in a number of companies in China that have very close ties, concerning ties with either the PLA or they are actively selling into an ecosystem such as in Xinjiang, where there's a Uyghur genocide happening today…There are 23 million Uyghur people in Xinjiang province in the northwest corner of China whose identity, whose–in many cases–their families, everything about them is trying to be erased by the Chinese Communist Party and we don't want any part of that."
Sponsored content:
Gene Irisari, vice president of public affairs and head of semiconductor policy for Samsung Electronics America, discussed the importance of building the semiconductor.
"Workforce is a vital, vital part of the CHIPs act, it's a vital part of the success of the CHIPS Act. Without the workforce, we can build all these fabs and not have people to work there…Workforce is the lifeblood of our industry and allows us to remain innovative. And for that's one reason why Samsung is investing in the United States because of the diversity of the workforce and the great workers that we can attract from the great universities. We see that as a definite benefit."
Thank you to Samsung for sponsoring this event.
Go deeper