Florida barn will be the world's largest 3D-printed building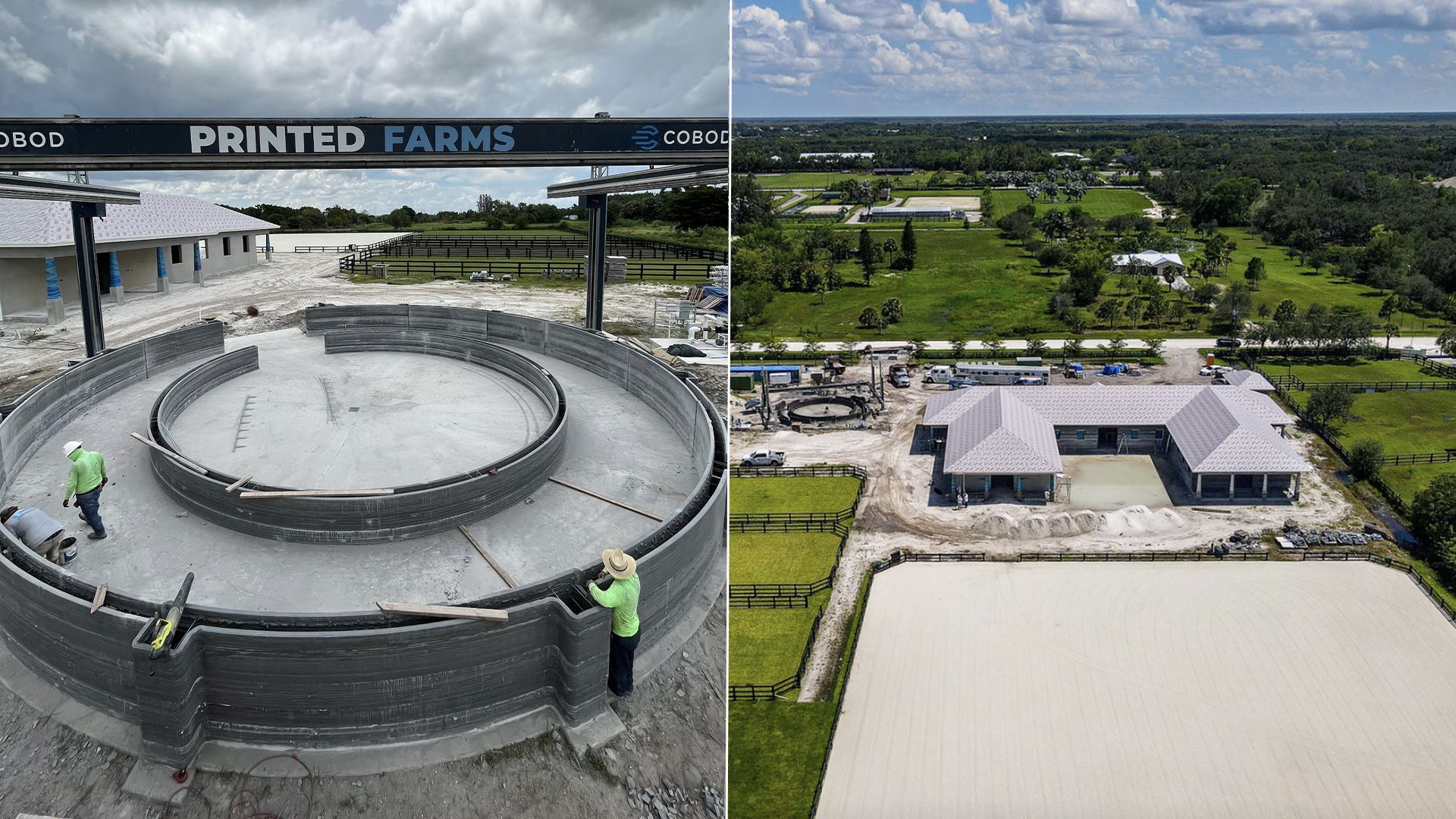 A luxury horse barn in Florida is primed to be the world's largest 3D-printed building.
Why it matters: 3D-printed buildings tend to be promoted as a promising new solution for an industry wielding a major carbon footprint — but experts warn there's not enough evidence to support that claim just yet.
Driving the news: Once it's complete, the 3D-printed luxury equestrian barn in Wellington, Florida will overtake a building in Oman as the world's largest 3D-printed structure.
According to Printed Farms, the Florida-based startup developing the project, the building will have a total floor area of 10,678 square feet.
While the team finished the 3D-printing portion of the site build Wednesday, the installation of doors, windows, electrical fittings and other structural components is still needed.
Printed Farms founder Jim Ritter told Axios construction is expected to be finished by the end of August — refuting other reports that the build was already completed.
What they're saying: The climate case for 3D-printing buildings, according to Ritter, lies in waste reduction.
"America is a very wasteful society. We have to start keeping things longer. Our clothing, our cars, everything. That's the whole point of a greener, more sustainable building system," said Ritter.
In Malawi, Africa, 3D-printing homes "reduced construction waste almost tenfold and reduced CO2 emissions by up to 70%," while also minimizing transportation emissions for builds in remote areas, per the World Bank.
"If a building lasts 100 years, and you have to knock down conventional buildings every 20 years or 30 years, knock 'em down and replace them, that's pollution. That's not environmentally-friendly," said Ritter.
Yes, but: While the construction and use of our built environment accounts for more than one-third of global CO2 emissions, the cement industry alone contributes to roughly 8%.
Instead of solely using regular concrete, Printed Farms "pushes more of a mortar mix," according to Ritter — "which is also high in cement."
How it works: To create the 3D-printed horse farm, the Printed Farms team used a COBOD printer — a machine that extrudes concrete, mortar and other printable materials out of a specialized nozzle, with segments deposited layer by layer.
Meanwhile: Scientists are working to create a standard type of construction material that reduces the amount of cement in concrete, replacing it with bio-inspired materials to make it sustainable, said Elias Ali, an assistant professor of civil and environmental engineering at Case Western Reserve University.
"The biggest concern is, as long as the 3D-printers are using the same amount of cement, or even larger amounts of cement, we end up having the same [CO2] impact as conventional building," said Ali, who has researched the life cycle assessment of the environmental impact of 3D-printing houses compared to conventional buildings.
"The less cement you use, the less carbon dioxide emissions that you're going to produce."
State of play: Cement-based construction 3D-printing is not currently included in any official roadmaps for decarbonizing the cement sector.
Plus, there is no public information or data on how much energy is consumed by these processes, said Ali, who attributes the problem to the technology not being widely used and 3D-printed construction lacking regulations.
The other side: Mahesh Ramanujam, CEO at Global Network for Zero, who formerly led the U.S. Green Building Council, told Axios the criticism about the lack of data on energy consumption is "fair" — but he stresses it "cannot negate the opportunity and the impact that this 3D-technology can offer."
The bottom line: "Like any other construction technology that's out there, we cannot forget the fact — we have to build faster, but we need to build safer and [more] sustainable, with a lower carbon footprint," said Ramanujam.
Go deeper