Why the high price of modernizing the U.S. power grid is worth it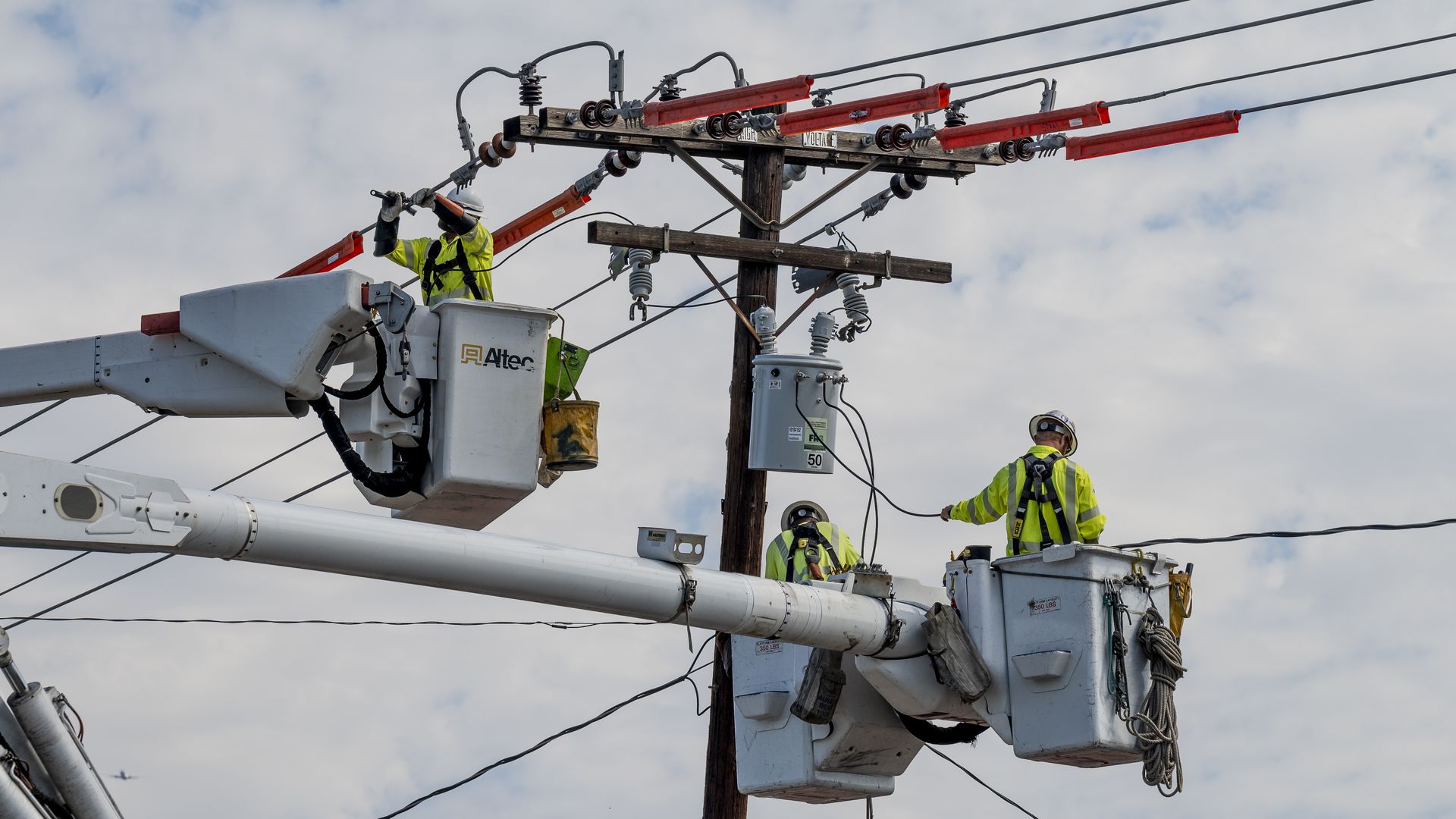 The U.S.' outdated and fragmented power grid is increasingly threatened by the effects of climate change and global warming, but estimates show that upgrading it may cost billions, even trillions, over the coming decades.
Why it matters: The price of those improvements will likely pale in comparison to the costs — in economic damage and in lives lost — that will be incurred by not sufficiently modernizing the grid, experts say.
By the numbers: Tallies of how much modernizing the grid will cost vary widely, ranging from more than one trillion to even several trillion over the coming decades.
But most of the estimates argue that not enough resources are being devoted to ensuring that the grid will function under the expected weather extremes of the future, making costly damages more likely.
The American Society of Civil Engineers, which gave the U.S. energy system a "C-" grade on its 2021 infrastructure report card, said then that grid investment trends will eventually lead to a funding gap of almost $200 billion by 2029.
The Department of Energy currently estimates that power outages cost the U.S. economy $150 billion annually, though the estimate did not include the human toll of outages.
The Bipartisan Infrastructure Law allocated $13 billion for modernizing the grid and the Inflation Reduction Act guarantees up to $250 billion in loans for projects that reduce greenhouse gas emissions from existing energy infrastructure.
An Energy Department spokesperson said it has yet to issue program loans but is currently accepting applications.
Details: A large swath of the U.S. power grid is decades old, and powered by fossil fuel plants. The grid wasn't designed with today's extreme weather events in mind, said Payman Dehghanian, a professor at George Washington University's School of Engineering.
Because of this, all aspects of the grid should be either replaced, upgraded or altered, Dehghanian said.
Upgrading facilities would include shifting toward renewable energy sources like wind and solar, building storage facilities to house them, and running hundreds of thousands of miles of transmission lines.
Running the lines alone can take years, Joshua Rhodes, a research scientist at the University of Texas at Austin, said.
Additional battery facilities will also be key to modernizing the grid because they can increase the efficiency of renewables, while allowing it to better meet demand during supply disruptions and recover faster after outages.
A 2020 Princeton study estimated that for the U.S. to achieve net-zero emissions by 2050, around $360 billion will need to be invested in new transmission lines for wind and solar plants and $2.4 trillion by 2050.
What's next: Demand response programs, which generally involve utilities or grid operators paying consumers to change their electric usage during periods of high demand, will also likely become common, Rhodes said.
In addition to wind and solar, Texas' power grid was able to meet record demand during the weeks-long heatwave last month by asking consumers to voluntarily reduce their energy use in exchange for financial incentives.
Improvements in energy-efficient appliances, electronics, homes, buildings and vehicles will also help lessen the strain on the grid, Dehghanian said.
The bottom line: Rhodes said he believes it would be far cheaper to upgrade the grid than to face the effects of climate change with a decrepit or under-improved grid.
Go deeper: "Extreme" heat envelops Phoenix, 42 million people under warnings
Go deeper