Sweden is building the world's largest wooden city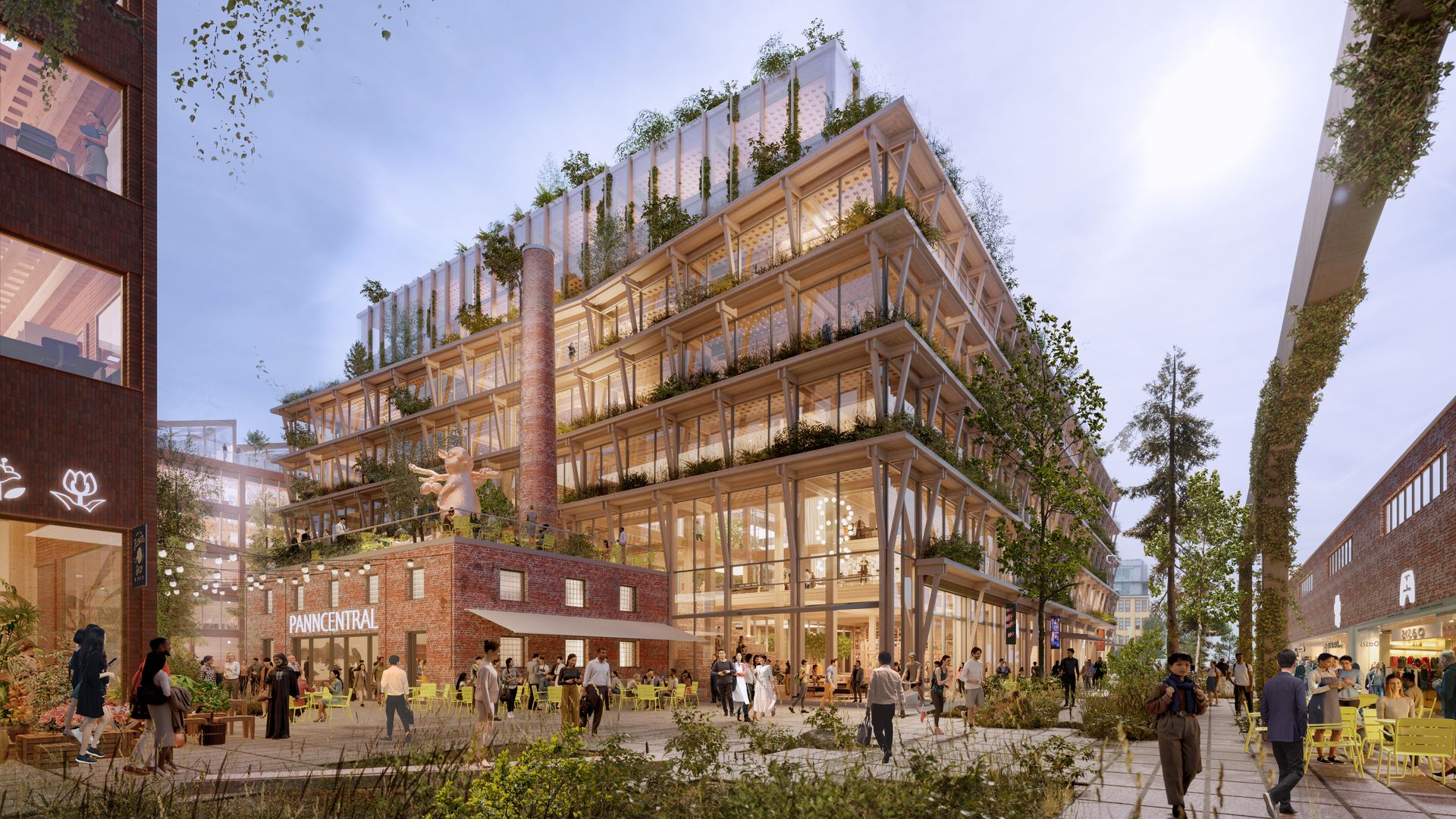 Swedish developers are getting ready to build the world's largest wooden city, setting the stage for a possible domino effect of similar projects across the globe.
Why it matters: The use of timber in urban construction has been found to produce significantly lower carbon emissions than conventional building materials — but it also brings new risks.
The biggest is the fire safety risk associated with wooden buildings — though that's a divisive point. Proponents say fears of inflated fire risks are misinformed, while skeptics point to issues concerning fire safety regulations.
Driving the news: The "world's largest urban construction project in wood" will be built in Stockholm, Sweden, according to an announcement by real estate developer Atrium Ljungberg.
It will feature 7,000 office spaces and 2,000 homes across over 250,000 square meters, a "mix of workplaces, housing, restaurants and shops" that The Economist reported will cost roughly $1.4 billion.
Designed by architecture firms White Arkitekter and Henning Larsen, construction on "Stockholm Wood City" is slated to begin in 2025 and will take a decade to complete.
The big picture: From a college campus building made almost entirely out of timber in Singapore to the 280-foot-tall timber skyscraper dotting Norway's skyline, architecturally innovative buildings made with wood composites have been picking up momentum.
Zoom in: With the building and construction industry responsible for almost 40% of global emissions, there's a climate case for building with mass timber — which encompasses a number of engineered wood products used in construction — that is a major part of the appeal.
Studies have found that swapping in mass timber for steel and concrete in mid-rise structures can reduce emissions associated with manufacturing, transporting, and installing building materials by up to 26.5%.
Yes, but: Some researchers have argued that because of a lack of data surrounding the total carbon impact picture of mass-timber buildings, the use of mass timber in building projects may result in a production process that is more emissions-intensive than previously understood.
Plus, a lack of clarity and congruency concerning fire safety regulations can be another sticking point.
Experts have warned that architect proponents "must improve their understanding of fire safety or risk disaster," Dezeen magazine reported — citing the lack of a consensus across different building code jurisdictions about safety limitations as one problem.
What they're saying: In the case of "Stockholm Wood City," Annica Ånäs, CEO of Atrium Ljungberg, told Axios in an email that the project meets the "same high safety requirements as all other constructions" — including fire safety.
She noted that the wood used is "specifically designed for its purpose," citing how engineered wood forms a protective char layer on the surface that retains much of its structural strength, "contributing to a safer structure."
Meanwhile: In the U.S., interest in modern timber building — notably in the form of wooden skyscrapers and a nine-acre timber airport roof — has been steadily growing.
Last year, Fast Company reported there were some 1,300 mass-timber buildings being constructed or already developed across the country, a number expected to climb as cities continue to adapt their building codes.
What we're watching: While the use of mass timber in lower-density residential construction is common nationwide, an entire city built out of timber isn't likely anytime soon, said Urban Institute researcher Andrew Rumbach.
"There was an era where we built cities out of wood, and cities burned down," Rumbach told Axios, noting that many building codes would have to first be updated, as a good portion have their origins in urban fires.
Another barrier to a "Stockholm Wood City" replica popping up in the U.S. is geography, according to Rumbach, who studies housing and community risk to hazards and climate change.
"Where are you going to build an all-wood city? It's probably going to need to be somewhere where there is relatively low risk from wildfire, because you wouldn't necessarily want an all-wood city in a wildfire-prone region."
The other side: Katie Mesia, a design resilience leader and principal at Gensler, a global architecture and design firm based in the U.S., told Axios she's optimistic about the imminent likelihood of an American version of Sweden's "wood city."
She noted that the development project is the latest example of a growing "tidal wave" of interest in modern building with mass timber — spreading more rapidly across Europe, but also increasing within the U.S.
The bottom line: "I am convinced that we will see more such projects across the world," Atrium Ljungberg's Ånäs told Axios.
"I just think people need to see examples of it. Now when they do, I am sure they will be inspired."
Go deeper