The fight for food in Central America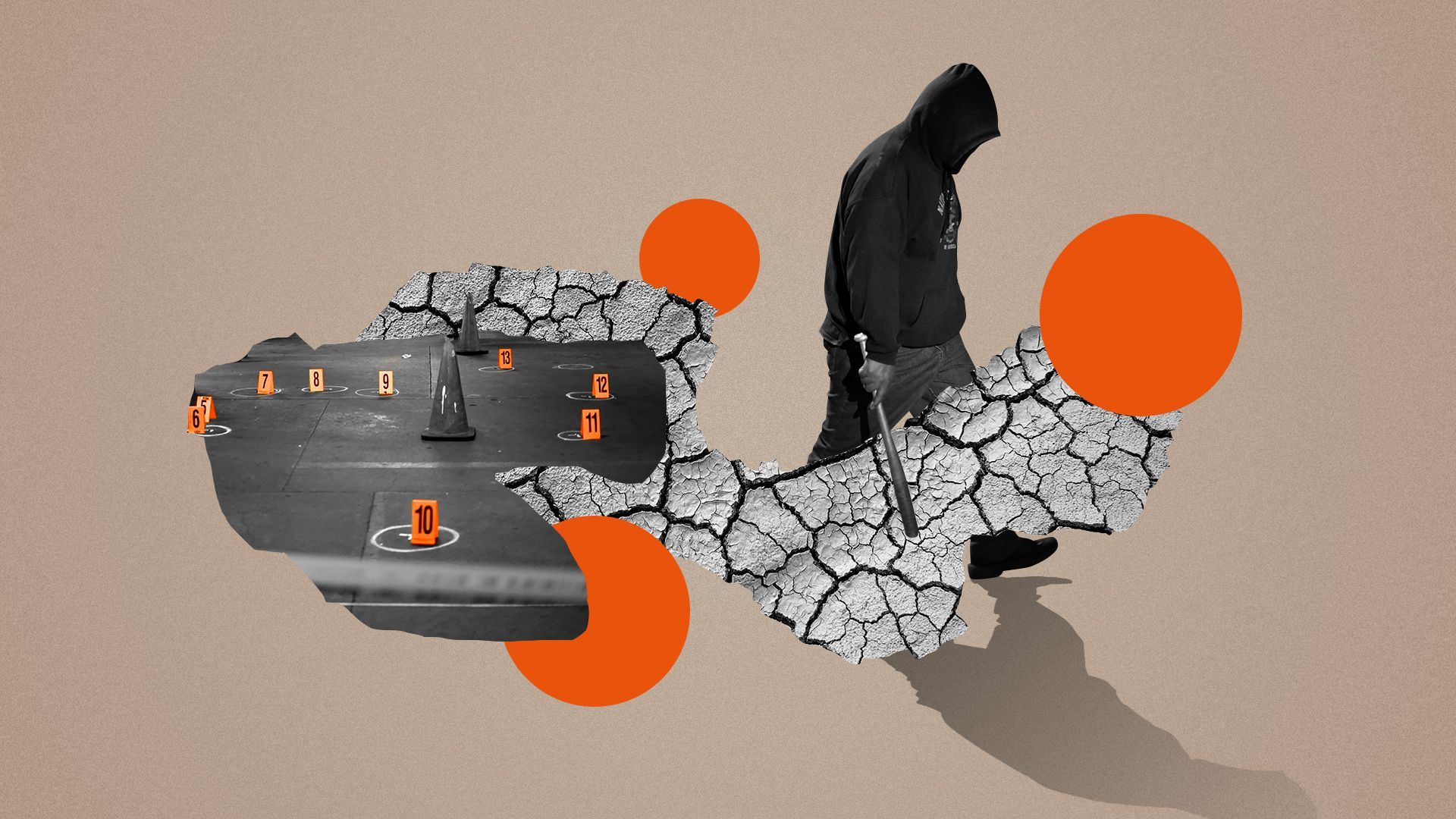 A growing water-food deficit powered by climate change is ramping up conflict in densely populated Central American cities prone to violence, according to new research.
Why it matters: It's no secret that water scarcity fuels domestic, social and political instability. The role of drought in agricultural production and food security, and how that correlates with conflict, is less understood.
The annual spring meetings of the International Monetary Fund and the World Bank Group are taking place this week in D.C., where climate change and the global food crisis are slated to be a central talking point.
What they found: A new study published in the journal Nature Water finds that food production declines in Central America's rural areas can spike food insecurity in connected urban environments due to the fundamental role of food trade.
The paper links droughts, food access/availability and rates of urban conflict from 1996 to 2016 along the Central American "dry corridor."
The "dry corridor" is an ecological region along the Pacific coast that extends from southern Mexico to Panama and includes Guatemala, El Salvador, Honduras and Nicaragua.
Zoom out: Several cities in the tropical dry belt are known for high rates of homicide and urban violence — and more than a quarter of the population lack the necessary income to buy food.
Rural communities in the "dry corridor" are also plagued by the canícula, an exceedingly dry period that regularly "interrupts" the wet season during July and August, per the UN's Food and Agriculture Organization.
How it works: Loss of rainfall adversely affects the production of crops, such as basic seasonal grains, which make up a main source of food supply and income for low-income households that rely on local agriculture.
What they're saying: Lead author Martina Sardo, civil and environmental engineering PhD student and research fellow at Politecnico di Milano, tells Axios that their new paper is one of the first to quantitatively measure the impacts of climate-fueled food insecurity on conflict.
By the numbers: One example is the fallout of the 2009 drought in Guatemala, which drove major yield declines in agricultural production of coffee (-20%), sugarcane (-10%) and maize (-30%) in rural Retalhuleu, located in southwestern Guatemala, where the canícula is felt more intensely.
This in turn spiked food insecurity in Guatemala City, which is connected to Retalhuleu through food trade, resulting in a total available food supply below the daily minimum energy requirement.
That same year, there was a noticeable increase in the number of conflicts in Guatemala City.
"When droughts occur ... the flow of food is reduced," says Sardo.
Of note: The research further reinforces climate's role as a 'threat multiplier'.
A 2022 analysis by the World Food Programme and CGIAR found that climate-related shocks on food production "constrain rural prosperity and hinder food security" in the Central American dry corridor, driving migration into urban areas, particularly for "small-scale grain producers."
The bottom line: "This region is already vulnerable and climate change is exacerbating these vulnerabilities," says Sardo. "Improving regional resilience could be a point to avoid food insecurity."
Go deeper