Everything we know about the gas leak in the L.A.-Las Vegas pipeline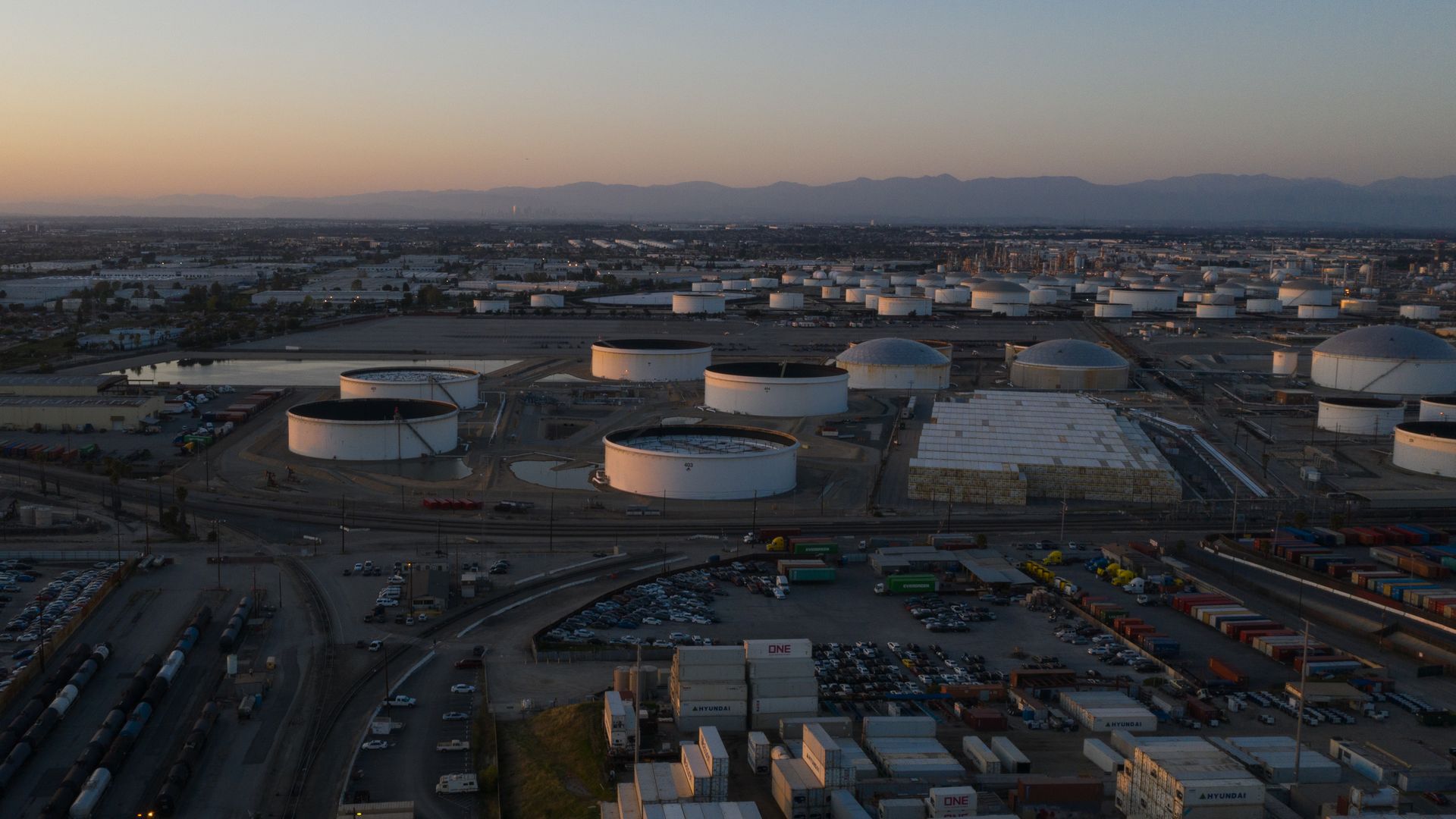 A leak discovered in a gas pipeline that runs between Los Angeles and Las Vegas has led to a state of emergency in Nevada as state and local officials rush to stem possible shortages.
Driving the news: The leak, discovered at a pumping station in a city near Los Angeles, has forced several associated fuel lines to shut down. Kinder Morgan Energy Partners, which operates the pipeline, said that the cause for the leak is currently unknown and that an investigation is underway.
What they're saying: "There are no injuries or fire reported as a result of this incident," Kinder Morgan said.
In a separate statement, spokesperson Katherine Hill said the pipelines are expected to "resume operations this afternoon and begin delivering fuel to their respective market areas later today."
It's unclear how large the leak is.
The latest: Nevada Gov. Joe Lombardo (R) declared a state of emergency Saturday, saying in a statement that it would allow the state to "receive federal waivers and resources ... [and] increase transportation of fuel by other means during this time."
"To avoid any unnecessary shortages, I strongly urge all Las Vegas residents to avoid panic buying while awaiting repair timeline updates," he added.
In Clark County, which includes Las Vegas, an emergency declaration was issued Saturday morning to expand avenues for delivering fuel into the area.
"This leak has not impacted the supply of fuel, but rather the method in which this fuel normally comes into Southern Nevada," the county said in a statement posted on Twitter.
"This declaration allows for our region to leave no stone unturned as we seek to continue to provide unleaded and diesel fuel to our residents as well as our emergency response providers."
In Nye County, Nevada, officials said Saturday afternoon that systems were "coming back online."
"Fuel should be flowing within the next few hours. Residents are encouraged to delay fuel purchases if possible to allow supply to refill due to recent panic purchasing."
The big picture: It's not the first time a Kinder Morgan pipeline has had a leak.
The company was fined $2.5 million after a ruptured oil pipeline in 2020 leaked large amounts of gasoline into a water channel in Walnut Creek, California, The Mercury News reports.
A Kinder Morgan pipeline in Wood River, Illinois, also had a gas spill after prolonged frigid conditions last year, per Fox 2.
Go deeper