Jalen Hurts and Patrick Mahomes will make Super Bowl history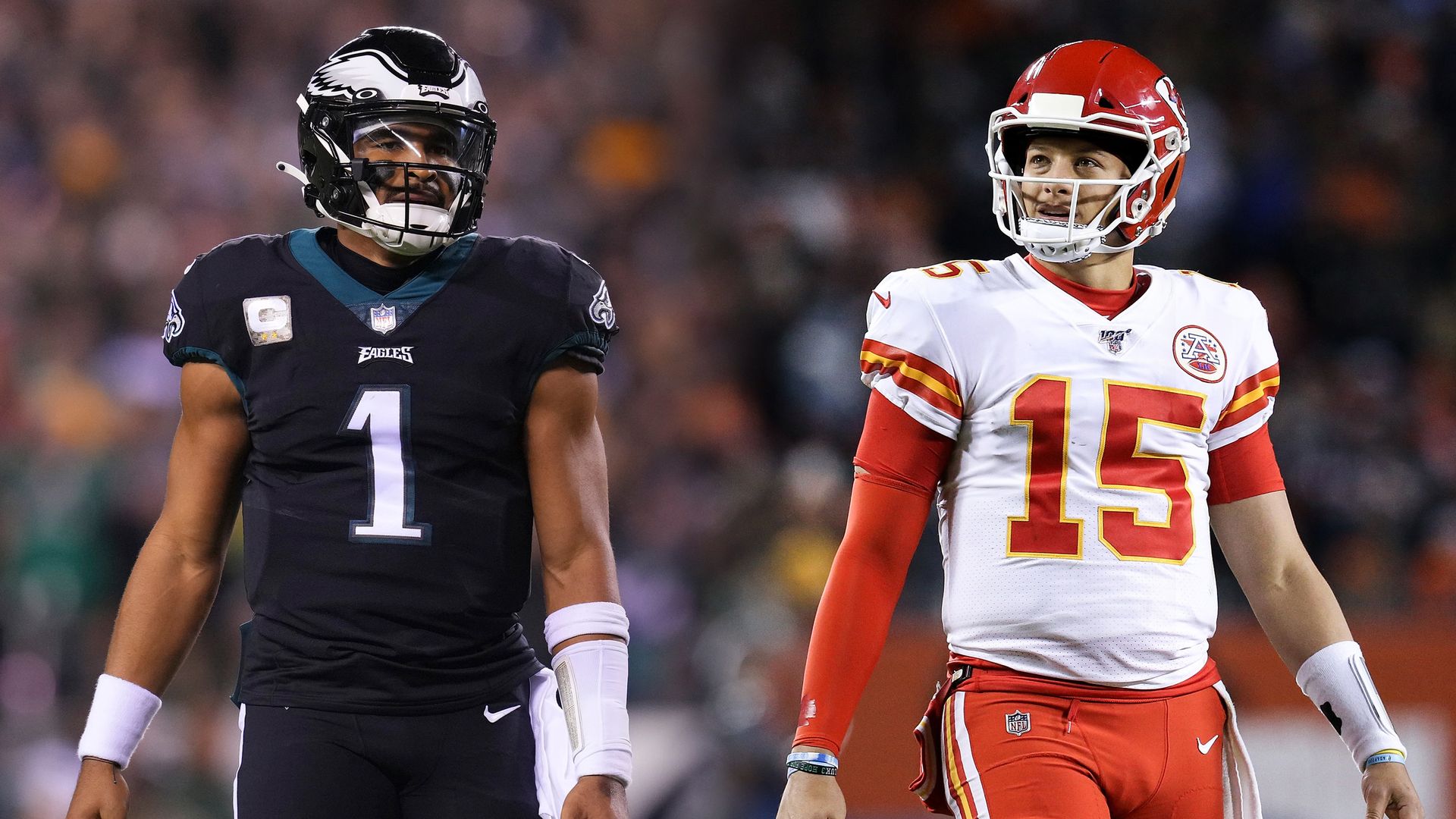 Patrick Mahomes and Jalen Hurts will make history on Sunday, becoming the first Black QBs to start against each other in the Super Bowl.
Why it matters: The vast majority of NFL players are Black men (70% as of 2022). Finally, they'll be fully represented at football's most important position on football's biggest stage.
Hurts: "It's a historic moment. It's telling kids that maybe if someone is telling them they can't do something, that it can be done."
Mahomes: "The guys that came before me and Jalen set the stage for this, and I'm just glad that we can set the stage for … kids that are coming up now."
The backdrop: It's been 35 years since Doug Williams became the first Black QB to play in — and win — the Super Bowl. Hurts will be the eighth to do so, and hopes to be the fourth to win.
Williams: Won SB XXII in 1988 (Redskins 42, Broncos 10)
Steve McNair: Lost SB XXXIV in 2000 (Rams 23, Titans 16)
Donovan McNabb: Lost SB XXXIX in 2005 (Patriots 24, Eagles 21)
Colin Kaepernick: Lost SB XLVII in 2013 (Ravens 34, 49ers 31)
Russell Wilson (2x): Won SB XLVIII in 2014 (Seahawks 43, Broncos 8); lost SB XLIX in 2015 (Patriots 28, Seahawks 24)
Cam Newton: Lost SB 50 in 2016 (Broncos 24, Panthers 10)
Mahomes (3x): Won SB LIV in 2020 (Chiefs 31, 49ers 20); lost SB LV in 2021 (Bucs 31, Chiefs 9); playing SB LVII
The big picture: It took an agonizingly long time to reach this milestone, but the increasing prevalence of Black QBs suggests matchups like this one will become more commonplace going forward.
To wit, a record 11 Black QBs started in Week 1 this season, breaking the record of 10 set two years prior.
Three of the four Black QBs to win NFL MVP have done so in the last seven years, with Cam Newton (2015), Mahomes (2018) and Lamar Jackson (2019) joining McNair, who in 2003 became the first to win the award.
The other side: Similar progress has not been seen among the head coaching ranks, despite a rule implemented 20 years ago aiming to do just that.
Only 28 of the 519 head coaches in NFL history have been Black and just four of 30 active head coaches are Black.
And only one of those four, Mike Tomlin, has held his current position for more than a year.
Go deeper