USMNT's family feud heats up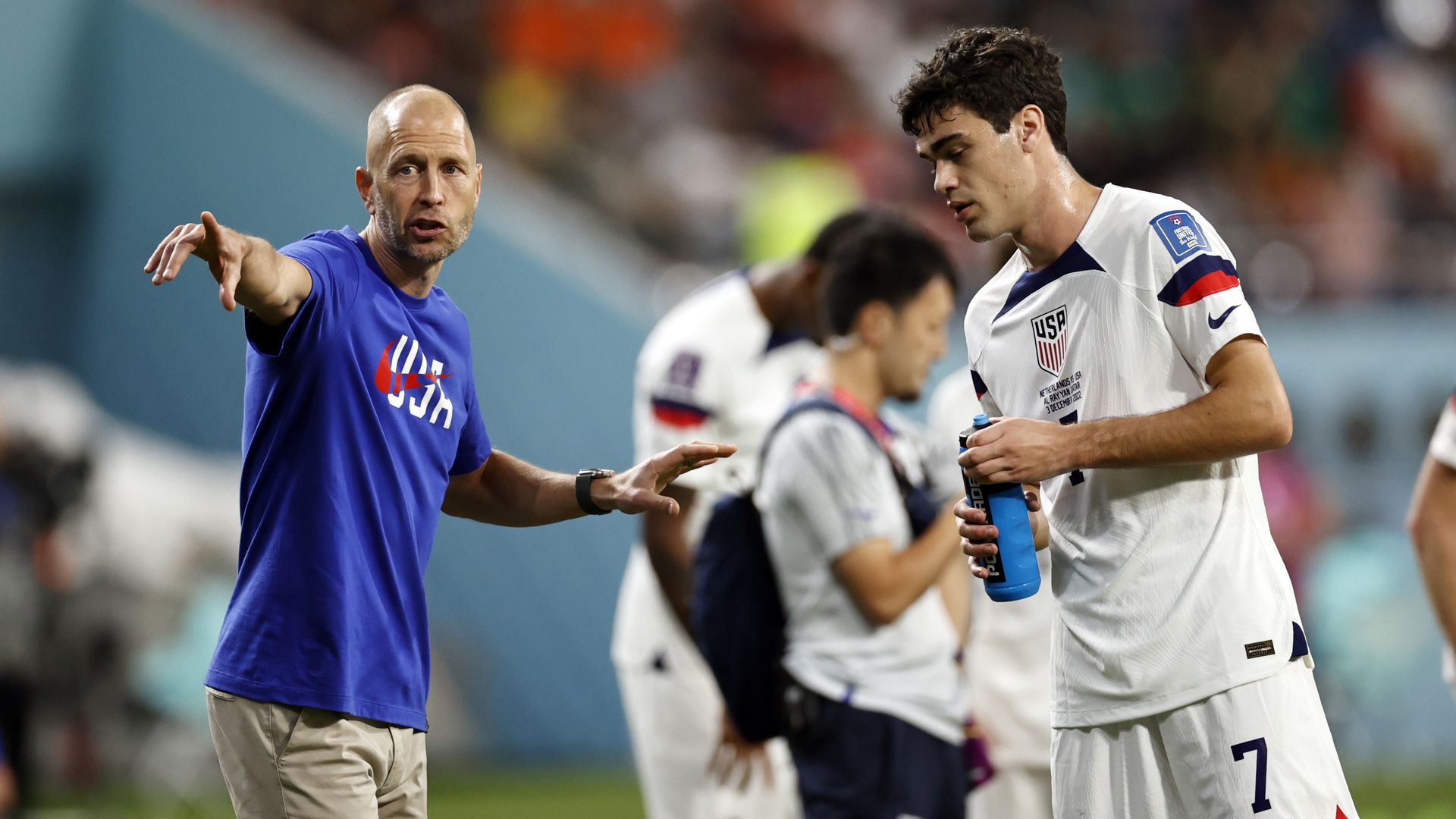 The Berhalters and Reynas may not be exchanging holiday cards again any time soon.
Driving the news: USMNT coach Gregg Berhalter, 49, went public on Tuesday with a domestic violence incident from his past.
When he was 18 — four months into dating his now-wife Rosalind at UNC — they got into a drunken argument that ended with him kicking her in the legs.
She immediately left him, but seven months later they reconciled.
They've been married for 25 years, have four children, and "to this day, that type of behavior has never been repeated," he wrote.
The backdrop: It turns out the reason Berhalter shared the story is that Danielle Reyna — wife of former USMNT captain Claudio and mother of current USMNT midfielder Gio — had already told U.S. Soccer about it last month out of frustration at her son's treatment at the World Cup.
Berhalter singled out Reyna — not by name, but everyone knew who he was talking about — after the team's World Cup exit, saying they "had a player that was clearly not meeting expectations on and off the field." In fact, Gio was nearly sent home from Qatar.
It was after those comments that Danielle told U.S. Soccer sporting director Earnie Stewart about Berhalter's incident, at which point U.S. Soccer hired a law firm to conduct an investigation.
Danielle was acting not only as an upset parent, but as a friend who witnessed the original incident's fallout firsthand. But as Berhalter said in a live interview on Thursday, "It was [my wife's] story to tell, if she chose to or not. That's what really saddens me."
What they're saying: "Rosalind Berhalter was my roommate, [UNC soccer] teammate and best friend, and I supported her through the trauma that followed," Danielle said in a statement on Wednesday.
"It took a long time for me to forgive and accept Gregg afterward, but I worked hard to give him grace, and ultimately made both of them and their kids a huge part of my family's life."
"I would have wanted and expected him to give the same grace to Gio. This is why the current situation is so very hurtful and hard."
Between the lines: Gio's father Claudio played alongside Gregg for decades at the youth, high school and national levels. These families are — or at least were — very close.
The big picture: This incident will always be a part of the USMNT's 2022 World Cup story, and could impact the team's trajectory towards 2026.
Berhalter's contract expired on Dec. 31, but Stewart said Wednesday that he could be re-hired pending results of the investigation.
In the meantime, assistant Anthony Hudson has been named interim coach for the USMNT's January friendlies.
Go deeper