Biden to expand climate push with heat readiness, offshore wind moves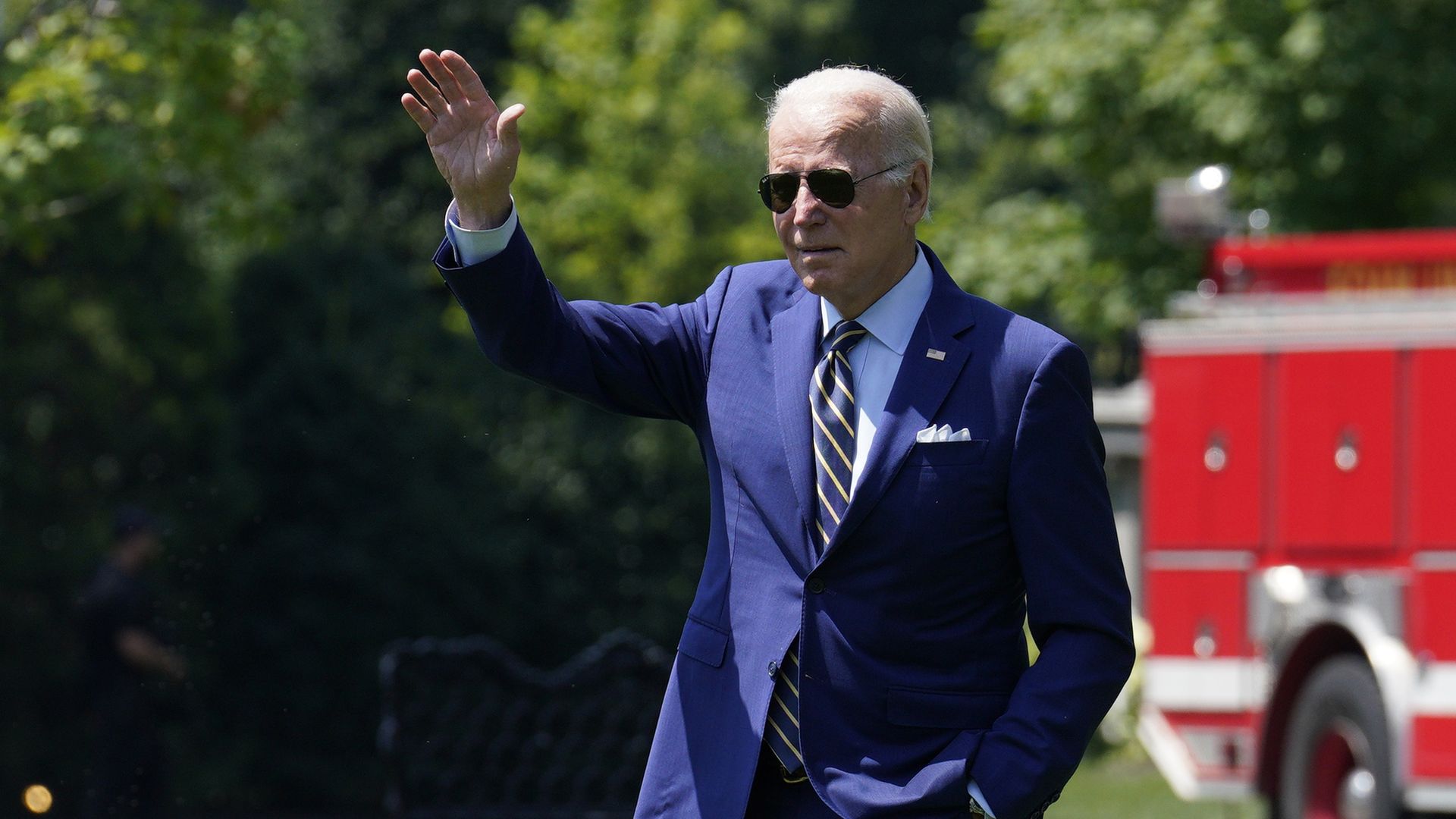 President Biden and White House officials announced new moves Wednesday to help protect communities from extreme heat and spur offshore wind projects — and promised that more executive efforts are coming soon.
Why it matters: The White House is looking to show that Biden's climate agenda remains intact even though major clean energy investment legislation appears close to dead on Capitol Hill.
The big picture: "I have a responsibility to act with urgency and resolve when our nation faces clear and present danger. And that's what climate change is about," Biden said in a speech in Somerset, Massachusetts that referenced ongoing U.S. heatwaves and other climate-related harms.
He said that "Congress is not acting as it should."
"This is an emergency and I will look at it that way... In the coming days, my administration will announce the executive actions we have developed to combat this emergency," Biden added.
Biden spoke at the site of a shuttered coal-fired power plant that's slated to become a manufacturing site for subsea cables used for offshore wind power.
The setting is aimed at emphasizing the economic benefits of transitioning from fossil fuels to climate-friendly energy sources.
Driving the news: The White House announced $2.3 billion via FEMA to help communities prepare for heat waves, wildfires, drought and other extremes worsened by climate change, White House aides say.
Other moves will include new federal guidance that helps the longstanding Low Income Home Energy Assistance Program (LIHEAP) better address cooling needs — via more AC units purchase and delivery, community cooling centers and more — in addition to heating costs.
A senior administration official told reporters the LIHEAP guidance is about "calibrating it to this new climate reality." The move comes as over 100 million people are under heat warnings and advisories in the U.S.
The Interior Department said Wednesday it has identified hundreds of thousands of acres in the Gulf of Mexico for potential wind energy leasing and invited public comment on them.
In addition, a White House summary says Biden is also directing the Interior to "advance wind energy development in the waters off the mid- and southern Atlantic Coast and Florida's Gulf Coast — alleviating uncertainty cast by the prior Administration."
It follows prior federal approval of two major offshore wind projects off Massachusetts and New York, and other moves aimed at transforming coastal wind from a nascent sector into a major U.S. power source.
Threat level: Despite executive efforts, analysts say that without new congressional action, the U.S. will likely fall well short of President Biden's target under the Paris agreement of cutting emissions 50% below 2005 levels by 2030.
What we're watching: Biden's under pressure from some activists and Senate Democrats to formally declare a "climate emergency" that would unlock more executive powers.
White House press secretary Karine Jean-Pierre said Tuesday that no emergency declaration is coming this week, but confirmed the idea is on the table.
The intrigue: Emergency declarations are not magic wands but do give presidents an expanded suite of tools.
The many options include expediting permitting and siting for clean energy projects and thwarting some fossil energy production and/or exports, the research firm ClearView Energy Partners said in a note.
"If the President does pursue a pre-election climate emergency, it might have more to do with green buildout than fossil energy shutdowns (due to energy price concerns)," ClearView said.
Go deeper