Analysts: Electric vehicle sales slated for 2022 surge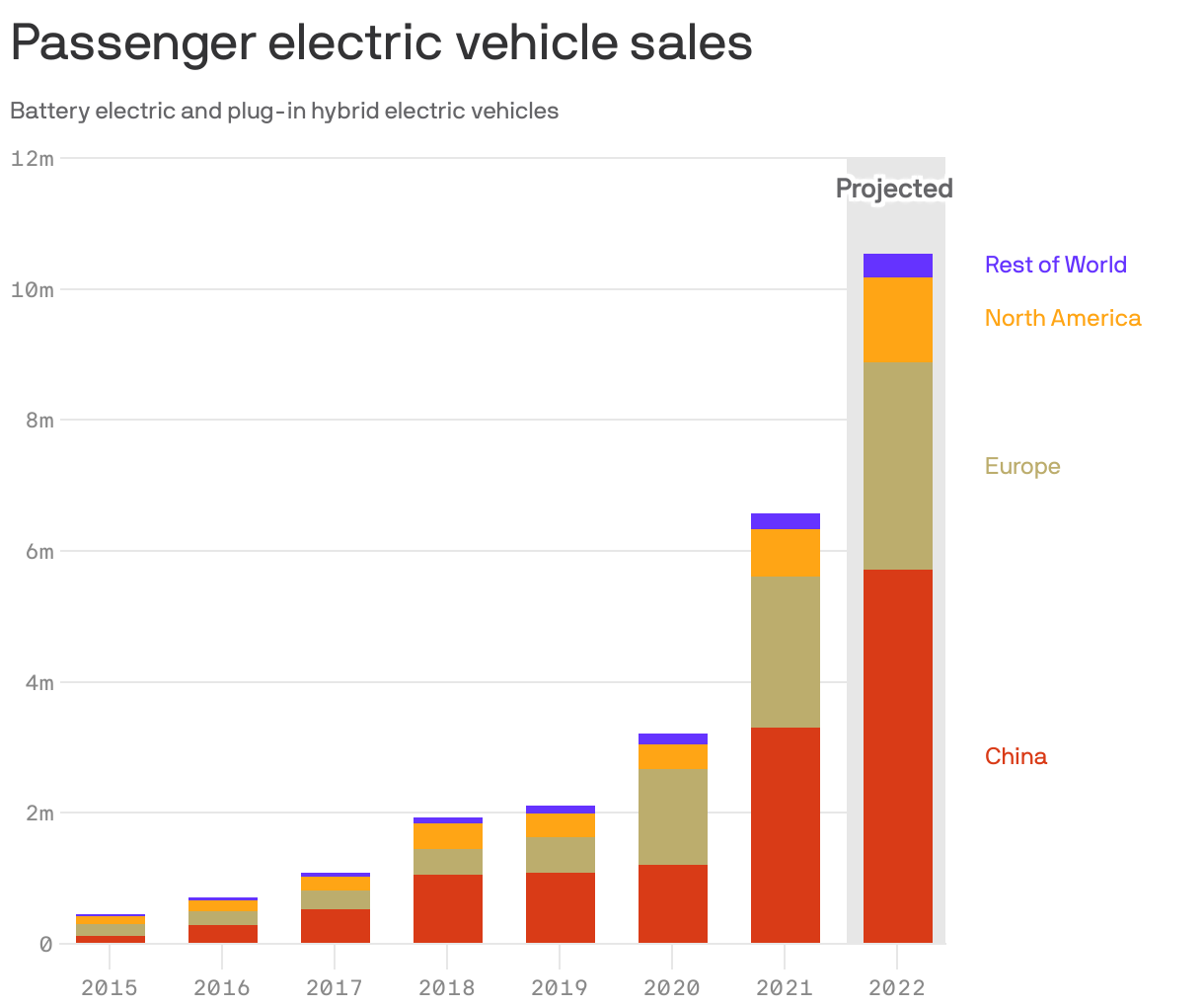 Global sales of electric passenger vehicles are projected to surpass 10.5 million this year, about 4 million above 2021 levels, as the tech grows more mainstream, the research firm BloombergNEF said in a new report.
Driving the news: Its 2022 outlook for battery-electric and plug-in hybrids sees a number of forces rowing in the same direction.
There are more models on the market, tougher climate policies, fleet purchases, automakers pushing cars with a plug, and other factors.
Why it matters: While noting policy is important, the analysis also states, "the passenger EV market is shifting from one driven by policy to one driven by organic consumer demand."
Zoom in: Here are a few other takeaways from the 2022 outlook...
China remains the biggest market and is projected to account for over half of global sales this year, with Europe around 30% and the U.S. the third-largest market.
The market for commercial-use electric delivery vans and trucks is growing. Bloomberg sees a 75% increase in zero-emissions sales this year.
Yes, but: "The surge in EV demand is putting unprecedented pressure on supply chains, and we expect prices for raw materials like lithium and nickel to remain high."
What we're watching: Congress. The push by Democrats to greatly expand consumer purchase incentives is stuck as the wider social spending and climate package lacks enough Senate votes.
BloombergNEF calls the outlook "murky" but predicts something will get through.
The full $7,500 credit is currently capped at 200,000 vehicles per manufacturer. Tesla and GM have already hit the cap.
BloombergNEF sees Toyota, Ford and perhaps Nissan hitting the cap this year.
Go deeper