U.S. unveils roadmap for net-zero aviation emissions by 2050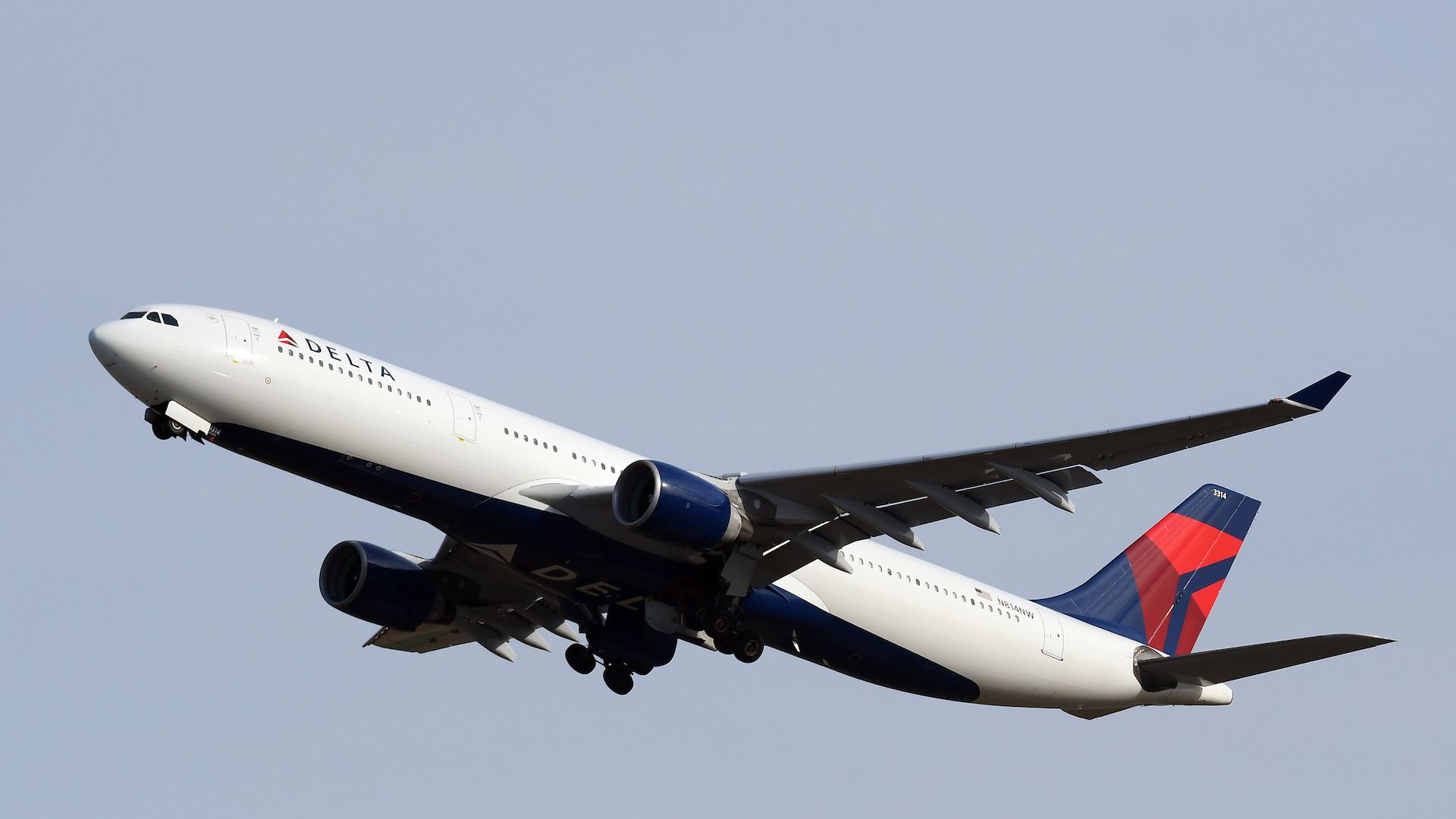 The Transportation Department is unveiling a multi-agency roadmap to slash greenhouse gas emissions from the U.S. aviation sector with a target of reaching net-zero by 2050.
Why it matters: Aviation accounts for around 3% of global carbon emissions, but has other warming impacts too. It accounts for 11% of U.S. transportation-related emissions, according to the White House.
Those emissions are projected to rise a lot in coming decades alongside the growth of air travel, absent aggressive adoption of climate-friendly tech.
In a hypothetical case of technology frozen in place, the strategy estimates that U.S. aviation emissions in 2050 would be around twice their 2019 levels.
Driving the news: The department just released its first "Aviation Climate Action Plan" that aims to further R&D and deployment of technologies that attack the problem in a suite of ways.
Transportation Secretary Pete Buttigieg is discussing the plan at appearances at the COP26 climate summit in Glasgow.
A very big part of the plan seeks to help spur development and uptake of sustainable aviation fuels (SAFs) for long-haul flights, as well as battery and hydrogen propulsion on shorter routes. SAFs do the heaviest lifting in the department's pathway to net-zero by midcentury.
Another goal is to help speed efficiency gains, with a target to "demonstrate a suite of aircraft technologies by 2030 to achieve a 30% improvement" relative to today's best tech.
While burning jet fuel comprises the vast majority of the sector's emissions, airports generate CO2 through ground operations, which is also a focus of the plan.
Of note: The net-zero target covers emissions from flights within the U.S. and its territories, as well as U.S.-based airlines' international flights.
The intrigue: Beyond CO2, the plan aims to get a better handle on other warming impacts of flying like "aviation induced cloudiness," or AIC, which includes contrails.
"Recent estimates indicate that the AIC warming effect could be comparable or even higher than those due to aviation CO2 although large uncertainties still remain," it states.
What we're watching: The Transportation Department is already using existing tools, such as providing over $300 million in funding this year to help electrify airport equipment.
The administration's multi-agency "sustainable aviation fuel grand challenge" program launched last month.
A separate effort is the joint NASA-Federal Aviation Administration "Sustainable Flight National Partnership" launched earlier this year to demonstrate new technologies in areas like electric propulsion, high efficiency designs and more.
The newly enacted bipartisan infrastructure bill has at least $100 million for projects to cut airport emissions, the department said.
The bottom line: More help from Congress is also likely needed to help put U.S. aviation on anything resembling the pathway envisioned in the report.
The Democrats' big spending and tax package includes new tax credits for SAFs, but the future of that package remains unclear.
Go deeper