Why the electric car era is a threat to Uber and Lyft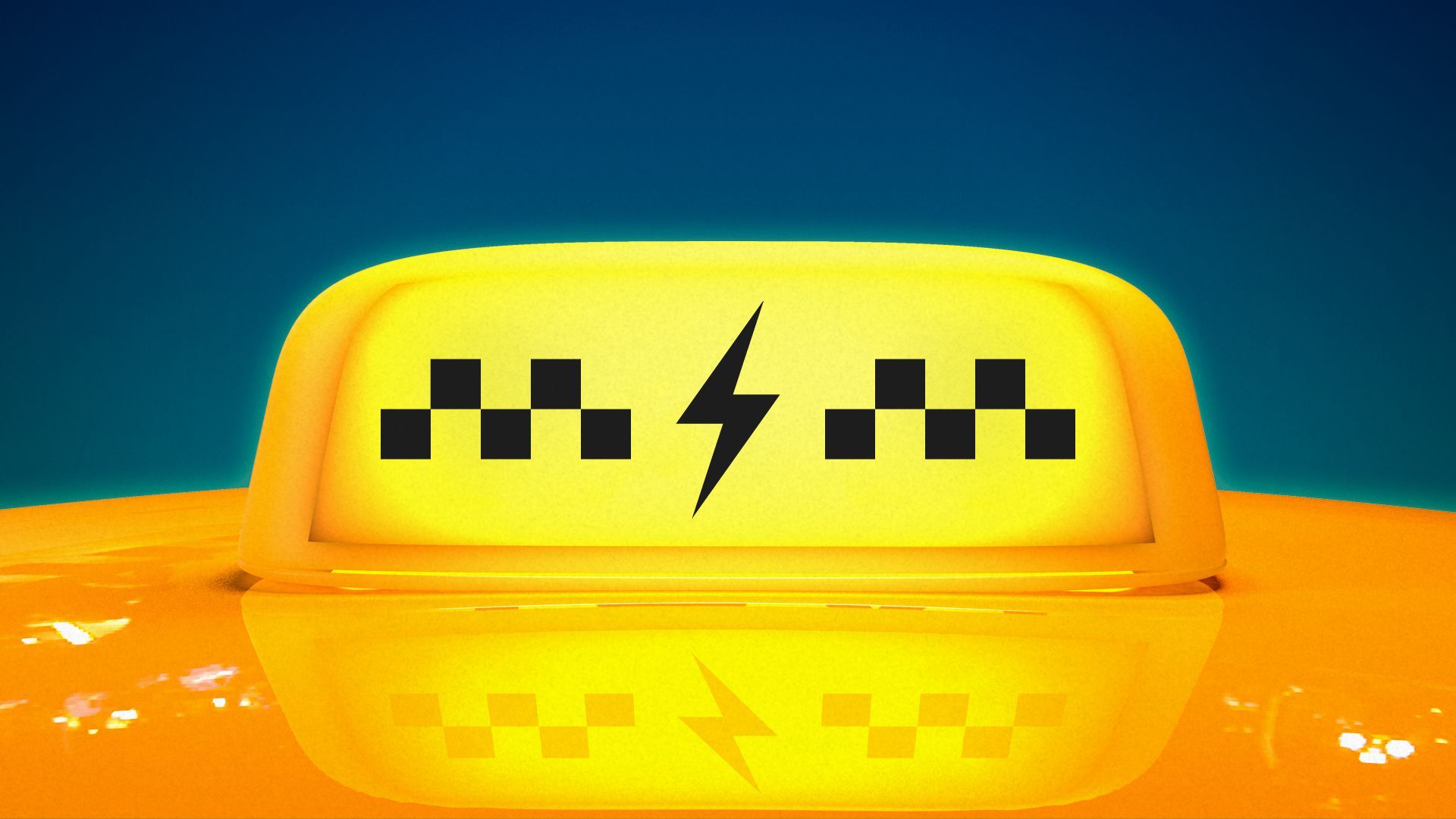 The taxi business is going electric, which could spell trouble for ride-hailing giants like Uber and Lyft, who can't force their drivers to buy EVs.
Why it matters: The two companies don't own and operate EV fleets or a charging infrastructure, and they rely on contract drivers who operate vehicles of their own choice.
That business model could prove antiquated in the Electric Age, as new companies entering the fray are choosing to manage their own fleets from a central hub and count their drivers as employees.
What's happening: A host of new players are challenging the incumbents' model:
New York-based Revel recently launched a ride-hailing service in Manhattan with a fleet of Teslas and 150 full-time drivers.
Another company, Alto, raised $45 million to transition to an electric fleet with full-time drivers. It operates in Dallas, Houston, Miami and Los Angeles, but plans to expand nationwide by 2025.
In Las Vegas, a premium electric taxi service called Kaptyn has 150 full-time drivers, although it provides pre-arranged, not on-demand, trips.
For Uber and Lyft, EVs present added challenges: They're too pricey for many gig drivers and they need to be recharged, cutting into time the drivers could be earning money.
Where it stands: The newcomers are tiny, but their rise could signal a shifting landscape.
"Ultimately, we believe the entire ride-hailing industry is in the early stages of transitioning from the current outsourced car and driver model to fully owned EV fleets with fully employed drivers," according to new research from PitchBook mobility analyst Asad Hussain.
What to watch: In ride-sharing, cars are a commodity. It's possible that a handful of fleet operators will own and maintain vast numbers of electric vehicles, leasing them out to service providers, including Uber and Lyft.
"It's the only way to make the economics work," says Kobi Eisenberg, cofounder of Autofleet, a Tel Aviv startup that specializes in fleet optimization software.
The other side: Uber and Lyft both express confidence in their business model and have committed huge sums to help drivers transition to EVs.
Uber is spending more than $800 million on earnings incentives and charging discounts to help drivers make the switch by 2025.
It's already seeing significant progress in Europe, where EVs are more popular.
In the U.S., Uber recently struck a deal with Hertz to make up to 50,000 Teslas available for rent by Uber drivers.
Lyft makes EVs available to rent through its FlexDrive subsidiary and is talking to automakers about adding more EVs to the fleet, Lyft's co-founder John Zimmer told Yahoo Finance this week.
"There is a huge shift happening," Zimmer said. "We feel very well positioned, and we want to bring multiple products to our drivers."
The bottom line: Electrification poses a disruptive threat to the very companies that disrupted mobility a decade ago.
Go deeper