Key clean power provision likely won't survive in Dems' spending bill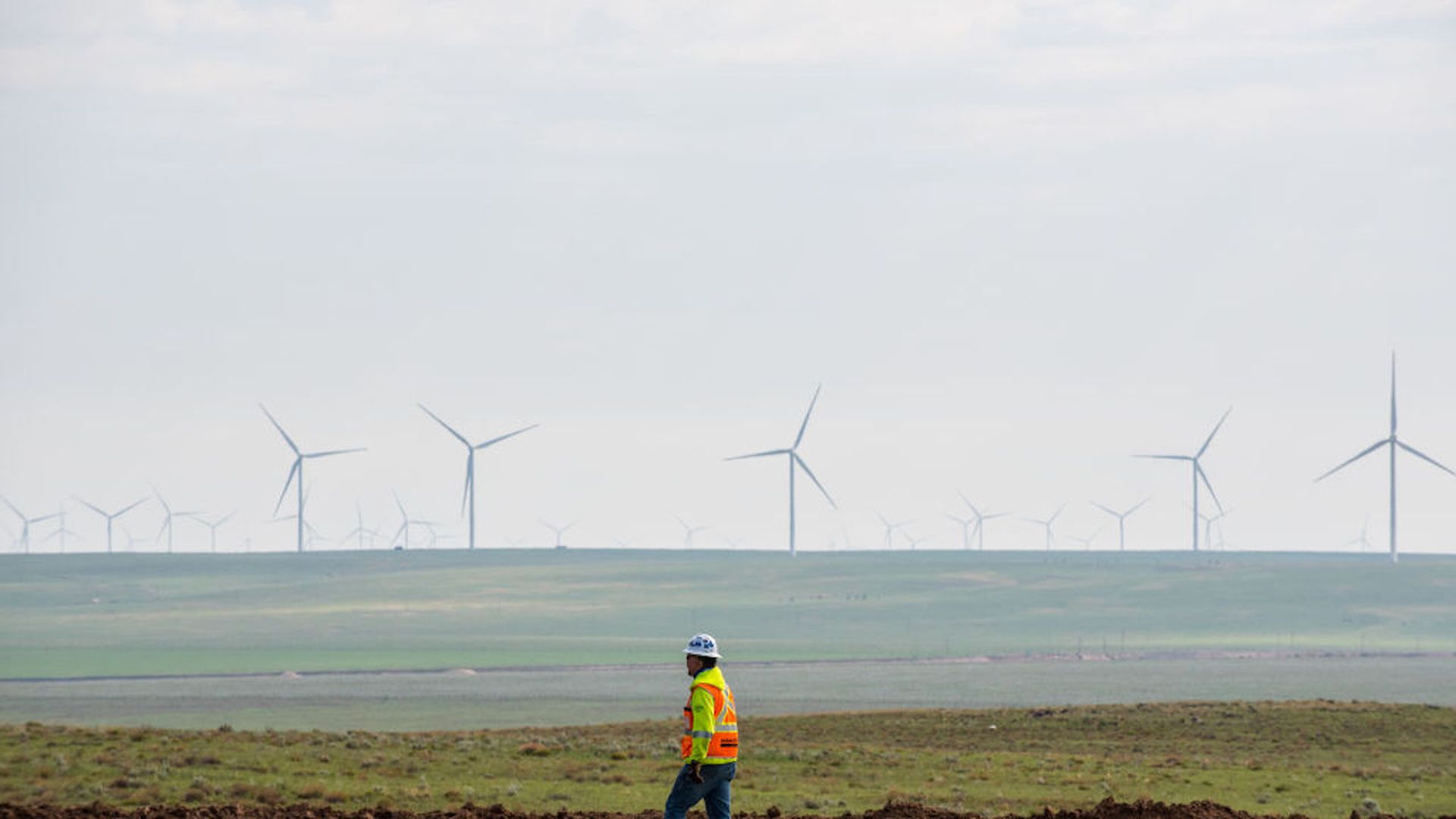 A pillar of Democrats' plans to speed deployment of zero-carbon electricity is likely to be cut from major spending and tax legislation they are struggling to move on a party-line vote, per multiple reports and a Capitol Hill aide.
Driving the news: The New York Times, citing anonymous congressional aides and lobbyists, reports that West Virginia Sen. Joe Manchin (D) has told the White House he "strongly opposes" the Clean Electricity Performance Program.
And CNN reports that it will "likely be dropped from the final budget deal" over pushback from Manchin, whose state is a major coal and natural gas producer and heavily reliant on coal-fired power.
A Democratic Capitol Hill aide confirmed Manchin's opposition to Axios.
Securing Manchin's vote on the wider, brewing package of health care, social safety net and energy provisions is needed in the evenly divided Senate.
Catch up fast: The CEPP is a proposed system of financial carrots and sticks for utilities to accelerate the ongoing transformation of the nation's fossil fuel-heavy power mix toward wind, solar and other clean sources.
Manchin has previously expressed reservations about the plan. The Washington Post reported yesterday that Democrats were seeking his support by floating changes to reward utilities that equip coal- and gas-fired power plants with costly CO2-trapping equipment.
But per the NYT Friday night: "Mr. Manchin indicated to the administration that he was now completely opposed to a clean energy program."
What they're saying: Sam Runyon, a spokesperson for Manchin, tells Axios:
"Senator Manchin has clearly expressed his concerns about using taxpayer dollars to pay private companies to do things they're already doing."
"He continues to support efforts to combat climate change while protecting American energy independence and ensuring our energy reliability," Runyon adds.
The big picture: The CEPP is part of the wider White House executive and legislative agenda to sharply cut U.S. greenhouse gas emissions and, on the power front specifically, help achieve the aggressive goal of 100% carbon-free power by 2035.
However, the brewing legislative package — which faces a very narrow political pathway — has a suite of other clean electricity investments and tax incentives.
The House proposal has $273 billion worth of overall energy-related tax incentives, including a number aimed at the power sector such as extended and expanded renewables credits.
What we're watching: The aide who confirmed Manchin's opposition to Axios cautioned that while the CEPP is significant, the package also has other measures to cut power sector emissions — such as expanded tax incentives — and that lawmakers' offices are seeking other ways to enable the emissions cuts the CEPP would have created.
The CNN piece suggests that something CEPP-related could still emerge. "Whatever comes through will not be called the CEPP, but we're strongly hoping and thinking there will be ways to meet what [Manchin] wants," a Democratic aide tells the outlet.
The intrigue: The jockeying over the scope of the Democrats' wider social spending and energy package, which is likely to come down a lot from their earlier $3.5 trillion target, comes ahead of the major United Nations climate summit that begins in two weeks.
The U.S. is hoping to help secure a deal that helps spur new emissions-cutting measures in other nations, but the Biden administration's negotiating posture could be hindered if the big spending and tax package is stalled or gutted.
Go deeper