The environmental benefits of bike sharing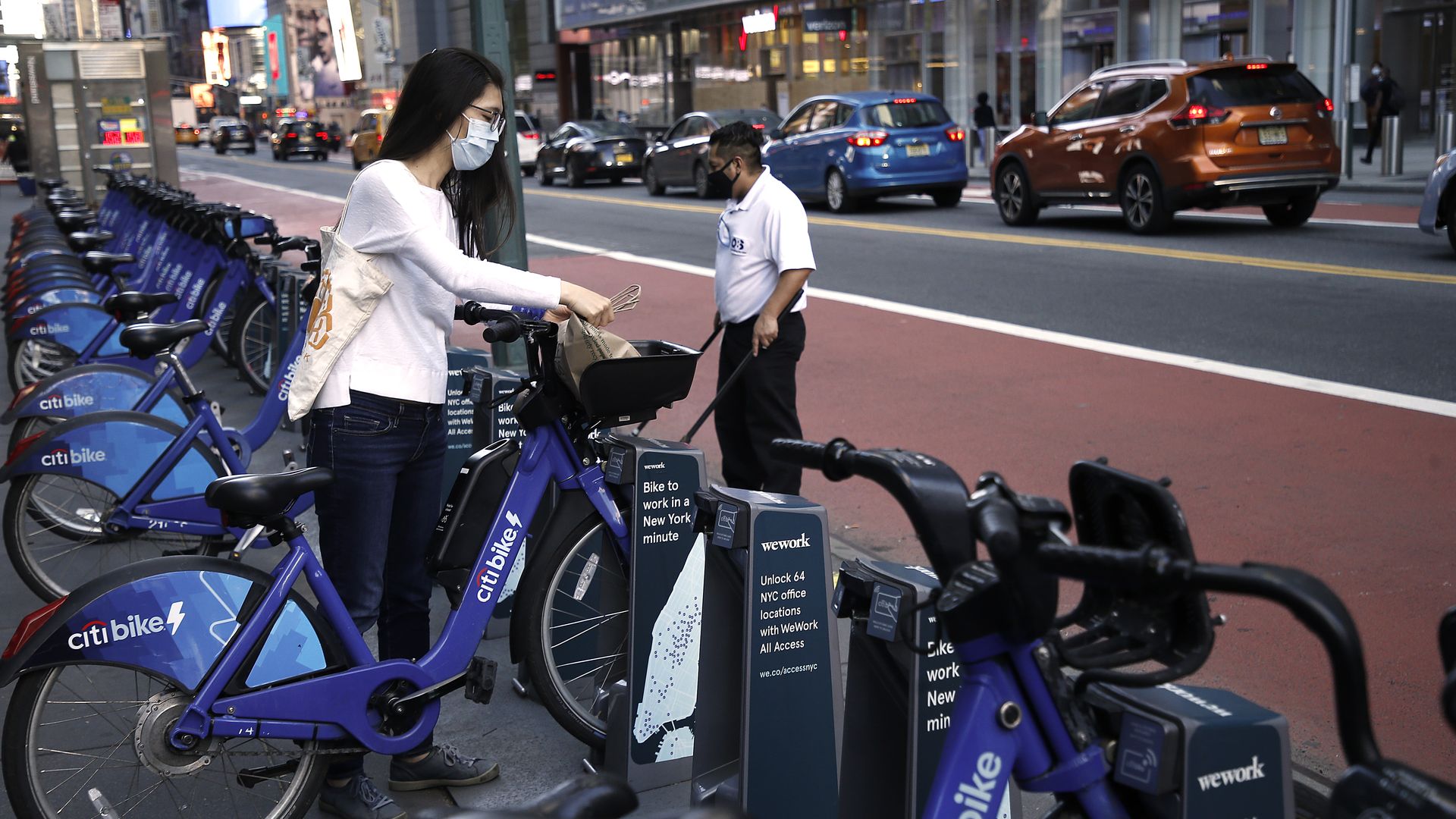 A new paper finds that New York's CitiBike bike-sharing system has prevented emissions of carbon dioxide and nitrous oxide and saved energy.
The big picture: Bike sharing has become increasingly popular in cities around the world, and the new research calculates the measurable effect the systems can have on climate change and other environmental challenges.
By the numbers: In a paper published Tuesday in the journal Cities, a team of researchers calculated that from 2014 to 2017 — the first three full years of its operation — New York's CitiBike system saved the equivalent of 13,370 tons of oil and reduced CO2 emissions by 30,070 tons and NOx emissions by 80 tons respectively.
"This statistic suggests that bike sharing is the right model for supporting commuting systems in cities to decrease CO2 emissions," the authors wrote.
Between the lines: Notably, the savings were greatest during the morning and evening rush hours, when bike-sharing use was heaviest and gridlock traffic ensured automobiles would be emitting more per mile.
The catch: In 2017, New York City's transportation sector emitted 18.9 million tons of CO2, which means the amount saved by CitiBike is just a drop in a much larger bucket.
Bike sharing also has accessibility and gender equality problems — the paper found that male CitiBike users saved nearly three times the amount of CO2 that female users did, a fact that the authors largely attributed to well-established safety issues faced by female cyclists.
While CitiBike usage has increased from its launch in 2013 and recovered from a pandemic-driven dip, there are still more cars than ever on New York's streets.
The bottom line: Expanding bike-share use is a net win for the climate. But for a dense city like New York, getting people back on mass transit is even more important.
Go deeper