Self-driving electric skateboards hint at future mobility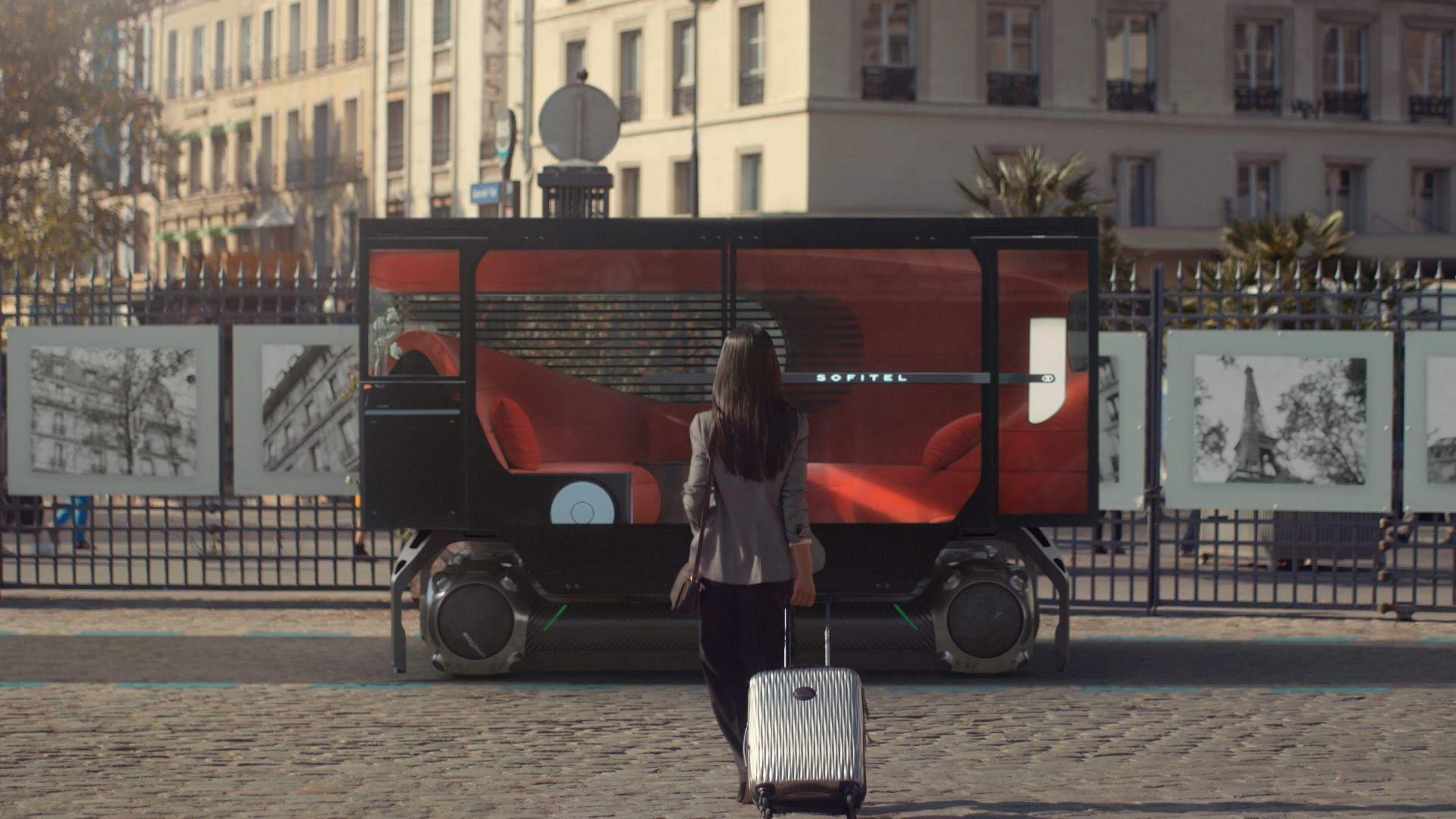 Nobody really knows what the future of urban transportation looks like, but chances are it will involve an electric skateboard.
Why it matters: Automakers like Citroën are imagining a future based on the same basic foundation: A "skateboard" chassis consisting of a flat battery pack and four wheels. What goes on top of the skateboard is open to interpretation — everything from robotaxis to delivery vans and more.
Driving the news: Citroën and two other large French companies are showing off some eye-popping new concepts that include a rolling hotel lounge and a gym on wheels, all tethered to an autonomous robot known as a Citroën Skate.
Citroën teamed up with Europe's largest hotel company, Accor, and the outdoor advertising giant JCDecaux — also a leader in urban bike rentals — on a self-driving mobility initiative called The Urban Collëctif.
Together, they came up with about 60 self-driving experiences that would allow people to explore cities in new ways.
How it works: The concepts — all futuristic and not-ready-for-a-street-corner-near-you — are based on Citroën's vision for an "open-source mobility model" that adapts to various needs.
Accor, for example, wants to extend the guest experience outside its hotels' walls:
En Voyage, therefore, would be a chic lounge — with a bar and virtual connection to the concierge — to transport travelers and their luggage from the train station to the hotel.
Power Fitness would be a moving vehicle with a rowing machine and exercise bike for travelers who want a workout while traversing the city.
City Provider would be a rolling, open-air park, with a green planted roof overhead and interactive screens to plan your excursion.
Fun details: The Citroën Skate's most interesting feature could be its Goodyear tires: They're spherical, which would allow the pods to move in any direction.
Yes, but: The Citroën Skate is designed to travel in dedicated lanes, which means they pretty much go in just one direction. Having dedicated lanes would improve traffic flow by 35%, Citroën says.
Citroën's design chief, Pierre Leclercq, said his team came up with more than 60 ideas for pods in just two days, ranging from a mobile optician to a barbershop, Car Magazine reported.
Context: While other carmakers haven't shown such far-out concepts, nearly all are working on some kind of modular skateboard platform that will be the foundation for new models.
GM, for instance, is designing luxury cars, pickup trucks, delivery vans and Cruise robotaxis on its Ultium EV platform.
Toyota's e-Palette can be customized for riders or cargo.
The bottom line: Autonomous, electric vehicles could potentially change the way people experience city life — by making roads safer and less congested while connecting them with jobs, housing, shops and entertainment.
While it's unlike any of these fantastical concepts will come to fruition, they represent the direction companies are hoping to build out our future mobility.
Go deeper