Major oil spill reaches California beaches, killing wildlife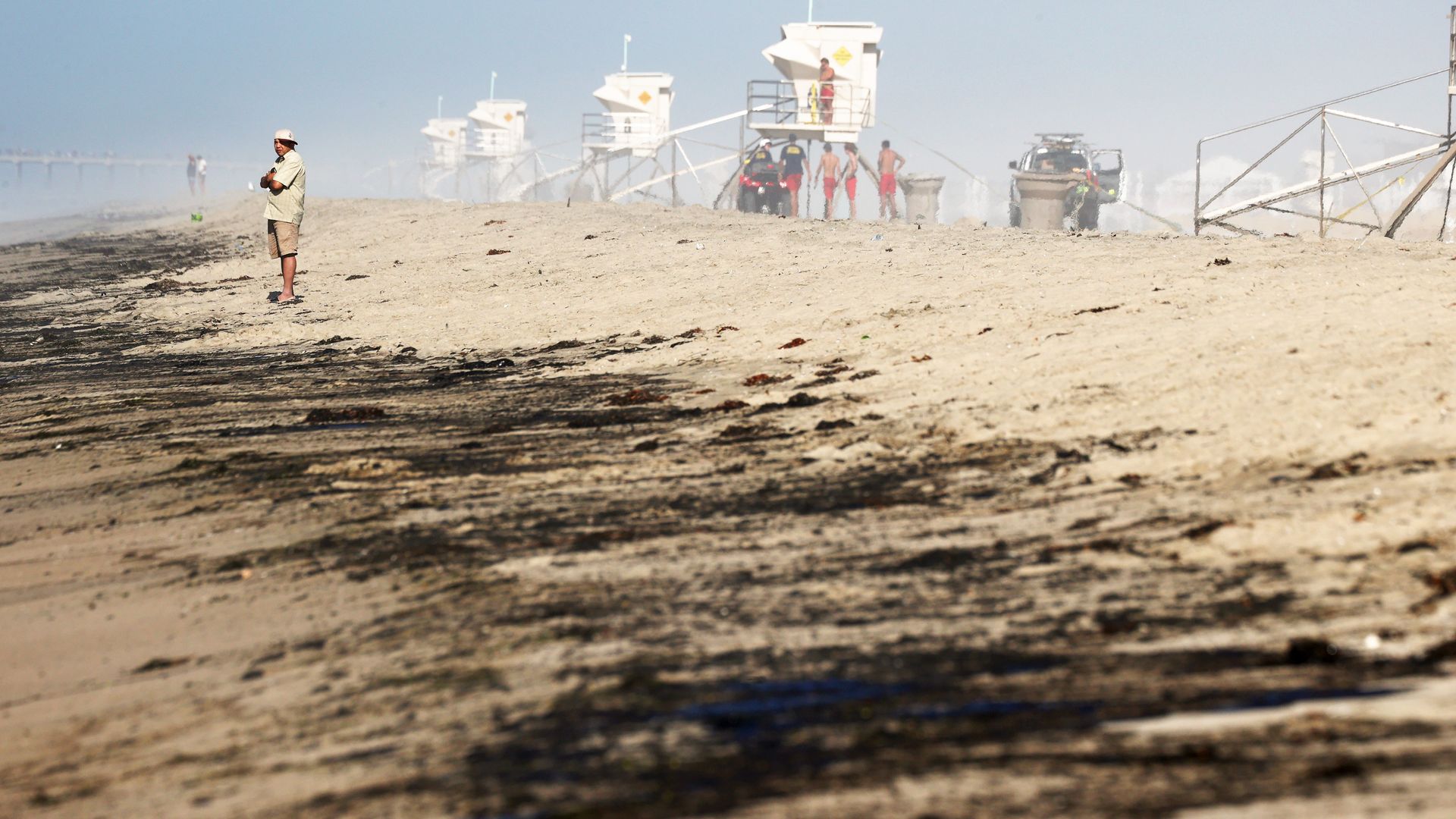 Crews were working into the night to contain a major oil spill that reached Southern California beaches and spread into wetlands Sunday, killing fish and birds.
The latest: Huntington Beach Mayor Kim Carr told reporters the result of thousands of gallons of oil leaking from an offshore oil rig was an "environmental catastrophe."
As of Sunday night, 3,150 gallons of "oily water mixture" was recovered from the spill area, according to according to a statement from Orange County Supervisor Katrina Foley.
Fisheries in the impacted area were closed to allow investigators to examine the impact on fish, Foley said just before midnight local time. Several beaches along the California coast were closed earlier, per a U.S. Coast Guard statement.
Of note: The pipeline from which the crude oil leaked was shut off Sunday, Martyn Willsher, CEO of Amplify Energy, which owns the facility, confirmed late Sunday to AP. All remaining oil in the pipeline was suctioned out, he added.
The big picture: The oil slick is estimated to be about 13 square miles in size, the Coast Guard. The spill is believed to have resulted from a pipeline leak that dumped 126,000 gallons, or 3,000 barrels, into the waters, per the Los Angeles Times.
Lifeguards have reported smelling oil odors throughout the affected beaches, according to Orange County Supervisor Katrina Foley.
Foley noted the ecological effects of the spill were already evident, saying "we've started to find dead birds and fish washing up on the shore."
Threat level: Foley warned in a statement: "The ramifications will extend further than the visible oil and odor that our residents are dealing with ... the impact to the environment is irreversible."
"All agencies, including environmental and wildlife, are working together to mitigate the damage," she added.
Jennifer Carey, a Huntington Beach spokesperson, told the Los Angeles Times: "We classify this as a major spill, and it is a high priority to us to mitigate any environmental concerns."
Editor's note: This article has been updated with more details on the spill and recovery efforts.
Go deeper