What's next: A drone station on every corner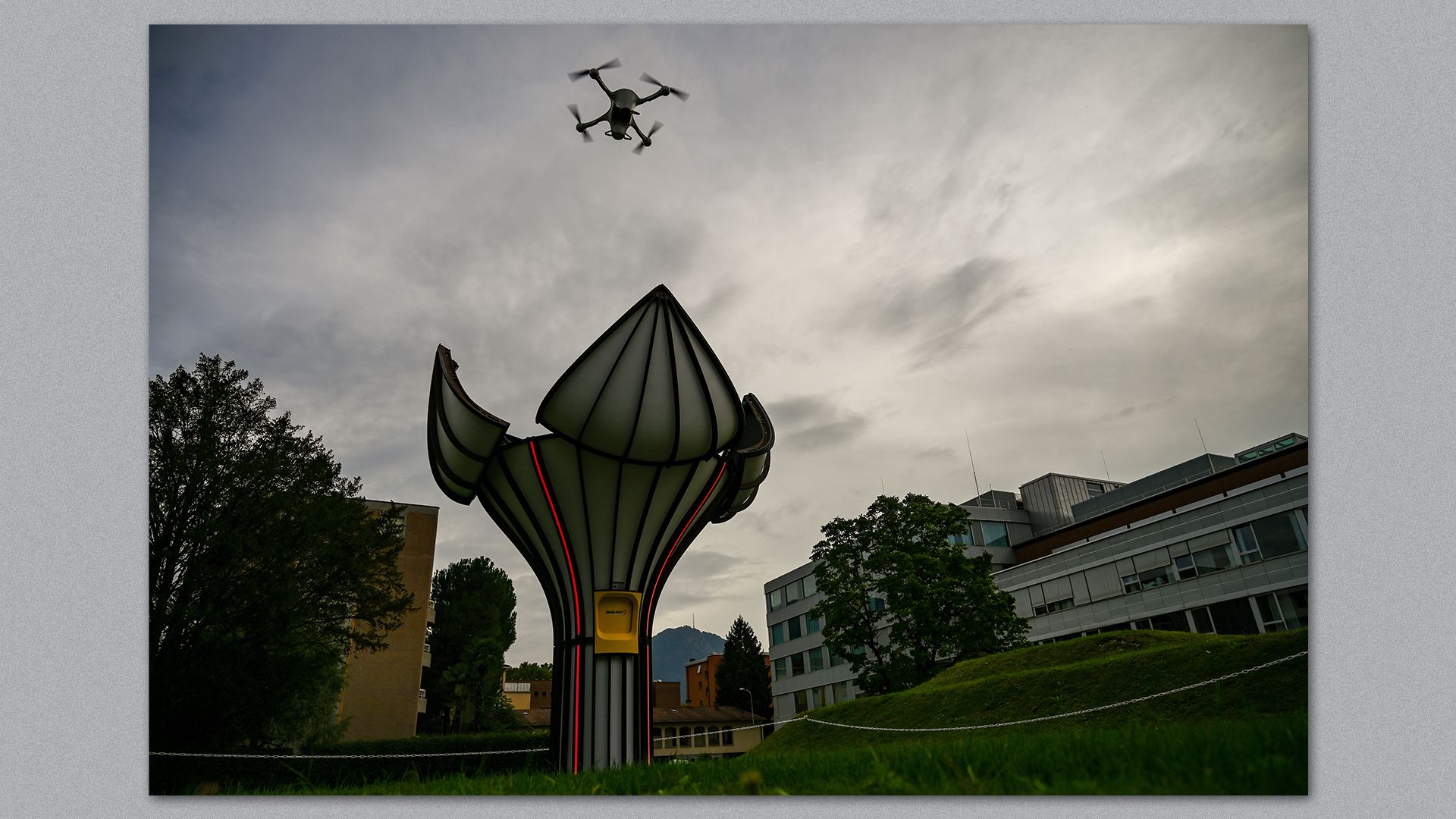 City landscapes could one day be dotted with automated drone landing pads like the one that Matternet — which makes drones and equipment for drone logistics networks — debuted Thursday in Switzerland.
Why it matters: Urban drone operations could radically change on-demand and last-mile deliveries by making it faster, cheaper and more sustainable to transport packages.
Matternet's futuristic pod could one day enable automated package deliveries with minimal human involvement.
Driving the news: Matternet, based in Mountain View, California, announced the deployment of its first fully automated drone station at a hospital in Lugano, Switzerland, where its autonomous aircraft have been flying for four years.
Until now, human operators have been responsible for loading the packages into the aircraft, ensuring the drone has a fully charged battery and then managing its takeoff and landing.
Now — following a trial period — Matternet's 10-foot-tall, tulip-shaped station will replace those human operators.
"The whole idea is to co-locate with our customer, so it can't be ugly," Jon Michaeli, Matternet's head of global sales and business development, tells Axios.
How it works: In one scenario, a hospital worker loads a patient's blood sample into a box with a designated QR code on the side.
The employee walks outside to the drone station, scans his or her badge, and a tray emerges from an automated door. The employee puts the box containing the blood sample onto the tray, and the door shuts.
Inside, a robot scans the box and loads it onto the drone, along with a fresh battery, if needed.
Automatically, the tulip "petals" open, and the drone rises up on a pre-planned route to a nearby lab.
At the lab, another station opens its petals to reveal a drone landing pad. The aircraft recognizes its beacon technology and automatically descends into the flower, which closes its petals again.
A lab worker then scans a barcode to retrieve the samples.
What to watch: Matternet and a partner plan to install 40 drone ports in Abu Dhabi by the end of the first year of operation. This is the company's first citywide deployment, although these would be traditional human-operated drone ports (not the automated tulip-style station.)
But the technology is not ready to be deployed in the U.S. because regulators still don't allow drones to fly beyond the operator's visual line of sight.
But Matternet, which is running several FAA-sanctioned pilot programs with UPS, expects FAA certification for its aircraft soon.
The bottom line: Matternet's end-to-end autonomous air delivery system is the equivalent of a hospital's pneumatic tube system.
Go deeper